Happy Reading!
Lindsey, Martina, Sam, Jocelyn, Erin, Lisa, Shelly, Susan, Elizabeth, Kristin, Sandra and Anisaa
THIS WEEK'S YA BOOK GIVEAWAY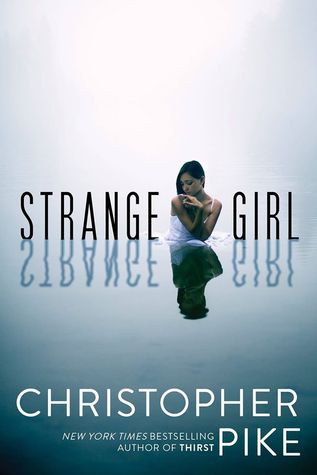 Strange Girl
by Christopher Pike
Hardcover Giveaway

U.S. Only
Simon Pulse
Released 11/17/2015
From #1 New York Times bestselling author Christopher Pike comes a brand-new fascinating and seductive new novel about a girl with a mysterious ability—but one that carries an unimaginable cost.
From the moment Fred met Aja, he knew she was different. And she was.
Aja had a gift. But her gift came with a price.
After a shocking sequence of events, Fred must look back at their relationship, and piece together all of their shared moments, so he can finally understand Aja's precious gift…and its devastating repercussions.
Author Question: What is your favorite thing about Strange Girl?
I'll answer that question in two ways: what my favorite thing was about writing the book; and what my favorite thing is about the finished book.

Aja is the name of the major character in the book. Aja is the Strange Girl. I started writing the book in March of 2014 and I remember very vividly how, each day when I woke up, I was excited to work on the book. I'd felt that way before, of course -- I've written so many books. But I think with Aja -- I liked spending time with her. I felt like Fred in the book, the guy who narrates the story. I felt in love with Aja. Pretty weird, huh? To fall in love with a character I'd created. But I feel that was the whole point. I didn't feel like I'd invented Aja. Each day I sat to write, I felt like she was visiting me.

My favorite thing about the book -- now that I've had a chance to sit and read it like a normal reader -- is that it touches me deeply. Again, I know that sounds silly. How can a book I wrote touch me emotionally? Well, when I wrote it I didn't know anything more about Aja than Fred did. I wasn't sure who she was, why she was different, what she would do next. It was only when I was deep into the book that I began to get a clear idea of who or what she might be. For Fred, the mystery of Aja is like peeling an onion. He keeps coming up with a fresh take on her, a new opinion of her. Again, I felt as Fred did. Aja kept surprising me. In that way Strange Girl is a mystery, but not an ordinary mystery. I like to call the novel a "Mystical Mystery." As far as I know, no one has ever written one of those before. To me Strange Girl is unique, as unique as Aja herself is.
Purchase Strange Girl at Amazon
Purchase Strange Girl at IndieBound
View Strange Girl on Goodreads
YA BOOK GIVEAWAYS LAST WEEK: WINNERS
Consent by Nancy Ohlin
- Caitlin O.
Dangerous Lies by Becca Fitzpatrick
- Jemma D.
Darkness Hidden by Zoe Marriott
- Kara S.
For the Record by Charlotte Huang
- Melanie H.
Serendipity's Footsteps by Suzanne Nelson
- Tammy V.
The August 5 by Jenna Helland
- Leah H.
Unforgiven by Lauren Kate
- Alisha S.
MORE YOUNG ADULT NOVELS NEW IN STORES NEXT WEEK
Calvin
by Martine Leavitt
Hardcover
Farrar, Straus and Giroux
Released 11/17/2015
In this latest novel from National Book Award finalist Martine Leavitt, a schizophrenic teen believes that Bill Watterson can save him from his illness if he creates one more Calvin & Hobbes comic strip.
Seventeen-year-old Calvin has always known his fate is linked to the comic book character from Calvin & Hobbes. He was born on the day the last strip was published; his grandpa left a stuffed tiger named Hobbes in his crib; and he even has a best friend named Susie. As a child Calvin played with the toy Hobbes, controlling his every word and action, until Hobbes was washed to death. But now Calvin is a teenager who has been diagnosed with schizophrenia, Hobbes is back—as a delusion—and Calvin can't control him. Calvin decides that if he can convince Bill Watterson to draw one final comic strip, showing a normal teenaged Calvin, he will be cured. Calvin and Susie (and Hobbes) set out on a dangerous trek across frozen Lake Erie to track him down.
Purchase Calvin at Amazon
Purchase Calvin at IndieBound
View Calvin on Goodreads
* * * *
Everything but the Truth
by Mandy Hubbard
Hardcover
Bloomsbury USA Childrens
Released 11/17/2015
If Only . . . she wasn't pretending to be someone else! The If Only romance line continues in this fun rags-to-riches romance.
Holly Mathews' mom is the new manager of a ritzy retirement home, and they just moved in. But having super-rich retirees as her only neighbors isn't a total bust, because the gorgeous, notorious Malik Buchannan is the grandson of a resident. Just one problem: when they meet, Malik assumes Holly is there to visit her own rich relative. She doesn't correct him, and it probably doesn't matter, because their flirtation could never turn into more than a superficial fling . . . right? But the longer she lives in his privileged world, the deeper Holly falls for Malik, and the harder it is to tell the truth . . . because coming clean might mean losing him.
For anyone who has dreamed of their own Cinderella story, this romance shows that when it comes to true love, the best person to be is yourself!
Purchase Everything but the Truth at Amazon
Purchase Everything but the Truth at IndieBound
View Everything but the Truth on Goodreads
* * * *
The Game of Lives
by James Dashner
Hardcover
Delacorte Press
Released 11/17/2015
Michael used to live to game, but the games he was playing have become all too real. Only weeks ago, sinking into the Sleep was fun. The VirtNet combined the most cutting-edge technology and the most sophisticated gaming for a full mind-body experience. And it was Michael's passion. But now every time Michael sinks, he risks his life.
The games are over. The VirtNet has become a world of deadly consequences, and Kaine grows stronger by the day. The Mortality Doctrine—Kaine's master plan—has nearly been realized, and little by little the line separating the virtual from the real is blurring. If Kaine succeeds, it will mean worldwide cyber domination. And it looks like Michael and his friends are the only ones who can put the monster back in the box—if Michael can figure out who his friends really are.
Purchase The Game of Lives at Amazon
Purchase The Game of Lives at IndieBound
View The Game of Lives on Goodreads
a Rafflecopter giveaway