Shadow Falls: After Dark
series, and we're delighted to have C.C. Hunter stop by to share more about it.
C.C. , what was your inspiration for writing UNSPOKEN?
Unspoken
is the third book in the Shadow Falls: After Dark series. It's a spin off series of Shadow Falls. So I guess you might ask what inspired my After Dark series. And that answer is simple. Della Tsang, the protagonist refused to be forgotten. While writing the last book in the Shadow Falls series, I was totally compelled to write about Della. She was the character in Shadow Falls who didn't open up a lot. So I just knew I had to dig in and find out what made that girl tick. I didn't tell my editor or agent, I simply just sat down and started writing the novella,
Saved at Sunrise
, in which Della is the star. When I was done, I sent it to my editor and after she read it, she asked if I would write a spinoff series about Della. Her spunk, her sass, and yet her vulnerability was electrifying, and I felt that she deserved her own series.
What scene was really hard for you to write and why, and is that the one of which you are most proud? Or is there another scene you particularly love?
One of the hardest scenes to write in
Unspoken
was the scene where Della confronts her father. Before being turned into a vampire, Della and her father were very close. But the changes in Della due to the virus caused her father to push her away. Because Della saw herself as a kind of monster, her father's actions were heartbreaking. As a daughter who was also a daddy's girl, I really felt Della's pain. At times when writing scenes with her father, I was so angry at the father, because I understood how much his rejection hurt Della. I even considered killing him off a couple a times. Ahh, but it wasn't what Della wanted.
What book or books would most resonate with readers who love your book--or visa versa?
I think some readers read for voice and some read for genre. And some people read for both. But often I'm told by my fans that they also read P.C. Cast, Kelley Armstrong, and Rachel Caine.
How long did you work on UNSPOKEN?
Unspoken
took longer to write than any of the other books in the Shadow Falls series. Probably five months. Not so much because of the plot, but because of my life. While writing
Unspoken
, my husband went in for a kidney transplant. So a lot of scenes were written while I was sitting at his bedside in the hospital. I think it might be the most emotional book because I was probably borrowing some real life emotion to write Della's final book. And sometime in the future, I plan on using a transplant story in my books. It was a scary, but an amazing process.
What did this book teach you about writing or about yourself?
I've always said that writing is my passion and my escape. And this book proved it even more. Writing took me away from my worries over my husband. It also taught me that I can write through difficult times.
What do you hope readers will take away from UNSPOKEN?
This book has a lot of underlying messages. Not because I meant to write them, but just because a character's journey is filled with their lessons and hence, become a part of story.
Unspoken
is about letting go of your insecurities and accepting yourself. Della finally, truly accepts herself as a vampire and no longer considers herself a monster. It's about forgiveness. In real life and in fiction, people we love make mistakes. Forgiving someone can be hard, but when love is precious, forgiveness is a must. It's also about trust. When someone has been hurt, it's hard to trust again. Putting your heart on that chopping block, when you've felt the pain of loss, can take a lot of courage. Della finally learns to trust again.
How long or hard was your road to publication? How many books did you write before this one, and how many never got published?
I started writing in 1984. I didn't publish my first book until 1994. Then, I didn't sell another book until 2006. I did, however, start writing for magazines and sold many works between book one and two. But since I sold in 2006, I have published two to three books a year. I write in two different genres, so in addition to my C.C. Hunter books, I publish my Christie Craig books. Unpublished books? Well, I have about six books under my bed. Three are good enough to come out and play later, and three will die with the dust bunnies.
Was there an AHA! moment along your road to publication where something suddenly sank in and you felt you had the key to writing a novel? What was it?
I have AHA moments with almost every book. I think the biggest AHA was when I realized that a story is truly about overcoming hurdles. If you don't have enough hurdles, your book is boring.
What's your writing ritual like? Do you listen to music? Work at home or at a coffee shop or the library, etc?
I write just about every day. I'm up and at my computer around seven or eight. I'll take an hour break for a walk almost every day, but, I work around ten hours a day. Yes, I'm a workaholic. I do my best work in my office. And I can't listen to music because I will start writing those words instead of the words in my head. I also have a wonderful wrap around porch and back patio, but I get distracted by the wildlife. So I tend to write faster and produce more in my office. Oh, I still sometimes grab my laptop and head outside and attempt to do some work. Especially when it's nice weather. And whenever I get stuck on something, I'll go sit in my hot tub. That's where I brainstorm a lot.

What advice would you most like to pass along to other writers?
Write. Read. Learn. And find a good critique group. You have to write to be a writer. But you have to read to keep up with market. And you have to read to learn. I read how-to books a lot. Then, you need someone to read your work and give you feedback. Real feedback. If your mother loves everything thing you do, she may not be the best person to give you feedback. A good critique with other writers can be essential. You help each other. You learn something, and you share it. When I first started writing, I joined a critique group. None of us were published, and none of left the group without being published. We supported each other and shared our knowledge.
The last piece of advice is to never, ever give up. It took me years to make it. But I wanted it so badly. If you want it that badly, just keep on writing and growing as a writer.
What are you working on now?
Right now, I'm finishing up a Christie Craig book. I'm also brainstorming my very last Shadow Falls Book. It will be Miranda's story. I will probably cry a lot when I finish it. All the characters in Shadow Falls have become like my family.
ABOUT THE BOOK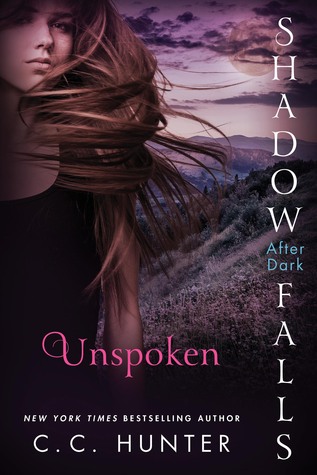 Unspoken
by C.C. Hunter
Hardcover
St. Martin's Griffin
Released 10/27/2015
Despite her superhuman strength and enhanced senses, Della Tsang's life as a vampire certainly hasn't been easy. Especially since she was reborn and bound to the mysterious, infuriating, and gorgeous Chase Tallman.
But if there's one thing that's always kept Della going, it's her dream of being an elite paranormal investigator. Her newest case is the opportunity she's been waiting for, but as Della tries to solve the twenty-year-old murder and clear her father's name, she uncovers secrets about the vampire council. And about Chase.
Feeling betrayed by all the secrets he's kept hidden from her, Della is determined to keep him as far away from her heart as she can. But she'll need his help to solve the case that will lead them into the darkest and ugliest vampire gangs in town and into the scariest reaches of her heart.
Purchase Unspoken at Amazon
Purchase Unspoken at IndieBound
View Unspoken on Goodreads
ABOUT THE AUTHOR
C.C. Hunter grew up in Alabama, where she caught lightning bugs, ran barefoot, and regularly rescued potential princes, in the form of Alabama bullfrogs, from her brothers. Today, she's still fascinated with lightning bugs, mostly wears shoes, but has turned her focus to rescuing mammals. She now lives in Texas with her four rescued cats, one dog, and a prince of a husband, who for the record, is so not a frog. When she's not writing, she's reading, spending time with her family, or is shooting things-with a camera, not a gun.
C.C. Hunter is a pseudonym. Her real name is Christie Craig and she also writes humorous romantic suspense romance novels for Grand Central.
www.christie-craig.com
C.C. would love to hear from you. Because of deadlines, it may take her a day or so to get back with you, but she will reply. cc@cchunterbooks.com


Have you had a chance to read UNSPOKEN yet? Do you use your writing to escape real life? Do you have a critique group that will give you real feedback?

Happy reading,

Jocelyn, Shelly, Martina, Erin, Lisa, Susan, Sam, Lindsey, Sandra, Kristin, and Anisaa