I'm starting a new WIP, which is really exciting for me. I finally have the story nailed down, and now I'm writing actual pages. That's both exhilarating and terrifying. I've been writing Barrie's voice for so long that I wasn't sure how hard it would be to slip into a new character's head and speak in her words.
I've had a number of people ask me about "finding their voice," so maybe it's time to visit that question again.
The first thing that I have to say is that there is a difference between author voice and character voice. The author voice is something that expresses itself unconsciously across multiple works. It's what enables someone to recognize an author's work regardless of what they're writing about. That's not a bad thing. It's similar to the way that we can identify the voice of a friend on the telephone. Author voice is unique and largely unconscious. It comes from your life, education, and point of view, and it includes:
Formality and humor
Attitude, emotion, and outlook
Word choice and phrasing
Syntax and sentence length
Mood, tone, and pacing
Resonance and rhythm
Grammar and punctuation
These elements are expressions of how you see the world about which you are writing. They are often injected into the manuscript whether you want them there or not, because they are uniquely you. You can alter elements of them, but it's hard to eradicate them all.
Character voice is something that is usually more conscious. It comes from a place deep within each character in the book, including the narrator, and while it includes many of the same elements as author voice, those elements develop out of the character's life and outlook on life.
Three Steps for Nailing Voice
Choose your tense. Does your story call for the immediacy and uncertainty of the present tense, or do you want to provide the distance and relative security of past tense? (In a present tense story, even the narrator doesn't know what's going to happen, whereas with past tense, we expect that at least the narrator came through the story.)
Choose your point of view. Do you want your narrator to know everything, including things the characters don't know? Third person omniscient would be a good choice. (See Daughter of Smoke and Bone by Laini Taylor for a lovely example.) Want to get really intimate with one character at a time? Try first person. Or, if you want to be able to shift the camera lens in and out, you can do a deep point of view in third person limited. (Like my Compulsion.)
Know who is speaking really well. Whether you're speaking as the narrator, or as the character, you need to be aware of the person and opinions behind the words.
Slipping into Character
Getting to know your characters is the critical aspect here. And that takes more than just doing the cursory work about their background. It takes knowing what the character feels and sees and things about every situation.
What do they want?
What motivates them?
What do they notice in a given situation?
What do they not notice?
What do they feel about the people and locations around them?
How educated are they? How do they speak?
How do they express themselves? Do they use an economy of words, or do they speak eloquently? What is their frame of reference for comparisons and how they see the world? Are they artistic? Overly-emotional? Sophisticated? Free spirited? Focused on pure logic?
Dive into the character's skin, and you'll nail the voice. You can do it!
Last Chance Giveaways!
Don't forget to nominate any underfunded classrooms, schools, and libraries you may know to receive free books! We have multiple giveaways from generous authors and bloggers this month!
Kami Garcia,
the #1 New York Times bestselling coauthor of the BEAUTIFUL CREATURES and DANGEROUS CREATURES novels and author of the LEGION series and THE LOVELY RECKLESS (Fall 2016). Find out more about
Kami and her books on her website
.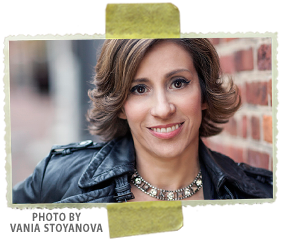 Liza Wiemer,
the author of the sensational HELLO? and the One Word Can Change a Life movement. Find out more about
Liza on her website
.
Compulsion Package, will include Compulsion, four additional books, and a package of incentives to reward readers, including bookmarks, pins, and Compulsion for Reading temporary tattoos.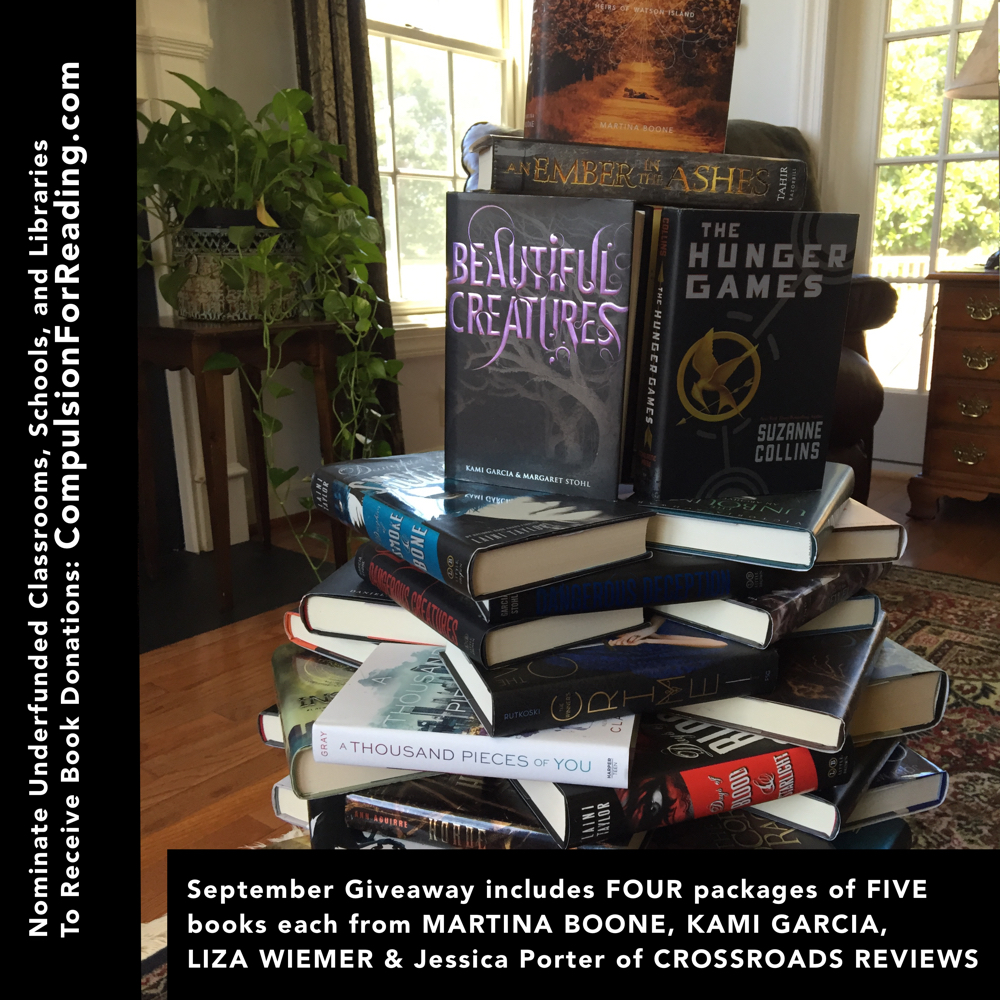 Martina Boone is the author of SIBA Book Award nominated Compulsion, book one in the romantic Southern Gothic trilogy, the Heirs of Watson Island, from Simon & Schuster/Simon Pulse, which was an Okra Pick by the Southern Independent Bookstores Alliance, a Kansas State Reading Circle selection, a Goodreads Best Book of the Month and YA Best Book of the Month, and an RT Magazine Best of 2014 Editor's Pick. The second book in the trilogy, Persuasion, will be published October 27, 2015.