There's a wonderful set of new releases this week, and we have three books to giveaway! Two of these are new releases - Katherine Howe's The Appearance of Annie van Sinderen and Dawn Kirtagich's The Dead House, as well as one slightly older release, Alexandra Sirowy's The Creeping.
Happy reading,
Lindsey, Martina, Sam, Jocelyn, Erin, Lisa, Shelly, Susan, Elizabeth, Kristin, Jen, Sandra and Anisaa
YA BOOK GIVEAWAYS THIS WEEK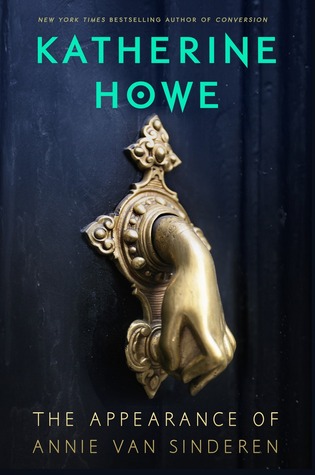 The Appearance of Annie van Sinderen
by Katherine Howe
Hardcover Giveaway

U.S. Only
G.P. Putnam's Sons
Released 9/15/2015
A haunting, contemporary love story from the New York Times bestselling author of Conversion.
It's summertime in New York City, and aspiring filmmaker Wes Auckerman has just arrived to start his summer term at NYU. While shooting a séance at a psychic's in the East Village, he meets a mysterious, intoxicatingly beautiful girl named Annie.
As they start spending time together, Wes finds himself falling for her, drawn to her rose petal lips and her entrancing glow. But there's something about her that he can't put his finger on that makes him wonder about this intriguing hipster girl from the Village. Why does she use such strange slang? Why does she always seem so reserved and distant? And, most importantly, why does he only seem to run into her on one block near the Bowery? Annie's hiding something, a dark secret from her past that may be the answer to all of Wes's questions . . .
Purchase The Appearance of Annie van Sinderen at Amazon
Purchase The Appearance of Annie van Sinderen at IndieBound
View The Appearance of Annie van Sinderen on Goodreads
* * * *
The Dead House
by Dawn Kurtagich
Hardcover Giveaway

U.S. Only
Little, Brown Books for Young Readers
Released 9/15/2015
Welcome to the Dead House.
Three students: dead.
Carly Johnson: vanished without a trace.
Two decades have passed since an inferno swept through Elmbridge High, claiming the lives of three teenagers and causing one student, Carly Johnson, to disappear. The main suspect: Kaitlyn, "the girl of nowhere."
Kaitlyn's diary, discovered in the ruins of Elmbridge High, reveals the thoughts of a disturbed mind. Its charred pages tell a sinister version of events that took place that tragic night, and the girl of nowhere is caught in the center of it all. But many claim Kaitlyn doesn't exist, and in a way, she doesn't - because she is the alter ego of Carly Johnson.
Carly gets the day. Kaitlyn has the night. It's during the night that a mystery surrounding the Dead House unravels and a dark, twisted magic ruins the lives of each student that dares touch it.
Debut author Dawn Kurtagich masterfully weaves together a thrilling and terrifying story using psychiatric reports, witness testimonials, video footage, and the discovered diary - and as the mystery grows, the horrifying truth about what happened that night unfolds.
Purchase The Dead House at Amazon
Purchase The Dead House at IndieBound
View The Dead House on Goodreads
****


The Creeping
by Alexandra Sirowy
Signed Hardcover Giveaway
U.S. Only
Simon & Schuster Books for Young Readers
Released 8/18/2015
Read an Interview with Alexandra Sirowy here!
Author Question: What is your favorite thing about The Creeping?
Oh wow, that's a really tough question. I won't cop-out though and say I can't choose, but I might cheat a little.

I love the relationships and friendships in THE CREEPING. That's a pretty encompassing answer, I know. When I had this spark of an idea to write the story of a seventeen-year-old girl who eleven years before survived a very mysterious event in the woods of her small town, I knew I wanted to show the relationships that save her, both literally and figuratively. I wanted her friends to be as vivid and necessary to the reader as they are to the main character, Stella. Friendships can loom very large in life, especially when you're young. I wanted to be truthful in representing their complexities: loyalty, the fierce love shared by friends, and the intimate ways friends can wound each other, unintentionally and intentionally.

Friendships between girls and women are of particular interest to me. It was an aim of mine to give THE CREEPING's characters agency over their lives, bodies, and minds. Developing these relationships was one of my favorite parts of the process. Although it might not be obvious by its haunting title, THE CREEPING is a book about friendship as much as it is betrayal and about goodness as much as it is evil.

Purchase The Creeping at Amazon
Purchase The Creeping at IndieBound
View The Creeping on Goodreads
YA BOOK GIVEAWAYS LAST WEEK: WINNERS
Edgewater by Courtney Sheinmel
- Heather C.
Lizard Radio by Pat Schmatz
- Cordia P.
Sunset Ranch by A. Destiny and Emma Carlson Berne
- Elizabeth H.
The Hired Girl by Laura Amy Schlitz
- Kami C.
The One Thing by Marci Lyn Curtis
- Natasha A.
MORE YOUNG ADULT FICTION IN STORES NEXT WEEK WITH AUTHOR INTERVIEWS
Ash & Bramble
by Sarah Prineas
Hardcover
HarperTeen
Released 9/15/2015
When the glass slipper just doesn't fit…
The tale of Cinderella has been retold countless times. But what you know is not the true story.
Pin has no recollection of who she is or how she got to the Godmother's fortress. She only knows that she is a Seamstress, working day in and out to make ball gowns fit for fairy tales. But she longs to forsake her backbreaking servitude and dares to escape with the brave young Shoemaker.
Pin isn't free for long before she's captured again and forced to live the new life the Godmother chooses for her—a fairy tale story, complete with a charming prince—instead of finding her own happily ever after.
Sarah Prineas's bold fairy tale retelling is a dark and captivating world where swords are more fitting than slippers, young shoemakers are just as striking as princes, and a heroine is more than ready to rescue herself before the clock strikes midnight.
Author Question: What is your favorite thing about Ash & Bramble?
This is a funny question to ask a writer (at least, this writer!) because I shamelessly love a lot of things about my books, mainly because I write what I love and am not trying to be carefully literary, or anything. I love the following things about this particular book: the heroine's snarkiness and strength; the kissing scenes; the climax (I get chills rereading it); and finally, the way the stiletto shoes on the book cover could actually be used as a weapon.
Purchase Ash & Bramble at Amazon
Purchase Ash & Bramble at IndieBound
View Ash & Bramble on Goodreads
* * * *
Breakaway
by Kat Spears
Hardcover
St. Martin's Griffin
Released 9/15/2015
From Kat Spears, author of Sway, comes a new novel that asks the question: when a group of four best friends begin to drift apart, what will it take to bring them back together?
When Jason Marshall's younger sister passes away, he knows he can count on his three best friends and soccer teammates—Mario, Jordie, and Chick—to be there for him. With a grief-crippled mother and a father who's not in the picture, he needs them more than ever. But when Mario starts hanging out with a rough group of friends and Jordie finally lands the girl of his dreams, Jason is left to fend for himself while maintaining a strained relationship with troubled and quiet Chick. Then Jason meets Raine, a girl he thinks is out of his league but who sees him for everything he wants to be, and he finds himself pulled between building a healthy and stable relationship with a girl he might be falling in love with, grieving for his sister, and trying to hold onto the friendships he has always relied on.
A witty and emotionally moving tale of friendship, first love, and loss, Breakaway is Kat Spears at her finest.
Author Question: What is your favorite thing about Breakaway?
My favorite thing about BREAKAWAY is the occasional glimpse of humor in an otherwise bleak story. I didn't set out to write a depressing book, but Jason's state of mind after the death of his sister clouds his narration. Every once in a while there is dialogue between the characters that makes me smile, especially between some of the secondary characters like Ahmed and Chris. I like that the story can catch the reader off guard occasionally and deliver humor when least expected or appropriate.
Purchase Breakaway at Amazon
Purchase Breakaway at IndieBound
View Breakaway on Goodreads
* * * *
Lock & Mori
by Heather W. Petty
Hardcover
Simon & Schuster Books for Young Readers
Released 9/15/2015
In modern-day London, two brilliant high school students, one Sherlock Holmes and a Miss James "Mori" Moriarty, meet. A murder will bring them together. The truth very well might drive them apart.
Before they were mortal enemies, they were much more.
FACT: Someone has been murdered in London's Regent's Park. The police have no leads.
FACT: Miss James "Mori" Moriarty and Sherlock "Lock" Holmes should be hitting the books on a school night. Instead, they are out crashing a crime scene.
FACT: Lock has challenged Mori to solve the case before he does. Challenge accepted.
FACT: Despite agreeing to Lock's one rule--they must share every clue with each other--Mori is keeping secrets.
OBSERVATION: Sometimes you can't trust the people closest to you with matters of the heart. And after this case, Mori may never trust Lock again.
Author Question: What is your favorite thing about Lock & Mori?
LOCK & MORI was definitely unlike any book I'd tried to write before. It was my first derivative novel, my first contemporary novel, and my first time writing a character who likes math. (I'm not a fan.) I wrote emotional material during an emotional time and sometimes became an emotional wreck. But I loved it. I think my favorite part of writing the book was the challenge of it. I was always checking myself and stressing about this or that, which obviously meant that it wasn't always fun. But it was rewarding, I guess. I learned a lot, which is always the best feeling to have when you type THE END.
Purchase Lock & Mori at Amazon
Purchase Lock & Mori at IndieBound
View Lock & Mori on Goodreads
* * * *
Tonight the Streets Are Ours
by Leila Sales
Hardcover
Farrar, Straus and Giroux
Released 9/15/2015
Recklessly loyal. That's how seventeen-year-old Arden Huntley has always thought of herself. Taking care of her loved ones is what gives Arden purpose in her life and makes her feel like she matters. But lately she's grown resentful of everyone--including her needy best friend and her absent mom--taking her loyalty for granted.
Then Arden stumbles upon a website called Tonight the Streets Are Ours, the musings of a young New York City writer named Peter, who gives voice to feelings that Arden has never known how to express. He seems to get her in a way that no one else does, and he hasn't even met her. Until Arden sets out on a road trip to find him.
During one crazy night out in New York City filled with parties, dancing, and music--the type of night when anything can happen, and nearly everything does--Arden discovers that Peter isn't exactly who she thought he was. And maybe she isn't exactly who she thought she was, either.
Author Question: What is your favorite thing about Tonight the Streets Are Ours?
There's a very small line in it that I love. It's during Arden and Peter's epic night in New York City. It's around two in the morning, and they're in a limousine (you will have to read it to find out why), and the limo takes them over the Brooklyn Bridge, where they see the city laid out before them, sparkling in the night. The chapter ends with the line, "And for them, all the red lights turn to green." Like I said, it's a small line, and lots of readers might gloss right over it, which is totally okay. But I love that line. I don't know why it's my favorite, but there you go.
Purchase Tonight the Streets Are Ours at Amazon
Purchase Tonight the Streets Are Ours at IndieBound
View Tonight the Streets Are Ours on Goodreads
MORE YOUNG ADULT NOVELS NEW IN STORES NEXT WEEK
Dumplin'
by Julie Murphy
Hardcover
Balzer + Bray
Released 9/15/2015
Self-proclaimed fat girl Willowdean Dickson (dubbed "Dumplin'" by her former beauty queen mom) has always been at home in her own skin. Her thoughts on having the ultimate bikini body? Put a bikini on your body. With her all-American beauty best friend, Ellen, by her side, things have always worked . . . until Will takes a job at Harpy's, the local fast-food joint. There she meets Private School Bo, a hot former jock. Will isn't surprised to find herself attracted to Bo. But she is surprised when he seems to like her back.
Instead of finding new heights of self-assurance in her relationship with Bo, Will starts to doubt herself. So she sets out to take back her confidence by doing the most horrifying thing she can imagine: entering the Miss Clover City beauty pageant—along with several other unlikely candidates—to show the world that she deserves to be up there as much as any twiggy girl does. Along the way, she'll shock the hell out of Clover City—and maybe herself most of all.
With starry Texas nights, red candy suckers, Dolly Parton songs, and a wildly unforgettable heroine—Dumplin' is guaranteed to steal your heart.
Purchase Dumplin' at Amazon
Purchase Dumplin' at IndieBound
View Dumplin' on Goodreads
* * * *
Maid of Wonder
by Jennifer McGowan
Hardcover
Simon & Schuster Books for Young Readers
Released 9/15/2015
Sophia must master her psychic ability if she is to save the life of Queen Elizabeth and her fellow maids from a dark prophecy, in this third book of the Maids of Honor series.
Sophia Dee, the most unusual spy of Queen Elizabeth's Maids of Honor, has run out of time for her psychic skills to fully manifest. A terrible new prophecy haunts Windsor Castle, and the Queen demands answers before the next doomed soul dies.
Thrust into a dangerous and horrifying competition to solve the deadly prediction, Sophia finds herself pitted against the most celebrated mystics of Europe: John Dee, her devious uncle and the Queen's personal astrologer, and Nostradamus, the renowned prophet-seer of France.
In a court where whispers of witchcraft, poisonous plots, and grim assassins threaten her at every turn, Sophia needs answers fast. But does she dare trust Marcus Quinn, her uncle's striking and overambitious assistant? Or, instead, should she turn to the tortured dark angel of the spirit realm, who whispers to her only of sorrow and death?
As new dangers surface and the dire prophecy sweeps toward its final victim, the five Maids of Honor prepare to do battle. Only then will the girl who so often sees the future finally discover if she can save the Crown and herself.
Purchase Maid of Wonder at Amazon
Purchase Maid of Wonder at IndieBound
View Maid of Wonder on Goodreads
* * * *


Mirrored
by Alex Flinn
Hardcover
HarperTeen
Released 9/15/2015
In #1 New York Times bestselling author Alex Flinn's modern and mysterious retelling of Snow White, beauty is in the eye of the beholder and true love doesn't necessarily mean Prince Charming.
Celine's life is the stuff fairy tales are made of. She's beautiful, talented, and brave. Unfortunately, her tale comes complete with a wicked stepmother! When Violet steps into Celine's life, everything changes and weird things begin to happen to her—bizarre accidents, strange illnesses, and rabid animal attacks. Celine doesn't feel safe anywhere. It's almost as if some hateful witch is out to get her.
And there is. Violet has been waiting all her life to have Celine's father to herself. Getting rid of his gorgeous daughter is child's play for a witch as powerful as she is. Happy-ever-after isn't enough for Violet. She wants to be the fairest of them all, and Celine is in the way . . . but not for long.
Forced to take refuge with her friend Goose and his family, Celine gives up everything she loves and goes deep undercover. But will it be enough to fool Violet, or will Celine's fate be decided by a reflection in a magic mirror? And where do you find Prince Charming in Miami anyway?
Mirrored is a modern retelling of Snow White—told from the points of view of Violet, Celine, and Goose—with all the magic and mystery readers will love.
Purchase Mirrored at Amazon
Purchase Mirrored at IndieBound
View Mirrored on Goodreads
* * * *
One
by Sarah Crossan
Hardcover
Greenwillow Books
Released 9/15/2015
Tippi and Grace share everything—clothes, friends . . . even their body. Writing in free verse, Sarah Crossan tells the sensitive and moving story of conjoined twin sisters, which will find fans in readers of Gayle Forman, Jodi Picoult, and Jandy Nelson.
Tippi and Grace. Grace and Tippi. For them, it's normal to step into the same skirt. To hook their arms around each other for balance. To fall asleep listening to the other breathing. To share. And to keep some things private. The two sixteen-year-old girls have two heads, two hearts, and each has two arms, but at the belly, they join. And they are happy, never wanting to risk the dangerous separation surgery.
But the girls' body is beginning to fight against them. And soon they will have to face the impossible choice they have avoided for their entire lives.
Purchase One at Amazon
Purchase One at IndieBound
View One on Goodreads
* * * *
The Forever Man
by Eoin Colfer
Hardcover
Disney-Hyperion
Released 9/15/2015
Riley, an orphan boy living in Victorian London, has achieved his dream of becoming a renowned magician, the Great Savano. He owes much of his success to Chevie, a seventeen-year-old FBI agent who traveled from the future in a time pod and helped him defeat his murderous master, Albert Garrick. But it is difficult for Riley to enjoy his new life, for he has always believed in his heart of hearts that Garrick will someday, somehow, return to seek vengeance.
Chevie has assured Riley on numerous occasions that Garrick was sucked into a temporal wormhole, never to emerge. The full nature of the wormhole has never been understood, however, and just as a human body will reject an unsuitable transplant, the wormhole eventually spat him out. By the time Garrick makes it back to Victorian London, he has been planning his revenge on Riley for half a century. But even the best-laid plans can go awry, and when the assassin decides to include Chevie in his retaliation, the three are tossed once more into the wormhole with no idea where-or when-they will end up.
Purchase The Forever Man at Amazon
Purchase The Forever Man at IndieBound
View The Forever Man on Goodreads
* * * *
The Marvels
by Brian Selznick
Hardcover
Scholastic Press
Released 9/15/2015
Caldecott Award winner and bookmaking trailblazer Brian Selznick once again plays with the form he invented and delivers a moving and mesmerizing adventure about the power of story. Two seemingly unrelated stories -- one in words, the other in pictures -- come together with spellbinding synergy! The illustrated story begins in 1766 with Billy Marvel, the lone survivor of a shipwreck, and charts the adventures of his family of actors over five generations. The prose story opens in 1990 and follows Joseph, who has run away from school to an estranged uncle's puzzling house in London, where he, along with the reader, must piece together many mysteries. How the picture and word stories intersect will leave readers marveling over Selznick's storytelling prowess. Filled with mystery, vibrant characters, surprise twists, and heartrending beauty, and featuring Selznick's most arresting art to date, The Marvels is a moving tribute to the power of story.
Purchase The Marvels at Amazon
Purchase The Marvels at IndieBound
View The Marvels on Goodreads
* * * *
The Shepherd's Crown
by Terry Pratchett
Hardcover
HarperCollins
Released 9/15/2015
Sir Terry Pratchett's final Discworld novel, which features the witch Tiffany Aching.
Purchase The Shepherd's Crown at Amazon
Purchase The Shepherd's Crown at IndieBound
View The Shepherd's Crown on Goodreads
a Rafflecopter giveaway