twelve
books to give away, including three copies each of UNGODLY and THE MURDSTONE TRILOGY! Which of this week's new releases are you most looking forward to?
Happy reading,
Lindsey, Martina, Sam, Jocelyn, Erin, Lisa, Shelly, Susan, Elizabeth, Kristin, Jen, Sandra and Anisaa
YA BOOK GIVEAWAYS THIS WEEK
Illuminate
by Tracy Clark
Signed paperback of DEVIATE Giveaway

U.S. Only
Entangled: Teen
Released 9/21/2015
Can one girl be the light in a world spiraling toward darkness?
Haunted by the loss of her loved ones, Cora Sandoval, one of the remaining few of an extraordinary race known as Scintilla, holds the key to disentangling the biggest conspiracy in human history...and its link to the fate of the human race. As Cora follows a trail of centuries-old clues and secrets, she collides with a truth not only shocking, but dangerous.
With enemies both known and unknown hot on her trail, Cora must locate each of the ancient clues hidden in the art, religions, and mythologies of humankind. And through it all, she must keep her heart from being torn apart by the two boys she loves most. One is Scintilla, one is Arazzi.
Save herself. Save the Scintilla. Save the world.
Or die trying…
Author Question: What is your favorite thing about Illuminate?
I hope that ILLUMINATE will surprise many people who think they know what I'm up to! The series took a definite turn in DEVIATE away from the origin story of SCINTILLATE and into more "Dan Brown-esque" territory with a worldwide conspiracy. I've used true events and embedded them in a mythology that I hope will have people convinced that the Scintilla and Arrazi must be real!
Purchase Illuminate at Amazon
Purchase Illuminate at IndieBound
View Illuminate on Goodreads
* * * *
The Summer Marked
by Rebekah L Purdy
Signed Hardcover Giveaway

International
Entangled: Teen
Released 9/22/2015
The sequel to the chilling Winter People returns to the world of Faerie, and is a romantic and enchanting follow-up.
Fresh off a break-up with her boyfriend, Kadie's glad to be home from college for Thanksgiving. All she needs is a rebound guy, a box of chocolates, and some girl time with her best friend, Salome. Problem is, Salome isn't returning her calls, and her family won't say where she is. Feeling sorry for herself, Kadie ends up at Club Blade, a place filled with pumping music, dangerous guys, and promises of a good time. However, when midnight strikes, Kadie's fun turns into a nightmare as she's ripped from the human world into Faerie by a vengeful Winter Prince named Etienne. For the first time in her life, she realizes the monsters Salome always spoke of are real, and they'll stop at nothing to destroy her friend.
Salome thought the winter curse was behind her. But winter has left its mark. Not just on her, but on the whole summer court. The Kingdom of Summer is falling apart, and Nevin is hanging onto his throne by a thread. With war on his doorstep, he has no choice but to send Gareth into enemy territory, which means Salome will be left alone—vulnerable in a world she doesn't understand. A place where beauty is deadly and humans are pawns in the macabre games the Fae play. Both Kadie and Salome will have to call on all their strength to survive in a world where humans aren't meant to be. With death and enemies all around them, it'll be a miracle if they can survive.
Author Question: What is your favorite thing about The Summer Marked?
My Favorite thing about The Summer Marked is getting to see how different the Winter Court and Summer Courts are. And learning more about some of the mythology behind Faerie. I got a chance to write this book in dual POVs. Salome in Summer and Kadie and Winter. There such a huge contrast between the two kingdoms. Winter is horrific. Blood. Ice. Death. Where Summer, although it is dangerous, there's beauty there. So for me it was awesome being able to create this stark contrast between them. I also loved delving into how the Autumn and Spring courts fell—and introducing the readers to new characters, new settings, and more action.

And I got to write two strong female leads—which was a blast. Can't wait for everyone to be reacquainted with the old cast and meet the new cast.
Purchase The Summer Marked at Amazon
Purchase The Summer Marked at IndieBound
View The Summer Marked on Goodreads
* * * *
Ungodly
by Kendare Blake
Signed Hardcover Giveaway (3 Copies)

U.S. Only
Tor Teen
Released 9/22/2015
As ancient immortals are left reeling, a modern Athena and Hermes search the world for answers in the final Goddess War novel by the acclaimed author of Anna Dressed in Blood.
For the Goddess of Wisdom, what Athena didn't know could fill a book. That's what Ares said.
So she was wrong about some things. So the assault on Olympus left them beaten and scattered and possibly dead. So they have to fight the Fates themselves, who, it turns out, are the source of the gods' illness. And sure, Athena is stuck in the underworld, holding the body of the only hero she has ever loved.
But Hermes is still topside, trying to power up Andie and Henry before he runs out of time and dies, or the Fates arrive to eat their faces.
And Cassandra is up there somewhere too. On a quest for death. With the god of death.
Just because things haven't gone exactly according to plan, it doesn't mean they've lost. They've only mostly lost. And there's a big difference.
Author Question: What is your favorite thing about Ungodly?
That it has a strong "quest" aspect to it. I love the old quests; Jason for the Golden Fleece, Odysseus to the underworld, Hercules tasks. The entirety of the Goddess War series is one, big quest, but in UNGODLY they split off onto three separate ones: Cassandra is questing to find and kill Hades, Athena is on a quest to escape the underworld, and Hermes is on a quest for a weapon to beat Achilles. So I got to write my fill!
Purchase Ungodly at Amazon
Purchase Ungodly at IndieBound
View Ungodly on Goodreads
* * * *
Zom-B Fugitive
by Darren Shan
Signed Hardcover Giveaway

International
Little, Brown Books for Young Readers
Released 9/22/2015
After learning the dark secrets hidden in Mr. Dowling's twisted mind, B is on the run. She escapes the clown's clutches and weaves her way through London's abandoned Underground, only to find that Mr. Dowling has laid siege to the Angels' base in County Hall. And when B learns of the history between Mr. Dowling and someone she trusted, she realizes that she can't rely on anyone--B, and B alone, is the only one who can save humanity.
Author Question: What is your favorite thing about Zom-B Fugitive?
ZOM-B is a series full of twists and surprises. I've kept readers on tenterhooks throughout, gradually revealing answers to some of the questions posed by the first few books -- but those answers haven't always been genuine, as characters in these books sometimes lie to suit their own purposes. But we're near the end now (ZOM-B FUGITIVE is book 11 of 12), so the real truth is finally starting to come out. There are a few huge shocks and revelations in this book, which will turn a lot of what has gone before on its head. I don't want to say too much more, for fear of giving too much away, but life for B Smith (the main character) is never going to be the same after this book...
Purchase Zom-B Fugitive at Amazon
Purchase Zom-B Fugitive at IndieBound
View Zom-B Fugitive on Goodreads
* * * *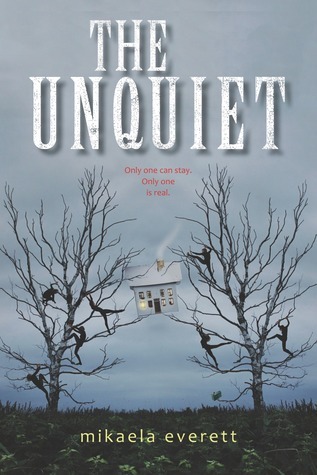 The Unquiet
by Mikaela Everett
Signed Hardcover Giveaway

U.S. Only
Greenwillow Books
Released 9/22/2015
For most of her life, Lirael has been training to kill—and replace—a duplicate version of herself on a parallel Earth. She is the perfect sleeper-soldier. But she's beginning to suspect she is not a good person. Fans of eerily futuristic and beautifully crafted stories such as Never Let Me Go, Orphan Black, and Fringe will find themselves haunted by this unsettling debut.
The two Earths are identical in almost every way. Two copies of every city, every building, even every person. But the people from the second Earth know something their duplicates do not—two versions of the same thing cannot exist. They—and their whole planet—are slowly disappearing. Lira has been trained mercilessly since childhood to learn everything she can about her duplicate, to be a ruthless sleeper-assassin who kills that other Lirael and steps seamlessly into her life.
An intricate, literary stand-alone from an astonishing new voice, The Unquiet takes us deep inside the psyche of a strong teenage heroine struggling with what she has been raised to be and who she really is.
Purchase The Unquiet at Amazon
Purchase The Unquiet at IndieBound
View The Unquiet on Goodreads
* * * *
Silver Eve
by Sandra Waugh
Hardcover Giveaway

U.S. Only
Random House Books for Young Readers
Released 9/22/2015
A Healer without home or purpose, seventeen-year-old Evie Carew has found the perfect place to disappear: Rood Marsh. She can easily fade into its vast wilderness of towering reeds, leaving behind the growing violence that claims her innocent world. And escape the tragedy that broke her heart and sent her far from her grandmother, cousin Lark, and all she once loved.
But Evie is not alone in the marsh. A seer, a Rider, and Breeders of Chaos all hunt her—for though opposed in objective, her seekers share knowledge she does not: Evie is one of the four Guardians of Tarnec, one who can help save the world from the coming destruction if she can reclaim the stolen amulet of Death. But whether she meets true love or a brutal end on such a journey is a matter of who finds her first.
Purchase Silver Eve at Amazon
Purchase Silver Eve at IndieBound
View Silver Eve on Goodreads
* * * *
The Murdstone Trilogy
by Mal Peet
Hardcover Giveaway (3 Copies)

U.S. Only
Candlewick
Released 9/22/2015
How hard can it be to write a fantasy trilogy? From Carnegie Medalist Mal Peet comes an outrageously funny black comedy about an impoverished literary writer who makes a pact with the devil.
Award-winning YA author Philip Murdstone is in trouble. His star has waned. The world is leaving him behind. His agent, the ruthless Minerva Cinch, convinces him that his only hope is to write a sword-and-sorcery blockbuster. Unfortunately, Philip—allergic to the faintest trace of Tolkien—is utterly unsuited to the task. In a dark hour, a dwarfish stranger comes to his rescue. But the deal he makes with Pocket Wellfair turns out to have Faustian consequences.
The Murdstone Trilogy is a richly dark comedy described by one U.K. reviewer as "totally insane in the best way possible."
Purchase The Murdstone Trilogy at Amazon
Purchase The Murdstone Trilogy at IndieBound
View The Murdstone Trilogy on Goodreads
YA BOOK GIVEAWAYS LAST WEEK: WINNERS
The Appearance of Annie van Sinderen by Katherine Howe
- Clarissa R.
The Creeping by Alexandra Sirowy
- Ashlee F.
The Dead House by Dawn Kurtagich
- Kelsey M.
MORE YOUNG ADULT FICTION IN STORES NEXT WEEK WITH AUTHOR INTERVIEWS
I Crawl Through It
by A. S. King
Hardcover
Little, Brown Books for Young Readers
Released 9/22/2015
Four teenagers are on the verge of exploding. The anxieties they face at every turn have nearly pushed them to the point of surrender: senseless high-stakes testing, the lingering damage of past trauma, the buried grief and guilt of tragic loss. They are desperate to cope, but no one is listening.
So they will lie. They will split in two. They will turn inside out. They will even build an invisible helicopter to fly themselves far away...but nothing releases the pressure. Because, as they discover, the only way to truly escape their world is to fly right into it.
The genius of acclaimed author A.S. King reaches new heights in this groundbreaking work of surrealist fiction; it will mesmerize readers with its deeply affecting exploration of how we crawl through traumatic experience-and find the way out.
Author Question: What is your favorite thing about I Crawl Through It?
There aren't many times when I felt as free as I did writing I CRAWL THROUGH IT. This feeling of freedom made me write whatever I wanted to write, and in this case, I got to write some pretty surreal stuff. I was in a place where I didn't care if the book ever saw publication. I just wanted to say what was inside me for my whole life. I wanted freedom from thinking about what anyone else thought of the book, I guess. This was so important to the book itself because the book is ultimately about freedom and what we, as human beings, choose to believe, listen to, and fight for.

On a more hilarious note, there are some lines in this book that crack me up every time. I love lines like that. And I love the cathartic cry I have every time I read the end. For me, the book was like an emotional auger--an auger that started to really churn into my sternum by the time the ending started to unfold. I love that.
Purchase I Crawl Through It at Amazon
Purchase I Crawl Through It at IndieBound
View I Crawl Through It on Goodreads
* * * *
This Monstrous Thing
by Mackenzi Lee
Hardcover
Katherine Tegen Books
Released 9/22/2015
In 1818 Geneva, men built with clockwork parts live hidden away from society, cared for only by illegal mechanics called Shadow Boys. Two years ago, Shadow Boy Alasdair Finch's life shattered to bits.
His brother, Oliver—dead.
His sweetheart, Mary—gone.
His chance to break free of Geneva—lost.
Heart-broken and desperate, Alasdair does the unthinkable: He brings Oliver back from the dead.
But putting back together a broken life is more difficult than mending bones and adding clockwork pieces. Oliver returns more monster than man, and Alasdair's horror further damages the already troubled relationship.
Then comes the publication of Frankenstein and the city intensifies its search for Shadow Boys, aiming to discover the real life doctor and his monster. Alasdair finds refuge with his idol, the brilliant Dr. Geisler, who may offer him a way to escape the dangerous present and his guilt-ridden past, but at a horrible price only Oliver can pay…
Author Question: What is your favorite thing about This Monstrous Thing?
Aw man, I have to pick just one? The most obvious answer is the Frankenstein-ness because I'm a Shelley junkie, but the part of the book that is most near and dear to my heart is the sibling story at its core. I have a little sister, and though we aren't the siblings in the book, I drew a lot on our relationship and my experiences as an older sister to write it. Sibling stories are always the ones that resonate the most with me, and getting the chance to combine my favorite book ever, FRANKENSTEIN, with a story about the complicated relationship siblings often share was such a joy.
Purchase This Monstrous Thing at Amazon
Purchase This Monstrous Thing at IndieBound
View This Monstrous Thing on Goodreads
MORE YOUNG ADULT NOVELS NEW IN STORES NEXT WEEK
Blood and Salt
by Kim Liggett
Hardcover
G.P. Putnam's Sons Books for Young Readers
Released 9/22/2015
Romeo and Juliet
meets
Children of the Corn
in this one-of-a-kind romantic horror.
"When you fall in love, you will carve out your heart and throw it into the deepest ocean. You will be all in—blood and salt."
These are the last words Ash Larkin hears before her mother returns to the spiritual commune she escaped long ago. But when Ash follows her to Quivira, Kansas, something sinister and ancient waits among the rustling cornstalks of this village lost to time.
Ash is plagued by memories of her ancestor, Katia, which harken back to the town's history of unrequited love and murder, alchemy and immortality. Charming traditions soon give way to a string of gruesome deaths, and Ash feels drawn to Dane, a forbidden boy with secrets of his own.
As the community prepares for a ceremony five hundred years in the making, Ash must fight not only to save her mother, but herself—and discover the truth about Quivira before it's too late. Before she's all in—blood and salt.
Purchase Blood and Salt at Amazon
Purchase Blood and Salt at IndieBound
View Blood and Salt on Goodreads
* * *
Bits & Pieces
by Jonathan Maberry
Hardcover
Simon & Schuster Books for Young Readers
Released 9/22/2015
Return to the zombie apocalypse wasteland that is the Rot & Ruin in this short story collection from Jonathan Maberry.
Benny Imura's zombie-infested adventures are well-chronicled in the gripping novels Rot & Ruin, Dust & Decay, Flesh & Bone, and Fire & Ash. But what else was happening while he was on his quest? Who were the others navigating the ravaged landscape full of zombies?
Bits & Pieces fills in the gaps about what we know about First Night, surviving the plague, and traveling the land of Rot & Ruin. Eleven all-new short stories from Nix's journal and eleven previously published stories, including "Dead & Gone" and "Tooth & Nail," are now together and in print for the first time, along with the first-ever script for the Rot & Ruin comic books.
Purchase Bits & Pieces at Amazon
Purchase Bits & Pieces at IndieBound
View Bits & Pieces on Goodreads
* * * *
Dreamland
by Robert L. Anderson
Hardcover
HarperTeen
Released 9/22/2015
Odea Donahue has been able to travel through people's dreams since she was six years old. Her mother taught her the three rules of walking: Never interfere. Never be seen. Never walk the same person's dream more than once. Dea has never questioned her mother, not about the rules, not about the clocks or the mirrors, not about moving from place to place to be one step ahead of the unseen monsters that Dea's mother is certain are right behind them.
Then a mysterious new boy, Connor, comes to town and Dea finally starts to feel normal. As Connor breaks down the walls that she's had up for so long, he gets closer to learning her secret. For the first time she wonders if that's so bad. But when Dea breaks the rules, the boundary between worlds begins to deteriorate. How can she know what's real and what's not?
Purchase Dreamland at Amazon
Purchase Dreamland at IndieBound
View Dreamland on Goodreads
* * * *
Half a Creature from the Sea: A Life in Stories
by David Almond
Hardcover
Candlewick
Released 9/22/2015
Master storyteller David Almond presents a beautiful collection of short fiction, interwoven with pieces that illuminate the inspiration behind the stories.
May Malone is said to have a monster in her house, but what Norman finds there may just be the angel he needs. Joe Quinn's house is noisy with poltergeists, or could it be Davie's raging causing the disturbance? Fragile Annie learns the truth about herself in a photograph taken by a traveling man near the sea. Set in the northern English Tyneside country of the author's childhood, these eight short stories by the incomparable David Almond evoke gritty realities and ineffable longings, experiences both ordinary and magical. In autobiographical preludes to each story, the writer shows how all things can be turned into tales, reflecting on a time of wonder, tenderness, and joy.
Purchase Half a Creature from the Sea: A Life in Stories at Amazon
Purchase Half a Creature from the Sea: A Life in Stories at IndieBound
View Half a Creature from the Sea: A Life in Stories on Goodreads
* * * *
Library of Souls
by Ransom Riggs
Hardcover
Quirk Books
Released 9/22/2015
Time is running out for the Peculiar Children. With a dangerous madman on the loose and their beloved Miss Peregrine still in danger, Jacob Portman and Emma Bloom are forced to stage the most daring of rescue missions. They'll travel through a war-torn landscape, meet new allies, and face greater dangers than ever. . . . Will Jacob come into his own as the hero his fellow Peculiars know him to be? This action-packed adventure features more than 50 all-new Peculiar photographs.
Purchase Library of Souls at Amazon
Purchase Library of Souls at IndieBound
View Library of Souls on Goodreads
* * * *
Sound
by Alexandra Duncan
Hardcover
Greenwillow Books
Released 9/22/2015
SOUND is the stand-alone companion to Alexandra Duncan's acclaimed novel Salvage, a debut that internationally bestselling author Stephanie Perkins called "kick-ass, brilliant, feminist science fiction." For fans of Beth Revis, Firefly, and Battlestar Galactica.
As a child, Ava's adopted sister Miyole watched her mother take to the stars, piloting her own ship from Earth to space making deliveries. Now a teen herself, Miyole is finally living her dream as a research assistant on her very first space voyage. If she plays her cards right, she could even be given permission to conduct her own research and experiments in her own habitat lab on the flight home. But when her ship saves a rover that has been viciously attacked by looters and kidnappers, Miyole—along with a rescued rover girl named Cassia—embarks on a mission to rescue Cassia's abducted brother, and that changes the course of Miyole's life forever.
Purchase Sound at Amazon
Purchase Sound at IndieBound
View Sound on Goodreads
* * * *
The Scorpion Rules
by Erin Bow
Hardcover
Margaret K. McElderry Books
Released 9/22/2015
A world battered by climate shift and war turns to an ancient method of keeping peace: the exchange of hostages. The Children of Peace - sons and daughters of kings and presidents and generals - are raised together in small, isolated schools called Prefectures. There, they learn history and political theory, and are taught to gracefully accept what may well be their fate: to die if their countries declare war.
Greta Gustafsen Stuart, Duchess of Halifax and Crown Princess of the Pan-Polar Confederation, is the pride of the North American Prefecture. Learned and disciplined, Greta is proud of her role in keeping the global peace — even though, with her country controlling two-thirds of the world's most war-worthy resource — water — she has little chance of reaching adulthood alive.
Enter Elián Palnik, the Prefecture's newest hostage and biggest problem. Greta's world begins to tilt the moment she sees Elián dragged into the school in chains. The Prefecture's insidious surveillance, its small punishments and rewards, can make no dent in Elián, who is not interested in dignity and tradition, and doesn't even accept the right of the UN to keep hostages.
What will happen to Elián and Greta as their two nations inch closer to war?
Purchase The Scorpion Rules at Amazon
Purchase The Scorpion Rules at IndieBound
View The Scorpion Rules on Goodreads
* * * *
The Sleeper and the Spindle
by Neil Gaiman
Hardcover
HarperCollins
Released 9/22/2015
In what Tor.com calls their "greatest [collaboration] to date," New York Times bestselling and Newbery and Carnegie Medal-winning author Neil Gaiman and Kate Greenaway-winning illustrator Chris Riddell have created a thrillingly reimagined fairy tale, "told in a way only Gaiman can" and featuring "stunning metallic artwork" (GeekInsider.com).
The result is a beautiful and coveted edition of The Sleeper and the Spindle that the Guardian calls "a refreshing, much-needed twist on a classic story."
In this captivating and darkly funny tale, Neil Gaiman and Chris Riddell have twisted together the familiar and the new as well as the beautiful and the wicked to tell a brilliant version of Snow White's (sort of) and Sleeping Beauty's (almost) stories.
This story was originally published (without illustrations) in Rags & Bones (Little, Brown, 2013). This is the first time it is being published as an illustrated, stand-alone edition, and the book is a beautiful work of art.
Purchase The Sleeper and the Spindle at Amazon
Purchase The Sleeper and the Spindle at IndieBound
View The Sleeper and the Spindle on Goodreads
* * * *
The Tattooed Heart
by Michael Grant
Hardcover
Katherine Tegen Books
Released 9/22/2015
The games continue in New York Times bestselling author Michael Grant's sequel to Messenger of Fear, a haunting tale for fans of Stephen King that combines fantasy with real-world horror stories.
Mara has learned to punish the wicked as the Messenger's apprentice. Those who act out of selfishness and greed, and others who become violent because of prejudice and hate, pay the ultimate price. But Mara is constantly reminded that Messengers are serving their own kind of punishment—for every person who is offered justice, they wear a tattoo that symbolizes the heart of the crime. As Mara delves deeper into her harsh reality, she will discover that in spite of all the terror she and Messenger inflict, caring in this world is the hardest part of all.
Purchase The Tattooed Heart at Amazon
Purchase The Tattooed Heart at IndieBound
View The Tattooed Heart on Goodreads
* * * *
Walk on Earth a Stranger
by Rae Carson
Hardcover
Greenwillow Books
Released 9/22/2015
The first book in a new trilogy from acclaimed New York Times bestselling author Rae Carson. A young woman with the magical ability to sense the presence of gold must flee her home, taking her on a sweeping and dangerous journey across Gold Rush–era America.
Lee Westfall has a secret. She can sense the presence of gold in the world around her. Veins deep beneath the earth, pebbles in the river, nuggets dug up from the forest floor. The buzz of gold means warmth and life and home—until everything is ripped away by a man who wants to control her. Left with nothing, Lee disguises herself as a boy and takes to the trail across the country. Gold was discovered in California, and where else could such a magical girl find herself, find safety? Rae Carson, author of the acclaimed Girl of Fire and Thorns trilogy, dazzles with this new fantasy that subverts both our own history and familiar fantasy tropes.
Walk on Earth a Stranger, the first book in this new trilogy, introduces—as only Rae Carson can—a strong heroine, a perilous road, a fantastical twist, and a slow-burning romance. Includes a map and author's note on historical research.
Purchase Walk on Earth a Stranger at Amazon
Purchase Walk on Earth a Stranger at IndieBound
View Walk on Earth a Stranger on Goodreads
* * * *
What We Saw
by Aaron Hartzler
Hardcover
HarperTeen
Released 9/22/2015
Critically acclaimed memoirist Aaron Hartzler, author of Rapture Practice, takes an unflinching look at what happens to a small town when some of its residents commit a terrible crime. This honest, authentic debut novel—inspired by the events in the Steubenville rape case—will resonate with readers who've ever walked that razor-thin line between guilt and innocence that so often gets blurred, one hundred and forty characters at a time.
The party at John Doone's last Saturday night is a bit of a blur. Kate Weston can piece together most of the details: Stacey Stallard handing her shots, Ben Cody taking her keys and getting her home early. . . . But when a picture of Stacey passed out over Deacon Mills's shoulder appears online the next morning, Kate suspects she doesn't have all the details. When Stacey levels charges against four of Kate's classmates, the whole town erupts into controversy. Facts that can't be ignored begin to surface, and every answer Kate finds leads back to the same questions: Who witnessed what happened to Stacey? And what responsibility do they have to speak up about what they saw?
National Book Award finalist Deb Caletti calls What We Saw "a smart, sensitive, and gripping story about the courage it takes to do what's right."
Purchase What We Saw at Amazon
Purchase What We Saw at IndieBound
View What We Saw on Goodreads
a Rafflecopter giveaway