Kendall, what scene was really hard for you to write and why, and is that the one of which you are most proud? Or is there another scene you particularly love?
Everything involving Mal, my character, and Essie, his best friend/worst enemy/love interest, was especially challenging. Their relationship is very complicated—they love and trust one another, and yet that closeness makes them uniquely capable of hurting each other. Mal has a lot of confused ideas about love and hate and how closely they can be intertwined, and I knew I needed to be very careful in how I portrayed that. Too strong on either side, and Mal could come off bitter and cynical or like a love-sick puppy. It was very, very challenging and their scenes by far went through the most changes, but I am definitely proud of the result. I think it shows a complicated relationship in all its most vulnerable, shifting ways.
And going along with that, I especially love the last paragraph. It was the first thing I wrote and stayed completely unchanged. I don't want to say too much more or I'll give it away!
How long did you work on DRIFT & DAGGER?
This book had a somewhat strange path. My publisher gave me about seven months to write it, and the whole time I was working on it, it just didn't feel right. I slogged through and by the time I handed it in to my editor, I had made my peace with it, but I definitely wasn't super excited about it. When my editor read it, she could sense all this frustration and doubt and thankfully had great suggestions about how to rework the book. I came away from that conversation more energized than I'd been the whole time I was writing and ultimately decided to scrap the book and restart basically from scratch.
I rewrote the book in something like nine weeks and then spent another few weeks in edits. It was the fastest I'd ever written something, but I think because I had a solid foundation and knew these characters in my bones, it all just poured out. I am so happy my editor made those suggestions (and thankfully a lot of great scenes that I loved from the first draft were reworked into a new story set in the world of SALT & STORM, my novella SALTWATER HEART).
What do you hope readers will take away from DRIFT & DAGGER?
Mal's story is one I hope a lot of teenagers can really relate to. Mal is a boy immune to magic, living in a world built on magic. He's told that what he is is an abomination and that he must always hide it or he'll lose everything and everyone he loves.
I think a lot of teenagers—and adults, too—carry around some secret part of their identity that they find terrible or scary, and they're terrified that someone will find out. It takes a lot of time, guidance, trust, and maturity to recognize that these parts of ourselves don't determine our futures.
Mal's struggle is figuring out how to love his whole self. I truly hope that his story will resonate with people in similar situations.
What's your writing ritual like? Do you listen to music? Work at home or at a coffee shop or the library, etc?
I
just
moved to a new home, where the first thing I did was set up a home office. I hand-built my desk (
I love it and took an embarrassingly large number of photos of it
), and I like to write standing up, at my laptop, with breaks to play with my dog (and—of course—nap). For the past year, I've also been caring for my baby, so my writing ritual is more like "Oh great! The baby's asleep! Quick—write!" but I'm looking forward to getting more scheduled once she's off to daycare.
And I
love
writing with music! Favorites are The Decemberists and Sea Wolf.
What are you working on now?
At this exact moment, I'm taking a little writing break so I can focus on DRIFT & DAGGER and its companion e-novella, SALTWATER HEART, as well as get settled in the new house and mentally recharge my creative brain. BUT, I am very anxious to get back to my latest work-in-progress, which is about a girl raised as a ghost hunter living in 1890s Arizona (I used to know lots about whale ships and harpoons; now I know lots about horses and guns). Hopefully I'll be able to share more about it soon!
ABOUT THE BOOK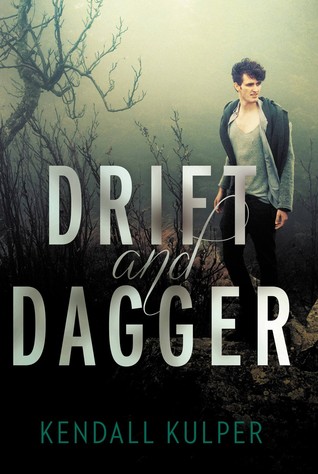 Drift & Dagger
by Kendall Kulper
Hardcover
Little, Brown Books for Young Readers
Released 9/8/2015
In Mal's world, magic is everything. But Mal is a "blank," the anti-magic. Blanks can't be hexed or cursed or saved or killed by magic. And everyone is afraid of them--even Mal himself.
So Mal hides what he is--except from Essie Roe, a witch and his best friend. On the day Essie reveals his secret and casts him out from the only home he's ever known, Mal experiences the true shock of betrayal.
Now Mal travels the world in search of rare, illegal magical relics. When his partner in crime, Boone, hears rumors of a legendary dagger that can steal a witch's power, Mal knows he's finally found his means of revenge. But as the chase for the fabled knife takes them from Boston to Paris to Constantinople, Mal realizes there are secrets afoot that he's only beginning to understand--and all the while the blank monster inside him threatens to escape.
Purchase Drift & Dagger at Amazon
Purchase Drift & Dagger at IndieBound
View Drift & Dagger on Goodreads
ABOUT THE AUTHOR
Kendall Kulper writes historical fiction with a fantasy twist for teen readers and knows more about nineteenth century whaling than she ever imagined. Her debut YA novel, SALT & STORM will be published by Little, Brown September 23, 2014. She graduated from Harvard University with a degree in history and literature in 2008 and spent several years as a journalist before deciding to write full-time. She grew up in the wilds of New Jersey and now lives in Boston with her husband and chronically-anxious Australian Shepherd mix, Abby.
Have you had a chance to read DRIFT & DAGGER yet? Have you ever started over from scratch after finishing a book? Do you want Kendall to build a writing desk for you?
Happy reading,
Jocelyn, Shelly, Martina, Erin, Lisa, Susan, Jen, Sam, Lindsey, Sandra, Kristin, and Anisaa