Soul Corrupted
! There are also five giveaways happening, perfect to get you over that back-to-school hump. Have a great Labor Day!
Happy reading,
Lindsey, Martina, Sam, Jocelyn, Erin, Lisa, Shelly, Susan, Elizabeth, Kristin, Jen, Sandra and Anisaa
YA BOOK GIVEAWAYS THIS WEEK
The One Thing
by Marci Lyn Curtis
Signed Hardcover Giveaway

International
Disney-Hyperion
Released 9/8/2015
Maggie Sanders might be blind, but she won't invite anyone to her pity party. Ever since losing her sight six months ago, Maggie's rebellious streak has taken on a life of its own, culminating with an elaborate school prank. Maggie called it genius. The judge called it illegal.
Now Maggie has a probation officer. But she isn't interested in rehabilitation, not when she's still mourning the loss of her professional-soccer dreams, and furious at her so-called friends, who lost interest in her as soon as she could no longer lead the team to victory.
Then Maggie's whole world is turned upside down. Somehow, incredibly, she can see again. But only one person: Ben, a precocious ten-year-old unlike anyone she's ever met. Ben's life isn't easy, but he doesn't see limits, only possibilities. After awhile, Maggie starts to realize that losing her sight doesn't have to mean losing everything she dreamed of. Even if what she's currently dreaming of is Mason Milton, the magnetic lead singer of Maggie's new favorite band, who just happens to be Ben's brother.
But when she learns the real reason she can see Ben, Maggie must find the courage to face a once-unimaginable future ... before she loses everything she has grown to love.
Author Question: What is your favorite thing about The One Thing?
I'd have to say the feels. THE ONE THING is packed with them. If you were to turn the book on end and give it a shake, you'd probably rattle out an Everest's worth of emotion (every sort of emotion, really—the intense and the lighthearted and the heartbreaking).

Translation: I like making people cry.

Kidding.

Sort of. :)
Purchase The One Thing at Amazon
Purchase The One Thing at IndieBound
View The One Thing on Goodreads
* * * *
Edgewater
by Courtney Sheinmel
Hardcover Giveaway

U.S. Only
Amulet Books
Released 9/8/2015
Lorrie Hollander used to be a rich girl, but now she's lost everything because of the secrets and lies of the people around her. It's been 12 years since Lorrie's mother skipped town and left Lorrie in the care of her unstable aunt Gigi. Together they live in a neglected, decrepit mansion called Edgewater, the eyesore in a town of extraordinary wealth and privilege.
When Charlie, the son of an esteemed senator, takes an interest in Lorrie, her shame for her family and lifestyle runs deep. But what she doesn't know is that Charlie's family is hiding something, too, and that their secrets are inextricably tied. Now Lorrie must confront the truth about her family—and everything she ever thought she knew about herself.
Author Question: What is your favorite thing about Edgewater?
The idea for EDGEWATER came over dinner, several years ago, with the wonderful writer Lauren Oliver, who is also one of my dearest friends. I told Lauren that I wanted to write a book about a complicated pair of sisters, but I wasn't sure at all what their story should be. She barely blinked and said, "You should write a Grey Gardens young adult book—with sisters!"

As Lauren knows, I am a sister myself, and I love stories about sisters. (Shout-out to my own sister, Alyssa Sheinmel!) I had also long been obsessed with the Maysles brothers' documentary about the Beale women—a mother and daughter who lived in a crumbling mansion in East Hampton, called Grey Gardens. I'd seen the Broadway musical, and watched the movie on HBO. I loved Lauren's idea immediately. But it took me a long time to start writing. Instead I wrote other things, like the first few books in the Stella Batts series, and the first few chapters of other books that will likely never see the light of day. All the while, the Grey Gardens YA idea kept needling around in the back of my brain. It was by far my favorite idea; in fact I loved it so much I was a bit afraid of it. I worried I wouldn't be able to do it justice. I started a file on my computer called simply "GG." Every so often something—an image, a name, a sentence—would pop into my head, and I'd add it to the file and go back to whatever other book I was working on.

A couple years passed, and eventually the "GG" file started to feel bulky, like maybe it would really be a book one day. I suppose my favorite thing about EDGEWATER is that it actually exists now—that it's a real-live book I can hold in my hands, and you can hold it in yours. It's my favorite thing about every book I've ever written, actually; the magical part of creating something from nothing, and having it there, a physical thing. But with EDGEWATER, it's extra sweet and satisfying.
Purchase Edgewater at Amazon
Purchase Edgewater at IndieBound
View Edgewater on Goodreads
* * * *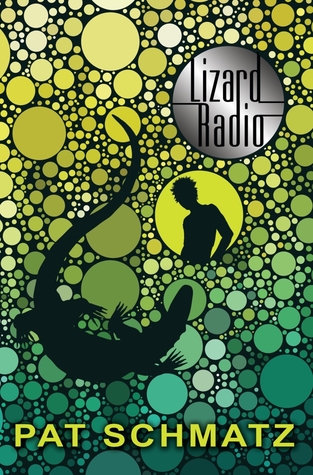 Lizard Radio
by Pat Schmatz
Hardcover Giveaway

U.S. Only
Candlewick
Released 9/8/2015
Fifteen-year-old bender Kivali has had a rough time in a gender-rigid culture. Abandoned as a baby and raised by Sheila, an ardent nonconformist, Kivali has always been surrounded by uncertainty. Where did she come from? Is it true what Sheila says, that she was deposited on Earth by the mysterious saurians? "What are you?" people ask, and Kivali isn't sure. Boy/girl? Human/lizard? Both/neither? Now she's in CropCamp, with all of its schedules and regs, and the first real friends she's ever had. Strange occurrences and complicated relationships raise questions Kivali has never before had to consider. But she has a gift—the power to enter a trancelike state to harness the "knowings" inside her. She has Lizard Radio. Will it be enough to save her? A coming-of-age story rich in friendships and the shattering emotions of first love, this deeply felt novel will resonate with teens just emerging as adults in a sometimes hostile world.
Author Question: What is your favorite thing about Lizard Radio?
That question has different answers on different days – but for today, my favorite thing about Lizard Radio is the setting. For years, I'd been wanting to write a novel that takes place in a camp, and I finally found a way to do that. I grew up in summer camps (my parents owned and operated a private boys' camp in rural Wisconsin throughout my childhood years), so I know that setting like I know my own pulse.
Magical things happen when you throw a bunch of teenagers into the woods together. The environment itself becomes a character – the trees, the storms and sun, the moonlight and the smell of the earth. It was a pure delight for me to immerse myself there with a character who is attuned to the outdoor world, and who dances on the edges of reality.
Purchase Lizard Radio at Amazon
Purchase Lizard Radio at IndieBound
View Lizard Radio on Goodreads
* * * *
Sunset Ranch
by A. Destiny and Emma Carlson Berne
Paperback Giveaway
Simon Pulse; Reissue edition
Released 9/8/2015
First crush, first love, first kiss—in this addition to the sweet and clean Flirt series, Chloe finds that there's more than just horses waiting for her at the ranch this summer.
Chloe can hardly believe it when she lands a summer job mucking stalls at one of the best dude ranches in Colorado. Things only get better when she meets Stephen. He's funny, friendly, and hardworking—a welcome antidote to Chloe's daily doses of Zach, the cocky, self-satisfied fellow ranch hand.
When a trailer full of new colts arrives for training, Chloe is given the job of caring for them. She's looking forward to spending time with Stephen, but then Zach is assigned to help with the training and Chloe's plans for moonlight rides and watching sunsets are squashed.
But as the summer continues, Chloe starts to see a different side of Zach as he works with the horses—and she starts to wonder if maybe she judged him too harshly. Could there be something between them after all?
Purchase Sunset Ranch at Amazon
Purchase Sunset Ranch at IndieBound
View Sunset Ranch on Goodreads
* * * *
The Hired Girl
by Laura Amy Schlitz
Hardcover Giveaway

U.S. Only
Candlewick
Released 9/8/2015
Fourteen-year-old Joan Skraggs, just like the heroines in her beloved novels, yearns for real life and true love. But what hope is there for adventure, beauty, or art on a hardscrabble farm in Pennsylvania where the work never ends? Over the summer of 1911, Joan pours her heart out into her diary as she seeks a new, better life for herself—because maybe, just maybe, a hired girl cleaning and cooking for six dollars a week can become what a farm girl could only dream of—a woman with a future. Inspired by her own grandmother's journal, Newbery Medalist Laura Amy Schlitz relates Joan's journey from the muck of the chicken coop to the comforts of a society household in Baltimore (Electricity! Carpet sweepers! Sending out the laundry!), taking readers on an exploration of feminism and housework; religion and literature; love and loyalty; cats, hats, and bunions.
Purchase The Hired Girl at Amazon
Purchase The Hired Girl at IndieBound
View The Hired Girl on Goodreads
YA BOOK GIVEAWAYS LAST WEEK: WINNERS
Anne & Henry by Dawn Ius
- Alicia G.
Paper Hearts by Meg Wiviott
- Sushma P.
The Body Institute by Carol Riggs
- Tammy V.
The Shadow Behind the Stars by Rebecca Hahn
- Shari S.
Truest by Jackie Lea Sommers
- Danielle H.
Violent Ends by Shaun David Hutchinson, Neal Shusterman, Brendan Shusterman, Beth Revis, Cynthia Leitich Smith
- Diayll S.
MORE YOUNG ADULT FICTION IN STORES NEXT WEEK WITH AUTHOR INTERVIEWS
Dark Shimmer
by Donna Jo Napoli
Hardcover
Wendy Lamb Books
Released 9/8/2015
Set in medieval Venice, this captivating fairy tale retelling by award-winning author Donna Jo Napoli explores belonging, beauty, and the transformative power of love through the eyes of a teenage girl. Dolce has grown up hidden away on an island in a lagoon. She is a giant, a freak, tormented by everyone but her loving mother. She spends her time learning the valuable secret of making mirrors. Following a tragedy, Dolce swims away and lands on an island where people see her as normal, even beautiful. Marin, a kind widower, and his little daughter bring Dolce to live with them in their grand palazzo. Eventually, Dolce and Marin marry. She secretly continues to make mirrors, not realizing that quicksilver endangers her . . . and so evil begins in innocence.
Author Question: What is your favorite thing about Dark Shimmer?
My favorite thing about DARK SHIMMER? Oh my, I have several favorites. You see, I love Venice. I have been taking my family to Venice for the past 30 years. And right now I'm a Fulbright Scholar there, while on sabbatical from my home institution. The city breaks my heart, it has such a wonderful and terrible history. Maybe every city does, but with Venice you feel the history every day, wherever you go. It's like living in a museum. There are statues of black Moors here and there -- reminding us of a cruel past in which African slaves were prized. There are shops selling glass in glorious colors everywhere, reminding us of that past source of wealth. And the lagoon is always there, rising with the tides, sometimes lapping over the banks, so that you have to wear big boots to trudge through it. The palazzi are so splendid, and the traditional homes of fishermen are so dark and damp -- evidence of a distribution of wealth that is unjust, but as typical of big cities today as it was in Venice's heyday. All of it twists my guts. So I need to write about Venice every so often. I need to write about beauty and ugliness, about love and the lack of pity. It's like a lifeline to me.
Purchase Dark Shimmer at Amazon
Purchase Dark Shimmer at IndieBound
View Dark Shimmer on Goodreads
* * * *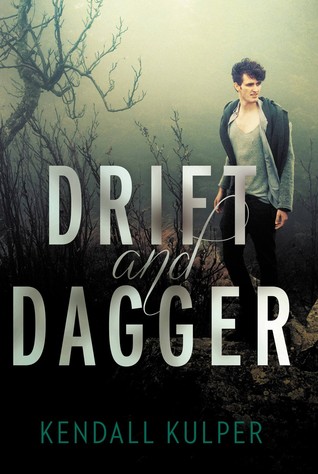 Drift & Dagger
by Kendall Kulper
Hardcover
Little, Brown Books for Young Readers
Released 9/8/2015
In Mal's world, magic is everything. But Mal is a "blank," the anti-magic. Blanks can't be hexed or cursed or saved or killed by magic. And everyone is afraid of them--even Mal himself.
So Mal hides what he is--except from Essie Roe, a witch and his best friend. On the day Essie reveals his secret and casts him out from the only home he's ever known, Mal experiences the true shock of betrayal.
Now Mal travels the world in search of rare, illegal magical relics. When his partner in crime, Boone, hears rumors of a legendary dagger that can steal a witch's power, Mal knows he's finally found his means of revenge. But as the chase for the fabled knife takes them from Boston to Paris to Constantinople, Mal realizes there are secrets afoot that he's only beginning to understand--and all the while the blank monster inside him threatens to escape.
Author Question: What is your favorite thing about Drift & Dagger?
The world building. I had so much fun creating a real structure and history for this world. Because DRIFT & DAGGER is based on real history, I looked for facts to inspire how people might really act in my fictional world. I imagined in a fantasy world, rare magical objects would be especially valuable, and some people, like Mal, my main character, would make a living hunting them down. These hunters would all have specialties and certain skills; some would band together and focus on specific hunts, others would work independently. I probably could have spent the whole book just writing about them!

I also loved that DRIFT & DAGGER takes place in cities around the world. I am definitely a research hound, so getting to imagine the sights, sounds, and smells of places like London, Paris, Constantinople, and New York City in the nineteenth century was an amazingly satisfying challenge!
Purchase Drift & Dagger at Amazon
Purchase Drift & Dagger at IndieBound
View Drift & Dagger on Goodreads
* * * *
Drowning Is Inevitable
by Shalanda Stanley
Hardcover
Knopf Books for Young Readers
Released 9/8/2015
Olivia has spent her whole life struggling to escape her dead mother's shadow. But when her father can't even look at her because Olivia reminds him of her mother, and her grandmother mistakenly calls her "Lillian," shaking a reputation she didn't ask for is next to impossible. Olivia is used to leaning on her best friend, Jamie; her handsome but hot-tempered boyfriend, Max; and their wild-child friend, Maggie, for the reality check that her small Louisiana town can't provide. But when a terrible fight between Jamie and his father turns deadly, all Olivia can think to do is grab her friends and run.
In a flash, Olivia, Jamie, Max, and Maggie become fugitives on the back roads of Louisiana. They're headed to New Orleans, where they hope to find a solution to an unfixable problem. But with their faces displayed on all the news stations, their journey becomes a harrowing game of hide-and-seek from the police—and so-called allies, who just might be the real enemy.
Shalanda Stanley's breathtaking debut novel explores the deep ties between legacy, loyalty, and love, even as it asks the question: How far would you go to save a friend?
Author Question: What is your favorite thing about Drowning Is Inevitable?
I'd have to say that my favorite thing about DROWNING IS INEVITABLE is the friendships. I had so much fun writing these intense, fierce bonds between the four teens, especially Jamie and Olivia's friendship. I could wrap myself up in Jamie and Olivia. I love them so. It was important to me that their relationship be the premier relationship in the book and that it remain familial, and it's the depiction of their friendship that I'm most proud of.

Another favorite thing of mine is the setting. South Louisiana is beautiful and creepy and haunting, and I really wanted readers to feel like they were a part of the landscape. St. Francisville is almost like another character in the story and I'm really excited to share its beauty and history.
Purchase Drowning Is Inevitable at Amazon
Purchase Drowning Is Inevitable at IndieBound
View Drowning Is Inevitable on Goodreads
* * * *
Evolution
by Stephanie Diaz
Hardcover
St. Martin's Griffin
Released 9/8/2015
The final book in the brilliantly paced Extraction series. About a fearless girl who wins escape from a brutal life only to find herself battling to save her planet from destruction.
Clementine and Logan's world is on the brink of destruction. An army of aliens from the distant planet Marden has arrived with a massive fleet of battleships, intent on finally putting an end to an age-old war. With the Alliance headquarters reduced to rubble and one of the rebel leaders close to death, Clementine and her friends have no choice but to retreat to the Core to escape the alien ships attacking the Surface.
But safety in the Core means forming a temporary alliance with their sworn enemy. Though he's a ruthless man they cannot trust, striking a bargain with him—his pardon in exchange for their help defeating the Mardenites—seems the only way the rebels might survive. The only way that Clementine and Logan might finally live in peace. But their hope for peace is short lived as they soon find out that Marden's force is more powerful than anyone anticipated, with weapons and technologies never before seen on Kiel. Unless old feuds can be set aside long enough for a diplomatic solution to be found, all of Kiel's people will be destroyed, and all of Clementine's sacrifices will mean nothing.
With pulse-pounding twists and turns, the stunning conclusion to the Extraction series will leave you breathless!
Author Question: What is your favorite thing about Evolution?
EVOLUTION was the book of the series that really allowed me to delve into hard sci-fi territory more than any of the others, which was super fun for me. An antagonist on the sidelines of the first two books comes center stage in the finale and takes the conflict to a whole new level. It was awesome getting to develop that antagonist into a foe that would cause Clementine and her friends some serious trouble.
Purchase Evolution at Amazon
Purchase Evolution at IndieBound
View Evolution on Goodreads
* * * *
Mary: Unleashed
by Hillary Monahan
Hardcover
Disney-Hyperion
Released 9/8/2015
Mary in the mirror.
Mary in the glass.
Mary in the water.
Mary lurks in the emptiness, in the darkness . . . in the reflection. That is, until Jess unleashes her into the world. Now Mary Worth is out and her haunting is deadlier than ever.
No one is safe.
Shauna, Kitty, and Jess must band together to unearth the truth about Mary's death to put her soul to rest for good. Their search leads them back to where it all began--to Solomon's Folly, a place as dangerous as the ghost who died there a century and a half ago. Quick sand, hidden traps, and a phantom fog are the least of their worries. To stop Mary, they need to follow a dark string of clues and piece together a gruesome mystery that spans generations.
But time is running out.
As chilling facts come to light, Mary inches ever closer to her prey. Can Jess, Shauna, and Kitty break Mary's curse before it's too late? Or will history repeat itself until there is no one left to call her name . . . ?
Author Question: What is your favorite thing about Mary: Unleashed?
The use of the local lore. The Hockomock Swamp is the stuff of legend for kids in Southeastern Massachusetts. I grew up with the stories about thunderbirds and phantom fog and lights and UFOs and yetis and every other oogedy boogedy thing you can think of. My mother tells a story about my father from back in the day, when she was a teenager—there's a stretch of road on Maple Street in West Bridgewater that cuts through the swamp. Fog rolls in from either side, so thick you can't see more than a foot or two in front of you when it's at its peak. There are dirt roads to either side of the street where people just sort of . . . wander out of the fog. Drug addicts mostly, which is less fun, but she said they would go in there to deal and get high and then stumble out like zombies. You'd have to be careful driving that way at night or you could hit someone. Anyway, my father was a huge guy, broad, tall, strong—football player type—and he was bet one hundred dollars that he wouldn't walk Maple Street for one mile through the swamp fog. This was back in the seventies when a hundred dollars was a lot of money, and he agreed.

To make a long story short, he made it twenty yards before he noped out and determined it a fool's bet. None of my mother's friends ever made the mile.
Purchase Mary: Unleashed at Amazon
Purchase Mary: Unleashed at IndieBound
View Mary: Unleashed on Goodreads
* * * *
Soul Corrupted
by Lisa Gail Green
eBook
Full Fathom Five Digital
Released 9/9/2015
In Soul Corrupted, the sequel to Soul Crossed, life in Heaven isn't all "happily ever after" for Josh and Grace. Now Guardian Angels, they are entrusted with finding and saving the next potential Antichrist. But Grace is consumed with worry about her family, which is dealing with the aftershocks of her death. She's particularly concerned about her brother Noah, who has turned down a dangerous path of drugs and violence—and she's frustrated by the rules of Heaven, which forbid her from contacting them.
Josh has troubles of his own. A former Demon, he questions his ability to guide troubled souls to the light. When he discovers that Noah made a deal with Lucifer and has even been hanging around with Josh's old Demon pal, Keira, he makes a forbidden counter-deal with the Devil to save Noah's soul. Josh's side of the bargain? He has to sever his relationship with Grace.
Josh and Grace's world is about to spin out of control, testing the limits of true love and blurring the border between Heaven and Hell.
Soul Corrupted is the second installment in Lisa Gail Green's Of Demon and Angels series, which started with Soul Crossed.
Author Question: What is your favorite thing about Soul Corrupted?
My favorite thing about Soul Corrupted was getting deeper into the characters from the first book! I also loved getting to know Noah. But I think Keira, the demon, was the most unexpected and wonderful part for me! She's so very dimensional now and readers will truly understand her even if they can't excuse her behavior. ;D But what I want to know is what readers like best about Soul Corrupted!!
Purchase Soul Corrupted at Amazon
Purchase Soul Corrupted at IndieBound
View Soul Corrupted on Goodreads
* * * *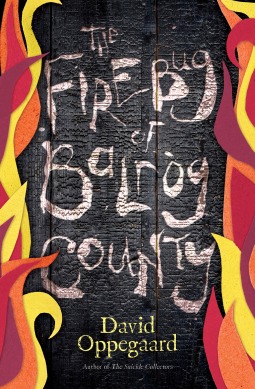 The Firebug of Balrog County
by David Oppegaard
Paperback
Flux
Released 9/8/2015
Dark times have fallen on remote Balrog County, and Mack Druneswald, a high school senior with a love of clandestine arson, is doing his best to deal. While his family is haunted by his mother's recent death, Mack spends his nights roaming the countryside, looking for something new to burn. When he encounters Katrina, a college girl with her own baggage, Mack sets out on a path of pyromania the likes of which sleepy Balrog County has never seen before.
A darkly comic tour-de-force, The Firebug of Balrog County is about legend, small towns, and the fire that binds.
Author Question: What is your favorite thing about The Firebug of Balrog County?
FIREBUG's main character, Mack Druneswald, is a smart aleck who gets into a lot trouble. Writing in his voice was so much fun—I just tapped into all the crazy stuff floating around in my head and put it on the page. I jokingly tell people Mack is like an eighteen-year-old version of myself, but he's actually much funnier and cooler than I was at eighteen, though I never started any arson-type fires, so I guess I had that going for me.

I also enjoyed building Mack's relationship with the book's main love interest, Katrina. It's a classic goofball-meets-out-of-his-league-college-girl-and-wins-her-over-with-charm-and-honesty love story.
Purchase The Firebug of Balrog County at Amazon
Purchase The Firebug of Balrog County at IndieBound
View The Firebug of Balrog County on Goodreads
* * * *
Wonders of the Invisible World
by Christopher Barzak
Hardcover
Knopf Books for Young Readers
Released 9/8/2015
Aidan Lockwood feels like he's been sleepwalking through life, each day as hazy and unremarkable as the one before it. But when his former best friend, Jarrod, suddenly moves back to town, the veil that has clouded Aidan's mind begins to lift. Yet what Aidan discovers is that his world is haunted by stories of the past; stories that he has somehow been prevented from remembering.
But visions from the past come to him unbidden, starting with an old apple tree—a gnarled, dead thing—that haunts Aidan's sleep, and seems to beckon to him from across his family's orchard. And then there are the dreams that show him people and places he's only heard of in family stories: a great-grandfather on the field of battle; his own father, stumbling upon an unspeakable tragedy; and a mysterious young boy whose whispered words may be at the heart of the curse that now holds Aidan's family in its grip.
But there's another presence lurking within this invisible world—someone who has been waiting to collect on a debt set into motion generations ago. As the lines between the past and the present, stories and truths, friends and lovers begin to blur, Aidan will be forced to spin a story of his own to protect those he loves, and keep the invisible world at bay.
A first YA from an acclaimed adult author.
Author Question: What is your favorite thing about Wonders of the Invisible World?
My favorite thing about this novel is the magical elements woven into the fabric of a small ordinary midwestern town, the kind of place that a lot of people probably don't think of as magical. I loved exploring the different ways Death can appear to people, the way cursing and wishing work in a story where they're not just figurative language, and I loved exploring the history of the two families the story centers on.
Purchase Wonders of the Invisible World at Amazon
Purchase Wonders of the Invisible World at IndieBound
View Wonders of the Invisible World on Goodreads
MORE YOUNG ADULT NOVELS NEW IN STORES NEXT WEEK
Fans of the Impossible Life
by Kate Scelsa
Hardcover
Balzer + Bray
Released 9/8/2015
This is the story of a girl, her gay best friend, and the boy in love with both of them.
Ten months after her recurring depression landed her in the hospital, Mira is starting over as a new student at Saint Francis Prep. She promised her parents she would at least try to act like a normal, functioning human this time around, not a girl who sometimes can't get out of bed for days on end, who only feels awake when she's with Sebby.
Jeremy is the painfully shy art nerd at Saint Francis who's been in self-imposed isolation after an incident that ruined his last year of school. When he sees Sebby for the first time across the school lawn it's as if he's been expecting this blond, lanky boy with a mischievous glint in his eye.
Sebby, Mira's gay best friend, is a boy who seems to carry sunlight around with him like a backlit halo. Even as life in his foster home starts to take its toll, Sebby and Mira together craft a world of magic rituals and secret road trips, designed to fix the broken parts of their lives.
As Jeremy finds himself drawn into Sebby and Mira's world, he begins to understand the secrets that they hide in order to protect themselves, to keep each other safe from those who don't understand their quest to live for the impossible.
A captivating and profound debut novel, "Fans of the Impossible Life" is a story about complicated love and the friendships that change you forever.
Purchase Fans of the Impossible Life at Amazon
Purchase Fans of the Impossible Life at IndieBound
View Fans of the Impossible Life on Goodreads
* * * *
Goose
by Dawn O'Porter
Hardcover
Amulet Books
Released 9/8/2015
Best friends Renée and Flo have been inseparable for years. But now, as high school graduation looms, the girls' rock-solid friendship is beginning to show cracks. Flo has her heart set on going to university, with Renée right by her side, but all Renée wants is to stop going to school as soon as possible. To distract themselves from the inevitable and frightening future, Renée gets swept up in a romance with an older man, while Flo starts attending a church group. With such different paths and views on life, the girls start to worry that it isn't just high school that's ending—but also their friendship.
Told through alternating perspectives in a gritty, poignant, and hilarious voice, Goose will appeal to fans of Rainbow Rowell, Louise Rennison, and Lauren Myracle.
Purchase Goose at Amazon
Purchase Goose at IndieBound
View Goose on Goodreads
* * * *
Rogue
by Mark Frost
Hardcover
Random House Books for Young Readers
Released 9/8/2015
Will West is playing a dangerous game. Months after uncovering the sinister Paladin Prophecy plot, Will continues to work with the mastermind behind the project—none other than his own grandfather, Franklin Greenwood. Will cooperates in order to keep his friends safe. But are they really secure in the hands of a madman?
Under constant surveillance, Will and his friends secretly devise a plan to defeat Franklin Greenwood and his Knights of the Charlemagne. The team must enter the Never-Was and find an elusive group of supernatural beings called the Hierarchy. But as the battle approaches, the alliance uncovers old secrets that threaten to tear them apart. Can they protect Earth from the demons beyond? Or will a rogue player destroy them and the world they live in?
Thrilling mystery and electrifying suspense abound in Mark Frost's action-packed Paladin Prophecy series, which is compelling to the very last page.
Purchase Rogue at Amazon
Purchase Rogue at IndieBound
View Rogue on Goodreads
* * * *
Stand-Off
by Andrew Smith
Hardcover
Simon & Schuster Books for Young Readers
Released 9/8/2015
Ryan Dean West is back to his boarding school antics in this bitingly funny sequel to Winger, which Publishers Weekly called "alternately hilarious and painful, awkward and enlightening" (Publishers Weekly, starred review).
It's his last year at Pine Mountain, and Ryan Dean should be focused on his future, but instead, he's haunted by his past. His rugby coach expects him to fill the roles once played by his lost friend, Joey, as the rugby team's stand-off and new captain. And somehow he's stuck rooming with twelve-year-old freshman Sam Abernathy, a cooking whiz with extreme claustrophobia and a serious crush on Annie Altman—aka Ryan Dean's girlfriend, for now, anyway.
Equally distressing, Ryan Dean's doodles and drawings don't offer the relief they used to. He's convinced N.A.T.E. (the Next Accidental Terrible Experience) is lurking around every corner—and then he runs into Joey's younger brother Nico, who makes Ryan Dean feel paranoid that he's avoiding him. Will Ryan Dean ever regain his sanity?
From the author of the National Book Award–nominated 100 Sideways Miles, which Kirkus Reviews called "a wickedly witty and offbeat novel," Stand-Off is filled with hand-drawn infographics and illustrations and delivers the same spot-on teen voice and relatable narrative that legions of readers connected with in Winger.
Purchase Stand-Off at Amazon
Purchase Stand-Off at IndieBound
View Stand-Off on Goodreads
* * * *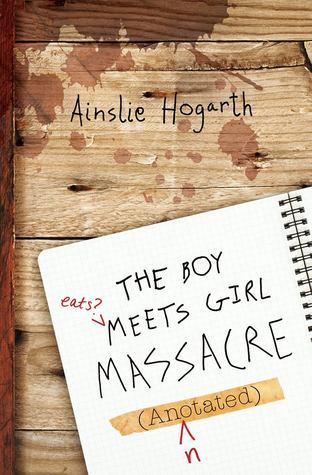 The Boy Meets Girl Massacre
by Ainslie Hogarth
Paperback
Flux
Released 9/8/2015
Noelle takes a summer nightshift job at the infamous Boy Meets Girl Inn, even though she's well aware of the grisly murders that happened there decades ago. That's why she has a diary—to write down everything she experiences in case things go bump in the night. But the inexplicable freezing drafts, the migrating rotten-flesh smell, and the misplaced personal items don't really scare her. Noelle has bigger problems: her father's ailing health, her friend Alfred's inappropriate crush, and the sore spot on the back of her head that keeps getting worse.
When a party commemorating the anniversary of the original killings ends in a ghoulish bloodbath, Noelle's diary becomes the key piece of evidence for investigators. But the cryptic and often incoherent entries suggest there is more to the bizarre case than can be rationally explained...
Purchase The Boy Meets Girl Massacre at Amazon
Purchase The Boy Meets Girl Massacre at IndieBound
View The Boy Meets Girl Massacre on Goodreads
* * * *
The Suffering
by Rin Chupeco
Hardcover
Sourcebooks Fire
Released 9/8/2015
Over the last year I've gone against faceless women, disfigured spirits, and grotesque revenants. Some people keep dangerous hobbies; skydiving and driving at monster truck rallies and glacier surfing. Me? I cast my soul into the churning waters of potential damnation and wait for a bite.
It's been two years since Tark Halloway's nightmare ended. Free from the evil spirit that haunted him all his life, he now aids the ghostly Okiku and avenges the souls of innocent children by hunting down their murderers. But when Okiku becomes responsible for a death at his high school, Tark begins to wonder if they're no better than the killers they seek out.
When an old friend disappears in Aokigahara, Japan's infamous 'suicide forest', both must resolve their differences and return to that country of secrets to find her.
Because there is a strange village inside Aokigahara, a village people claim does not exist. A village where strange things lie waiting.
A village with old ghosts and an ancient evil – one that may be stronger than even Okiku…
Purchase The Suffering at Amazon
Purchase The Suffering at IndieBound
View The Suffering on Goodreads
a Rafflecopter giveaway