Today we're excited to welcome C.C. Hunter to the blog. C.C.'s Unspoken is the third book of the Shadow Falls: After Dark trilogy, and releases on October 28th. She's here to share advice about self-doubt and rejection. There are lots of useful tips, so read on and enjoy!
Divorcing Doubt Brought on By Rejection by C.C. Hunter
Why am I even trying to write? I'm no good at this. I wouldn't know a good sentence if it jumped up and tattooed itself on my butt! I'm tired of having to rewrite, rewrite and rewrite. If I was any good, I'd get it right the first time. Besides, I'm too old to learn! How many rejections does it take for the message to sink in! I quit! I quit! I really quit!
They arrive in droves. One will hit me, then before I have a chance to recover, here comes another. BAM! Oh those negative, piercing, painful thoughts. And sometimes, they're not even about writing. Self-doubt can sting.
Have you ever dealt with self-doubt after a rejection comes rolling in? If you've never suffered from this problem, you have my permission to stop reading right now. But if you, too, have been smacked around a time or two by villainous self-doubt, then listen up.
First, we all must realize that it's normal for us wacky people, who call ourselves writers, to be a bit manic depressive. I don't mean for you to run off to the doctor and sign up for some meds. What I'm saying is that that most of us, especially writers, live on highs and lows. We write a good scene, discover a new market, and we're on Cloud Nine. We get a rejection, someone butchers one of our pieces, or we go too long without hearing anything back on our manuscripts and we, like the drama queens and kings that we are, go to the edge of our cloud, close our eyes, release all our negative voices, and commit emotional suicide.
I said it might be somewhat normal, but I didn't say it was okay—because it's not okay.
Especially if, after you hit rock bottom, you don't pick yourself up, wipe up the blood, sweat and tears, and go in search of a ladder. Heck! You've got clouds to climb. Manuscripts to write. You are a writer.
My point is that, in this business, there are going to be highs and lows. And almost every published author will tell you that it doesn't stop when you get that call, or the first contract, or the tenth, or twentieth contract. We still get rejected, we get bad reviews, and self-doubt plagues all of us.
The first thing you need to do is to accept it and know you're not alone in this crazy world of ups and downs. Most writers experience rejection, we live with a lot of self-doubt, we have to deal with it, most of us even survive it. We divorce it. We usually have to keep divorcing it, because just like a bad penny, the moment we let down our guard, it sneaks its way back into our creative souls. The way we deal with it is to start enjoying the climb up the ladder as much as possible. Being on top is fun, Cloud Nine is a nice place to be, so milk it for all it's worth. But even more important is to find ways to enjoy your work—to enjoy the climb, the steps, even the baby steps. Hey, remember when you loved writing? When it was all about the passion of getting that story on paper? Yeah, that's where you need to be again.
To help control and divorce those doubts brought on by rejection, try these tips.
Seek out positive people. Negativity is like a bad stomach virus. All you need to do is be in the room with someone who has it, and you're gonna get it. And generally, it ain't pretty.
Get into a competition with another writer. A healthy competition. See who can complete a proposal first.
Allow yourself to dream, picture yourself getting the call, the contract! Or that positive review.
Make it fun by dangling a carrot out in front of yourself. A completed chapter warrants a lunch out with a friend, or even a cup of coffee at Starbucks.
Relieve stress by keeping your focus. Set a schedule and stick to it, you'll not be nearly as hard on yourself if you are working on that goal rather than if you are procrastinating.
Come up with some positive affirmations to offset the negative self-doubt stuff. Go around singing, "I'm good. I'm really good." Sounds crazy? Of course it does. But it does help.
If music doesn't bother you when you work, play positive music while you write.
Keep proof of your successes in front of you when you write—a contest certificate, a positive critique, anything that reminds you that you can do it.
Never put all your eggs in one basket. Start a new book after the first one has been submitted.
Never stop learning. Learning is addicting. Read how-to books. Take a class. If you are improving your craft, you know you are increasing your odds of publishing and it helps keep you motivated.
Take time to play. There can be a fine line between dedicated and obsessed. Make sure you're on the right side of the line.
Try writing something totally different. Sometimes we just need to try a new approach or a new genre to get our creative juices flowing and to chase away those negative feelings. Allow yourself to feel challenged. Boredom quickly leads to failure.
Try meditating. You know why all those good ideas come to us when we're driving or in the shower? It's because you've allowed your mind to rest. So give your mind a rest, even it means standing in the shower for an extra ten minutes every day.
Oh, you'll still be doing belly flops and nosedives off a few clouds—the publishing business almost guarantees it—but hopefully, you'll be spending less time on rock bottom, and more time happily tagging clouds as you make your climb upward. Happy trails as you climb that ladder to publication.
About the Book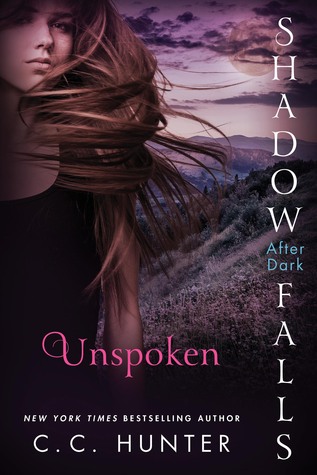 Despite her superhuman strength and enhanced senses, Della Tsang's life as a vampire certainly hasn't been easy. Especially since she was reborn and bound to the mysterious, infuriating, and gorgeous Chase Tallman.
But if there's one thing that's always kept Della going, it's her dream of being an elite paranormal investigator. Her newest case is the opportunity she's been waiting for, but as Della tries to solve the twenty year old murder and clear her father's name. She uncovers secrets about the vampire council. And about Chase.
Feeling betrayed by all the secrets he's kept hidden from her, Della is determined to keep him as far away from her heart as she can. But she'll need his help to solve the case that will lead them into the darkest and ugliest vampire gangs in town and into the scariest reaches of her heart.
Amazon
|
Goodreads
About the Author
C.C. Hunter grew up in Alabama, where she caught lightning bugs, ran barefoot, and regularly rescued potential princes, in the form of Alabama bullfrogs, from her brothers. Today, she's still fascinated with lightning bugs, mostly wears shoes, but has turned her focus to rescuing mammals. She now lives in Texas with her four rescued cats, one dog, and a prince of a husband, who for the record, is so not a frog. When she's not writing, she's reading, spending time with her family, or is shooting things-with a camera, not a gun.
C.C. Hunter is a pseudonym. Her real name is Christie Craig and she also writes humorous romantic suspense romance novels for Grand Central.