David, what was your inspiration for writing THE FIREBUG OF BALROG COUNTY?
My mother died when I was twenty-one. It took me about twelve years, but I finally felt ready to tell her story in a meaningful way without making it too dark or heavy. By featuring a smart aleck main character who was up to no good, I was able to tell a story filled with action (as opposed to a series of hospital visits) that balances humor with the sorrow of losing a parent at a young age.
The Firebug of Balrog County
is easily the most autobiographical of all my novels, the one novel I knew I'd have to write sooner or later. The one I wrote for my mom.
What scene was really hard for you to write and why, and is that the one of which you are most proud? Or is there another scene you particularly love?
The "You Are My Sunshine" chapter when they sing to Mack's mother as she dies. I had trouble writing it because I kept tearing up. Have you ever tried to write while you were crying? Makes your eyes sting!
As for my favorite scene, I really love the scene where Mack's dad wakes him up and a hungover Mack first meets their new dog, Chompy, who promptly chomps on Mack's arm and smiles at him. A legendary new pair of frenemies is born!
What book or books would most resonate with readers who love your book--or visa versa?
The collected works of William Shakespeare.
How long did you work on THE FIREBUG OF BALROG COUNTY?
About two years, give or take a century.
What did this book teach you about writing or about yourself?

I learned that writing a fictional story based partially on a traumatic personal event is exhausting. I also learned to change everybody's name so I can't get sued!

What do you hope readers will take away from THE FIREBUG OF BALROG COUNTY?

I hope they've had a good time, had a few laughs, and feel reassured that there is love and hope in the world, even when you feel like it's your darkest hour and you wish you didn't even exist anymore.

Also, they'll be thinking, "I should buy all Dave's other books, too, so he can buy more cat food."

How long or hard was your road to publication? How many books did you write before this one, and how many never got published?

FIREBUG is my fourth published novel. So far I've written fifteen novels, so I've got eleven novels currently unpublished. You have to leave a lot on the cutting floor before you get to the really good stuff.

Was there an AHA! moment along your road to publication where something suddenly sank in and you felt you had the key to writing a novel? What was it?

Probably when I was struck by lightning and God spoke to me and said, "DAVE KEEP WRITING MAYBE YOU DON'T SUCK AT THIS."

What's your writing ritual like? Do you listen to music? Work at home or at a coffee shop or the library, etc?

I listen to music, but it has to be A) an album, not the radio and B) no really new music, because I pay too much attention to the new lyrics and get distracted. I do most of my writing in my apartment at a desk in my bedroom. This is a good setup for me because I like to take a lot of naps and play with my cat, Frenchie, when I'm feeling sluggish in the brain. I also like to burn sandalwood incense once in a while.

What advice would you most like to pass along to other writers?

Avoid credit cards. Get enough sleep so your mind feels sharp. Try to exercise every day. Try to write every day, too—you'll feel better about yourself. Read all the books. Watch people carefully and try to understand the world from their point of view. Travel. Ask questions. Work harder than everyone else. If somebody asks you to dance, dance. Never forget that our time on this planet is brief and precious and destined to slip through our fingers.

But especially avoid credit cards.
ABOUT THE BOOK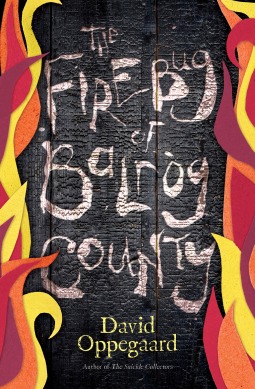 The Firebug of Balrog County
by David Oppegaard
Paperback
Flux
Released 9/8/2015
Dark times have fallen on remote Balrog County, and Mack Druneswald, a high school senior with a love of clandestine arson, is doing his best to deal. While his family is haunted by his mother's recent death, Mack spends his nights roaming the countryside, looking for something new to burn. When he encounters Katrina, a college girl with her own baggage, Mack sets out on a path of pyromania the likes of which sleepy Balrog County has never seen before.
A darkly comic tour-de-force, The Firebug of Balrog County is about legend, small towns, and the fire that binds.
Purchase The Firebug of Balrog County at Amazon
Purchase The Firebug of Balrog County at IndieBound
View The Firebug of Balrog County on Goodreads
ABOUT THE AUTHOR
David Oppegaard is the author of the Bram Stoker-nominated The Suicide Collectors (St. Martin's Press), Wormwood, Nevada (St. Martin's Press), And the Hills Opened Up (Burnt Bridge) and The Firebug of Balrog County (FLUX 2015).
David grew up in the small town of Lake Crystal, MN, and wrote his first novel at the age of fifteen. David's work is a blend of literary fiction, science fiction, horror, and dark fantasy. He holds an M.F.A. in Writing from Hamline University and a B.A. in English from St. Olaf College. He has worked as an optician, a receptionist, a standardized test scorer, a farm hand, an editorial assistant, a trash picker, a library assistant, a seasonal bookstore employee, and as a child minder on a British cruise ship. He teaches the occasional fiction class at Hamline University and the Loft Literary Center and currently works at the University of Minnesota. He lives in St. Paul, MN.
Have you had a chance to read THE FIREBUG OF BALROG COUNTY yet? Have you based any of your writing on a traumatic personal event? If somebody asks you to dance, do you dance?
Happy reading,
Jocelyn, Shelly, Martina, Erin, Lisa, Susan, Jen, Sam, Lindsey, Sandra, Kristin, and Anisaa