Compulsion
by our founder, Martina Boone!
Compulsion,
Martina's YA debut, first came out in October 2014. Almost 10 months later, the paperback has been released, and we're giving one to you!
Happy reading,
Lindsey, Martina, Sam, Jocelyn, Erin, Lisa, Shelly, Susan, Elizabeth, Kristin, Jen, Sandra and Anisaa
YA BOOK GIVEAWAYS THIS WEEK
Compulsion
by Martina Boone
Paperback

U.S.
Simon Pulse
Released 10/28/2014
Beautiful Creatures
meets
The Body Finder
in this spellbinding new trilogy.
Three plantations. Two wishes. One ancient curse.
All her life, Barrie Watson had been a virtual prisoner in the house where she lived with her shut-in mother. When her mother dies, Barrie promises to put some mileage on her stiletto heels. But she finds a new kind of prison at her aunt's South Carolina plantation instead--a prison guarded by an ancient spirit who long ago cursed one of the three founding families of Watson Island and gave the others magical gifts that became compulsions.
Stuck with the ghosts of a generations-old feud and hunted by forces she cannot see, Barrie must find a way to break free of the family legacy. With the help of sun-kissed Eight Beaufort, who knows what Barrie wants before she knows herself, the last Watson heir starts to unravel her family's twisted secrets. What she finds is dangerous: a love she never expected, a river that turns to fire at midnight, a gorgeous cousin who isn't what she seems, and very real enemies who want both Eight and Barrie dead.
Author Question: What is your favorite thing about Compulsion?
It was so much fun to get to do a Gothic novel! I've loved seeing Between the Devil and the Deep Blue Sea and The Lynburn Legacy bringing Gothics to a whole new batch of readers in a fresh way. Adding the Gothic elements to a Southern setting similar to Beautiful Creatures gave me such rich material to work with in Compulsion. I've always adored books with exotically dangerous mansions, eccentric characters, and elements of magic, mystery, and suspense. The world of Watson Island with its equally charming and ugly history, beautiful scenery, and unique mythology is a storytellers dream. It has all the elements I love—a haunted past, regret, anger, continuing conflict, and questions of morality galore.

My favorite thing about Compulsion, hands down, is the setting and how it shaped (and twisted) the characters and families who live there. The island, and especially the Watson's Landing plantation, became an integral character in the book.

* * * *
Purchase Compulsion at Amazon
Purchase Compulsion at IndieBound
View Compulsion on Goodreads
Crystal Kingdom
by Amanda Hocking
Paperback
U.S. Only
St. Martin's Griffin
Released 8/4/2015
In this stunning series of love, loss and the need to belong, Amanda Hocking returns to the world of her bestselling Trylle trilogy ...With help from the Trylle clan, Bryn tries to clear her name and discover who was really responsible for the Kanin King's murder. Then, while she's still trying to make sense of it all, Ridley tracks her down while she's on the run for a crime she didn't commit. He refuses to abandon her, so she finally decides that she wants to be with him. Together, they return to the Kanin capital and rally other trackers and the King's Guard to defend their kingdom from the villain within. But in the process, Bryn learns a startling truth about her former enemy. Brynn's loyalty is still to her kingdom, but will she be rewarded with a place in the royal guard - and who will ultimately win her heart?
Purchase Crystal Kingdom at Amazon
Purchase Crystal Kingdom at IndieBound
View Crystal Kingdom on Goodreads
* * * *
From Where I Watch You
by Shannon Grogan
Hardcover
U.S. & Canada Only
Soho Teen
Released 8/4/2015
Sixteen-year-old Kara McKinley is about to realize her dream of becoming a professional baker. Beautifully designed and piped, her cookies are masterpieces, but also her ticket out of rainy Seattle—if she wins the upcoming national baking competition and its scholarship prize to culinary school in California. Kara can no longer stand the home where her family lived, laughed, and ultimately imploded after her mean-spirited big sister Kellen died in a drowning accident. Kara's dad has since fled, and her mom has turned from a high-powered attorney into a nutty holy-rolling Christian fundamentalist peddling "Soul Soup" in the family café. All Kara has left are memories of better times.
But the past holds many secrets, and they come to light as Kara faces a secret terror. Someone is leaving her handwritten notes. Someone who knows exactly where she is and what's she's doing. As they lead her to piece together the events that preceded Kellen's terrible, life-changing betrayal years before, she starts to catch glimpses of her dead sister: an unwelcome ghost in filthy Ugg boots. If Kara doesn't figure out who her stalker is, and soon, she could lose everything. Her chance of escape. The boy she's beginning to love and trust. Even her life.
Author Question: What is your favorite thing about From Where I Watch You?
FROM WHERE I WATCH YOU is a creepy thriller, but my favorite thing about this story is Kara's dream of being a baker. I love baking and I've always wanted to own a bakery (actually a bakery/coffee/ and book shop). I had my own dreams of art school when I was in high school so it was fun for me to give her this talent of cookie art and to reach for her dreams of culinary school as a hopeful way out of a miserable life. There is a theme of escape in the story and Kara escapes into her cookie art as a way to escape memories, her family situation, and the fact that someone is watching and leaving her creepy notes. She uses her talent to forget everything around her and focus on getting out. I think it's important for everyone to have a creative outlet, to escape the hardships and disappointments in life.
Purchase From Where I Watch You at Amazon
Purchase From Where I Watch You at IndieBound
View From Where I Watch You on Goodreads
* * * *
Most Likely to Succeed
by Jennifer Echols
Hardcover
U.S. Only
Simon Pulse
Released 8/4/2015
In this sexy conclusion to The Superlatives trilogy from Endless Summer author Jennifer Echols, Sawyer and Kaye might just be perfect for each other—if only they could admit it.
As vice president of Student Council, Kaye knows the importance of keeping order. Not only in school, but in her personal life. Which is why she and her boyfriend, Aidan, already have their lives mapped out: attend Columbia University together, pursue banking careers, and eventually get married. Everything Kaye has accomplished in high school—student government, cheerleading, stellar grades—has been in preparation for that future.
To his entire class, Sawyer is an irreverent bad boy. His antics on the field as school mascot and his love of partying have earned him total slacker status. But while he and Kaye appear to be opposites on every level, fate—and their friends—keep conspiring to throw them together. Perhaps the seniors see the simmering attraction Kaye and Sawyer are unwilling to acknowledge to themselves…
As the year unfolds, Kaye begins to realize her ideal life is not what she thought. And Sawyer decides it's finally time to let down the facade and show everyone who he really is. Is a relationship between them most likely to succeed—or will it be their favorite mistake?
Purchase Most Likely to Succeed at Amazon
Purchase Most Likely to Succeed at IndieBound
View Most Likely to Succeed on Goodreads
* * * *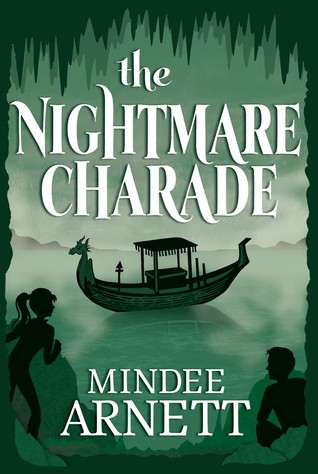 The Nightmare Charade
by Mindee Arnett
Hardcover
U.S. Only
Tor Teen; First Edition
Released 8/4/2015
The final installment in a thrilling fantastical mystery series.
Sixteen-year-old Dusty Everhart breaks into houses late at night, but not because she's a criminal. No, she's a Nightmare. Literally. Dusty is a magical being who feeds on human dreams.
Being the only Nightmare at Arkwell Academy, a boarding school for magickind, and living in the shadow of her mother's infamy is hard enough, not to mention the crazy events of the past year. Dusty may have saved the day, but there are many days left in the year, and with an old foe back to seek revenge, she'll need all her strength to defeat him and save her friends.
Mindee Arnett thrills again in this stunning final installment in the Arkwell Academy series.
Author Question: What is your favorite thing about The Nightmare Charade?
My absolute favorite part about THE NIGHTMARE CHARADE is the ending. Not just of the book but also of the series. I love endings, even though I sometimes wish they would never come. But thank goodness they do come. There's nothing quite so sad to me than to see a story just wither and die, to go on and on for too long. I want to stories to end with a bang and not a whisper. An ending gives a story completeness, and it sends the reader off into the sunset (or maybe the darkness, I guess, depending). Endings are the payoff off of everything that came before. I'm a very lucky author in that I got to end my series on my own terms and the way I wanted.

When I started writing the first book in the series, THE NIGHTMARE AFFAIR, I only had the tiniest hope of the book becoming a series. At that point, I was focused on finding an agent and getting one book on a shelf somewhere. Never in my wildest dreams did I imagine I would end up with a 3-book series. The truth is I had no idea where the story was going to go over that series' arc when I signed on. In hindsight, that's a bit scary. Fortunately though the story belongs to the characters more than the writer, and Dusty and Eli had one heckuva story to share. THE NIGHTMARE CHARADE presents the end of that story. It's bittersweet and wonderful at the same time. At least, I think so. I can only hope that readers will, too.
Purchase The Nightmare Charade at Amazon
Purchase The Nightmare Charade at IndieBound
View The Nightmare Charade on Goodreads
* * * *
What You Left Behind
by Jessica Verdi
Signed Hardcover ARC
U.S. Only
Sourcebooks Fire
Released 8/4/2015
It's all Ryden's fault. If he hadn't gotten Meg pregnant, she would have never stopped her chemo treatments and would still be alive. Instead, he's failing fatherhood one dirty diaper at a time. And it's not like he's had time to grieve while struggling to care for their infant daughter, start his senior year, and earn the soccer scholarship he needs to go to college.
The one person who makes Ryden feel like his old self is Joni. She's fun and energetic—and doesn't know he has a baby. But the more time they spend together, the harder it becomes to keep his two worlds separate. Finding one of Meg's journals only stirs up old emotions, and Ryden's convinced Meg left other notebooks for him to find, some message to help his new life make sense. But how is he going to have a future if he can't let go of the past?
Author Question: What is your favorite thing about What You Left Behind?
There are lots of aspects of this book that are special to me, but if I had to choose one favorite thing it would probably be that it's from the point of view of a boy. My first two books (and, I think, the majority of YA books out there) were from the POV of a girl, and as much as I loved them, for some reason I connected with Ryden as a character on an even deeper level. He just felt so REAL to me. I think maybe that was because I subconsciously felt more freedom to just take his character wherever it needed to go, because, since we were already so different, there was no element of "me" clinging to him. No "Well, I would or wouldn't do that," etc. Also I'm glad to have written a book from the POV of a boy because there are plenty of boy readers out there who need to see themselves represented in literature. I'm hopeful they'll pick up the book and find Ryden interesting and identifiable.
Purchase What You Left Behind at Amazon
Purchase What You Left Behind at IndieBound
View What You Left Behind on Goodreads
* * * *
While You Were Gone
by Amy K. Nichols
Hardcover
U.S. Only
Knopf Books for Young Readers
Released 8/4/2015
An artist without a cause meets a rebel without a clue.
Eevee is a promising young artist and the governor's daughter in a city where censorship is everywhere and security is everything. When a fire devastates her exhibition—years in the making—her dreams of attending an elite art institute are dashed. She's struggling to find inspiration when she meets Danny, a boy from a different world. Literally.
Raised in a foster home, Danny has led a life full of hurt and hardship until a glitch in the universe changes everything. Suddenly Danny is living in a home he's never seen, with parents who miraculously survived the car crash that should have killed them. It's like he's a new Danny. But this alternate self has secrets—ties to an underground anarchist group that have already landed him in hot water. When he starts to develop feelings for Eevee, he's even more disturbed to learn that he might have started the fire that ruined her work.
As Danny sifts through clues from his past and Eevee attempts to piece together her future, they uncover a secret that's bigger than both of them. . . . And together, they must correct the breach between the worlds before it's too late.
Purchase While You Were Gone at Amazon
Purchase While You Were Gone at IndieBound
View While You Were Gone on Goodreads
YA BOOK GIVEAWAYS LAST WEEK: WINNERS
Chaos by Lanie Bross - Rosie G.
Lark Rising by Sandra Waugh - Leah H.
Wildlife by Fiona Wood - Heather L.
MORE YOUNG ADULT NOVELS NEW IN STORES NEXT WEEK
Bright Lights, Dark Nights
by Stephen Emond
Hardcover
Roaring Brook Press
Released 8/11/2015
A story about first love, first fights, and finding yourself in a messed up world, from the acclaimed author of
Happyface
.
Walter Wilcox has never been in love. That is, until he meets Naomi, and sparks, and clever jokes, fly. But when his cop dad is caught in a racial profiling scandal, Walter and Naomi, who is African American, are called out at school, home, and online. Can their bond (and mutual love of the Foo Fighters) keep them together?
With black-and-white illustrations throughout and a heartfelt, humorous voice,
Bright Lights, Dark Nights
authentically captures just how tough first love can be...and why it's worth fighting for.
Purchase Bright Lights, Dark Nights at Amazon
Purchase Bright Lights, Dark Nights at IndieBound
View Bright Lights, Dark Nights on Goodreads
* * * *
Jubilee Manor
by Bethany Hagen
Hardcover
Dial Books
Released 8/11/2015
The thrilling conclusion to Landry Park is full of love, betrayal, and murder--perfect for fans of Divergent, The Selection, and Pride and Prejudice
In
Landry Park
, Madeline turned her back on her elite family, friends, and estate to help the Rootless. Now, in
Jubilee Manor
, she struggles to bring the Gentry and the Rootless together. But when Gentry heirs—Madeline's old friends—are murdered, even she begins to think a Rootless is behind it, putting her at odds with the boy she loves and the very people she is trying to lead. If she can't figure out who is killing her friends and bring them to justice, a violent war will erupt and even more will die—and Madeline's name, her estate, and all the bonds she's forged won't make any difference.
This conclusion to
Landry Park
, which
VOYA
dubbed "
Gone with the Wind
meets
The Hunger Games
," is a richly satisfying, addictive read.
Purchase Jubilee Manor at Amazon
Purchase Jubilee Manor at IndieBound
View Jubilee Manor on Goodreads
* * * *
Reawakened
by Colleen Houck
Hardcover
Delacorte Press
Released 8/11/2015
The first book in a new multi-book series from New York Times bestselling author, COLLEEN HOUCK, about a teenage girl entangled in an epic Egyptian quest full of romance, adventure, and mythology! 

When seventeen-year-old Lilliana Young enters the Metropolitan Museum of Art one morning during spring break, the last thing she expects to find is a live Egyptian prince with godlike powers, who has been reawakened after a thousand years of mummification. 
And she really can't imagine being chosen to aid him in an epic quest that will lead them across the globe.
 
But fate has taken hold of Lily, and she, along with her sun prince, Amon, must travel to the Valley of the Kings, raise his brothers, and stop an evil, shape-shifting god named Seth from taking over the world. 

From New York Times bestselling author Colleen Houck comes an epic adventure about two star-crossed teens who must battle mythical forces and ancient curses on a journey with more twists and turns than the Nile itself.

Purchase Reawakened at Amazon
Purchase Reawakened at IndieBound
View Reawakened on Goodreads
* * * *
Six Impossible Things
by Fiona Wood
Hardcover
Poppy
Released 8/11/2015
1. Kiss Estelle.
2. Get a job.
3. Cheer my mother up.
4. Try not to be a complete nerd/loser.
5. Talk to my father when he calls.
6. Figure out how to be good.
Nerd-boy Dan Cereill is not quite coping with a whole heap of problems, including a reversal of family fortune, moving, new-school hell, a mother with a failing wedding cake business, a just-out gay dad, and a massive crush on Estelle, the girl next door. His life is a mess, but for now he's narrowed it down to just six impossible things....
In this charming story of one guy's efforts to get it together when his life is falling apart, award-winning author Fiona Wood introduces an irresistible voice and a delightfully awkward character who is impossible to forget.
Purchase Six Impossible Things at Amazon
Purchase Six Impossible Things at IndieBound
View Six Impossible Things on Goodreads
a Rafflecopter giveaway