Happy reading,
Lindsey, Martina, Sam, Jocelyn, Erin, Lisa, Shelly, Susan, Elizabeth, Kristin, Jen, Sandra and Anisaa
YA BOOK GIVEAWAYS THIS WEEK
Paper Hearts
by Meg Wiviott
Signed Hardcover Giveaway

International
Margaret K. McElderry Books
Released 9/1/2015
Amid the brutality of Auschwitz during the Holocaust, a forbidden gift helps two teenage girls find hope, friendship, and the will to live in this novel in verse that's based on a true story.
An act of defiance.
A statement of hope.
A crime punishable by death.
Making a birthday card in Auschwitz was all of those things. But that is what Zlatka did, in 1944, for her best friend, Fania. She stole and bartered for paper and scissors, secretly creating an origami heart. Then she passed it to every girl at the work tables to sign with their hopes and wishes for happiness, for love, and most of all—for freedom.
Fania knew what that heart meant, for herself and all the other girls. And she kept it hidden, through the bitter days in the camp and through the death marches. She kept it always.
This novel is based on the true story of Fania and Zlatka, the story of the bond that helped them both to hope for the best in the face of the worst.
Author Question: What is your favorite thing about Paper Hearts?
My most favorite thing about PAPER HEARTS is that it is true.
Purchase Paper Hearts at Amazon
Purchase Paper Hearts at IndieBound
View Paper Hearts on Goodreads
* * * *
The Body Institute
by Carol Riggs
Signed Paperback Giveaway

U.S. Only
Entangled: Teen
Released 9/1/2015
Meet Morgan Dey, one of the top teen Reducers at The Body Institute.
Thanks to cutting-edge technology, Morgan can temporarily take over another girl's body, get her in shape, and then return to her own body--leaving her client slimmer, more toned, and feeling great. Only there are a few catches...
For one, Morgan won't remember what happens in her "Loaner" body. Once she's done, she won't recall walks with her new friend Matt, conversations with the super-cute Reducer she's been text-flirting with, or the uneasy feeling she has that the director of The Body Institute is hiding something. Still, it's all worth it in the name of science. Until the glitches start...
Suddenly, residual memories from her Loaner are cropping up in Morgan's mind. She's feeling less like herself and more like someone else. And when protests from an anti-Body Institute organization threaten her safety, she'll have to decide if being a Reducer is worth the cost of her body and soul...
Author Question: What is your favorite thing about The Body Institute?
I'm extremely fascinated by thoughts of "What would it be like, being someone else?" I mean LITERALLY, walking in their shoes. Would I act more like them if I lived their lives, saw the things they did, and experienced their struggles? Often we make assumptions about other people, and it's intriguing to wonder if those assumptions would change, given the opportunity to become another person and live inside his or her skin. My main character, Morgan Dey, has exactly that opportunity. Her "brainmap" is downloaded into another teen in order to help that girl lose weight. What she discovers is the story of THE BODY INSTITUTE.
Purchase The Body Institute at Amazon
Purchase The Body Institute at IndieBound
View The Body Institute on Goodreads
* * * *
Truest
by Jackie Lea Sommers
Signed Hardcover Giveaway

U.S. Only
Katherine Tegen Books
Released 9/1/2015
Silas Hart has seriously shaken up Westlin Beck's small-town life. Brand new to town, Silas is different than the guys in Green Lake. He's curious, poetic, philosophical, maddening--and really, really cute. But Silas has a sister--and she has a secret. And West has a boyfriend. And life in Green Lake is about to change forever.
Truest is a stunning, addictive debut. Romantic, fun, tender, and satisfying, it asks as many questions as it answers.
Author Question: What is your favorite thing about Truest?
From beginning to end, my favorite thing about my novel has been Silas Hart—the goofy, curious, maddening young writer who moves into town and shakes up the narrator's life. In fact, the entire story was built around him. In early 2012, I had this flash of insight that I was going about the whole writing thing wrong—so I set aside the two novels I'd been working on and started a new one by first creating a character whom I absolutely adored. That character was Silas, and that book is TRUEST. He's the boy I wish I could have met when I was seventeen: brilliant, deep, romantic, and a total dork.
Purchase Truest at Amazon
Purchase Truest at IndieBound
View Truest on Goodreads
* * * *
The Shadow Behind the Stars
by Rebecca Hahn
Hardcover Giveaway

U.S. Only
Atheneum Books for Young Readers
Released 9/1/2015
A girl's dark destiny could cause the unraveling of the world in this spellbinding novel from the author of A Creature of Moonlight, which Kirkus Reviews called "cumulatively stunning" in a starred review.
Heed this warning, mortal: stay far away from the three sister Fates. For if they come to love you, they might bring about the end of the world…
Chloe is the youngest. Hers are the fingers that choose the wool, that shape the thread, that begin it. The sun smiles upon her. Men love her without knowing who she is. She has lived forever and will live forever more. She and her sisters have been on their isolated Greek island for centuries, longer than any mortal can remember. They spin, measure, and slice the countless golden threads of human life. They are the three Fates, and they have stayed separate for good reason: it is dangerous for them to become involved with the humans whose lives they shape.
So when a beautiful girl named Aglaia shows up on their doorstep, Chloe tries to make sure her sisters don't become attached. But in seeking to protect them, Chloe discovers the dark power of Aglaia's destiny. As her path unwinds, the three Fates find themselves pulled inextricably along—toward mortal pain, and mortal love, and a fate that could unravel the world.
Author Question: What is your favorite thing about The Shadow Behind the Stars?
This is a difficult question! I feel as though I am much too close to the story to be able to pick one thing that I like better than all the other things. But since I have to choose . . . I'll take the opportunity to discuss the main character's (Chloe's) relationship with the sun. In Greek mythology, the sun is a human-shaped god named Helios. THE SHADOW BEHIND THE STARS is inspired by Greek myths, but Chloe's sun never descends to earth in human form or is even described explicitly as human-shaped. Nevertheless, he is personified in Chloe's narration. She holds conversations with him and considers him a friend. For example, at the end of Part One, she says, "The sun reached down pale tendrils, gleaming at the ends of my hair, pulling me toward him, murmuring my name."

I like their relationship because it shows the connection between the gods and nature: the sun in this story is absolutely a ball of fire in the sky, and he is also absolutely thinking and alive. Chloe and her sisters are the three Greek Fates, and the threads they spin form all human lives. So they are intimately connected with the mortal world and natural laws as well. Chloe loves nature, not only the sun but also the sea and the wind. Sometimes nature is beautiful and kind: warm breezes, gentle waves. But sometimes it is harsh, just as human fates can be harsh. A big question in the book is how far Chloe and her sisters can get around the laws of nature. The sun may be immortal, but he still must set every evening. There are rules to the universe that not even gods can bend.
Purchase The Shadow Behind the Stars at Amazon
Purchase The Shadow Behind the Stars at IndieBound
View The Shadow Behind the Stars on Goodreads
* * * *
Violent Ends
by Shaun David Hutchinson, Neal Shusterman, Brendan Shusterman, Beth Revis, Cynthia Leitich Smith
Hardcover Giveaway
Simon Pulse
Released 9/1/2015
In a one-of-a-kind collaboration, seventeen of the most recognizable YA writers—including Shaun David Hutchinson, Neal and Brendan Shusterman, and Beth Revis—come together to share the viewpoints of a group of students affected by a school shooting.
It took only twenty-two minutes for Kirby Matheson to exit his car, march onto school grounds, enter the gymnasium, and open fire, killing six and injuring five others.
But this isn't a story about the shooting itself. This isn't about recounting that one unforgettable day.
This is about Kirby and how one boy—who had friends, enjoyed reading, played saxophone in the band, and had never been in trouble before—became a monster capable of entering his school with a loaded gun and firing on his classmates.
Each chapter is told from a different victim's viewpoint, giving insight into who Kirby was and who he'd become. Some are sweet, some are dark; some are seemingly unrelated, about fights or first kisses or late-night parties.
This is a book of perspectives—with one character and one event drawing them all together—from the minds of some of YA's most recognizable names.
Author Question: What is your favorite thing about Violent Ends?
From Shaun Hutchinson: My favorite thing about VIOLENT ENDS is that it offers no easy answers.

The Secret Service compiled a report after the shootings at Columbine in an attempt to create a profile of the type of person most likely to become a school shooter. According to the report (The Final Report and Findings of the Safe School Initiative: Implications For the Prevention of School Attacks in the United States, which you can and should read at: http://www.secretservice.gov/ntac/ssi_final_report.pdf) "There is no accurate or useful 'profile' of students who engaged in targeted school violence."

That was the thing that struck me the most while researching school shootings. When a violent attack happens, survivors, the media, amateur arm-chair psychoanalysts attempt to figure out why. Inevitably they find something they can blame—goth music or violent video games or mental illness or lax gun control laws—and they become so myopically focused on that one thing they lose sight of the bigger picture.

Instead of trying to offer explanations for what Kirby did by telling stories about a school shooter, VIOLENT ENDS offers a multifaceted picture of a real person. Because I strongly believe that if we want to stop school violence before it happens, we need to stop trying to profile children and viewing them as potential shooters, and start seeing them as real and whole people. And it's my sincere hope VIOLENT ENDS does that.
Purchase Violent Ends at Amazon
Purchase Violent Ends at IndieBound
View Violent Ends on Goodreads
* * * *
Anne & Henry
by Dawn Ius
Hardcover Giveaway

U.S. Only
Simon Pulse
Released 9/1/2015
In this wonderfully creative retelling of the infamous—and torrid—love affair between Anne Boleyn and King Henry VIII, history collides with the present when a sizzling romance ignites in a modern-day high school.
Henry Tudor's life has been mapped out since the day he was born: student body president, valedictorian, Harvard Law School, and a stunning political career just like his father's. But ever since the death of his brother, the pressure for Henry to be perfect has doubled. And now he's trapped: forbidden from pursuing a life as an artist or dating any girl who isn't Tudor-approved.
Then Anne Boleyn crashes into his life.
Wild, brash, and outspoken, Anne is everything Henry isn't allowed to be—or want. But soon Anne is all he can think about. His mother, his friends, and even his girlfriend warn him away, but his desire for Anne consumes him.
Henry is willing to do anything to be with her, but once they're together, will their romance destroy them both?
Inspired by the true story of Anne Boleyn and King Henry VIII, Anne & Henry beautifully reimagines the intensity, love, and betrayal between one of the most infamous couples of all time.
Purchase Anne & Henry at Amazon
Purchase Anne & Henry at IndieBound
View Anne & Henry on Goodreads
YA BOOK GIVEAWAYS LAST WEEK: WINNERS
Another Day by David Levithan
- D S.
Code of Honor by Alan Gratz
- Gloria C.
Diary of a Haunting by M. Verano
- Kelly N.
Stranded by Melinda Braun
- Rosie G.
Thirteen Days of Midnight by Leo Hunt
- Annette
Until Friday Night by Abbi Glines
- Maggie H.
MORE YOUNG ADULT FICTION IN STORES NEXT WEEK WITH AUTHOR INTERVIEWS
Cut Both Ways
by Carrie Mesrobian
Hardcover
HarperCollins
Released 9/1/2015
Will Caynes never has been good with girls. At seventeen, he's still waiting for his first kiss. He's certainly not expecting it to happen in a drunken make-out session with his best friend, Angus. But it does and now Will's conflicted—he knows he likes girls, but he didn't exactly hate kissing a guy.
Then Will meets Brandy, a cute and easy-to-talk-to sophomore. He's totally into her too—which proves, for sure, that he's not gay. So why does he keep hooking up with Angus on the sly?
Will knows he can't keep seeing both of them, but besides his new job in a diner, being with Brandy and Angus are the best parts of his whole messed-up life. His divorced parents just complicate everything. His father, after many half-baked business ventures and endless house renovations, has started drinking again. And his mom is no help—unless loading him up with a bunch of stuff he doesn't need plus sticking him with his twin half-sisters counts as parenting. He's been bouncing between both of them for years, and neither one feels like home.
Deciding who to love, who to choose, where to live. Whichever way Will goes, someone will get hurt. Himself, probably the most.
Author Question: What is your favorite thing about Cut Both Ways?
My favorite thing about this book is the favorite thing about my other books, which is kind of a secret I guess: my favorite characters are not my boy narrators, but the female characters in each: Baker Trieste, in Sex & Violence; Neecie Albertson, in Perfectly Good White Boy; and Brandy Corvallis, in Cut Both Ways. I love Brandy because she is a girl who has survived bad things and has family that has come to save her from them in an unconventional way, but a loving one. She is also a girl that is watching from the periphery and is discovering she can be put in the center, instead of always looking from the edge with her camera as a cover. I love that she explores her relationship with Will in ways that involve risk, both physical and emotional. I love the way her bedroom looks. I love her hobbies, I love her clothes, I love her fondness for spending her babysitting paycheck at Target. I love how she is open about her feelings despite being hurt so badly by her mother and grandmother. I love the person she is becoming, which is something I love about my female teenaged students I teach as well. I love their vulnerability, their efforts, their mistakes, their worries, their obsessive interests. I'm proud of them, for moving bravely and continuously in this world that often hurts them, and it makes me so happy to write the beginning phase of the journey for a girl Brandy Corvallis.
Purchase Cut Both Ways at Amazon
Purchase Cut Both Ways at IndieBound
View Cut Both Ways on Goodreads
* * * *
Everything, Everything
by Nicola Yoon
Hardcover
Delacorte Press
Released 9/1/2015
My disease is as rare as it is famous. Basically, I'm allergic to the world. I don't leave my house, have not left my house in seventeen years. The only people I ever see are my mom and my nurse, Carla.
But then one day, a moving truck arrives next door. I look out my window, and I see him. He's tall, lean and wearing all black—black T-shirt, black jeans, black sneakers, and a black knit cap that covers his hair completely. He catches me looking and stares at me. I stare right back. His name is Olly.
Maybe we can't predict the future, but we can predict some things. For example, I am certainly going to fall in love with Olly. It's almost certainly going to be a disaster.
Author Question: What is your favorite thing about Everything, Everything?
Hmmm, that's a really difficult question to answer! My favorite thing about it may be that it's being published!

But seriously, it's very hard to choose. For both sentimental and artistic reasons, I really love the illustrations that my husband did. When I was writing it, I did my own very terrible version of each drawing to give my husband an idea of what I was looking for. To his credit, he never laughed at how completely awful my drawings were. He took my stick figures and turned each one into something beautiful. We also had a really wonderful time collaborating on it — so much so that we're planning to do more projects together in the future!
Purchase Everything, Everything at Amazon
Purchase Everything, Everything at IndieBound
View Everything, Everything on Goodreads
* * * *
Vengeance Road
by Erin Bowman
Hardcover
HMH Books for Young Readers
Released 9/1/2015
When Kate Thompson's father is killed by the notorious Rose Riders for a mysterious journal that reveals the secret location of a gold mine, the eighteen-year-old disguises herself as a boy and takes to the gritty plains looking for answers and justice. What she finds are devious strangers, dust storms, and a pair of brothers who refuse to quit riding in her shadow. But as Kate gets closer to the secrets about her family, she gets closer to the truth about herself and must decide if there's room for love in a heart so full of hate.
In the spirit of True Grit, the cutthroat days of the Wild West come to life for a new generation.
Author Question: What is your favorite thing about Vengeance Road?
The genre! I know this is a broad answer, but I've wanted to write a YA western for ages and just never had the right story kernel. Kate (Vengeance Road's main character) finally appeared for me in 2013 and I got straight to work!
Purchase Vengeance Road at Amazon
Purchase Vengeance Road at IndieBound
View Vengeance Road on Goodreads
* * * *
Vivian Apple Needs a Miracle
by Katie Coyle
Hardcover
HMH Books for Young Readers
Released 9/1/2015
"GET ANGRY. We should all be so pissed at the Church of America that we're willing to break our hands in the metaphorical punching of its metaphorical face." —Harpreet Janda, fugitive
The predicted Rapture by Pastor Frick's Church of America has come and gone, and three thousand Believers are now missing or dead. Seventeen-year-old Vivian Apple and her best friend, Harpreet, are revolutionaries, determined to expose the Church's diabolical power grab . . . and to locate Viv's missing heartthrob, Peter Ivey. This fast-paced, entertaining sequel to Vivian Apple at the End of the World challenges readers to consider how to live with integrity in a disintegrating world.
Author Question: What is your favorite thing about Vivian Apple Needs a Miracle?
When I started writing about her, I didn't consider Vivian Apple's story to be a particularly political one. I thought it was a pretty simple coming-of-age narrative about a girl learning to define herself in opposition to her parents, whom she deeply loves. But once I began building the world of the story of VIVIAN APPLE AT THE END OF THE WORLD (which continues and concludes now in VIVIAN APPLE NEEDS A MIRACLE), I realized there was so much I wanted to say about the world in which I live—specifically, the intersection of religion, politics, media, and capitalism. These are, obviously, Big Ideas and I would be the last person to label myself a nuanced political philosopher. But my favorite thing about VIVIAN APPLE NEEDS A MIRACLE is I feel satisfied that I managed to articulate my concerns and fears about this intersection, hopefully in a way that resonates with readers. Every day, I see stories in the news that remind me of Vivian's world (most recently and alarmingly, when ten presidential candidates were asked in an official debate whether God had spoken to them and what He'd said), and I'm proud and a little uncomfortable that VIVIAN APPLE NEEDS A MIRACLE is as relevant as it is.
Purchase Vivian Apple Needs a Miracle at Amazon
Purchase Vivian Apple Needs a Miracle at IndieBound
View Vivian Apple Needs a Miracle on Goodreads
MORE YOUNG ADULT NOVELS NEW IN STORES NEXT WEEK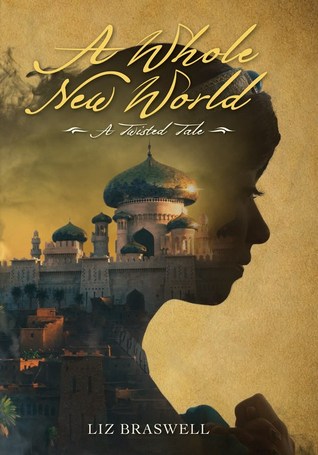 A Whole New World
by Liz Braswell
Hardcover
Disney Press
Released 9/1/2015
What if Aladdin had never found the lamp? This first book in the A Twisted Tale line will explore a dark and daring version of Disney's Aladdin.
When Jafar steals the Genie's lamp, he uses his first two wishes to become sultan and the most powerful sorcerer in the world. Agrabah lives in fear, waiting for his third and final wish.To stop the power-mad ruler, Aladdin and the deposed princess Jasmine must unite the people of Agrabah in rebellion. But soon their fight for freedom threatens to tear the kingdom apart in a costly civil war.
What happens next? A Street Rat becomes a leader. A princess becomes a revolutionary. And readers will never look at the story of Aladdin in the same way again.
Purchase A Whole New World at Amazon
Purchase A Whole New World at IndieBound
View A Whole New World on Goodreads
* * * *
Catacomb
by Madeleine Roux
Hardcover
HarperCollins
Released 9/1/2015
Sometimes the past is better off buried.
Senior year is finally over. After all they've been through, Dan, Abby, and Jordan are excited to take one last road trip together, and they're just not going to think about what will happen when the summer ends. But on their way to visit Jordan's uncle in New Orleans, the three friends notice that they are apparently being followed. And Dan starts receiving phone messages from someone he didn't expect to hear from again—someone who died last Halloween.
As the strange occurrences escalate, Dan is forced to accept that everything that has happened to him in the past year may not be a coincidence, but fate—a fate that ties Dan to a group called the Bone Artists, who have a sinister connection with a notorious killer from the past. Now Dan's only hope is that he will make it out of his senior trip alive.
In this finale to the New York Times bestselling Asylum series, found photographs help tell the story of three teens who exist on the line between past and present, genius and insanity.
Purchase Catacomb at Amazon
Purchase Catacomb at IndieBound
View Catacomb on Goodreads
* * * *
Firewalker
by Josephine Angelini
Hardcover
Feiwel & Friends
Released 9/1/2015
Worlds divide, magic slays, and love lies in the second book of Josephine Angelini's The Worldwalker Trilogy.
"You think I'm a monster, but my choices, as ruthless as they seem, are justified."
Lily is back in her own universe, and she's ready to start a new life with Rowan by her side. True, she almost died in the Pyre that fueled their escape from New Salem, and must hide her magic for the safety of everyone she cares about, but compared to fighting the Woven, the monstrous creatures inhabiting the alternate Salem, life is looking pretty good.
Unfortunately, Lillian, ruthless ruler of the 13 Cities, is not willing to let Lily go that easily. If she can't persuade Lily to return to her world, she will force her to come back by doing away with the ones she loves.
Picking up right where Trial By Fire left off, Firewalker is another sexy, fast-paced, heartbreaking thrill ride from internationally bestselling author Josephine Angelini!
Purchase Firewalker at Amazon
Purchase Firewalker at IndieBound
View Firewalker on Goodreads
* * * *
Hello, Goodbye, and Everything in Between
by Jennifer Smith
Hardcover
Poppy
Released 9/1/2015
On the night before they leave for college, Clare and Aidan only have one thing left to do: figure out whether they should stay together or break up. Over the course of twelve hours, they'll retrace the steps of their relationship, trying to find something in their past that might help them decide what their future should be. The night will lead them to friends and family, familiar landmarks and unexpected places, hard truths and surprising revelations. But as the clock winds down and morning approaches, so does their inevitable goodbye. The question is, will it be goodbye for now or goodbye forever?
This new must-read novel from Jennifer E. Smith, author of The Statistical Probability of Love at First Sight, explores the difficult choices that must be made when life and love lead in different directions.
Purchase Hello, Goodbye, and Everything in Between at Amazon
Purchase Hello, Goodbye, and Everything in Between at IndieBound
View Hello, Goodbye, and Everything in Between on Goodreads
* * * *
Hunter
by Mercedes Lackey
Hardcover
Disney-Hyperion
Released 9/1/2015
Centuries ago, the barriers between our world and the Otherworld were slashed open, allowing hideous fantastical monsters to wreak havoc and destroy entire cities in their wake. Now, people must live in enclosed communities, behind walls that keep them safe from the evil creatures constantly trying to break in. Only the corps of teen Hunters with lightning reflexes and magical abilities can protect the populace from the daily attacks.
Joyeaux Charmand is a mountain girl from a close-knit village who comes to the big city to join the Hunters. Joy thinks she is only there to perform her civic duty and protect the capitol Cits, or civilians, but as cameras follow her every move, she soon learns that the more successful she is in her hunts, the more famous she becomes.
With millions of fans watching her on reality TV, Joy begins to realize that Apex is not all it seems. She is forced to question everything she grew up believing about the legendary Hunters and the very world she lives in. Soon she finds that her fame may be part of a deep conspiracy that threatens to upend the protective structure built to keep dark magic out. The monsters are getting in and it is up to Joy to find out why.
Purchase Hunter at Amazon
Purchase Hunter at IndieBound
View Hunter on Goodreads
* * * *
Infinite in Between
by Carolyn Mackler
Hardcover
HarperTeen
Released 9/1/2015
Printz Honor author Carolyn Mackler returns with this striking new novel that chronicles the lives of five teenagers through the thrills, heartbreaks, and joys of their four years in high school.
Zoe, Jake, Mia, Gregor, and Whitney meet at freshman orientation. At the end of that first day, they make a promise to reunite after graduation. So much can happen in those in-between years….
Zoe feels like she will live forever in her famous mother's shadow. Jake struggles to find the right connections in friendship and in love. Mia keeps trying on new identities, looking for one that actually fits. Gregor thought he wanted to be more than just a band geek. And Whitney seems to have it all, until it's all falling apart around her.
Echoing aspects of John Hughes's The Breakfast Club, Carolyn Mackler skillfully brings the stories of these five disparate teens together to create a distinct and cohesive whole—a novel about how we can all affect one another's lives in the most unexpected and amazing ways.
Purchase Infinite in Between at Amazon
Purchase Infinite in Between at IndieBound
View Infinite in Between on Goodreads
* * * *
Queen of Shadows
by Sarah J Maas
Hardcover
Bloomsbury USA Childrens
Released 9/1/2015
Sarah J. Maas's New York Times bestselling Throne of Glass series reaches new heights in this sweeping fourth volume.
Everyone Celaena Sardothien loves has been taken from her. But she's at last returned to the empire—for vengeance, to rescue her once-glorious kingdom, and to confront the shadows of her past . . .
She will fight for her cousin, a warrior prepared to die just to see her again. She will fight for her friend, a young man trapped in an unspeakable prison. And she will fight for her people, enslaved to a brutal king and awaiting their lost queen's triumphant return.
Celaena's epic journey has captured the hearts and imaginations of millions across the globe. This fourth volume will hold readers rapt as Celaena's story builds to a passionate, agonizing crescendo that might just shatter her world.
Purchase Queen of Shadows at Amazon
Purchase Queen of Shadows at IndieBound
View Queen of Shadows on Goodreads
* * * *
The Dogs
by Allan Stratton
Hardcover
Sourcebooks Fire
Released 9/1/2015
Cameron and his mom have been on the run for five years. His father is hunting them. At least, that's what Cameron's been told.
When they settle in an isolated farmhouse, Cameron starts to see and hear things that aren't possible. Soon he's questioning everything he thought he knew and even his sanity.
What's hiding in the night? Buried in the past? Cameron must uncover the dark secrets before they tear him apart.
Purchase The Dogs at Amazon
Purchase The Dogs at IndieBound
View The Dogs on Goodreads
* * * *
The Fate of Ten
by Pittacus Lore
Hardcover
HarperCollins
Released 9/1/2015
The sixth book in the thrilling, action-packed, New York Times bestselling I Am Number Four series! For years the Garde have fought the Mogadorians in secret. Now all of that has changed. The invasion has begun. If the Garde can't find a way to stop the Mogs, humanity will suffer the same fate as the Lorien: annihilation.
There is still hope. When the Elders sent the Garde to Earth, they had a plan—one which the Garde are finally starting to understand. In the climax of The Revenge of Seven, a group of the Garde traveled to an ancient pyramid in Mexico known to their people as the Sanctuary. There they awoke a power that had been hidden within our planet for generations. Now this power can save the world . . . or destroy it. It will all depend on who wields it.
Purchase The Fate of Ten at Amazon
Purchase The Fate of Ten at IndieBound
View The Fate of Ten on Goodreads
* * * *
The Foxglove Killings
by Tara Kelly
Hardcover
Entangled: Teen
Released 9/1/2015
Gramps always said that when the crickets were quiet, something bad was coming. And the crickets have been as silent as the dead. It started with the murdered deer in the playground with the unmistakable purple of a foxglove in its mouth. But in the dying boondock town of Emerald Cove, life goes on.
I work at Gramps's diner, and the cakes — the entitled rich kids who vacation here — make our lives hell. My best friend, Alex Pace, is the one person who gets me. Only Alex has changed. He's almost like a stranger now. I can't figure it out...or why I'm having distinctly more-than-friend feelings for him. Ones I shouldn't be having.
Then one of the cakes disappears.
When she turns up murdered, a foxglove in her mouth, a rumor goes around that Alex was the last person seen with her — and everyone but me believes it. Well, everyone except my worst enemy, Jenika Shaw. When Alex goes missing, it's up to us to prove his innocence and uncover the true killer. But the truth will shatter everything I've ever known about myself — and Alex.
Purchase The Foxglove Killings at Amazon
Purchase The Foxglove Killings at IndieBound
View The Foxglove Killings on Goodreads
* * * *
The Trouble in Me
by Jack Gantos
Hardcover
Farrar, Straus and Giroux
Released 9/1/2015
A sharp-edged misadventure for teens from the Newbery Medalist—the perfect bridge between the Norvelt novels and his Printz Honor–winning YA memoir, Hole in My Life.
This fierce black comedy from the master of turning his own true story into semi-fictional gold charts the summer at age fourteen that his alter-ego's life starts to go off the rails. In his family's new rental home on a down-at-the heels street in sun-beaten Miami—with dog-eating alligators in the canal out back, a dangerously attractive girl across the road, and the unhinged Pagoda family next door—teen Jack is adrift, losing a sense of who he is and what he's all about. Which is why he ends up trying to morph himself into someone he's not, that someone being sixteen-year-old Gary Pagoda, a.k.a. Scary Gary, just back from juvie for car theft. Following Gary's lead that first time is just the start of Jack's series of bad decisions. It goes shockingly, hilariously downhill from there.
Purchase The Trouble in Me at Amazon
Purchase The Trouble in Me at IndieBound
View The Trouble in Me on Goodreads
* * * *
Whippoorwill
by Joseph Monninger
Hardcover
HMH Books for Young Readers
Released 9/1/2015
Sixteen-year-old Clair Taylor has neighbors who are what locals call whippoorwills, the kind of people who fill their yards with rusty junk. Clair tries to ignore her surroundings, choosing instead to dream of a future beyond her rural New Hampshire town. But when a black dog named Wally is chained up to a pole next door, Clair can't look the other way. Clair decides to save Wally, and the immediate connection she has with the lovable dog catches her off-guard, but even more surprising is her bond with eighteen-year-old Danny Stewart, the boy next door.
Purchase Whippoorwill at Amazon
Purchase Whippoorwill at IndieBound
View Whippoorwill on Goodreads
a Rafflecopter giveaway