Eight new books are releasing this week, and we're giving away books to three winners: the full series of
Torn
by Avery Hastings, and two winners will get their hands on books by Laurie Faria Stolarz - one copy of
Return to the Dark House
, and the winner's choice of one of Laurie's other books.
Happy reading,
Lindsey, Martina, Sam, Jocelyn, Erin, Lisa, Shelly, Susan, Elizabeth, Kristin, Jen, Sandra and Anisaa
YA BOOK GIVEAWAYS THIS WEEK
Torn
by Avery Hastings
Full Series Giveaway

U.S. Only
St. Martin's Griffin
Released 7/21/2015
In an America split into the genetically superior and inferior, a fiercely ambitious ballerina and a boy from the wrong side of the tracks must stop a deadly virus that is spreading quickly.
Determined to escape from TOR-N, a corrupt Narxis research center, Davis meets another recovered patient, Mercer, whose sweet smile and quirky sense of humor give her hope in humanity again—and a way out. As they make a perilous journey seeking clues that could lead to a cure, Davis and Mercer's friendship begins to evolve into something more... but she's still struggling to let go of her feelings for Cole, whom she believes is dead.
Meanwhile, Cole has plans to change his identity in order to compete in the Olympiads—where Imps have now been invited to compete against Priors. He begins training with Mari, the intense and rebellious daughter of a retired fighter, but through trials and tests that are both exhausting and exhilarating, he finds himself in over his head—literally.
Will both Davis and Cole have the strength to resist temptation? Will they have the courage to face the answers they're seeking? Will their love survive across the divide?
Author Question: What is your favorite thing about Torn?
I love that after all the buildup in Feuds, we finally get to see the Olympiads! I also really love that this book is not all about romance. There are some steamy scenes, but we really get to see Davis come into her own as a smart, strong woman.
Purchase Torn at Amazon
Purchase Torn at IndieBound
View Torn on Goodreads
* * * *
Return to the Dark House
by Laurie Faria Stolarz
2 Giveaways:
Return to the Dark House
and winner's choice.
U.S. Only
Disney-Hyperion
Released 7/21/2015
Ivy Jensen survived the Dark House once, but can she make it out a second time?
Two months have passed since Ivy narrowly escaped the Nightmare Elf's grip, but the memories of Parker, Natalie, Shayla, Frankie, and Garth continue to haunt her. Their killer is still out there—somewhere. The police trail has gone cold, though, and it's up to Ivy to piece together the clues to find him.
When a cryptic video arrives in her inbox, Ivy soon finds herself back in the spotlight, this time on a twisted scavenger hunt through the dark, ancient halls of a long-forgotten Gothic school building. Ivy's not alone, either. Taylor Monroe has returned to the scene. But can Taylor be trusted? Or is she another pawn in the Nightmare Elf's deadly game?
Laurie Faria Stolarz crafts a mesmerizing thriller that will leave readers looking over their shoulders.
Author Question: What is your favorite thing about Return to the Dark House?
My favorite aspect of RETURN TO THE DARK HOUSE is definitely Ivy's bravery and resilience. Here's a character whose parents were tragically murdered several years ago. Ivy was home at the time and saw the killer's face. Ever since, she's feared that the killer will one day come back for her. It's become a real source of paranoia: She thinks she sees his face while walking in town; any weird phone calls or hang-ups she receives, she thinks are from him; she's become a regular at the police station, reporting any and all irregularities in her life. She knows she can't go on living this way, and so instead of trying to lay her fears to rest by squelching them, she faces them head on, the result of which isn't at all what she expected. I don't want to give too much away, but things don't pan out the way she expects. Despite more tragedy, Ivy picks herself up – yet again – to face her fears and do the right thing. That courage and resilience is so admirable.
Purchase Return to the Dark House at Amazon
Purchase Return to the Dark House at IndieBound
View Return to the Dark House on Goodreads
YA BOOK GIVEAWAYS LAST WEEK: WINNERS
Ruthless by Carolyn Lee Adams:
Emily C.
What We Knew by Barbara Stewart:
Jackie M.
The Blind Wish & The Fire Wish by Amber Lough:
Olivia J.
About a Girl by Sarah McCarry:
Sarah T.
MORE YOUNG ADULT FICTION IN STORES NEXT WEEK WITH AUTHOR INTERVIEWS
Damage Done
by Amanda Panitch
Hardcover
Random House Books for Young Readers
Released 7/21/2015
22 minutes separate Julia Vann's before and after.
Before: Julia had a twin brother, a boyfriend, and a best friend.
After: She has a new identity, a new hometown, and memories of those twenty-two minutes that refuse to come into focus. At least, that's what she tells the police.
Now that she's Lucy Black, she's able to begin again. She's even getting used to the empty bedroom where her brother should be. And her fresh start has attracted the attention of one of the hottest guys in school, a boy who will do anything to protect her. But when someone much more dangerous also takes notice, Lucy's forced to confront the dark secrets she thought were safely left behind.
One thing is clear: The damage done can never be erased. It's only just beginning. . . .
Author Question: What is your favorite thing about Damage Done?
My favorite thing so far about DAMAGE DONE is seeing all the reader responses and reactions. The book spent so long living inside my head and then in the heads of a few select others - agent, editor, etc. I find the breadth of reviews fascinating - some people might love a specific element, some people might hate it; some people were totally shocked by the twist ending, some people saw it coming from the beginning. It's a reminder that, even if this story started in my head, ultimately it's not for me. It's for the reader.
Purchase Damage Done at Amazon
Purchase Damage Done at IndieBound
View Damage Done on Goodreads
MORE YOUNG ADULT NOVELS NEW IN STORES NEXT WEEK
Model Misfit
by Holly Smale
Hardcover
HarperTeen
Released 7/21/2015
You can make a geek a model, but you can't make her chic. More hilarity and high fashion await in the second book in the internationally bestselling Geek Girl series!
Harriet Manners is a model—but she feels even less popular and more awkward than she did when she was just a geek. So a summer modeling job in Japan sounds like the perfect vacation, even if she has to bring along her crazy grandma Bunty, and even if she might run into Nick, her gorgeous model ex-boyfriend. No one is going to ruin Harriet's fabulous Tokyo adventure—unless she accidentally ruins it herself. . . .
This sequel to Holly Smale's #1 bestselling debut novel, Geek Girl, is perfect for fans of Louise Rennison and the Princess Diaries.
Purchase Model Misfit at Amazon
Purchase Model Misfit at IndieBound
View Model Misfit on Goodreads
* * * *
Noble Warrior
by Alan Lawrence Sitomer
Hardcover
Disney-Hyperion
Released 7/21/2015
After placing teenage mixed martial arts phenom McCutcheon Daniels and his mother and sister in the Witness Relocation Program, the FBI comes to realize they have a unique asset on their hands. Recruited to help the FBI, McCutcheon finds himself hunting bad guys. But when he discovers that the notorious Priests have targeted Kaitlyn-the girl he loves and was forced to leave behind-as a way to seek revenge on the Daniels family, MD convinces the FBI to send him right into the belly of the beast: Jenkells State Penitentiary where the mob boss of Detroit is serving time. Yet in his universe where up is down, McCutcheon ends up disavowed by the government and left to rot in one of America's most notorious prisons. It's there he connects with his father and discovers the truth about his circumstances. McCutcheon, a trained urban warrior, escapes and sets out for revenge on those who betrayed him and his family.
Purchase Noble Warrior at Amazon
Purchase Noble Warrior at IndieBound
View Noble Warrior on Goodreads
* * * *
Pretending to Be Erica
by Michelle Painchaud
Hardcover
Viking Books for Young Readers
Released 7/21/2015
We Were Liars
meets
Heist Society
in a riveting debut!
Seventeen-year-old Violet's entire life has revolved around one thing: becoming Erica Silverman, an heiress kidnapped at age five and never seen again. Violet's father, the best con man in Las Vegas, has a plan, chilling in its very specific precision. Violet shares a blood type with Erica; soon, thanks to surgery and blackmail, she has the same face, body, and DNA. She knows every detail of the Silvermans' lives, as well as the PTSD she will have to fake around them. And then, when the time is right, she "reappears"—Erica Silverman, brought home by some kind of miracle. But she is also Violet, and she has a job: Stay long enough to steal the Silverman Painting, an Old Master legendary in the Vegas crime world. Walking a razor's edge, calculating every decision, not sure sometimes who she is or what she is doing it for, Violet is an unforgettable heroine, and
Pretending to be Erica
is a killer debut.
Purchase Pretending to Be Erica at Amazon
Purchase Pretending to Be Erica at IndieBound
View Pretending to Be Erica on Goodreads
* * * *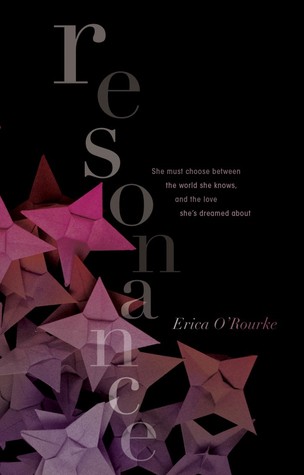 Resonance
by Erica O'Rourke
Hardcover
Simon & Schuster Books for Young Readers
Released 7/21/2015
As a Walker between worlds, Del is responsible for the love of her life—and the fate of millions—in this thrilling sequel to Dissonance.
Del risked everything to save Simon, and now he's gone, off in another world with no way for Del to find him.
She's back at the Consort—training to be a Walker like everyone in her family. But the Free Walkers have other plans for her. This rebel group is trying to convince Del that the Consort is evil, and that her parents are unwittingly helping the Consort kill millions of people. The Free Walkers make Del the ultimate promise: if Del joins their fight, she will be reunited with Simon.
In agreeing, Del might be endangering her family. But if she doesn't, innocent people will die, and Simon will be lost to her forever. The fate of the multiverse depends on her choice...
Purchase Resonance at Amazon
Purchase Resonance at IndieBound
View Resonance on Goodreads
* * * *
The New Order
by Chris Weitz
Hardcover
Little, Brown Books for Young Readers
Released 7/21/2015
They thought they were the only ones left. They were wrong.
After the unexpected revelation at the end of the first book, Donna and Jefferson are separated. Jefferson returns to NYC and tries to bring a cure to the Sickness back to the Washington Square tribe, while Donna finds herself in England, facing an unimaginable new world. Can the two reunite and prevent an even greater disaster than the Sickness?
This second book in The Young World trilogy will keep you at the edge of your seat.
Purchase The New Order at Amazon
Purchase The New Order at IndieBound
View The New Order on Goodreads
Win This Week's New Releases