Shanna, what was your inspiration for writing REBEL MECHANICS?
I really liked the idea of steampunk because I like the Victorian aesthetic and I like the sense of adventure. I wanted to write about trains and airships. At the same time, the social structure of that time period seems made for the kind of clash that's in the story. I merely amplified it by making the ruling class have actual magical powers, so that makes them even harder to rebel against.
What scene was really hard for you to write and why, and is that the one of which you are most proud? Or is there another scene you particularly love?
Perhaps the most difficult part to get right so that it not only made sense to me but also to my editor was the airship ride that led to assisting the bandits in a robbery (keeping it vague to not be too spoilery). There were a lot of little pieces that had to come together that took working it out, and then I rewrote it a number of times in the revision process. It was difficult finding the right mix of explanation and action so that readers could envision it without me slowing down the story too much to explain every little detail. That whole sequence is probably my favorite part of the book, but not necessarily because it was difficult. I think in a way it was difficult because I loved it so much. It was so clear in my head that it was difficult to translate it into words to give readers the same vivid images and feelings I had.
How long did you work on REBEL MECHANICS?
I started researching the book in the summer of 2010 and wrote the first draft that fall. I did a complete rewrite that spring, and did a few edits on that. It took a couple of years making the rounds of publishers before it sold, and then I did a lot of rewrites and edits with my editor over the course of about a year before we had it just the way we wanted it.
What did this book teach you about writing or about yourself?
I think mostly it taught me that a book can always be better, and it's worth making the effort. Sometimes it's painful, and you have to let go of some things you love that don't really fit. But the results are worth it.
What do you hope readers will take away from REBEL MECHANICS?
I hope readers will think about the way they see the world and be willing to challenge their own beliefs when they learn something new, and then be willing to take action for the things that matter most to them.
How long or hard was your road to publication? How many books did you write before this one, and how many never got published?
My writing career has moved in phases. I sold my first book to the second publisher I sent it to, so breaking in initially was rather easy. But then after five books, I went through a phase when it was a real struggle and I couldn't seem to sell anything. I finally came up with the idea for my Enchanted, Inc. series, and my career took off again. Then there was another lull when the US publisher dropped the series. But then the Japanese publisher wanted more, and I eventually published all those books, and then I sold this one. This will be my fifteenth published novel. I have four completed novels that have never sold and lots and lots of proposals that didn't sell.
What's your writing ritual like? Do you listen to music? Work at home or at a coffee shop or the library, etc?
I work at home, usually in absolute silence, though I have the occasional book that seems to like background music. I usually disconnect my laptop from the Internet and write somewhere other than at my desk. My desk is where I do "business" stuff, so I feel more creative elsewhere. Depending on the time of year, I may sit on my sofa, on my bed, on the chaise in my loft library, or at my patio table. Tea is an absolute necessity, and I reward myself with an M&M when I write a whole page. I count them out into a dish based on my goal for the day, and that way I can see how far I've gone and how much I still need to write.
What advice would you most like to pass along to other writers?
It's so important to stick with it. Stick with the story you're writing instead of being sidetracked by each shiny new idea that comes along. Don't give up when it seems difficult because it will seem difficult about midway through the book. And don't give up on selling a book that you know has merit.
What are you working on now?
I'm mostly doing publicity work right now, with a new book about to come out, but I'm revising the third book in my contemporary fantasy Fairy Tale series and researching and plotting the second Rebel Mechanics book.
ABOUT THE BOOK
Rebel Mechanics
by Shanna Swendson
Hardcover
Farrar, Straus and Giroux
Released 7/14/2015
A sixteen-year-old governess becomes a spy in this alternative U.S. history where the British control with magic and the colonists rebel by inventing.
It's 1888, and sixteen-year-old Verity Newton lands a job in New York as a governess to a wealthy leading family—but she quickly learns that the family has big secrets. Magisters have always ruled the colonies, but now an underground society of mechanics and engineers are developing non-magical sources of power via steam engines that they hope will help them gain freedom from British rule. The family Verity works for is magister—but it seems like the children's young guardian uncle is sympathetic to the rebel cause. As Verity falls for a charming rebel inventor and agrees to become a spy, she also becomes more and more enmeshed in the magister family's life. She soon realizes she's uniquely positioned to advance the cause—but to do so, she'll have to reveal her own dangerous secret.
Purchase Rebel Mechanics at Amazon
Purchase Rebel Mechanics at IndieBound
View Rebel Mechanics on Goodreads
ABOUT THE AUTHOR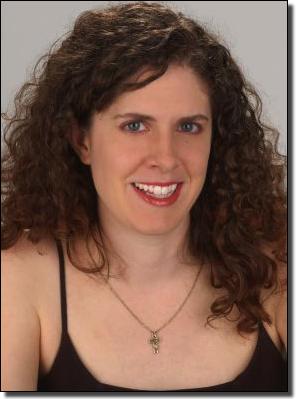 Shanna Swendson writes humorous contemporary fantasy for Ballantine Books and pop culture essays for BenBella Books. She's the author of Enchanted, Inc., Once Upon Stilettos, and Damsel Under Stress, and has contributed to Flirting With Pride and Prejudice, Welcome to Wisteria Lane, So Say We All and Serenity Found. When she's not writing, she's usually discussing books and television on the Internet. She's a member of Science Fiction and Fantasy Writers of America and Romance Writers of America. Visit her web site at www.shannaswendson.com
--
What did you think of our interview with Shanna Swendson, author of REBEL MECHANICS? Let us know in the comments!
Lindsey, Martina, Sam, Jocelyn, Erin, Lisa, Shelly, Susan, Kristin, Jen, Sandra, and Anisaa