First let's introduce the newest members of our
AYAP Team
who've helped with the contest:
Lindsey Hodder
is our new Communications Intern and Technical and Workflow Coordinator. She helps keep the contest sidebars up-to-date, helps coordinate Monday Round-Ups, and spreads the word about the goodness that is Adventures in YA Publishing by representing the team across the web, as well as curating a soon-to-be-instigated roundup of the best writing posts found each week.
Lindsey writes speculative fiction. She's also recently completed a postgrad thesis on the wonders of escapism, which pretty much sums up her love of YA. She currently lives in Sydney, Australia, though she's often overheard attempting to convince her long-suffering partner to follow her around the globe.
She tweets about writing, life, and Super Secret Projects at
@lindseyhodder
.
Sam Taylor
is the New Releases Intern. She documents all the YA new releases shared weekly on the blog and represents the Adventures in YA Publishing team by interacting with writing and bookish blogs all across the web.
Sam developed a voracious appetite for YA lit when her teen sisters introduced her to their favorite books. Now she writes her own YA manuscripts, when she's not devouring books and manga or playing the violin. Sam lives in Connecticut with her husband and cat.
You can find her on twitter at
@jsamtaylor
.
Sandra Held
is our Marketing Manager and Outreach Coordinator. She is planning some fun new features that she hopes to introduce to the blog soon, and coordinates our outreach across social media.
She spends her time obsessing over her favorite YA reads, stalking Pinterest for the newest inspiration, and taking meticulous notes at the movies. After all, there's nothing better than discovering a great story!
Anisaa is the Graphics and Imaging Intern for AYAP and
YASeriesInsiders.com
. She creates beautiful graphics and images, along with managing the AYAP Instagram, which you can follow at
@ayaplit
.
Anisaa is a modern-day drifter who has live and traveled all over the east coast. Through her travels, she developed a strong passion for writing, and a slight shoe obsession. Recently, she just graduated with a degree in Journalism with minors in PR and English. When she's not reading, she can found binge-watching Netflix, daydreaming, playing video games and finishing up her YA manuscript. The quote she lives by is "The future belongs to those who believe in the beauty of their dreams."
You can read her awesome tweets
@lanisavida
Agent Judges:
Moe Ferrar of Bookends, LLC
Becoming a literary agent was fitting for the girl who, as a small child, begged her dad to buy her a book simply because "it has a hard cover." Growing up, she had a hard time finding YA books outside of Christopher Pike and R. L. Stine, and instead tackled Tom Clancy or her mom's romance novels. Though her career path zigzagged a bit—she attended college as a music major, earned a JD from Pace Law School, then worked various jobs throughout the publishing industry—Moe was thrilled to join the BookEnds team in May of 2015 as a literary agent and the foreign rights manager.
A Pennsylvania native, she is the proud owner of one rambunctious guinea pig who is a master at stealing extra treats. When not reading, she is an avid gamer and always awaiting the next Assassin's Creed release.
You can contact Moe directly at MFsubmissions@bookends-inc.com or follow her on Twitter at
www.twitter.com/inthesestones
.
Moe is interested in science fiction and fantasy for all age groups (no picture books). She loves a bit (or a lot!) of romance in her fiction, so the right contemporary or historical romance will spark her interest. She's LGBTQ friendly, so send her that male/male erotic romance in your back pocket! At this time she's not looking for nonfiction, women's fiction, or cozy mysteries.
Susan Hawk of the Bent Agency
Before agenting, I spent over fifteen years in children's book marketing at Penguin, Henry Holt and North-South Books, where I was lucky to work on many different books ranging from Eric Carle's Baby Bear, Baby Bear to Betsy Partridge's This Land Was Made for You and Me, to Nancy Werlin's Black Mirror, as well as the work of Mary E Pearson, Richard Peck and Joan Bauer. I also worked as a children's librarian and bookseller, and remember still the satisfaction of putting just the right book into a child's (or teenager's) hands.
While at Penguin, I also worked for a time in Dutton Editorial, acquiring select picture book and YA projects for that list. My favorite part of that time was reading new submissions -- finding something wonderful and imagining where it can go was thrilling to me then and remains so now.
I handle books for children exclusively: picture books, chapter books, middle grade and YA, fiction and non-fiction. The projects I represent share powerful and original writing, strong story-telling and a distinctive, sometimes off-kilter voice. In middle-grade and YA, I'm looking for unforgettable characters, rich world-building, and I'm a sucker for bittersweet; bonus points for something that makes me laugh out loud. I'm open to mystery, fantasy, scifi, humor, boy books, historical, contemporary (really any genre). In picture books, I'm looking particularly for author-illustrators, succinct but expressive texts, and indelible characters. I'm interested in non-fiction that relates to kid's daily lives and their concerns with the world. I'm actively looking for diversity in the stories and authors that I represent. My favorite projects live at the intersection of literary and commercial.
For more information please visit
Susan Says
, and check the
Bent Agency blog
for periodic updates to my wish list.
Christa Heschke of Macintosh & Otis
CHRISTA HESCHKE graduated from Binghamton University with a major in English and a minor in Anthropology. She started in publishing as an intern at both Writers House and Sterling Lord Literistic, where she fell in love with the agency side of publishing. Christa has been at McIntosh and Otis, Inc. in the Children's Literature Department since 2009 where she is actively looking for picture books, middle grade, and young adult projects. She is a fan of young adult novels with a romantic angle, and strong, quirky protagonists. Within YA, Christa is especially interested in contemporary fiction, horror and thrillers/mysteries. As for middle grade, Christa enjoys contemporary, humor, adventure, mystery and magical realism for boys and girls. For picture books, she's drawn to cute, funny, character driven stories within fiction and is open to non-fiction with a unique hook.
Sarah Negovetich of Corvisiero Agency
Sarah Negovetich is fully aware that no one knows how to pronounce her last name, and she's okay with that.
Her favorite writing is YA, because at seventeen the world is your oyster. Only oysters are slimy and more than a little salty, it's accurate if not exactly motivational.
Sarah's background is in Marketing. FYI, your high school algebra teacher was right when they told you every job uses math. She uses her experience to assist Corvisiero authors with platform building and book promotion.
Amaryah Orenstein of GO Literary
Amaryah Orenstein
is the founder of GO Literary. As a literary agent, she is thrilled to help writers bring their ideas to life. Aiming to give voice to a broad range of perspectives, Amaryah represents a wide array of literary and commercial fiction (including YA), narrative nonfiction, and academic titles. She is actively seeking works that wed beautiful writing with a strong narrative and tackle big issues in engaging, accessible, and even surprising ways. Amaryah began her career at the Laura Gross Literary Agency in 2009 and, prior to that, worked as an Editorial Assistant at various academic research foundations,
Ammi-Joan Pacquette of Erin Murphy Literary Agency
Joan is a Senior Agent with EMLA, working from her home office in Massachusetts as the "East Coast branch" of the agency. She represents all forms of children's and young adult literature, but is most excited by a strong lyrical voice, tight plotting with surprising twists and turns, and stories told with heart and resonance that will stand the test of time.
An EMLA client herself, Joan is also the author of numerous books for children, most recently the picture books
Ghost in the House
(Candlewick, 2013) and
Petey and Pru and the Hullabaloo
(Clarion, 2013), and the novels
Paradox
(Random House, 2013) and
Rules for Ghosting
(Walker, 2013).—Her next novel, Princess Juniper of the Hourglass, is forthcoming from Philomel in July 2015. When she is not on the phone, answering email, or writing, you will most likely find Joan curled up with a book. Or baking something delicious. Or talking about something delicious she's baked. Really, after books and food, what else is there worth saying?
Dr. Uwe Stender of Triada US
Literary Agent Dr. Uwe Stender is a Full Member of the AAR (Association of Authors' Representatives). He is interested in all kinds of commercial fiction, especially Young Adult, Middle Grade, Mysteries, and Women's Fiction. He is also interested in all kinds of non-fiction projects. But surprise him, his tastes are eclectic, and he may just love what you wrote!
His favorite five novels right now are:
Eleanor And Park, How It Went Down, Code Name Verity, High Fidelity,
and
The Big Sleep
.
Saba Sulaiman of Talcott Notch Literary Services
Saba Sulaiman
is the newest member of Talcott Notch Literary Services, a boutique agency located in Milford, CT. She joined the team after working as an editorial intern at Sourcebooks, where she worked primarily on their romance line. She's looking for up-market literary and commercial fiction, romance (all subgenres except paranormal), character-driven psychological thrillers, cozy mysteries, and memoir, both in adult and YA. She's also actively looking for MG. Follow her on Twitter @agentsaba
Author Judges: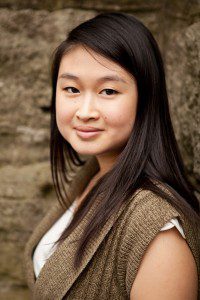 Kat Zhang was a finalist in a contest very similar to this one at Adventures in YA Publishing just before getting her book deal!
But of course, she'd been writing for a long time. By the age of twelve, Kat had started her first novel and begun plans for her life as a Real Live Author (she was rather more confident at twelve than she is even now). Said plans didn't come into fruition until seven years later, when her agent sold her trilogy, The Hybrid Chronicles, to HarperCollins. The first book, What's Left of Me–about a girl with two souls–was released September 18, 2012. Book 2, Once We Were, released September 17, 2013. The final book, Echoes of Us, came out September 16, 2014.
Kat is represented by Emmanuelle Morgen of Stonesong. In addition to contributing to
Pub(lishing) Crawl
, a site for aspiring writers to talk about books, storytelling craft, and the publishing process.
Dhalia Adler
: I'm an Associate Editor of mathematics by day, a Copy Editor by night, and I do a whole lot of writing at every spare moment in between. I've also been a Production Intern and Editorial Assistant at Simon & Schuster, a Publicity Intern at HarperCollins, and a Fashion Intern at Maxim. (I'm kind of into that whole publishing thing.)
I'm the author of the Daylight Falls duology (consisting of
Behind the Scenes
and
Under the Lights
), the upcoming
Just Visiting
, and the NA novel
Last Will and Testament
. For information on those books and where you can buy them, check out My Books!
I live in New York City with my husband and our overstuffed bookshelves, and you can find me on Twitter at
@MissDahlELama
and blogging at
B&N Teens
,
The Daily Dahlia
, and
YA Misfits
. Come say hi!
Holly Bodger:
A long-time resident of Ottawa, Canada, I have been working in publishing since I graduated with an English degree from the University of Ottawa.
I am represented by
Lauren MacLeod
of The Strothman Agency, LLC. My debut novel,
5 TO 1
, was released on May 12, 2015 from Knopf Books for Young Readers (Penguin Random House).
Martina Boone
was born in Prague and spoke several languages before learning English. She fell in love with words and never stopped delighting in them. She's the author of SIBA Book Award nominated Compulsion, book one in the romantic Southern Gothic trilogy, the Heirs of Watson Island, which was a Fall '14 Okra Pick by the Southern Independent Bookstores Alliance, a Kansas State Reading Circle selection, Goodreads Best Book of the Month and YA Best Book of the Month, and an RT Magazine Best of 2014 Editor's Pick. The second book in the trilogy, Persuasion, will be published in October 2015.
She's also the founder of
AdventuresInYAPublishing.com
, a Writer's Digest 101 Best Websites for Writers site, and
YASeriesInsiders.com
, a site devoted to the discovery and celebration of young adult literature and encouraging literacy through YA series.
From her home in Virginia, where she lives with her husband, children, and a lopsided cat, she enjoys writing contemporary fantasy set in the kinds of magical places she'd love to visit. When she isn't writing, she's addicted to travel, horses, skiing, chocolate flavored tea, and anything with Nutella on it.
Erin Cashman
is an attorney specializing in non-profit law. She graduated Phi Beta Kappa from Bates College and earned her law degree at Boston College Law School. Her debut YA fantasy novel,
THE EXCEPTIONALS
, was named a Bank Street College of Education Best Children's Book. She primarily writes YA and middle grade fantasy while eating chocolate and drinking tea. She is also the Workshop Manager of
The First Five Pages Workshsop
, a free monthly workshop open to writers of Young Adult fiction, Middle Grade fiction, and New Adult Fiction who want to jumpstart their careers as aspiring authors. She lives in Massachusetts with her husband and three children. Find her on her
Website
and on
Twitter
.
Lisa Gail Green
lives with her husband the rocket scientist and their three junior mad scientists in Southern California. She writes books so she can have an excuse to live in the fantasy world in her head. She likes to share these with readers so she's represented by the lovely Melissa Nasson of Rubin Pfeffer Content. She has a parrot but would most definitely get a werewolf for a pet if she weren't allergic.
SOUL CROSSED, Of Demons & Angels Book One is available now. Book 2 -- SOUL CORRUPTED comes out September 9th.
Kimberley Griffiths Little
was born in San Francisco, but now lives in New Mexico with her husband and three sons in a solar adobe home on the banks of the Rio Grande. Her award-winning writing has been praised as "fast-paced and dramatic," with "characters painted in memorable detail" and "beautifully realized settings."
Kimberley adores anything old and musty with a secret story to tell and makes way too many cookies while writing.
She's stayed in the haunted tower room at Borthwick Castle in Scotland; held baby gators in the bayous/swamps of Louisiana, sailed the Seine in Paris; ridden a camel in Petra, Jordan; shopped the Grand Bazaar in Istanbul; and spent the night in an old Communist hotel in Bulgaria.
Kimberley's Awards include: Southwest Book Award, Whitney Award for Best Youth Novel, Bank Street College Best Books of 2011 & 2014, Crystal Kite Finalist, and New Mexico Book Award Finalist.
Joy N. Hensley
is a former middle school teacher. She used to spend her twenty-minute lunch breaks hosting author Skype chats for her students. Once upon a time she went to a military school on a dare. She lives in Virginia with her husband and two children, finding as many ways as she can to never do another push-up again.
S.A. Larsen
grew up in one of New England's smaller communities surrounded by family and the influence of tight-knit relationships with nearby towns. Through her love of dance, athletics, and writing, she expressed her hopes, and dreams, being involved in shows and the theater. She began creating quirky worlds at an early age, more attracted to telling stories through illustrations (elementary scribblings >_<). In middle school and high school this morphed into exploring her world through creepy and eerie tales, stretching her vivid imagination as she shared frustrations and misunderstandings as a teen with a world she figured would never 'get' her. And today, she's just fine with being misunderstood.
Her deep love for writing children's literature pushes her to explore the joys and angst of the young adult years, the awkward middle grade years, and the curious and sweet younger years of picture books. She lives in the land of lobsters, snowy winters, and the occasional Eh'ya, with her husband of over twenty years, their four children, and a playful bich-poo Gracie.
=
Her debut vineyard-set YA novel, MARKED BEAUTY, has just been acquired by ELYSIAN PRESS.
At sixteen,
Kim Liggett
left her rural midwestern town for New York City to pursue a career in both music and acting. While attending the American Academy of Dramatic Arts, Kim sang backup for some of the biggest rock bands in the 80′s.
After settling down to have a family, she became an entrepreneur, creating a children's art education program and a travel company specializing in tours for musicians.
She's married to jazz musician Ken Peplowski, has two grotesquely beautiful teens, and a very neurotic dog that drags her through Riverside Park everyday on the Upper West Side of Manhattan.
Sarah Ockler
is the bestselling author of six young adult novels: Twenty Boy Summer, Fixing Delilah, Bittersweet, The Book of Broken Hearts, #scandal, and The Summer of Chasing Mermaids. Her books have been translated into several languages and have received numerous accolades, including ALA's Best Fiction for Young Adults, Girls' Life Top 100 Must Reads, Indie Next List, Amazon Top Movers and Shakers, and nominations for YALSA Teens' Top Ten and NPR's Top 100 Teen Books. Her short works have appeared in the anthologies Dear Teen Me and Defy the Dark.
She's a champion cupcake eater, tea drinker, tarot enthusiast, night person, and bookworm. When she's not writing or reading at home in the Pacific northwest, Sarah enjoys hugging trees and road-tripping through the country with her husband, Alex. Fans can find her on Twitter, Tumblr, Facebook, and at sarahockler.com.
Sara Raasch
has known she was destined for bookish things since the age of five, when her friends had a lemonade stand and she tagged along to sell her hand-drawn picture books too. Not much has changed since then -- her friends still cock concerned eyebrows when she attempts to draw things and her enthusiasm for the written word still drives her to extreme measures. Her debut YA fantasy, SNOW LIKE ASHES, is coming out Fall 2014 from Balzer + Bray. It does not feature her hand-drawn pictures.
She can be found on Twitter at
@seesarawrite
and blogging over at the
Valentines
. She is represented by
Charlotte Sheedy Literary
.
Ron Smith
is the author of
HOODOO
, available fall, 2015 from Clarion Books and is represented by Adriann Ranta of Wolf Literary Services. Say hello on his
blog
or on
Twitter
.
Liza Wiemer
: I am the author of two non-fiction adult books, short stories, and newspaper and magazine articles. A pre-school to high school educator now writing YA fiction full time, which I LOVE, LOVE, LOVE! And I'm a diehard Green Bay Packers fan.
For my author posts on writing and my upcoming YA novel HELLO?:
http://www.LizaWiemer.com
Unique "job" experiences: I spent a summer selling popcorn in a Koepsell's popcorn wagon while listening to awesome music on the Summerfest grounds in Milwaukee. I also know my way around a fender and a quarter panel and under the hood of a car. I spent a few years driving to accident scenes, scrapyards, hospitals, auto repair shops as a claims adjuster for an insurance company.
I started WhoRuBlog to address YA issues and share my passion for reading.
http://www.whoRuBlog.com
Besides articles that address tough issues facing young adults, I have author interviews and book giveaways. Check them out. :D