Rachel, what scene of THE STARS NEVER RISE was really hard for you to write and why, and is that the one of which you are most proud? Or is there another scene you particularly love?
The hardest scenes to write, from a structural perspective, are Finn's scenes. His situation is complicated, and keeping the reader enthralled but not confused was a challenge. However, the scene I'm most proud of is Nina's confrontation with her mother. The intensity of her psychological trauma and the number of life-changing revelations she experiences all at once are a triumph for me, from a craft perspective. In one scene, I completely destroyed her life on multiple levels, but challenged her not to let her emotions get the best of her just yet. Nina and I fought hard for that one.
What book or books would most resonate with readers who love your book--or visa versa?
THE STARS NEVER RISE will appeal to readers of dark dystopia or post-apocalyptic fiction, and to anyone who likes action or likes to see the underdog (mostly) triumph. In the broadest sense, that includes books like Harry Potter (underdog) and THE HUNGER GAMES (dark dystopia + action), but it also includes a host of other books with intensive world building. I haven't read ANGELFALL or UNDER THE NEVER SKY (I know, I know, they're on my list!) but I'm told that they're similar in tone to TSNR.
How long did you work on THE STARS NEVER RISE?
Three years? Maybe more? The concept took a while to develop, and at first, it was set in the contemporary world. Originally my concept of possession was an analogy about drug abuse and the damage it does to both the body and the mind. I wrote around four completely different first chapters before I finally realized there was a larger backstory to tell, and a larger world to explore. Then it took a few months to write, another month to revise, a couple of weeks for my agent to read, and a week or so to revise with her notes. Then we started submitting. After the book sold, there were revisions, copy and line edits, and page proofs. The sale came twenty-seven months before the release. So, obviously it's a very long process overall.
What did this book teach you about writing or about yourself?
This book underlined something I really already knew--that monsters are scary, but sometimes the scariest things in the world look perfectly normal from the outside. It's the monsters we don't see coming that have the most potential for harm, both in fiction and in real life. Also, this book taught me that the deeper I dig into world building, the more real that world becomes, to me, to the characters, and hopefully to my readers.
What do you hope readers will take away from THE STARS NEVER RISE?
I hope that readers will come to value skepticism. As a parent, as a writer, and as a person, I believe we should try to know as much as we can about the world we live in. About why things are the way they are. I believe we should question "truths" that are often taken for granted and decide for ourselves how we feel about them. The quest for knowledge--and for truth--should never end. That's no more true for Nina in the story than it is for us in the real world.
How long or hard was your road to publication? How many books did you write before this one, and how many never got published?
I'm fairly prolific. I wrote my first three novels (almost 350,000 words) in a ten month span when my children were toddlers. I'd gone from high school to college, to teaching, then quit my job to be with my kids. At that point, writing was keeping me sane during a time in my life when cartoons populated my TV screen and most of my conversations were with people less than two and a half feet tall. I shelved my first two novels, convinced they were unmarketable without ever submitting them. But I spent several months polishing the third one (STRAY, an adult urban fantasy from MIRA Books, 2007), then sent it out and snagged my first agent with it in about five months. I spent a couple of months revising with her suggestions. We got the first offer on the book eleven days after it went on submission. So, from the start of my first completed novel to my first sale, the time span was around two years. The book came out a year and a half later.
I never submitted the first two novels I wrote, and I later turned down an offer for one other manuscript. Those are the only unsold full manuscripts I have. THE STARS NEVER RISE is my eighteenth published novel and my eighth YA.
Was there an AHA! moment along your road to publication where something suddenly sank in and you felt you had the key to writing a novel? What was it?
Alas, no. There's no one key to writing a novel, other than hard work. There are no shortcuts, and there are no guarantees. (There's also no health insurance and no job security.) But writing is the best career I could ever have possibly imagined for myself. It's opened my world, provided for my children, and given me a consistent creative outlet.
What's your writing ritual like? Do you listen to music? Work at home or at a coffee shop or the library, etc?
I don't really have any rituals, though I usually have both coffee and water nearby when I'm writing. Once or twice a week, I work at Panera Bread with a friend. I only listen to music when I need to tune out other noises, and even then, I usually listen to instrumentals. Lyrics distract me. When my kids were small, I wrote at night, after they went to bed. Now that they're older, I've gotten used to writing at their rehearsals, auditions, and music lessons. But nothing works better than several uninterrupted hours with my Macbook, in my recliner.
What advice would you most like to pass along to other writers?
The most important part of writing is the writing itself--the hours you choose to turn off the television, block out the world, and actually put words on the page. Language matters. Synonyms have different nuances, and they're rarely actually interchangeable. Use the most precise words you can. Write the most concise sentences you can. But don't get so caught up in the craft and the mechanics that you lose your passion for the story. Like most things in life, writing is a balancing act.
What are you working on now?
I'm actually working on a book that hasn't been announced yet (Sorry! Super secret!) as well as a proposal for a new YA. When those are finished, I'll be writing MASQUERADE, the sequel to MENAGERIE, which comes out from MIRA Books on Sept 29, 2015.
ABOUT THE BOOK
The Stars Never Rise
by Rachel Vincent
Hardcover
Delacorte Press
Released 6/9/2015
From RACHEL VINCENT, New York Times bestselling author, comes the first book in a new series about a girl who must join forces with rogue exorcists to save her sister and, ultimately, humanity.
Sixteen-year-old Nina Kane should be worrying about her immortal soul, but she's too busy trying to actually survive. Her town's population has been decimated by soul-consuming demons, and souls are in short supply. Watching over her younger sister, Mellie, and scraping together food and money are all that matters. The two of them are a family. They gave up on their deadbeat mom a long time ago.
When Nina discovers that Mellie is keeping a secret that threatens their very existence, she'll do anything to protect her. Because in New Temperance, sins are prosecuted as crimes by the brutal Church and its army of black-robed exorcists. And Mellie's sin has put her in serious trouble.
To keep them both alive, Nina will need to trust Finn, a fugitive with deep green eyes who has already saved her life once and who might just be an exorcist. But what kind of exorcist wears a hoodie?
Wanted by the Church and hunted by dark forces, Nina knows she can't survive on her own. She needs Finn and his group of rogue friends just as much as they need her.
Purchase The Stars Never Rise at Amazon
Purchase The Stars Never Rise at IndieBound
View The Stars Never Rise on Goodreads
ABOUT THE AUTHOR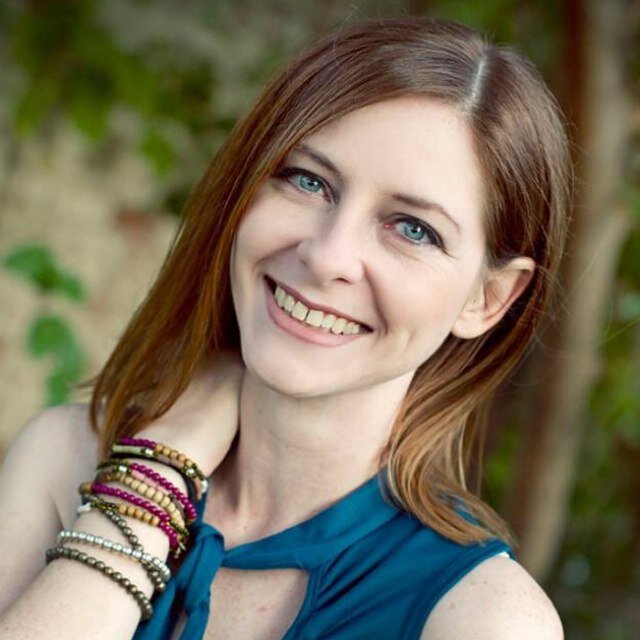 Rachel Vincent is a former English teacher and an eager champion of the Oxford comma. She shares her home in Oklahoma with two cats, two teenagers, and her husband, who's been her # 1 fan from the start. Rachel is older than she looks and younger than she feels, and she remains convinced that writing about the things that scare her is the cheapest form of therapy—but social media is a close second.
What did you think of our interview with Rachel Vincent, author of THE STARS NEVER RISE? Let us know in the comments!
Martina, Jocelyn, Shelly, Jan, Lisa, Susan, and Erin