This year is positively flying by! How did it get to be June already? Once June arrives, it finally feels like summer. Do you have any exciting plans for this summer? Perhaps you're planning to fit in a lot of reading. If so, we have a bunch of books releasing this week for you to check out. Let us know in the comments which ones are being added to your TBR pile.
Happy reading,
Jocelyn, Martina, Jan, Shelly, Susan, Lisa, and Erin
YA BOOK GIVEAWAYS THIS WEEK
* * * *
The Devil You Know
by Trish Doller
Personalized Hardcover Giveaway

U.S. Only
Bloomsbury USA Childrens
Released 6/2/2015
From critically-acclaimed author Trish Doller comes a powerful new psychological page-turner perfect for fans of Lauren Oliver and Sara Zarr.
Eighteen-year-old Arcadia wants adventure. Living in a tiny Florida town with her dad and four-year-old brother, Cadie spends most of her time working, going to school, and taking care of her family. So when she meets two handsome cousins at a campfire party, she finally has a chance for fun. They invite her and a friend to join them on a road trip, and it's just the risk she's been craving-the opportunity to escape. But what starts out as a fun, sexy journey quickly becomes dangerous when she discovers that one of them is not at all who he claims to be. One of them has deadly intentions.
A road trip fling turns terrifying in this contemporary story that will keep readers on the edge of their seats.
Author Question: What is your favorite thing about The Devil You Know?
The thing I like best about THE DEVIL YOU KNOW is the feminism. Cadie Wells is a character who came to me fully formed, with very strong feelings about the world and her place in it, so it was really exciting to sit back and let her speak her mind.

And I know that sounds a little weird to say because I created her, but when I first started thinking about the book that came to be THE DEVIL YOU KNOW, I envisioned three boys, three best friends, going off on a road trip together that goes horribly awry. But then Cadie showed up and I realized I had this amazing opportunity to write a strong girl who goes after what she wants--even when what she wants is not good for her.

I think the thriller aspect is what gets you in the door, but the feminism is what you take home with you.
Purchase The Devil You Know at Amazon
Purchase The Devil You Know at IndieBound
View The Devil You Know on Goodreads
* * * *
The Last Leaves Falling
by Sarah Benwell
Hardcover Giveaway

U.S. Only
Simon & Schuster Books for Young Readers
Released 6/2/2015
A teen grapples with ALS and his decision to die in this devastatingly beautiful debut novel infused with the haunting grace of samurai death poetry and the noble importance of friendship.
Abe Sora is going to die, and he's only seventeen years old. Diagnosed with ALS (Lou Gehrig's disease), he's already lost the use of his legs, which means he can no longer attend school. Seeking a sense of normality, Sora visits teen chat rooms online and finally finds what he's been longing for: friendship without pity.
As much as he loves his new friends, he can't ignore what's ahead. He's beginning to lose the function of his hands, and soon he'll become even more of a burden to his mother. Inspired by the death poems of the legendary Japanese warriors known as samurai, Sora makes the decision to leave life on his own terms. And he needs his friends to help him.
Author Question: What is your favorite thing about The Last Leaves Falling?
There's a lot that I'm proud of - scenes and characters and unassuming details. There's a lot about the production of the book which I'm as in awe of as I am grateful for. But I think my favourite thing, overall, is the space it offers readers to explore tough issues. It isn't meant to be a book which preaches, despite Sora's choice. No one way is ever going to be right for everyone. But I hope that it makes people think.
Purchase The Last Leaves Falling at Amazon
Purchase The Last Leaves Falling at IndieBound
View The Last Leaves Falling on Goodreads
* * * *
Dancing with Molly
by Lena Horowitz
Hardcover Giveaway

U.S. Only
Simon Pulse
Released 6/2/2015
An edgy and intimate glimpse at what one girl will do just to be the life of the party.
Before, I was never the life of the party. I was the reliable one. The one no one had to worry about. The one no one had to think about. I was the one that everyone could ignore.
Until that night, when everything changed and I finally became someone.
Someone special.
Someone noticeable.
Someone Carson might actually care about, as much as I cared about him.
But the cost of being someone is more than anyone can imagine. For every moment, there's a price to pay. For every party. For every choice made. For every kiss.
Ultimately, living a life of PURE ECSTASY might be no different from not living at all.
Purchase Dancing with Molly at Amazon
Purchase Dancing with Molly at IndieBound
View Dancing with Molly on Goodreads
* * * *
The Summer of Chasing Mermaids
by Sarah Ockler
Hardcover Giveaway

U.S. Only
Simon Pulse
Released 6/2/2015
From the bestselling author of Twenty Boy Summer, a talented singer loses her ability to speak after a tragic accident, leading her to a postcard-perfect seaside town to find romance.
The youngest of six talented sisters, Elyse d'Abreau was destined for stardom—until a boating accident took everything from her. Now, the most beautiful singer in Tobago can't sing. She can't even speak.
Seeking quiet solitude, Elyse accepts a friend's invitation to Atargatis Cove. Named for the mythical first mermaid, the Oregon seaside town is everything Elyse's home in the Caribbean isn't: an ocean too cold for swimming, parties too tame for singing, and people too polite to pry—except for one.
Christian Kane is a notorious playboy—insolent, arrogant, and completely charming. He's also the only person in Atargatis Cove who doesn't treat Elyse like a glass statue. He challenges her to express herself, and he admires the way she treats his younger brother, Sebastian, who believes Elyse is the legendary mermaid come to life.
When Christian needs a first mate for the Cove's high-stakes Pirate Regatta, Elyse reluctantly stows her fear of the sea and climbs aboard. The ocean isn't the only thing making waves, though—swept up in Christian's seductive tide and entranced by the Cove's charms, Elyse begins to wonder if a life of solitude isn't what she needs. But changing course again means facing her past. It means finding her inner voice. And scariest of all, it means opening her heart to a boy who's best known for breaking them…
Author Question: What is your favorite thing about THE SUMMER OF CHASING MERMAIDS?
It's so hard to pick! I mean, there's steamy romance, always a favorite for me. And a pinch of magic realism, including Tarot, witchcraft, and mermaid lore -- more of my faves. Sea glass, a wild ocean, summer love, a mermaid parade, a pirate regatta, Elyse's memories of Trinidad and Tobago... Okay, this is harder than it looks! But I think my *most* favorite thing about THE SUMMER OF CHASING MERMAIDS is actually the friendship that forms among Elyse, her cousin Kirby, and Kirby's best friend Vanessa. Each of the three girls is so different -- Kirby, sweet and sincere, who never gives up on Elyse even when Elyse tries to push her away; Vanessa, gregarious and magnetic, free-spirited and full of life; and Elyse, once a singer and performer on her way to the top, rendered speechless by an accident that destroyed her voice and dreams, angry and confused about what to do with her life now. They're not perfect, but they are loyal, and the girls grow impossibly close over a summer of challenges. Even through their arguing, they stay tight, always supportive, always honest, always there for one another, the kind of girlfriends that every girl and woman deserves in her life. I loved writing about them.
Purchase The Summer of Chasing Mermaids at Amazon
Purchase The Summer of Chasing Mermaids at IndieBound
View The Summer of Chasing Mermaids on Goodreads
YA BOOK GIVEAWAYS LAST WEEK: WINNERS
* * * *
Emancipated
by M. G. Reyes
Hardcover
Katherine Tegen Books
Released 5/26/2015
Winner - Danielle D.
The good girl, the bad boy, the diva, the hustler, the rock star, and the nerd. Six teens legally liberated from parental control for six different reasons, all with one thing in common: something to hide.
Now they're sharing a house in Venice Beach, acting like a family, and living their lies. No parents. No limits. No alibis. One witnessed a crime, another might be a murderer—and one's been spying on them all.
As they cling to a fantasy of freedom and slowly let down their guards, the past creeps up on them. And when one of them gets arrested, everyone's carefully constructed facade comes crumbling down.
In this steamy, drama-filled series, relationships are tested and secrets revealed as lies threaten to destroy their perfect setup.
Author Question: What is your favorite thing about Emancipated?
My favourite thing is probably the chance to try something really different from my previous books - a contemporary 'realistic' setting for character drama. Before EMANCIPATED I'd mainly written action-adventure for a younger readership - both THE JOSHUA FILES and GEMINI FORCE ONE (written under MG Harris) are for 10-14. The older reading age of EMANCIPATED allows me to explore issues of morality and life choices in a much more realistic backdrop.

OK - the set-up of six rather gorgeous and talented teenagers living independently in a groovy beach shack has elements of fantasy, but there are no secret societies, or futuristic technology, or time-travelling villains to drive the plot. Instead, everything that happens - and as the trilogy progresses these things will be pretty, pretty bad - is the result of choices that the characters make, often under difficult circumstances.

I was a huge fan of Breaking Bad, and EMANCIPATED allows me to play in a similar arena of tricky moral choices, the slippery slope to crimes and misdemeanors. And that was fun for me, very different, a wonderful challenge.
Purchase Emancipated at Amazon
Purchase Emancipated at IndieBound
View Emancipated on Goodreads
* * * *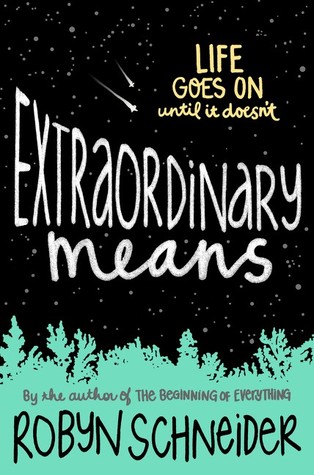 Extraordinary Means
by Robyn Schneider
Hardcover
Katherine Tegen Books
Released 5/26/2015
Winner - Natalie D.
From the author of The Beginning of Everything: two teens with a deadly disease fall in love on the brink of a cure.
At seventeen, overachieving Lane finds himself at Latham House, a sanatorium for teens suffering from an incurable strain of tuberculosis. Part hospital and part boarding school, Latham is a place of endless rules and confusing rituals, where it's easier to fail breakfast than it is to flunk French.
There, Lane encounters a girl he knew years ago. Instead of the shy loner he remembers, Sadie has transformed. At Latham, she is sarcastic, fearless, and utterly compelling. Her friends, a group of eccentric troublemakers, fascinate Lane, who has never stepped out of bounds his whole life. And as he gradually becomes one of them, Sadie shows him their secrets: how to steal internet, how to sneak into town, and how to disable the med sensors they must wear at all times.
But there are consequences to having secrets, particularly at Latham House. And as Lane and Sadie begin to fall in love and their group begins to fall sicker, their insular world threatens to come crashing down. Told in alternating points of view, Extraordinary Means is a darkly funny story about doomed friendships, first love, and the rare miracle of second chances.
Author Question: What is your favorite thing about Extraordinary Means?
Extraordinary Means is a dual narrative, and my favorite thing about the book is something that readers might not even notice: the two narrators don't tell exactly the same story. Lane tells a coming of age story, which begins the moment he arrives at Latham House and ends when he leaves. His narrative is removed and introspective. And Sadie tells a love story. Her narrative begins the day she first sees Lane, more than a year after she's arrived at Latham House, and it ends after the question of whether or not they want to be together has been answered. So her narrative is more in the moment, and closer to the story. I think writing it that way helped me to understand which parts of the story belonged to which characters.
Purchase Extraordinary Means at Amazon
Purchase Extraordinary Means at IndieBound
View Extraordinary Means on Goodreads
* * * *
Kissing in America
by Margo Rabb
Two Signed ARCs
HarperCollins
Released 5/26/2015
Winners - Alicia E. and Bill N.
I loved romances because when you opened the first page, you knew the story would end well. Your heart wouldn't be broken. I loved that security, that guaranteed love.
In real life, you never knew the ending. I hated that.
Sixteen-year-old Eva has never been in love. But when she meets Will, everything changes. With him, her grief over her father's death fades, and she can escape from her difficult relationship with her mother. Then, without any warning, Will picks up and moves to California. So Eva—with the help of her best friend, Annie—concocts a plan to travel across the country to see him again. As they leave New York City for the first time and road-trip across America, they encounter cowboys, kudzu, and tiny towns without stoplights. Along the way, Eva and Annie learn the truth about love and all its complexities.
Author Question: What is your favorite thing about Kissing in America?
I loved writing about Eva as a poet, her connection to writing and her struggle to write again, and including poems in the novel. KISSING IN AMERICA includes many classic and contemporary poems, by W. H. Auden, Emily Dickinson, Adrienne Rich, Nikki Giovanni, Marie Howe, and others, and I loved including those in the book (although getting permission was quite a lot of work!)
Purchase Kissing in America at Amazon
Purchase Kissing in America at IndieBound
View Kissing in America on Goodreads
* * * *
The Porcupine of Truth
by Bill Konigsberg
Hardcover
Arthur A. Levine Books
Released 5/26/2015
Winner - Danielle H.
The author of OPENLY STRAIGHT returns with an epic road trip involving family history, gay history, the girlfriend our hero can't have, the grandfather he never knew, and the Porcupine of Truth.
Carson Smith is resigned to spending his summer in Billings, Montana, helping his mom take care of his father, a dying alcoholic he doesn't really know. Then he meets Aisha Stinson, a beautiful girl who has run away from her difficult family, and Pastor John Logan, who's long held a secret regarding Carson's grandfather, who disappeared without warning or explanation thirty years before. Together, Carson and Aisha embark on an epic road trip to find the answers that might save Carson's dad, restore his fragmented family, and discover the "Porcupine of Truth" in all of their lives.
Author Question: What is your favorite thing about The Porcupine of Truth?
My favorite thing is probably the relationship between Carson and Aisha (Cars-Isha for short). There's a lot of humor, there's some fighting, and in the end there is a tenderness to their friendship that I really love. It's a strong bond they forge, and both characters have had trouble forming close friendships so it's a beautiful thing.
Purchase The Porcupine of Truth at Amazon
Purchase The Porcupine of Truth at IndieBound
View The Porcupine of Truth on Goodreads
MORE YOUNG ADULT FICTION IN STORES NEXT WEEK WITH AUTHOR INTERVIEWS
* * * *
Invisible Monsters
by Joshua McCune
Hardcover
Greenwillow Books
Released 6/2/2015
Set in a not-too-distant future where dragon wars have reshaped society, the battle between the dragon resistance and government forces escalates in Joshua McCune's thrilling and heart-pounding sequel to Talker 25, which The Horn Book praised as "absolutely gripping and absolutely horrifying."
Finally free after spending three months locked in a secret government facility, where she was forced to torture and assassinate dragons for the popular television series Kissing Dragons, all Melissa Callahan wants is a quiet recovery. Hiding in an Alaskan cave with fellow escapee Allie (known as Talker 21), Melissa does her best to stay out of the dragon politics. However, when a group of rebels called the Diocletians discovers their hideout and captures Allie, Melissa realizes she must finally choose who she's fighting for—the humans or the dragons. Joshua McCune once again keeps readers on the edge of their seats in this gritty and masterful reimagining of popular dragon fantasy set in a militant future,
Author Question: What is your favorite thing about Invisible Monsters?
The dragons, of course! In TALKER 25, the dragons play a prominent role, but they're seen more in the big picture scale. In INVISIBLE MONSTERS, that big picture is widened - we get a better understanding of their motivations, where they possibly came from - but we also get to know them on an individual basis.

There is one dragon in particular who stands out to me. Grackel, an old Red who becomes Melissa's mentor and friend, was my favorite character to write. Though long jaded and hardened by war, she's got this soft spot beneath her weathered scales that gives her strength to keep fighting for the few she cares about.
Purchase Invisible Monsters at Amazon
Purchase Invisible Monsters at IndieBound
View Invisible Monsters on Goodreads
* * * *
Modern Monsters
by Kelley York
Paperback
Entangled: Teen
Released 6/2/2015
Vic Howard never wanted to go to the party. He's the Invisible Guy at school, a special kind of hell for quiet, nice guys. But because his best friend is as popular as Vic is ignored, he went…
And wished he hadn't.
Because something happened to a girl that night. Something terrible, unimaginable, and Callie Wheeler's life will never be the same. Plus, now Callie has told the police that Vic is responsible. Suddenly, Invisible Vic is painfully visible, on trial both literally, with the police, and figuratively, with the angry kids at school. As the whispers and violence escalate, he becomes determined to clear his name, even if it means an uneasy alliance with Callie's best friend, the beautiful but aloof Autumn Dixon.
But as Autumn and Vic slowly peel back the layers of what happened at the party, they realize that while the truth can set Vic free, it can also shatter everything he thought he knew about his life…
Author Question: What is your favorite thing about Modern Monsters?
My favorite thing about MODERN MONSTERS is that we get multiple sides to a dark situation. Something that I tried really hard to get across—and hopefully I succeeded—was portraying the way everyone was affected by this terrible thing that happened to Callie. It was the worst for her, yes, but it had a ripple effect: Callie, her family, the kids at school, her best friend, the accused—who is innocent, and even spreading into his relationship with the world.

I think with all my books, I struggle with a main objective and that's to get readers to think and question. The first few beta-readers who got back to me felt very conflicted with the ending, and that left me feeling incredibly satisfied.
Purchase Modern Monsters at Amazon
Purchase Modern Monsters at IndieBound
View Modern Monsters on Goodreads
* * * *
Spelled
by Betsy Schow
Paperback
Sourcebooks Fire
Released 6/2/2015
Fairy Tale Survival Rule #32: If you find yourself at the mercy of a wicked witch, sing a romantic ballad and wait for your Prince Charming to save the day.
Yeah, no thanks. Dorthea is completely princed out. Sure being the crown princess of Emerald has its perks―like Glenda Original ball gowns and Hans Christian Louboutin heels. But a forced marriage to the not-so-charming prince Kato is so not what Dorthea had in mind for her enchanted future.
Talk about unhappily ever after.
Trying to fix her prince problem by wishing on a (cursed) star royally backfires, leaving the kingdom in chaos and her parents stuck in some place called "Kansas." Now it's up to Dorthea and her pixed off prince to find the mysterious Wizard of Oz and undo the curse...before it releases the wickedest witch of all and spells The End for the world of Story.
Author Question: What is your favorite thing about Spelled?
My favorite thing was playing with mutli-level writing, trying to make the experience different for various audiences. Your upper middle grade or lower YA will spot a mish-mash of many fairy tales. Older YA should better understand the snark and pop culture jokes. Adults of all ages can enjoy all the previous while hopefully grasping the much deeper theme of struggling to understand God and the power to control and take responsibility for our own Happy Endings.
Purchase Spelled at Amazon
Purchase Spelled at IndieBound
View Spelled on Goodreads
MORE YOUNG ADULT NOVELS NEW IN STORES NEXT WEEK
* * * *
Because You'll Never Meet Me
by Leah Thomas
Hardcover
Bloomsbury USA Childrens
Released 6/2/2015
In a stunning literary debut, two boys on opposite ends of the world begin an unlikely friendship that will change their lives forever.
Ollie and Moritz are best friends, but they can never meet. Ollie is allergic to electricity. Contact with it causes debilitating seizures. Moritz's weak heart is kept pumping by an electronic pacemaker. If they ever did meet, Ollie would seize. But Moritz would die without his pacemaker. Both hermits from society, the boys develop a fierce bond through letters that become a lifeline during dark times—as Ollie loses his only friend, Liz, to the normalcy of high school and Moritz deals with a bully set on destroying him.
A story of impossible friendship and hope under strange circumstances, this debut is powerful, dark and humorous in equal measure. These extraordinary voices bring readers into the hearts and minds of two special boys who, like many teens, are just waiting for their moment to shine.
Purchase Because You'll Never Meet Me at Amazon
Purchase Because You'll Never Meet Me at IndieBound
View Because You'll Never Meet Me on Goodreads
* * * *
Charlie, Presumed Dead
by Anne Heltzel
Hardcover
HMH Books for Young Readers
Released 6/2/2015
In Paris, family and friends gather to mourn the tragic passing of Charlie Price—young, handsome, charming, a world-traveler—who is presumed dead after an explosion. Authorities find only a bloodied jacket, ID'd as Charlie's. At the funeral, two teens who are perfect strangers, Lena Whitney and Aubrey Boroughs, make another shocking discovery: they have both been dating Charlie, both think Charlie loved them and them alone, and there is a lot they didn't know about their boyfriend. Over the next week, a mind-bending trip unfolds: first in London—then in Mumbai, Kerala, and Bangkok, the girls go in search of Charlie. Is he still alive? What did their love for him even mean? The truth is out there, but soon it becomes clear that the girls are harboring secrets of their own.
No one knows whom to trust in this thrilling tale of suspense and deception.
Purchase Charlie, Presumed Dead at Amazon
Purchase Charlie, Presumed Dead at IndieBound
View Charlie, Presumed Dead on Goodreads
* * * *
Children of the Earth
by Anna Schumacher
Hardcover
Razorbill
Released 6/2/2015
Seven signs warned them. Now it's time for Carbon County to fight back.
In End Times, Daphne lost herself in love with Owen, only to discover the dark secret that puts Carbon County at ground zero for the end of days. . . .
All thirteen of the Children of Earth have arrived and taken root in town. Together at last, they can perform the series of rituals necessary to awaken their father, a wrathful entity known as the God of the Earth.
Daphne protects their identities from Pastor Ted and the God-fearing locals out of love and allegiance to Owen. But when people start disappearing from town and Daphne begins receiving visions from God, her allegiance—and even her love—is brought into question in this astonishing companion novel to End Times.
Purchase Children of the Earth at Amazon
Purchase Children of the Earth at IndieBound
View Children of the Earth on Goodreads
* * * *
Deadly Design
by Debra Dockter
Hardcover
G.P. Putnam's Sons Books for Young Readers
Released 6/2/2015
The emotional power of If I Stay meets the survival story of Maze Runner
Genetically engineered identical twins Kyle and Connor McAdams were born two years apart. Their parents figured it was safer that way, to increase their odds of survival. Connor was born first, paving an impossibly perfect path for Kyle to follow. He was the best at everything—valedictorian, star quarterback etc. Kyle never thought he'd be able to live up, so he didn't even try.
But when Connor, 18, suddenly drops dead of a heart attack, and Kyle learns of other genetically modified kids who've also died on their eighteenth birthdays, he's suddenly motivated—to save his own life. Like Connor and all the rest, Kyle was conceived at the Genesis Innovations Laboratory, where the mysterious Dr. Mueller conducted experiments on them. The clock's ticking as Kyle searches for answers: who was Dr. Mueller really, and what did he do to cause their hearts to stop at eighteen? He must unravel the clues quickly, before, he too, becomes another perfect, blue-eyed corpse.
Purchase Deadly Design at Amazon
Purchase Deadly Design at IndieBound
View Deadly Design on Goodreads
* * * *
Joyride
by Anna Banks
Hardcover
Feiwel & Friends
Released 6/2/2015
A popular guy and a shy girl with a secret become unlikely accomplices for midnight pranking, and are soon in over their heads—with the law and with each other—in this sparkling standalone from NYT-bestselling author Anna Banks.
It's been years since Carly Vega's parents were deported. She lives with her brother, studies hard, and works at a convenience store to contribute to getting her parents back from Mexico.
Arden Moss used to be the star quarterback at school. He dated popular blondes and had fun with his older sister, Amber. But now Amber's dead, and Arden blames his father, the town sheriff who wouldn't acknowledge Amber's mental illness. Arden refuses to fulfill whatever his conservative father expects.
All Carly wants is to stay under the radar and do what her family expects. All Arden wants is to NOT do what his family expects. When their paths cross, they each realize they've been living according to others. Carly and Arden's journey toward their true hearts—and one another—is funny, romantic, and sometimes harsh. Just like real life.
Purchase Joyride at Amazon
Purchase Joyride at IndieBound
View Joyride on Goodreads
* * * *
Like It Never Happened
by Emily Adrian
Hardcover
Dial Books
Released 6/2/2015
Stereotypes, sexuality, and destructive rumors collide in this smart YA novel for fans of Sara Zarr's Story of a Girl, Siobhan Vivian's The List, and E. Lockhart's The Disreputable History of Frankie Landau-Banks.
When Rebecca Rivers lands the lead in her school's production of The Crucible, she gets to change roles in real life, too. She casts off her old reputation, grows close with her four rowdy cast-mates, and kisses the extremely handsome Charlie Lamb onstage. Even Mr. McFadden, the play's critical director, can find no fault with Rebecca.
Though "The Essential Five" vow never to date each other, Rebecca can't help her feelings for Charlie, leaving her both conflicted and lovestruck. But the on and off-stage drama of the cast is eclipsed by a life-altering accusation that threatens to destroy everything…even if some of it is just make believe.
Purchase Like It Never Happened at Amazon
Purchase Like It Never Happened at IndieBound
View Like It Never Happened on Goodreads
* * * *
More Happy Than Not
by Adam Silvera
Hardcover
Soho Teen
Released 6/2/2015
Part Eternal Sunshine of the Spotless Mind, part Aristotle and Dante Discover the Secrets of the Universe, Adam Silvera's extraordinary debut confronts race, class, and sexuality during one charged near-future summer in the Bronx.
The Leteo Institute's revolutionary memory-relief procedure seems too good to be true to Aaron Soto -- miracle cure-alls don't tend to pop up in the Bronx projects. But Aaron can't forget how he's grown up poor or how his friends aren't always there for him. Like after his father committed suicide in their one bedroom apartment. Aaron has the support of his patient girlfriend, if not necessarily his distant brother and overworked mother, but it's not enough.
Then Thomas shows up. He has a sweet movie-watching setup on his roof, and he doesn't mind Aaron's obsession with a popular fantasy series. There are nicknames, inside jokes. Most importantly, Thomas doesn't mind talking about Aaron's past. But Aaron's newfound happiness isn't welcome on his block. Since he's can't stay away from Thomas or suddenly stop being gay, Aaron must turn to Leteo to straighten himself out, even if it means forgetting who he is.
Purchase More Happy Than Not at Amazon
Purchase More Happy Than Not at IndieBound
View More Happy Than Not on Goodreads
* * * *
Nearly Found
by Elle Cosimano
Hardcover
Kathy Dawson Books
Released 6/2/2015
The sequel to the highly praised and intricately plotted Nearly Gone--a YA urban mystery that's perfect for fans of Bones, Numbers, and The Body Finder
After Nearly Boswell starts working as an intern at a crime lab, a girl from her trailer park turns up dead. Then the corpse of a missing person is discovered, buried on a golf course, with a message for Nearly etched into the bones. When Nearly finds out the corpse is the father of Eric, a classmate of hers, she starts to worry that the body is connected to her father's disappearance five years ago. Nearly, Reece, and Nearly's classmates--Vince, Jeremy, and Eric--start a dangerous investigation into their fathers' pasts that threatens Nearly's fragile romance with Reece, and puts all them in the killer's path.
Purchase Nearly Found at Amazon
Purchase Nearly Found at IndieBound
View Nearly Found on Goodreads
* * * *
Powerless
by Tera Lynn Childs and Tracy Deebs
Hardcover
Sourcebooks Fire
Released 6/2/2015
Kenna is tired of being "normal."
The only thing special about her is that she isn't special at all. Which is frustrating when you're constantly surrounded by superheroes. Her best friend, her ex-boyfriend, practically everyone she knows has some talent or power. Sure, Kenna's smart and independent, but as an ordinary girl in an extraordinary world, it's hard not to feel inferior.
So when three villains break into the lab where she interns, Kenna refuses to be a victim. She's not about to let criminals steal the research that will make her extraordinary too.
But in the heat of battle, secrets are spilled and one of the villains saves her life. Twice. Suddenly, everything Kenna thought she knew about good and evil, heroes and villains is upended. And to protect her life and those she loves, she must team up with her sworn enemies on a mission that will redefine what it means to be powerful and powerless...
Purchase Powerless at Amazon
Purchase Powerless at IndieBound
View Powerless on Goodreads
* * * *
Proof of Forever
by Lexa Hillyer
Hardcover
HarperTeen
Released 6/2/2015
From debut author and poet Lexa Hillyer comes the lyrical story of four seventeen-year-old friends who receive an unlikely chance to relive the perfect summer . . . and the devastating secret that could unravel it all. Elegant and evocative, Proof of Forever is one of those first novels that hooks you from the beginning and builds toward a stunning—and unexpected—end, calling to mind Gayle Forman and Ann Brashares.
Joy, Tali, Luce, and Zoe were once best friends. Now they barely speak. That is, until the fateful flash of a photo-booth camera transports them back in time, to the summer they were fifteen—the summer everything changed. Photos fade. Friendships dissolve. Summers end. But this one will change the girls forever . . . again.
Wendy Wunder calls Proof of Forever "The Sisterhood of the (Time) Traveling Pants for a new generation!"
Purchase Proof of Forever at Amazon
Purchase Proof of Forever at IndieBound
View Proof of Forever on Goodreads
* * * *
Skyscraping
by Cordelia Jensen
Hardcover
Philomel Books
Released 6/2/2015
A heartrending, bold novel in verse about family, identity, and forgiveness
Mira is just beginning her senior year of high school when she discovers her father with his male lover. Her world–and everything she thought she knew about her family–is shattered instantly. Unable to comprehend the lies, betrayal, and secrets that–unbeknownst to Mira–have come to define and keep intact her family's existence, Mira distances herself from her sister and closest friends as a means of coping. But her father's sexual orientation isn't all he's kept hidden. A shocking health scare brings to light his battle with HIV. As Mira struggles to make sense of the many fractures in her family's fabric and redefine her wavering sense of self, she must find a way to reconnect with her dad–while there is still time.
Told in raw, exposed free verse, Skyscraping reminds us that there is no one way to be a family.
Purchase Skyscraping at Amazon
Purchase Skyscraping at IndieBound
View Skyscraping on Goodreads
* * * *
Sweet
by Emmy Laybourne
Hardcover
Feiwel & Friends
Released 6/2/2015
The luxurious celebrity cruise launching the trendy new diet sweetener Solu should be the vacation of a lifetime. But Laurel is starting to regret accepting her friend Viv's invitation. She's already completely embarrassed herself in front of celebrity host Tom Forelli--the hottest guy ever!--and she's too sick to even try the sweetener. And that's before Viv and all the other passengers start acting really strange.
Tom knows that he should be grateful for this job and the chance to shed his former-child-star image. His publicists have even set up a 'romance' with a sexy reality star. But as things on the ship start to get wild, he finds himself drawn to a different girl. And when the hosting gig turns into an expose on the shocking side effects of Solu, it's Laurel that he's determined to save.
Emmy Laybourne, author of the Monument 14 trilogy, takes readers on a dream vacation in Sweet that goes first comically, then tragically, then horrifyingly, wrong!
Purchase Sweet at Amazon
Purchase Sweet at IndieBound
View Sweet on Goodreads
* * * *
The Good Girls
by Sara Shepard
Hardcover
HarperTeen
Released 6/2/2015
From Sara Shepard, author of the #1 New York Times bestselling Pretty Little Liars series, comes the shocking sequel to The Perfectionists—with an ending you'll have to read to believe!
Mackenzie, Ava, Caitlin, Julie, and Parker have done some not-so-perfect things. Even though they all talked about killing rich bully Nolan Hotchkiss, they didn't actually go through with it. It's just a coincidence that Nolan died in exactly the way they planned . . . right? Except Nolan wasn't the only one they fantasized about killing. When someone else they named dies, the girls wonder if they're being framed. Or are they about to become the killer's next targets?
Purchase The Good Girls at Amazon
Purchase The Good Girls at IndieBound
View The Good Girls on Goodreads
* * * *
The Hunted
by Charlie Higson
Hardcover
Disney-Hyperion
Released 6/2/2015
The sickness struck everyone sixteen and older. First it twisted their minds; next it ravaged their bodies. Now the sickos roam the streets, crazed and hungry for young flesh.
Ella's friends had told her that the country would be safer than the city. They were wrong. Now they're dead and Ella's all alone--alone, that is, except for her silent rescuer, Scarface. But she doesn't even know if he's a kid or a grown-up.
Back in London, Ed is determined to find Ella and keep his promise to Small Sam that he will reunite sister and brother. But getting out of town has never been more dangerous. It seems that every sicko in the country is coming from all directions, almost as if they're being summoned to the capital. Will anything be able to stop the invading horde?
Purchase The Hunted at Amazon
Purchase The Hunted at IndieBound
View The Hunted on Goodreads
* * * *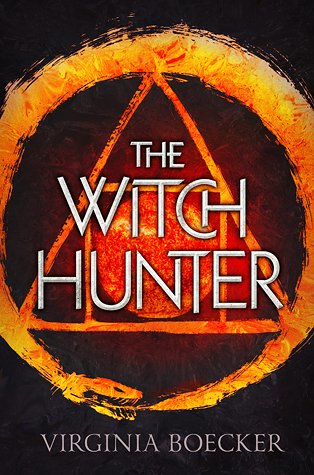 The Witch Hunter
by Virginia Boecker
Hardcover
Little, Brown Books for Young Readers
Released 6/2/2015
The magic and suspense of Graceling meet the political intrigue and unrest of Game of Thrones in this riveting fantasy debut.
Your greatest enemy isn't what you fight, but what you fear.
Elizabeth Grey is one of the king's best witch hunters, devoted to rooting out witchcraft and doling out justice. But when she's accused of being a witch herself, Elizabeth is arrested and sentenced to burn at the stake.
Salvation comes from a man she thought was her enemy. Nicholas Perevil, the most powerful and dangerous wizard in the kingdom, offers her a deal: he will save her from execution if she can break the deadly curse that's been laid upon him.
But Nicholas and his followers know nothing of Elizabeth's witch hunting past--if they find out, the stake will be the least of her worries. And as she's thrust into the magical world of witches, ghosts, pirates, and one all-too-handsome healer, Elizabeth is forced to redefine her ideas of right and wrong, of friends and enemies, and of love and hate.
Virginia Boecker weaves a riveting tale of magic, betrayal, and sacrifice in this unforgettable fantasy debut.
Purchase The Witch Hunter at Amazon
Purchase The Witch Hunter at IndieBound
View The Witch Hunter on Goodreads
a Rafflecopter giveaway