How did it get to be May already? Hopefully the April showers have brought a bounty of May flowers your way. If not, there are many amazing books releasing this week with covers as beautiful as a bouquet of flowers. Which new releases are you planning to add to your novel garden? Leave a comment and let us know!

Happy reading,

Jocelyn, Martina, Jan, Shelly, Susan, Lisa, and Erin



YA BOOK GIVEAWAYS THIS WEEK
* * * *
Dust to Dust
by Melissa Walker
Signed Hardcover Giveaway

U.S. Only
Katherine Tegen Books
Released 5/5/2015
Perfect for fans of If I Stay or Imaginary Girls, Dust to Dust is the mysterious, thoughtful, and poignant sequel to Melissa Walker's haunting and heartbreaking novel Ashes to Ashes.
When Callie McPhee miraculously recovers from a tragic accident that should have taken her life, she thought her connection to the ghost world would be severed forever. And that she would never see Thatcher—the ghost she fell in love with in the hereafter—again. But when she receives unexpected signs from Thatcher, she's led down a dark road toward the angry souls who once tried to steal her soul's energy for another chance at life.
Now Callie must prevent the real world and the spirit world from colliding, and that could mean saying good-bye to people she'd never imagined she'd lose.
Purchase Dust to Dust at Amazon
Purchase Dust to Dust at IndieBound
View Dust to Dust on Goodreads
* * * *
Galgorithm
by Aaron Karo
Hardcover Giveaway
Simon Pulse
Released 5/5/2015
A romantic comedy about high school, heartbreak, and having all the answers.
What if the secrets of dating and love were revealed in one simple formula? That is the tantalizing proposition high school senior Shane Chambliss offers the hopeless and hapless guys who come to him for relationship advice.
After the girl of his dreams breaks his heart, Shane devises a mysterious formula called the Galgorithm and establishes himself as the resident dating guru at Kingsview High School. But his attempts to master the art of romance go outrageously awry.
As Shane tries to navigate the ensuing drama, he must follow his heart, abandon all the rules, and ignore his own advice in a quest for true love. What he discovers, no formula could ever predict...
Author Question: What is your favorite thing about Galgorithm?
My favorite part about GALGORITHM is the main character – Shane – and his relationship with his best friend, Jak. (Jak is a girl and J.A.K. are her initials!) I think we've all had a friendship in our lives that bordered on romantic without ever quite getting there, which was simultaneously fulfilling and frustrating. Shane is locked in a constant battle between his brain and his…let's say crotch. Jak is awesome and an amazing friend, but Shane can't help but think that there is something more. It makes him do crazy things. I've been there. I had a lot of fun exploring the thought process of a teenage boy who is crushing hard but doesn't know how to act on it. Boys (and men) are in general pretty dumb I think. We're all testosterone and instinct and very little cogent thought. But we mean well. Observing Jak interact, deflect, and engage with Shane was probably the highlight of constructing their story.
Purchase Galgorithm at Amazon
Purchase Galgorithm at IndieBound
View Galgorithm on Goodreads
* * * *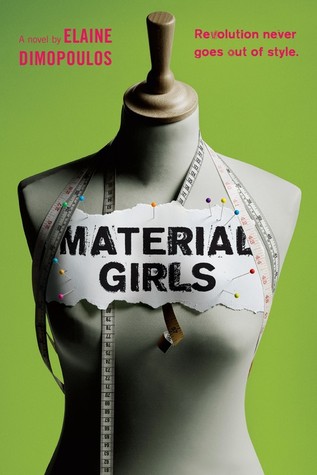 Material Girls
by Elaine Dimopoulos
Hardcover Giveaway (5 Copies)

U.S. Only
HMH Books for Young Readers
Released 5/5/2015
In Marla Klein and Ivy Wilde's world, teens are the gatekeepers of culture. A top fashion label employs sixteen-year-old Marla to dictate hot new clothing trends, while Ivy, a teen pop star, popularizes the garments that Marla approves. Both girls are pawns in a calculated but seductive system of corporate control, and both begin to question their world's aggressive levels of consumption. Will their new "eco-chic" trend subversively resist and overturn the industry that controls every part of their lives?
Smart, provocative, and entertaining, this thrilling page-turner for teens questions the cult like mentality of fame and fashion. Are you in or are you out?
Author Question: What is your favorite thing about Material Girls?
My favorite thing about MATERIAL GIRLS is perhaps the character of Ivy Wilde, a sixteen-year-old pop princess. From the beginning, Ivy is a mess of contradictions. She adores shopping sprees yet feels uncomfortable about the piles of clothes in her two-story closet. She craves the adulation of her fans yet dreams of a vacation alone. She pities her ordinary parents yet can't help but notice how happy they seem despite not being famous. She knows she has the talent and drive to get what she wants out of life… if only she can figures out what that is.

I love my other protagonist, Marla Klein, as well, but Marla is the more typical dystopian heroine of the two. Ivy is both a critic and a victim of her consumer-driven, youth-obsessed world. It is an ambivalence I live with and one I think many readers will find familiar.
Purchase Material Girls at Amazon
Purchase Material Girls at IndieBound
View Material Girls on Goodreads
* * * *
Swept Away
by Michelle Dalton
Hardcover Giveaway
Simon Pulse
Released 5/5/2015
Beachfront love blossoms in this refreshing summer romance, in the tradition of Sixteenth Summer and Seventeenth Summer.
Mandy Sullivan isn't exactly looking forward to the summer months as tourists invade her seaside hometown on the coast of Maine. Her best friend, Cynthia, has abandoned her for camp and her older brother just announced he'll be staying at college taking classes for the summer, leaving Mandy with nothing to do and no one to hang out with. Hoping to keep herself busy, Mandy takes a volunteer job at the Rocky Pointe Lighthouse. On her very first day, Oliver Farmingham asks for a private tour. A new—and incredibly cute—face in Rocky Pointe, Oliver seems more interested in Mandy than the lighthouse and its history.
Without her best friend at her side, Mandy is scrambling to act the right way and say the right things when Oliver is around. Cynthia—not Mandy—has always been the confident, flirtatious girl that everyone wanted to be around. As Mandy and Oliver spend more time together exploring the coast, biking through the woods, and attending the local summer festivals, their budding friendship becomes much more. But with Mandy's insecurities creeping to the surface, can she open her heart to someone who will only be in town for three months?
Author Question: What is your favorite thing about Swept Away?
The research! The book is very much based on a place in Maine where I spent a summer, but it had been awhile since I'd been there, so in addition to reading and looking at pictures, I took myself to a wonderful place in Connecticut that was similar, with a wonderful lighthouse and museum. I was inspired by a lot of what I saw-- and smelled, and tasted. Though I didn't have any "bloob pockets" – I invented them for the story. I'll have to try making some…

Oh – and total coincidence – one of the books I found for my research (a collection of Maine photographs) was actually all about the place I had stayed that summer! The memories came back very vividly when I saw that.
Purchase Swept Away at Amazon
Purchase Swept Away at IndieBound
View Swept Away on Goodreads
* * * *
A Court of Thorns and Roses
by Sarah J Maas
ARC Giveaway
Bloomsbury USA Childrens
Released 5/5/2015
A thrilling, seductive new series from New York Times bestselling author Sarah J. Maas, blending Beauty and the Beast with faerie lore.
When nineteen-year-old huntress Feyre kills a wolf in the woods, a beast-like creature arrives to demand retribution for it. Dragged to a treacherous magical land she only knows about from legends, Feyre discovers that her captor is not an animal, but Tamlin—one of the lethal, immortal faeries who once ruled their world.
As she dwells on his estate, her feelings for Tamlin transform from icy hostility into a fiery passion that burns through every lie and warning she's been told about the beautiful, dangerous world of the Fae. But an ancient, wicked shadow grows over the faerie lands, and Feyre must find a way to stop it . . . or doom Tamlin—and his world—forever.
Perfect for fans of Kristin Cashore and George R. R. Martin, this first book in a sexy and action-packed new series is impossible to put down!
Purchase A Court of Thorns and Roses at Amazon
Purchase A Court of Thorns and Roses at IndieBound
View A Court of Thorns and Roses on Goodreads
* * * *
Ice Kissed
by Amanda Hocking
Hardcover Giveaway

U.S. Only
St. Martin's Griffin
Released 5/5/2015
Bryn Aven has always longed to be a part of her Kanin world. Though she has no social status because she's a half-breed, she refuses to give up on her dream of serving the kingdom she loves. It's a dream that brings her to a whole new realm…the glittering palace of the Skojare.
The Skojare people need protection from the same brutal rival who's been threatening the Kanin. And being half Skojare herself, it'sa chance for Bryn to learn more about her heritage. Her boss Ridley Dresden is overseeing her mission and wants to help. He's always been her most trusted friend—but as their undeniable attraction heats up, it's a distraction she can't afford. She's about to discover that the Skojare world is full of secrets, and as she's drawn in deeper, she doesn't know who to trust. And matters worse, as she gets closer to Ridley, she can't even trust her own heart.
Purchase Ice Kissed at Amazon
Purchase Ice Kissed at IndieBound
View Ice Kissed on Goodreads
YA BOOK GIVEAWAYS LAST WEEK: WINNERS
* * * *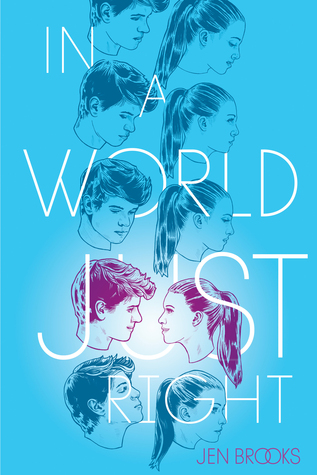 In a World Just Right
by Jen Brooks
Hardcover
Simon & Schuster Books for Young Readers
Released 4/28/2015
Winner - Jill L.
Imagination takes on new meaning for a uniquely talented teen in this debut novel that is a breathtaking blend of contemporary, fantasy, and romance.
Sometimes Jonathan Aubrey wishes he could just disappear. And as luck—or fate—would have it, he can. Ever since coming out of a coma as a kid, he has been able to create alternate worlds. Worlds where he is a superhero, or a ladies' man, or simply a better version of himself. That's the world he's been escaping to most since sophomore year, a world where he has everything he doesn't have in real life: friends, a place of honor on the track team, passing grades, and most importantly, Kylie Simms as his girlfriend.
But when Jonathan confuses his worlds senior year and tries to kiss the real Kylie Simms, everything unravels. The real Kylie actually notices Jonathan…and begins obsessing over him. The fantasy version of Kylie struggles to love Jonathan as she was created to do, and the consequences are disastrous. As his worlds collide, Jonathan must confront the truth of his power and figure out where he actually belongs—before he loses both Kylies forever.
Author Question: What is your favorite thing about In a World Just Right?
My favorite thing about IN A WORLD JUST RIGHT is the ending. It's hard to say more without giving spoilers! I will say that although this is my first published book, it's my third completed manuscript, and I think the way the ending came together was the result of a lot of things learned by writing manuscripts 1 and 2, whose endings didn't have the pay-off I really wanted. But that's how you grow as a writer (and a person!). You work at something until you get better at it. And, boy, as much as I enjoy it, writing is work for me. It's been really rewarding to read reviewer reactions to the events in the final chapters.
Purchase In a World Just Right at Amazon
Purchase In a World Just Right at IndieBound
View In a World Just Right on Goodreads
* * * *
The Boyfriend Project
by Rachel Hawthorne
Paperback
HarperTeen
Released 4/28/2015
Winner - Alicia G.
Perfect for fans of Stephanie Perkins, Lauren Barnholdt, and Susane Colasanti, The Boyfriend Project is a romantic read about a girl who wishes her sweet boyfriend had a little more edge.
Kendall and her boyfriend, Jeremy, have been together forever, and Kendall is starting to wonder if Jeremy is a little boring. . . . So she embarks on a boyfriend makeover. But as Jeremy learns to strut his stuff, other girls start to notice him and, what's worse, he's noticing them back. Then Jeremy breaks up with Kendall and she realizes her makeover project was the ultimate disaster. Is the sweet boyfriend she loved gone forever?
A companion novel to Rachel Hawthorne's paperback original Trouble from the Start, this title is perfect for fans of summer beach reads and sweet treats.
Author Question: What is your favorite thing about The Boyfriend Project?
My favorite thing about THE BOYFRIEND PROJECT is that it explores the old adage that the grass is always greener on the other side. This book is a companion to TROUBLE FROM THE START. Kendall loves Jeremy but he seems a little boring compared with her best friend's new bad-boy-turned-good boyfriend. So she starts suggesting ways that he might change. It was fun writing his metamorphosis and figuring out ways that he might change that didn't really alter the essence of him. I think sometimes we all wonder what if or if we're missing out on something. We search for what we think we will make us happy when it's actually been with us all along.

I'll also admit that I loved all the dogs in the story. Kendall works at a dog shelter. The various dogs featured in the story were part of my life at one time or another, so it was fun to visit with them again.
Purchase The Boyfriend Project at Amazon
Purchase The Boyfriend Project at IndieBound
View The Boyfriend Project on Goodreads
* * * *
The Secrets of Attraction
by Robin Constantine
Hardcover
Balzer + Bray
Released 4/28/2015
Winner - Amanda Nicole
Set in the same world as The Promise of Amazing, this smart, surprising, and (of course) romantic follow-up to Robin Constantine's debut novel follows two New Jersey teens as they become friends and fall in love.
Madison Parker is on fast-forward. Working toward a scholarship for a summer art program, she already has her future figured out. But when a visit from a family friend turns her life upside down, everything she thought she knew becomes blurred. All she wants is to stand still for a moment.
Jesse McMann is stuck on repeat. Reeling from a breakup that shattered his heart and his band, Jesse divides his time between working as a barista and trying to find the inspiration to write music again. All he wants to do is move forward.
The night Maddie strolls into Jesse's coffee shop after yoga class, the last thing on his mind is hooking up, but her smile and witty comebacks are hard to ignore. The spark between them is undeniable, but once-a-week flirting is hardly the stuff of epic romance.
Kismet arrives in the unlikely form of Grayson Barrett. When Jesse discovers that Gray's girlfriend is also Maddie's best friend, he invites Gray to join his band as their new drummer, hoping this connection will give him more time around Maddie. Slowly but surely, Jesse and Maddie forge a friendship, but do they have what it takes to make their relationship truly sync?
Author Question: What is your favorite thing about The Secrets of Attraction?
The Secrets of Attraction is a companion to my first novel The Promise of Amazing, and I loved having characters from the first book play an integral role in this book too. It's Madison and Jesse's story, but Wren, Grayson and Jazz are featured, and I enjoyed revisiting their world of private school and coffee shops and garage bands. I also love the swoony parts! Lots and lots of swoon in this one, which is always fun to write!
Purchase The Secrets of Attraction at Amazon
Purchase The Secrets of Attraction at IndieBound
View The Secrets of Attraction on Goodreads
* * * *
The Secrets We Keep
by Trisha Leaver
Hardcover
Farrar, Straus and Giroux
Released 4/28/2015
Winner - Danielle D.
A girl takes over her twin sister's identity in this emotionally charged page-turner about the complicated bond between sisters.
Ella and Maddy Lawton are identical twins. Ella has spent her high school years living in popular Maddy's shadows, but she has never been envious of Maddy. In fact, she's chosen the quiet, safe confines of her sketchbook over the constant battle for attention that has defined Maddy's world.
When—after a heated argument—Maddy and Ella get into a tragic accident that leaves her sister dead, Ella wakes up in the hospital surrounded by loved ones who believe she is Maddy. Feeling responsible for Maddy's death and everyone's grief, Ella makes a split-second decision to pretend to be Maddy. Soon, Ella realizes that Maddy's life was full of secrets. Caught in a web of lies, Ella is faced with two options—confess her deception or live her sister's life.
Author Question: What is your favorite thing about The Secrets We Keep?
In one word: Josh! Is it wrong to have a crush on one of your own characters!?! If so, then I am guilty as charged. He is quiet and loyal to a fault. He shares Ella's passion for art, understands her quirks and is the one who eventually makes her see the truth—that she is as loved, as valued as her twin sister. He's the kind of friend I wished I had growing up.
Purchase The Secrets We Keep at Amazon
Purchase The Secrets We Keep at IndieBound
View The Secrets We Keep on Goodreads
* * * *
Trouble from the Start
by Rachel Hawthorne
Paperback
HarperTeen
Released 4/28/2015
Winner - Lysette L.
One of two companion novels from beach-read favorite Rachel Hawthorne, this cute, romantic paperback original is about a good girl who falls for a bad guy.
Avery knows better than to fall for Fletcher, the local bad boy who can't seem to outrun his reputation. Fletcher knows he shouldn't bother with college-bound, daughter-of-a-cop Avery. But when their paths cross, neither can deny the spark. Are they willing to go against everything and let their hearts lead the way? Or are they just flirting with disaster?
Trouble from the Start releases simultaneously with companion novel The Boyfriend Project. These heartwarming paperback originals are the perfect summer reads, great for fans of Jennifer Echols, Lauren Barnholdt, and Susane Colasanti.
Author Question: What is your favorite thing about Trouble from the Start?
My favorite thing about TROUBLE FROM THE START is the banter between the heroine Avery and the hero Fletcher. Avery is super-smart so she is really quick with comebacks. Fletcher has a bad-boy reputation and wants to be a loner so he will say things hoping that it'll cause Avery to leave him alone. But she's not having it. Due to mysterious circumstances that are revealed later, Fletcher is staying in the apartment above her family's garage and she's determined he'll be part of the family, whether he wants to be or not.

I also love the attraction these two feel toward each other. They represent the opposites attract rule. Avery loves school; Fletcher just wants it to end. Avery never breaks the rules; Fletcher thinks rules exist to be broken. Avery has plans and dreams. Fletcher just wants to make it through to the next day. Avery wants to fall in love with Mr. Right. Fletcher is definitely Mr. Wrong.
Purchase Trouble from the Start at Amazon
Purchase Trouble from the Start at IndieBound
View Trouble from the Start on Goodreads
MORE YOUNG ADULT FICTION IN STORES NEXT WEEK WITH AUTHOR INTERVIEWS
* * * *
Seriously Wicked
by Tina Connolly
Hardcover
Tor Teen
Released 5/5/2015
The only thing worse than being a witch is living with one.
Camellia's adopted mother wants Cam to grow up to be just like her. Problem is, Mom's a seriously wicked witch.
Cam's used to stopping the witch's crazy schemes for world domination. But when the witch summons a demon, he gets loose—and into Devon, the cute new boy at school.
Now Cam's suddenly got bigger problems than passing Algebra. Her friends are getting zombiefied. Their dragon is tired of hiding in the RV garage. For being a shy boy-band boy, Devon is sure kissing a bunch of girls. And a phoenix hidden in the school is going to explode on the night of the Halloween Dance.
To stop the demon before he destroys Devon's soul, Cam might have to try a spell of her own. But if she's willing to work spells like the witch...will that mean she's wicked too?
Author Question: What is your favorite thing about Seriously Wicked?
I love funny high school stories, so this was my chance to get to write one of those (although, with a magical twist!) I had a great time coming up with all the minor characters (maybe come up with is the wrong phrasing – it was more "watch them jump onto the page and start talking.") For example, there's Mr. Rourke the math teacher, AKA "Mr. Visible Undershirt," who's obsessed with root beer and red pens, and might be a little too interested in Camellia's guardian, the wicked witch Sarmine.

It was also really fun to come up with all the random anecdotes about ridiculously terrible things the witch has done in the past. For example, my heroine Cam says: "But seriously, the witch was always coming up with new plans to take over the city. The last one involved placing a tank of sharks in the courthouse." Sarmine has a lot of really great plans like that. You gotta think big if you want to rule everything.
Purchase Seriously Wicked at Amazon
Purchase Seriously Wicked at IndieBound
View Seriously Wicked on Goodreads
* * * *
Dream a Little Dream
by Kerstin Gier
Hardcover
Henry Holt and Co.
Released 4/14/2015
Mysterious doors with lizard-head knobs. Talking stone statues. A crazy girl with a hatchet. Yes, Liv's dreams have been pretty weird lately. Especially the one where she's in a graveyard at night, watching four boys conduct dark magic rituals.
The strangest part is that Liv recognizes the boys in her dream. They're classmates from her new school in London, the school where she's starting over because her mom has moved them to a new country (again). But what's really scaring Liv is that the dream boys seem to know things about her in real life, things they couldn't possibly know—unless they actually are in her dreams? Luckily, Liv never could resist a good mystery, and all four of those boys are pretty cute....
Author Question: What is your favorite thing about DREAM A LITTLE DREAM?
Well, in general I love the whole idea of being able to control and craft your own dreams. I mean think about it, the things you could do?! Especially the chance to visit other people in their dreams, people which I see too little of in real life. I would very much like that!
Purchase Dream a Little Dream at Amazon
Purchase Dream a Little Dream at IndieBound
View Dream a Little Dream on Goodreads
MORE YOUNG ADULT NOVELS NEW IN STORES NEXT WEEK
* * * *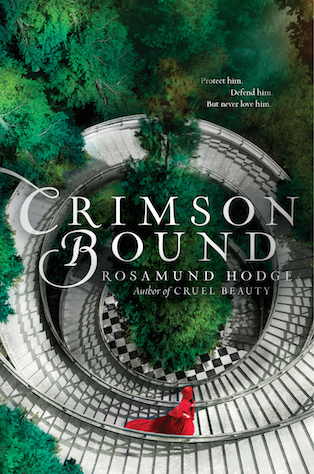 Crimson Bound
by Rosamund Hodge
Hardcover
Balzer + Bray
Released 5/5/2015
An exhilarating tale of darkness, love, and redemption inspired by the classic fairy tale Little Red Riding Hood, from the author of Cruel Beauty.
When Rachelle was fifteen she was good—apprenticed to her aunt and in training to protect her village from dark magic. But she was also reckless—straying from the forest path in search of a way to free her world from the threat of eternal darkness. After an illicit meeting goes dreadfully wrong, Rachelle is forced to make a terrible choice that binds her to the very evil she had hoped to defeat.
Three years later, Rachelle has given her life to serving the realm, fighting deadly creatures in a vain effort to atone. When the king orders her to guard his son Armand—the man she hates most—Rachelle forces Armand to help her hunt for the legendary sword that might save their world. Together, they navigate the opulent world of the courtly elite, where beauty and power reign and no one can be trusted. And as the two become unexpected allies, they discover far-reaching conspiracies, hidden magic . . . and a love that may be their undoing. Within a palace built on unbelievable wealth and dangerous secrets, can Rachelle discover the truth and stop the fall of endless night?
Purchase Crimson Bound at Amazon
Purchase Crimson Bound at IndieBound
View Crimson Bound on Goodreads
* * * *
Halfway Perfect
by Julie Cross
Paperback
Sourcebooks Fire
Released 5/5/2015
Bestselling author Julie Cross teams up with Ford model Mark Perini to pen a poignant and gritty YA novel about love and the dark side of modeling and the fashion industry.
Eve's time as a fashion model nearly destroyed her-now she's determined to build a career behind the camera lens. But landing a coveted photography internship brings her face to face with her dark past-and her ex.
While Eve is snapping pictures, up-and-coming male model Alex is launching his career-which, for him, involves maintaining a fake relationship with his (secretly) underage co-star, Elana.
But Alex is falling for Eve, and Eve won't let herself get hurt again. If Alex can pull off a fake love with Elana, can he convince Eve to risk a secret affair with him?
Purchase Halfway Perfect at Amazon
Purchase Halfway Perfect at IndieBound
View Halfway Perfect on Goodreads
* * * *
Overtaken
by Mark H. Kruger
Hardcover
Simon & Schuster Books for Young Readers
Released 5/5/2015
Nica struggles to decipher the nefarious forces ruling her small town in this electrifying sequel to Overpowered, which VOYA says "offers all the conspiracy and intrigue of the best dystopian fiction."
After the mysterious pulses changed Nica Ashley's life forever, she was sure things could only get worse when Dana Fox returned. Her reappearance after having gone missing for months surely means not only that Nica will lose her friendship with Jackson, but also that something more ominous is simmering under the surface of quiet Barrington.
When another pulse occurs, Nica discovers that she can be invisible at any time. She tries to talk to her friends about how bizarre things have become, but they all seem to have no idea what she is talking about. Nica soon realizes that Dana has a strange control over the whole town, including her undercover, government-agent father.
Now on her own, Nica must stop BarTech from using her and her friends as weapons. But can she figure out their ultimate plan before it is too late?
Purchase Overtaken at Amazon
Purchase Overtaken at IndieBound
View Overtaken on Goodreads
* * * *
Revenge, Ice Cream, and Other Things Best Served Cold
by Katie Finn
Hardcover
Feiwel & Friends
Released 5/5/2015
The war rages on between Gemma and Hallie in the second installment of the Broken Hearts and Revenge series.
After the humiliating events on the 4th of July, Gemma's trying to handle the fact that Hallie knew who she was all along, and she was the one who stole Teddy from her. Gemma vows revenge, but things get more complicated than she planned. Ford, Gemma's long-time crush, has arrived in the Hamptons cuter than ever. Josh is refusing to speak to her after she lied to him, and Teddy is playing champion to his beloved Marsh Warbler (in Gemma's backyard, no less).
Gemma and Hallie find themselves locked in an escalating revenge cycle. Just when Gemma thinks she has the upper hand, the biggest bombshell of all is dropped. And it's one that threatens to change her life forever. This exciting sequel to Broken Hearts, Fences, and Other Things To Mend will leave you begging for the third installment.
Purchase Revenge, Ice Cream, and Other Things Best Served Cold at Amazon
Purchase Revenge, Ice Cream, and Other Things Best Served Cold at IndieBound
View Revenge, Ice Cream, and Other Things Best Served Cold on Goodreads
* * * *
Saint Anything
by Sarah Dessen
Hardcover
Viking Books for Young Readers
Released 5/5/2015
Peyton, Sydney's charismatic older brother, has always been the star of the family, receiving the lion's share of their parents' attention and—lately—concern. When Peyton's increasingly reckless behavior culminates in an accident, a drunk driving conviction, and a jail sentence, Sydney is cast adrift, searching for her place in the family and the world. When everyone else is so worried about Peyton, is she the only one concerned about the victim of the accident?
Enter the Chathams, a warm, chaotic family who run a pizza parlor, play bluegrass on weekends, and pitch in to care for their mother, who has multiple sclerosis. Here Sydney experiences unquestioning acceptance. And here she meets Mac, gentle, watchful, and protective, who makes Sydney feel seen, really seen, for the first time.
The uber-popular Sarah Dessen explores her signature themes of family, self-discovery, and change in her twelfth novel, sure to delight her legions of fans.
Purchase Saint Anything at Amazon
Purchase Saint Anything at IndieBound
View Saint Anything on Goodreads
* * * *
Some Kind of Normal
by Juliana Stone
Hardcover
Sourcebooks Fire
Released 5/5/2015
What is Normal?
For Trevor normal was fast guitar licks, catching game-winning passes and partying all night. Until a car accident leaves Trevor with no band, no teammates and no chance of graduating. It's kinda hard to ace your finals when you've been in a coma. The last thing he needs is stuck-up Everly Jenkins as his new tutor—those beautiful blue eyes catching every last flaw.
For Everly normal was a perfect family around the dinner table, playing piano at Sunday service and sunning by the pool. Until she discovers her whole life is a lie. Now the perfect pastor's daughter is hiding a life-changing secret, one that is slowly tearing her family apart. And spending the summer with notorious flirt Trevor Lewis means her darkest secret could be exposed.
Purchase Some Kind of Normal at Amazon
Purchase Some Kind of Normal at IndieBound
View Some Kind of Normal on Goodreads
* * * *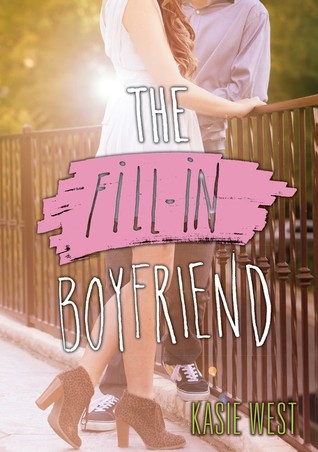 The Fill-In Boyfriend
by Kasie West
Paperback
HarperTeen
Released 5/5/2015
When Gia Montgomery's boyfriend, Bradley, dumps her in the parking lot of her high school prom, she has to think fast. After all, she'd been telling her friends about him for months now. This was supposed to be the night she proved he existed. So when she sees a cute guy waiting to pick up his sister, she enlists his help. The task is simple: be her fill-in boyfriend— two hours, zero commitment, a few white lies. After that, she can win back the real Bradley.
The problem is that days after prom, it's not the real Bradley she's thinking about, but the stand-in. The one whose name she doesn't even know. But tracking him down doesn't mean they're done faking a relationship. Gia owes him a favor and his sister intends to see that he collects: his ex-girlfriend's graduation party — three hours, zero commitment, a few white lies.
Just when Gia begins to wonder if she could turn her fake boyfriend into a real one, Bradley comes waltzing back into her life, exposing her lie, and threatening to destroy her friendships and her new-found relationship.
Purchase The Fill-In Boyfriend at Amazon
Purchase The Fill-In Boyfriend at IndieBound
View The Fill-In Boyfriend on Goodreads
* * * *
The Heir
by Kiera Cass
Hardcover
HarperTeen
Released 5/5/2015
Kiera Cass's #1 New York Times bestselling Selection series has enchanted readers from the very first page. In this fourth romantic novel, follow Illéa's royal family into a whole new Selection—and find out what happens after happily ever after.
Twenty years ago, America Singer entered the Selection and won Prince Maxon's heart. Now the time has come for Princess Eadlyn to hold a Selection of her own. Eadlyn doesn't expect her Selection to be anything like her parents' fairy-tale love story...but as the competition begins, she may discover that finding her own happily ever after isn't as impossible as she's always thought.
A new generation of swoonworthy characters and captivating romance awaits in the fourth book of the Selection series!
Purchase The Heir at Amazon
Purchase The Heir at IndieBound
View The Heir on Goodreads
* * * *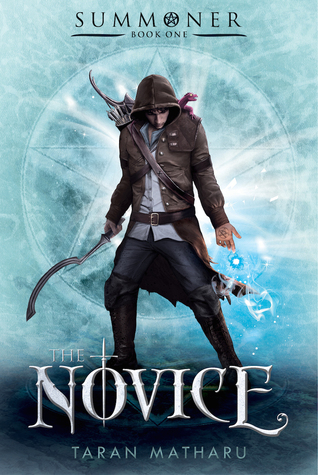 The Novice
by Taran Matharu
Hardcover
Feiwel & Friends
Released 5/5/2015
When blacksmith apprentice Fletcher discovers that he has the ability to summon demons from another world, he travels to Adept Military Academy. There the gifted are trained in the art of summoning. Fletcher is put through grueling training as a battlemage to fight in the Hominum Empire's war against orcs. He must tread carefully while training alongside children of powerful nobles. The power hungry, those seeking alliances, and the fear of betrayal surround him. Fletcher finds himself caught in the middle of powerful forces, with only his demon Ignatius for help.
As the pieces on the board maneuver for supremacy, Fletcher must decide where his loyalties lie. The fate of an empire is in his hands. The Novice is the first in a trilogy about Fletcher, his demon Ignatius, and the war against the Orcs.
Purchase The Novice at Amazon
Purchase The Novice at IndieBound
View The Novice on Goodreads
* * * *
The Summer After You and Me
by Jennifer Salvato Doktorski
Paperback
Sourcebooks Fire
Released 5/5/2015
Sunbathing, surfing, eating funnel cake on the boardwalk—Lucy loves living on the Jersey Shore. For her, it's not just the perfect summer escape, it is home. And as a local girl, she knows not to get attached to the tourists. They breeze in over Memorial Day weekend, crowding the shore and stealing moonlit kisses, only to pack up their beach umbrellas and empty promises on Labor Day. Lucy wants more from love than a fleeting romance, even if that means keeping her distance from her summertime neighbor and crush, Connor.
Then Superstorm Sandy tears apart her barrier island, briefly bringing together a local girl like herself and a vacationer like Connor. Except nothing is the same in the wake of the storm. And day after day, week after week, Lucy is left to pick up the pieces of her broken heart and broken home. Now with Memorial Day approaching and Connor returning, will it be a summer of fresh starts or second chances?
Purchase The Summer After You and Me at Amazon
Purchase The Summer After You and Me at IndieBound
View The Summer After You and Me on Goodreads
* * * *
Undertow
by Michael Buckley
Hardcover
HMH Books for Young Readers
Released 5/5/2015
First, we feared them. Then we fought them. Now they might be our only hope.
Sixteen-year-old Lyric Walker's life is forever changed when she witnesses the arrival of 30,000 Alpha, a five-nation race of ocean-dwelling warriors, on her beach in Coney Island. The world's initial wonder and awe over the Alpha quickly turns ugly and paranoid and violent, and Lyric's small town transforms into a military zone with humans on one side and Alpha on the other. When Lyric is recruited to help the crown prince, a boy named Fathom, assimilate, she begins to fall for him. But their love is a dangerous one, and there are forces on both sides working to keep them apart. Only, what if the Alpha are not actually the enemy? What if they are in fact humanity's best chance for survival? Because the real enemy is coming. And it's more terrifying than anything the world has ever seen.
Action, suspense, and romance whirlpool dangerously in this cinematic saga, a blend of District 9 and The Outsiders.
Purchase Undertow at Amazon
Purchase Undertow at IndieBound
View Undertow on Goodreads
* * * *
Until the Beginning
by Amy Plum
Hardcover
HarperTeen
Released 5/5/2015
Juneau has been searching for her people and for answers . . . and she is about to find both in the exhilarating sequel to After the End, which Marie Lu, New York Times bestselling author of the Legend series and The Young Elites, called "Wonderfully riveting."
When Juneau's clan disappeared, she lost so much more than her friends and family. She soon discovered everything she thought she knew about her life was a lie. Her people's gifts were actually secret abilities that others wanted, desperately enough to kidnap an entire village.
Juneau and her new companion Miles's cross-country journey to find her clan has led them to a game preserve in New Mexico. Now Juneau's people are finally within reach, and she will stop at nothing to save them. But she has a target on her back too, because unbeknownst to her she is the key to unlocking everything. To rescue her people—and herself—Juneau must discover what she, and her abilities, are truly capable of.
Purchase Until the Beginning at Amazon
Purchase Until the Beginning at IndieBound
View Until the Beginning on Goodreads
* * * *
Wild Hearts
by Jessica Burkhart
Hardcover
Bloomsbury USA Childrens
Released 5/5/2015
Enjoy Wild Hearts and the other standalone titles in Bloomsbury's contemporary If Only romance line centered around an impossible problem: you always want what you can't have!
Brie Carter's father's land development business has taken her family all over the world, but as soon as they arrive at their new home in Lost Spring, Wyoming, the town turns out to protest. They don't want a new hotel if the resident mustang population will be displaced or hurt as part of the deal. Then Brie meets Logan, a gorgeous local who has a special connection to the mustangs, and she is immediately drawn to him . . . and the horses. However, with Logan's father leading the protests and Brie's father refusing to budge, it's clear that their parents are heading towards an all-out war. Can Brie and Logan find a way to save the mustangs and be together? Or is their love doomed from the start?
This new title in the If Only line is the perfect summer read and proves that love flourishes in the wildest places!
Purchase Wild Hearts at Amazon
Purchase Wild Hearts at IndieBound
View Wild Hearts on Goodreads
a Rafflecopter giveaway