Robyn, what was your inspiration for writing EXTRAORDINARY MEANS?
I started writing the book while I was in graduate school for medical ethics. I was studying illness narratives, and tuberculosis came up. The disease had been cured during the early days of germ theory, and was rarely depicted in literature as the frightening and contagious illness it would be seen as today. So I began to wonder what would happen if people in present-day America fell ill with a long-term, contagious illness that modern medicine had no ability to treat. And then I wondered how a teenager would be transformed by the experience of moving from the institution of a school to the institution of a medical facility. But it isn't a book about a disease, it's a story about two teenagers who are brought together in their quarantine and who fall in love in the last days before the cure.
What book or books would most resonate with readers who love your book--or visa versa?
I've always thought of Extraordinary Means as a cross between Kazuo Ishiguro's "Never Let Me Go" and Donna Tart's "The Secret History". If you haven't read either of those books, you absolutely should. Never Let Me Go is this heartbreaker of a novel where the narrator doesn't realize how chilling the sweet little boarding school story she's telling actually is, and where you start to wonder early on exactly what isn't being said. I tried to do a little of that in Extraordinary Means. And The Secret History is this gorgeously written novel about a group of pretentious college students who set themselves apart until a shared secret sets them against each other. I tried to capture a little of that group dynamic, and how sometimes a choice that seems necessary in the moment can seem sickening the next day.
What do you hope readers will take away from EXTRAORDINARY MEANS?
Lane and Sadie are characters who grapple with what exactly counts as living one's life. For each of them, their TB symbolizes a deeper issue. Lane arrives at Latham House so exhausted from his rigorous coursework that he has become literally consumed by it. Sadie has internalized all of her fears and, instead of taking action, has become afraid of living. But theirs isn't a story of what it means to be sick so much as a story about how it feels to be an outsider. It's a story about second chances, and how easily we could miss them. So what I hope readers will find in Extraordinary Means is a story of what it means to have hope that you'll figure out your place in the world, and that you'll be strong enough to get there.
What's your writing ritual like? Do you listen to music? Work at home or at a coffee shop or the library, etc?
I am incredibly bad at having a daily writing ritual, although I do try to keep to the general routine of getting dressed, camping out in a coffee shop, and writing until my laptop battery runs out at least three days per week. I outline, loosely, around scenes that I know will be in the book, so if I ever get lost I at least know what direction to head in. I also start at the beginning and write until I get to the end, as opposed to skipping around. There's a lot of glaring at my laptop involved. And a lot of Belle & Sebastian.
What advice would you most like to pass along to other writers?
Everyone always says to read critically, which you should, so I'll say something else: for those of you querying agents and editors, rejection isn't the opposite of acceptance; it just means "I don't love it" not "it isn't good enough". And finally, remember that social media is a distraction, not a party.
ABOUT THE BOOK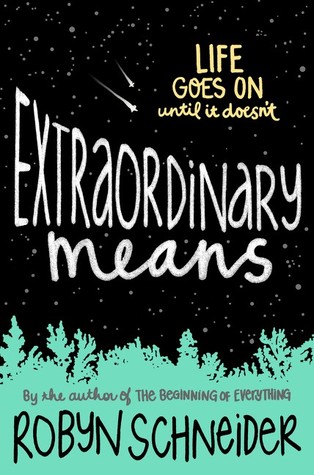 Extraordinary Means
by Robyn Schneider
Hardcover
Katherine Tegen Books
Released 5/26/2015
From the author of The Beginning of Everything: two teens with a deadly disease fall in love on the brink of a cure.
At seventeen, overachieving Lane finds himself at Latham House, a sanatorium for teens suffering from an incurable strain of tuberculosis. Part hospital and part boarding school, Latham is a place of endless rules and confusing rituals, where it's easier to fail breakfast than it is to flunk French.
There, Lane encounters a girl he knew years ago. Instead of the shy loner he remembers, Sadie has transformed. At Latham, she is sarcastic, fearless, and utterly compelling. Her friends, a group of eccentric troublemakers, fascinate Lane, who has never stepped out of bounds his whole life. And as he gradually becomes one of them, Sadie shows him their secrets: how to steal internet, how to sneak into town, and how to disable the med sensors they must wear at all times.
But there are consequences to having secrets, particularly at Latham House. And as Lane and Sadie begin to fall in love and their group begins to fall sicker, their insular world threatens to come crashing down. Told in alternating points of view, Extraordinary Means is a darkly funny story about doomed friendships, first love, and the rare miracle of second chances.
Purchase Extraordinary Means at Amazon
Purchase Extraordinary Means at IndieBound
View Extraordinary Means on Goodreads
ABOUT THE AUTHOR
Robyn Schneider is a 28-year-old writer and videoblogger. She is the author of the critically-acclaimed novel The Beginning of Everything, which has earned numerous starred reviews, appears on many state reading lists, and is published in over a dozen countries. Robyn is a graduate of Columbia University, where she studied creative writing, and the University of Pennsylvania Perelman School of Medicine, where she earned a Masters of Bioethics. She lives in Los Angeles, California, but also on the internet.
What did you think of our interview with Robyn Schneider, author of EXTRAORDINARY MEANS? Let us know in the comments!
Martina, Jocelyn, Shelly, Jan, Lisa, Susan, and Erin