Which brings me to my point. We could use a little help! : )
We have an opening here at AYAP for an intern who, if things work out, would become a permanent contributor.
The selected intern will help coordinate giveaways and interviews, which involves contact with authors, data entry, and html formatting. We will teach you everything you need to know, so if you have an interest in blogging about YA books, either because you love to read them or because you're an aspiring author, this is the perfect opportunity. The position is virtual and you set your own hours and pace.
Adventures in YA Publishing is a three-time Writers Digest 101 Best Websites for Writers Blog, and depending on the time of the year and what we're up to, we get between 80,000 to 200,000 visitors a month, not counting RSS feeds and email subscriptions.
If you're interested, please send your resume or summary of qualifications and interest to us at ayaplit at gmail dot com.
THIS WEEK'S GIVEAWAY
The White Rose (The Lone City #2)
by Amy Ewing
ARC Giveaway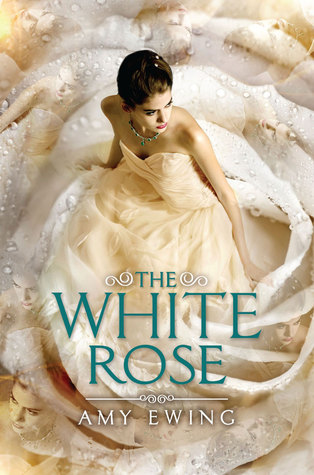 Violet is on the run. After the Duchess of the Lake catches Violet with Ash, the hired companion at the Palace of the Lake, Violet has no choice but to escape the Jewel or face certain death. So along with Ash and her best friend, Raven, Violet runs away from her unbearable life of servitude.
But no one said leaving the Jewel would be easy. As they make their way through the circles of the Lone City, Regimentals track their every move, and the trio barely manages to make it out unscathed and into the safe haven they were promised—a mysterious house in the Farm.
But there's a rebellion brewing, and Violet has found herself in the middle of it. Alongside a n ew ally, Violet discovers her Auguries are much more powerful than she ever imagined. But is she strong enough to rise up against the Jewel and everything she has ever known?
The White Rose is a raw, captivating sequel to The Jewel that fans won't be able to put down until the final shocking moments.
Question of the Week
I'm looking at my calendar for the summer and having mini-meltdowns already. Somehow, summer is such a time sink and I have final pass pages for Persuasion, and revisions for Book Three (which I think has a title I can't wait to share!). I also have a whole new book to write. And a TON of books I need to critique or read.
If you struggle like I do, here are my favorite quotes on finding time to write and making time to read:
"Thirty years ago my older brother, who was ten years old at the time, was trying to get a report written on birds that he'd had three months to write, which was due the next day. We were out at our family cabin in Bolinas, and he was at the kitchen table close to tears, surrounded by binder paper and pencils and unopened books about birds, immobilized by the hugeness of the task ahead. Then my father sat down beside him put his arm around my brother's shoulder, and said, "Bird by bird, buddy. Just take it bird by bird."
~ Anne Lamott, Bird by Bird: Some Instruction on Writing and Life
"I am always chilled and astonished by the would-be writers who ask me for advice and admit, quite blithely, that they "don't have time to read." This is like a guy starting up Mount Everest saying that he didn't have time to buy any rope or pitons."
~ Stephen King
a Rafflecopter giveaway