I'm in Dallas today and getting ready for the YA Spooky Slumber Party tonight at Romantic Times!
I've got my fuzzy slippers all ready.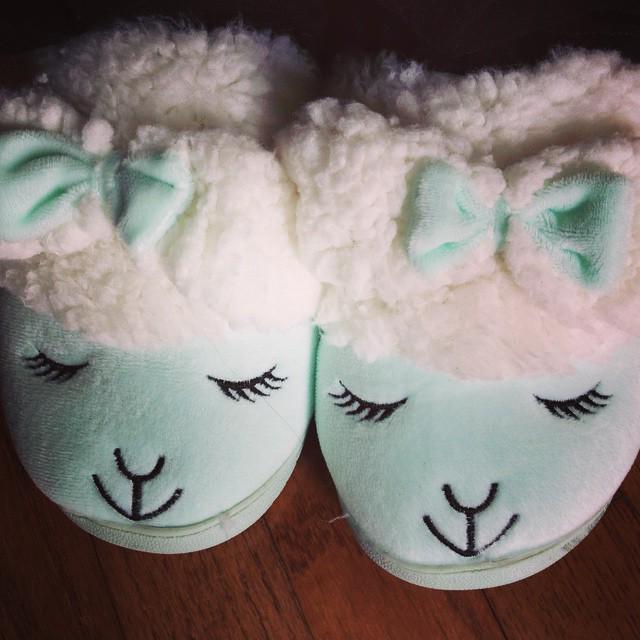 And I've got my I HAVE A COMPULSION FOR READING pajama shirt. (Okay, it doubles as a T-shirt, and I'll be giving some of them away tonight, at my Club RT appearances, and at
Teen Day on Saturda
y, so if you want one, stop by!)
Mainly, I'm looking forward to hanging out with readers and with authors, many of whom I'm going to be fangirling over like crazy. One of those is Kami Garcia, part of the super-dynamic team whose
Beautiful Creatures
got me started thinking about Southern Gothics for teens and inspired
Compulsion.
Last year, Kami and Margaret came out with
Dangerous Creatures
, a new spin-off series about one of my favorite characters in
Beautiful Creatures
, Ridley Duchannes. The sequel,
Dangerous Deception
, comes out next week!
Want a sneak peek? Here are a few of Kami's favorite things:
Favorite lollipop flavor? Cherry... of course.
Favorite band? Black Sabbath & Soundgarden
Favorite place in New York? Anywhere with good pizza.
Favorite character in Dangerous Deception or the series? Sampson
Favorite food in New Orleans? Beignets from Cafe Du Monde & Crawfish Étouffée
Books Aren't Dangerous!
Instead of doing a traditional tour to kick off the Dangerous Deception, Kami and Margaret are giving back to the reading community, and you can help!
Anytime from May 12 to May 26, post a picture of yourself anywhere online with a favorite book and Kami, Margaret, and the folks at Little Brown Books for Young Readers will take that as your pledge to donate a book to an underfunded school or library. (Please do donate!)
Remember to use the hashtag #BooksArentDangerous. It can be any book that you loved, that mattered to you, or that you recommend.

LBBYR will take each picture as your pledge to donate a book to an underfunded school or library and will match these donations throughout the next two weeks.
Dangerous Creatures
by Kami Garcia
Signed Hardcover
Little, Brown Books for Young Readers
Released 5/20/2014
From the world of Beautiful Creatures-a dangerous new tale of love and magic.
Ridley Duchannes is nobody's heroine. She's a Dark Caster, a Siren. She can make you do things. Anything. You can't trust her, or yourself when she's around. And she'll be the first to tell you to stay away-especially if you're going to do something as stupid as fall in love with her.
Lucky for Ridley, her wannabe rocker boyfriend, Wesley "Link" Lincoln, never listens to anyone. Link doesn't care if Rid's no good for him, and he takes her along when he leaves small-town Gatlin to follow his rock-star dream. He teams up with a ragtag group of Dark Casters, and when the band scores a gig at a hot Underground club, it looks like all of Link's dreams are about to come true.
But New York City is a dangerous place for both Casters and Mortals, and soon Ridley realizes that Link's bandmates are keeping secrets. With bad-boy club owner Lennox Gates on her heels, Rid is determined to find out the truth. What she discovers is worse than she could have imagined: Link has a price on his head that no Caster or Mortal can ever pay. With their lives on the line, what's a Siren to do?
Kami Garcia and Margaret Stohl, the #1
New York Times
bestselling coauthors of the Beautiful Creatures novels, are back to cast another magical spell. Their signature blend of mystery, suspense, and romance, with a healthy dose of wit and danger, will pull fans in and leave them begging for more.
Purchase Dangerous Creatures at Amazon
Purchase Dangerous Creatures at IndieBound
View Dangerous Creatures on Goodreads
Dangerous Deception
by Kami Garcia
Hardcover
Little, Brown Books for Young Readers
Released 5/19/2015
From the world of Beautiful Creatures--a dangerous new tale of love and magic continues in the sequel to Dangerous Creatures.
Love is ten kinds a crazy, right?
Let me put it to you this way: If you can get away, run. Don't walk.
Because once you're exposed, you'll never get a Siren outta your head.
Some loves are cursed. Others are...dangerous. Especially the love between wannabe rocker and quarter Incubus, Wesley "Link" Lincoln, and Dark Caster, Siren, and bonafide bad girl, Ridley Duchannes.
But now Ridley is missing, and Link was with her-right up until she vanished. Determined to find her, Link reunites with his New York bandmates and the mysterious Lennox Gates, who wants Rid for himself. Together they travel to the deep south, find the crossroads where blues guitarist Robert Johnson made his deal with the devil, discover a menagerie of Casters locked in cages, and uncover an evil in New Orleans that threatens to destroy them all.
This time, love might not be enough.
Purchase Dangerous Deception at Amazon
Purchase Dangerous Deception at IndieBound
View Dangerous Deception on Goodreads
Sound great, don't they?
Do you love southern books and characters as much as I do? What do you love most?
a Rafflecopter giveaway