What was your inspiration for writing OFF THE PAGE?
We knew that we left things hanging at the end of BETWEEN THE LINES -- what happens to Edgar? What's it like for Oliver in the real world? Tons of readers wrote to ask us -- but we had a very real world obstacle in our way, namely, Sammy was in college at Vassar and didn't have time to write a novel. One day Sammy called home to say she missed writing. Jodi said, "You write every day!" but she meant creative writing. Sammy suggested writing the sequel the summer after her freshman year of college -- so that's exactly what we did.
What scene was really hard for you to write and why, and is that the one of which you are most proud? Or is there another scene you particularly love?
The last day we were writing, we really wanted to kill each other. If Jodi said the sky was blue, Sammy said, "No, it's GREEN." We were writing the little interchapters that dot the book, and they should have been easy -- but they were so, so difficult! One of the scenes we are really proud of creating is the copyright cave -- the book plays around a lot with who owns a story and who creates it - the reader or the writer. We like the idea that there might be a hidden spot in a story where all the author's imagination resides. A scene we laughed a lot at when we were writing was the double date between Chris, Edgar, Jules, and Delilah.
What's your writing ritual like? Do you listen to music? Work at home or at a coffee shop or the library, etc?
When we write, it's side by side in Jodi's office. We take turns typing and we literally speak the book out loud, line by line. For OFF THE PAGE, because we were working on a limited amount of time (Sammy's summer break) we worked for 8 hours a day, 5 days a week. If you think it's hard to get along with your mother in general -- imagine spending that much time with her every single day!!
ABOUT THE BOOK
Off the Page
by Jodi Picoult and Samantha van Leer
Hardcover
Delacorte Press
Released
5/19/2015
From #1 New York Times bestselling authors Jodi Picoult and her daughter and coauthor, Samantha van Leer, comes OFF THE PAGE, a tender and appealing romantic YA novel filled with humor, adventure, and magical relationships.
Meet Oliver, a prince literally taken from the pages of a fairy tale and transported into the real world. Meet Delilah, the girl who wished Oliver into being. It's a miracle that seems perfect at first—but there are complications. To exist in Delilah's world, Oliver must take the place of a regular boy. Enter Edgar, who agrees to play Oliver's role in the pages of Delilah's favorite book. But just when it seems that the plan will work, everything gets turned upside down.
Full of humor and witty commentary about life, OFF THE PAGE is a stand-alone novel as well as the companion to the authors' bestseller Between the Lines, and is perfect for readers looking for a fairytale ending. Fans of Sarah Dessen and Meg Cabot are sure to appreciate this novel about love, romance, and relationships.
Purchase Off the Page at Amazon
Purchase Off the Page at IndieBound
View Off the Page on Goodreads
ABOUT THE AUTHORS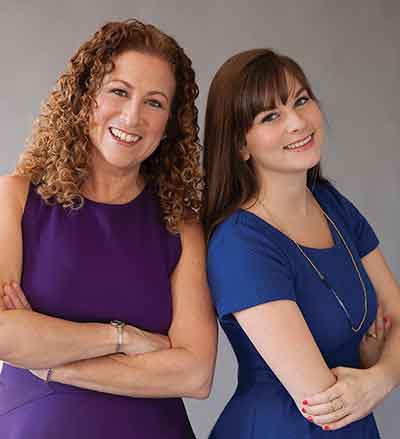 Jodi Picoult is the bestselling author of of twenty-three novels and the YA novel Between The Lines (2012) co-written with her daughter Samantha van Leer, and The Storyteller (2013). Her last eight novels have debuted at number one on the New York Times bestseller list. Her highly anticipated new novel, Leaving Time, was released in the US, Canada, and Australia October 14, 2014; it will be released in the UK on 4th November.
Samantha van Leer is a sophomore at Vassar College majoring in psychology with a minor in human development. She has four dogs: Alvin, Harvey, Dudley, and Oliver—for whom the prince in this story is named.
What did you think of our interview with Jodi Picoult and Samantha van Leer, authors of OFF THE PAGE? Let us know in the comments!
Martina, Jocelyn, Shelly, Jan, Lisa, Susan, and Erin