We're pleased to have Jen Brooks join us to share more about her debut novel IN A WORLD JUST RIGHT.

Jen, what scene of IN A WORLD JUST RIGHT was really hard for you to write and why, and is that the one of which you are most proud? Or is there another scene you particularly love?

One scene I spent significant time on was the scene where Jonathan and Kylie go to the art museum. In the scene's early drafts my readers, including my editor, felt it was long and draggy. I felt like they were questioning the importance of the scene. This was a problem because this scene was super important to me as far as the major themes in the book—responsibility for creation, the definition of "true" love, and the longing for what's "real." In this scene, Jonathan has serious doubts and questions about what he's done by creating a girlfriend for himself. I must have rewritten it a dozen times to trim the excess museum stuff and focus on the essentials of the relationship in a way that didn't seem too symbolic or metaphorical. I'm not sure how successful I was, as only one reviewer has noted the scene, but aside from the ending, it's my favorite scene.

How long or hard was your road to publication? How many books did you write before this one, and how many never got published?

My road was fairly long, but I wouldn't say it was hard. Hard is a relative term. When I set out on the journey, I was still teaching, and I couldn't at that time imagine doing anything other than teach, so the beginning years didn't feel "hard" at all. Basically, I wrote two manuscripts as thesis projects for graduate degrees. The first I sent to ten agents and let something like two years pass waiting to hear back from two of them who requested the manuscript. The second I only sent to about a dozen agents, and something like half of them requested the manuscript. While I was waiting to hear back (and, alas, accumulating rejections), I decided to keep writing. I had learned in grad school that if you write a page a day you can have a book done in a year. Since it took 5-6 years to write each of my previous manuscripts, I thought this was a pretty good challenge. In the end, I finished IN A WORLD JUST RIGHT in four months. A few months later I had an agent, and when it went on submission, it caught my editor's attention fairly quickly. I didn't have a whirlwind journey, as some do. It took years in total, but it was all good.

What's your writing ritual like? Do you listen to music? Work at home or at a coffee shop or the library, etc?

The only place I can write is at my desk on my big office computer. I've learned to do a lot of things in various places on my laptop, but writing is not one of them. In general, I need complete silence and a long stretch of time to get anything done. I wish I were the kind of writer who could squeeze in ten minutes of writing here, twenty minutes there, and because I'm not that kind of writer, it's taken until this year, when my son is old enough to go to school full time, for me to feel like I have a real writer's life.


ABOUT THE BOOK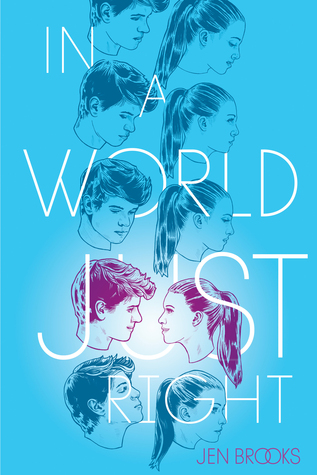 In a World Just Right
by Jen Brooks
Hardcover
Simon & Schuster Books for Young Readers
Released 4/28/2015
Imagination takes on new meaning for a uniquely talented teen in this debut novel that is a breathtaking blend of contemporary, fantasy, and romance.
Sometimes Jonathan Aubrey wishes he could just disappear. And as luck—or fate—would have it, he can. Ever since coming out of a coma as a kid, he has been able to create alternate worlds. Worlds where he is a superhero, or a ladies' man, or simply a better version of himself. That's the world he's been escaping to most since sophomore year, a world where he has everything he doesn't have in real life: friends, a place of honor on the track team, passing grades, and most importantly, Kylie Simms as his girlfriend.
But when Jonathan confuses his worlds senior year and tries to kiss the real Kylie Simms, everything unravels. The real Kylie actually notices Jonathan…and begins obsessing over him. The fantasy version of Kylie struggles to love Jonathan as she was created to do, and the consequences are disastrous. As his worlds collide, Jonathan must confront the truth of his power and figure out where he actually belongs—before he loses both Kylies forever.
Purchase In a World Just Right at Amazon
Purchase In a World Just Right at IndieBound
View In a World Just Right on Goodreads
ABOUT THE AUTHOR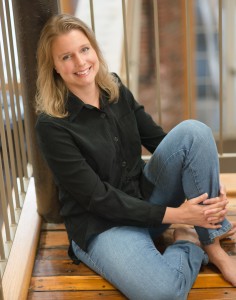 Jen has a habit of being deeply moved by profound ideas, and her writing reflects her interest in exploring human goodness, relationships, and the feeling of being a part of something greater than oneself. She loves the science fiction and fantasy genres because of their dazzling possibilities for portraying characters and ideas. She credits her undergraduate experience at Dartmouth College, her MFA at Seton Hill University, and her fourteen years of English teaching with shaping her writing. She is grateful to her family, friends, and students for inspiring her to write.
What did you think of our interview with Jen Brooks, author of IN A WORLD JUST RIGHT? Let us know in the comments!
Martina, Jocelyn, Shelly, Jan, Lisa, Susan, and Erin