Francesca, how long did you work on MADE YOU UP?
I've been working on MADE YOU UP for over ten years. It hasn't looked the way it does now until just recently, but the characters and settings have always been there, and they've evolved as the story evolved.
What do you hope readers will take away from MADE YOU UP?
I hope they'll take away from the book that it's okay to ask for help. Needing help isn't a weakness, and if you look, there will always be someone willing to help you, whether the issue is inside yourself or with some situation outside you.
What's your writing ritual like? Do you listen to music? Work at home or at a coffee shop or the library, etc?
I'll write just about anywhere as long as I have my computer and headphones. I do most of my writing from home, because public spaces feel too...well, public. Sometimes, if I feel like I'm hitting a wall, I'll switch from computer to a notebook and pen. Sometimes I have to go straight loose-leaf paper and let them fall on the floor after I write on them. I pretty much always have to have music though--each story has specific songs or genres of music that fit it best, and listening to those helps center me on that particular story.
What advice would you most like to pass along to other writers?
Write what you love. If you're in a position where you can't write what you love, at least make it interesting to you. If you can't make it interesting to you, then come up with a new idea. If writing is what you love, then writing what you don't like will only depress and frustrate you, and that's no way to live.
ABOUT THE BOOK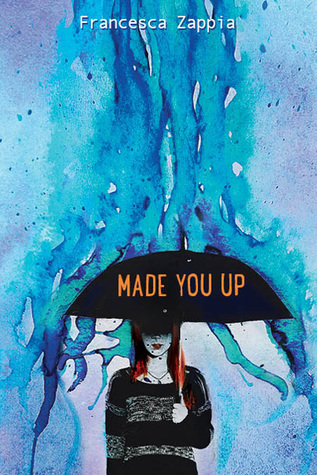 Made You Up
by Francesca Zappia
Hardcover
Greenwillow Books
Released 5/19/2015
Reality, it turns out, is often not what you perceive it to be—sometimes, there really is someone out to get you. Made You Up tells the story of Alex, a high school senior unable to tell the difference between real life and delusion. This is a compelling and provoking literary debut that will appeal to fans of Wes Anderson, Silver Linings Playbook, and Liar.
Alex fights a daily battle to figure out the difference between reality and delusion. Armed with a take-no-prisoners attitude, her camera, a Magic 8-Ball, and her only ally (her little sister), Alex wages a war against her schizophrenia, determined to stay sane long enough to get into college. She's pretty optimistic about her chances until classes begin, and she runs into Miles. Didn't she imagine him? Before she knows it, Alex is making friends, going to parties, falling in love, and experiencing all the usual rites of passage for teenagers. But Alex is used to being crazy. She's not prepared for normal.
Funny, provoking, and ultimately moving, this debut novel featuring the quintessential unreliable narrator will have readers turning the pages and trying to figure out what is real and what is made up.
Purchase Made You Up at Amazon
Purchase Made You Up at IndieBound
View Made You Up on Goodreads
ABOUT THE AUTHOR
Francesca Zappia lives in central Indiana and majors in computer science at the University of Indianapolis. She spends most of her time writing, drawing her characters, and reading. Made You Up is her debut novel.
(Note from the formatter: Made You Up is a phenomenal debut novel. I hope you all enjoy it as much as I do!)
What did you think of our interview with Francesca Zappia, author of MADE YOU UP? Let us know in the comments!
Martina, Jocelyn, Shelly, Jan, Lisa, Susan, and Erin