We hope everyone had a wonderful Mother's Day weekend! Books make great presents - maybe you gave a book to your beloved mother or maybe your wonderful children gave one to you. If so, let us know in the comments. And if you received a book store gift certificate, never fear, we have a fantastic list of books releasing this week to give you ideas about how to spend it.
Happy reading,
Jocelyn, Martina, Jan, Shelly, Susan, Lisa, and Erin
YA BOOK GIVEAWAYS THIS WEEK
* * * *
A Matter of Heart
by Amy Fellner Dominy
Signed Hardcover Giveaway

U.S. Only
Delacorte Press
Released 5/12/2015
Readers will happily sink into this emotionally grounded, contemporary young adult novel about the sudden end of one girl's Olympic swimming dreams and the struggles she endures before realizing there are many things that define who we are.
Sixteen-year-old Abby Lipman is on track to win the state swim championships and qualify for the Olympic trials when a fainting incident at a swim meet leads to the diagnosis of a deadly heart condition. Now Abby is forced to discover who she is without the one thing that's defined her entire life.
Author Question: What is your favorite thing about A Matter of Heart?
Here's a crazy story. When I started this book, it was going to a "funny tween" book for my editor at Walker. She wanted a middle grade book and of course I wanted to deliver. I had the idea of writing about a girl who fakes a heart condition to get on a reality show. Then I thought, "Hey, what if she actually has a heart condition—that would up the stakes." At which point I realized there was nothing funny at all about heart conditions. Soon after that, I learned about Hypertrophic Cardiomyopathy and though this was absolutely NOT the story my editor wanted (not funny, not tween) it's a story I wanted to tell. So I did. And that's my favorite thing now, looking back. How such a good idea could spring from one that initially was so bad!
Purchase A Matter of Heart at Amazon
Purchase A Matter of Heart at IndieBound
View A Matter of Heart on Goodreads
* * * *
Out of Control
by Sarah Alderson
Hardcover Giveaway
Simon Pulse
Released 5/12/2015
A girl looking to escape her past in New York City ends up on the run from a dangerous conspiracy in this sizzling, high-stakes novel.
When seventeen-year-old Liva came to New York City, all she wanted was to escape the painful memories of her past and finally find a fresh start. Her hopes for a new future were dashed the moment she became the sole witness to a brutal murder. When she's taken into police custody, supposedly for her own protection, she realizes something isn't right, but it's too late. Soon, bullets start flying, and Liva realizes that she is not just a witness, but the target and she needs to escape before it's too late.
With the help of a sexy car thief that she met at the station, Liva manages to get away from the massacre unharmed, but now the two of them are alone in New York, trying to outrun and outwit the two killers who will stop at nothing to find them. Liva and Jay are living on the edge, but when you're on the edge, there's a long way to fall.
Author Question: What is your favorite thing about Out of Control?
I've recently been pitching Out of Control around Hollywood (I'm a screenwriter too) and the first thing people say to me is 'wow, the pace on this is amazing.'

The story takes place in 36 hours and it is non-stop action. I love the two main characters - Liva who has grown up in the Middle East surrounded by money and bodyguards and Jay who's from the wrong side of the tracks and just trying to do the right thing. And they're thrown together into this nightmare where they have to learn to trust each other and rely on each other.

But my favourite thing about Out of Control is that it's a fun book to read but it's also got a very serious subject at its heart (which I won't reveal). I want to write fun stories that engage readers, but also books that have something to say about issues I think need to be addressed.
Purchase Out of Control at Amazon
Purchase Out of Control at IndieBound
View Out of Control on Goodreads
* * * *
The Cost of All Things
by Maggie Lehrman
Signed ARC Giveaway

U.S. Only
Balzer + Bray
Released 5/12/2015
Eternal Sunshine of the Spotless Mind meets We Were Liars in this thought-provoking and brilliantly written debut that is part love story, part mystery, part high-stakes drama.
What would you pay to cure your heartbreak? Banish your sadness? Transform your looks? The right spell can fix anything…. When Ari's boyfriend Win dies, she gets a spell to erase all memory of him. But spells come at a cost, and this one sets off a chain of events that reveal the hidden—and sometimes dangerous—connections between Ari, her friends, and the boyfriend she can no longer remember.
Told from four different points of view, this original and affecting novel weaves past and present in a suspenseful narrative that unveils the truth behind a terrible tragedy.
Author Question: What is your favorite thing about The Cost of All Things?
My favorite thing about the book is the part that was hardest to get a handle on while writing -- how the four storylines intersect and influence each other, and how they come together at the end. I started with four individual stories, each influenced by a character's death and the spells that were cast on them (knowingly or unknowingly), and then once I understood who these people were, I had to weave their stories together. It's the type of challenge I love, and the type of storytelling I love reading. One of the things that I kept repeating to myself as I was writing was that the characters think they're solving one mystery, but they end up unraveling a completely different one. I hope I stayed true to that throughout the book.
Purchase The Cost of All Things at Amazon
Purchase The Cost of All Things at IndieBound
View The Cost of All Things on Goodreads
* * * *
The Messengers
by Edward Hogan
Hardcover Giveaway

U.S. Only
Candlewick
Released 5/12/2015
If you could see the future, would you have the guts to change it? A new psychological thriller from the author of Daylight Saving.
Fifteen-year-old Frances is sent to her aunt's house for the summer to escape difficulties at home. Soon she meets Peter, a man unlike anyone she has ever known. Peter is a messenger—but his messages never bring good news. Peter believes that Frances is a messenger, too. In a compelling page-turner as complex as it is chilling, the author of Daylight Saving poses the provocative question: If you could change the future, where would you start?
Author Question: What is your favorite thing about The Messengers?
I'd have to say the two central characters. I really loved spending time with my troubled protagonist, Frances, and the (even more troubled) Peter Kennedy, who works on his weird pictures in a beach hut on Brighton seafront. Peter is much older than Frances, but I soon discovered that Frances was the more stable character. She's stronger, in lots of ways. I often start writing with just the characters in mind. I'm interested in people, mainly. And - as some reviewers have noticed - plot is not my strong point!

I also enjoyed doing research for The Messengers. One of my characters, Johnny, is a boxer. I spent some time training with professional boxer John Paul Temple. It was very scary (!) but also extremely interesting. He explained the idea of "the conditioned face" - that's what it's called when you've been punched so many times, your skin no longer cuts easily. John Paul was so generous with his time, and all writers need that kind of help.
Purchase The Messengers at Amazon
Purchase The Messengers at IndieBound
View The Messengers on Goodreads
YA BOOK GIVEAWAYS LAST WEEK: WINNERS
* * * *
Dust to Dust
by Melissa Walker
Hardcover
Katherine Tegen Books
Released 5/5/2015
Winner - Sandi T.
Perfect for fans of If I Stay or Imaginary Girls, Dust to Dust is the mysterious, thoughtful, and poignant sequel to Melissa Walker's haunting and heartbreaking novel Ashes to Ashes.
When Callie McPhee miraculously recovers from a tragic accident that should have taken her life, she thought her connection to the ghost world would be severed forever. And that she would never see Thatcher—the ghost she fell in love with in the hereafter—again. But when she receives unexpected signs from Thatcher, she's led down a dark road toward the angry souls who once tried to steal her soul's energy for another chance at life.
Now Callie must prevent the real world and the spirit world from colliding, and that could mean saying good-bye to people she'd never imagined she'd lose.
Purchase Dust to Dust at Amazon
Purchase Dust to Dust at IndieBound
View Dust to Dust on Goodreads
* * * *
Galgorithm
by Aaron Karo
Hardcover
Simon Pulse
Released 5/5/2015
Winner - Stephanie G.
A romantic comedy about high school, heartbreak, and having all the answers.
What if the secrets of dating and love were revealed in one simple formula? That is the tantalizing proposition high school senior Shane Chambliss offers the hopeless and hapless guys who come to him for relationship advice.
After the girl of his dreams breaks his heart, Shane devises a mysterious formula called the Galgorithm and establishes himself as the resident dating guru at Kingsview High School. But his attempts to master the art of romance go outrageously awry.
As Shane tries to navigate the ensuing drama, he must follow his heart, abandon all the rules, and ignore his own advice in a quest for true love. What he discovers, no formula could ever predict...
Author Question: What is your favorite thing about Galgorithm?
My favorite part about GALGORITHM is the main character – Shane – and his relationship with his best friend, Jak. (Jak is a girl and J.A.K. are her initials!) I think we've all had a friendship in our lives that bordered on romantic without ever quite getting there, which was simultaneously fulfilling and frustrating. Shane is locked in a constant battle between his brain and his…let's say crotch. Jak is awesome and an amazing friend, but Shane can't help but think that there is something more. It makes him do crazy things. I've been there. I had a lot of fun exploring the thought process of a teenage boy who is crushing hard but doesn't know how to act on it. Boys (and men) are in general pretty dumb I think. We're all testosterone and instinct and very little cogent thought. But we mean well. Observing Jak interact, deflect, and engage with Shane was probably the highlight of constructing their story.
Purchase Galgorithm at Amazon
Purchase Galgorithm at IndieBound
View Galgorithm on Goodreads
* * * *
Ice Kissed
by Amanda Hocking
Hardcover
St. Martin's Griffin
Released 5/5/2015
Winner - Karen S.
Bryn Aven has always longed to be a part of her Kanin world. Though she has no social status because she's a half-breed, she refuses to give up on her dream of serving the kingdom she loves. It's a dream that brings her to a whole new realm…the glittering palace of the Skojare.
The Skojare people need protection from the same brutal rival who's been threatening the Kanin. And being half Skojare herself, it'sa chance for Bryn to learn more about her heritage. Her boss Ridley Dresden is overseeing her mission and wants to help. He's always been her most trusted friend—but as their undeniable attraction heats up, it's a distraction she can't afford. She's about to discover that the Skojare world is full of secrets, and as she's drawn in deeper, she doesn't know who to trust. And matters worse, as she gets closer to Ridley, she can't even trust her own heart.
Purchase Ice Kissed at Amazon
Purchase Ice Kissed at IndieBound
View Ice Kissed on Goodreads
* * * *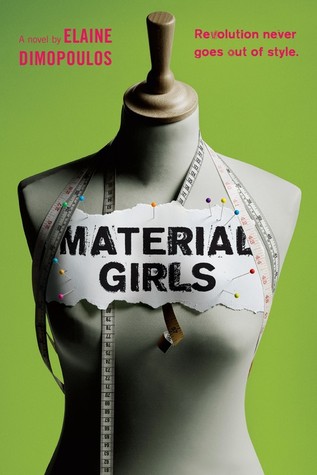 Material Girls
by Elaine Dimopoulos
Hardcover
HMH Books for Young Readers
Released 5/5/2015
Winner - Cassie G.
In Marla Klein and Ivy Wilde's world, teens are the gatekeepers of culture. A top fashion label employs sixteen-year-old Marla to dictate hot new clothing trends, while Ivy, a teen pop star, popularizes the garments that Marla approves. Both girls are pawns in a calculated but seductive system of corporate control, and both begin to question their world's aggressive levels of consumption. Will their new "eco-chic" trend subversively resist and overturn the industry that controls every part of their lives?
Smart, provocative, and entertaining, this thrilling page-turner for teens questions the cult like mentality of fame and fashion. Are you in or are you out?
Author Question: What is your favorite thing about Material Girls?
My favorite thing about MATERIAL GIRLS is perhaps the character of Ivy Wilde, a sixteen-year-old pop princess. From the beginning, Ivy is a mess of contradictions. She adores shopping sprees yet feels uncomfortable about the piles of clothes in her two-story closet. She craves the adulation of her fans yet dreams of a vacation alone. She pities her ordinary parents yet can't help but notice how happy they seem despite not being famous. She knows she has the talent and drive to get what she wants out of life… if only she can figures out what that is.

I love my other protagonist, Marla Klein, as well, but Marla is the more typical dystopian heroine of the two. Ivy is both a critic and a victim of her consumer-driven, youth-obsessed world. It is an ambivalence I live with and one I think many readers will find familiar.
Purchase Material Girls at Amazon
Purchase Material Girls at IndieBound
View Material Girls on Goodreads
* * * *
Swept Away
by Michelle Dalton
Hardcover
Simon Pulse
Released 5/5/2015
Winner - Sam B.
Beachfront love blossoms in this refreshing summer romance, in the tradition of Sixteenth Summer and Seventeenth Summer.
Mandy Sullivan isn't exactly looking forward to the summer months as tourists invade her seaside hometown on the coast of Maine. Her best friend, Cynthia, has abandoned her for camp and her older brother just announced he'll be staying at college taking classes for the summer, leaving Mandy with nothing to do and no one to hang out with. Hoping to keep herself busy, Mandy takes a volunteer job at the Rocky Pointe Lighthouse. On her very first day, Oliver Farmingham asks for a private tour. A new—and incredibly cute—face in Rocky Pointe, Oliver seems more interested in Mandy than the lighthouse and its history.
Without her best friend at her side, Mandy is scrambling to act the right way and say the right things when Oliver is around. Cynthia—not Mandy—has always been the confident, flirtatious girl that everyone wanted to be around. As Mandy and Oliver spend more time together exploring the coast, biking through the woods, and attending the local summer festivals, their budding friendship becomes much more. But with Mandy's insecurities creeping to the surface, can she open her heart to someone who will only be in town for three months?
Author Question: What is your favorite thing about Swept Away?
The research! The book is very much based on a place in Maine where I spent a summer, but it had been awhile since I'd been there, so in addition to reading and looking at pictures, I took myself to a wonderful place in Connecticut that was similar, with a wonderful lighthouse and museum. I was inspired by a lot of what I saw-- and smelled, and tasted. Though I didn't have any "bloob pockets" – I invented them for the story. I'll have to try making some…

Oh – and total coincidence – one of the books I found for my research (a collection of Maine photographs) was actually all about the place I had stayed that summer! The memories came back very vividly when I saw that.
Purchase Swept Away at Amazon
Purchase Swept Away at IndieBound
View Swept Away on Goodreads
* * * *
A Court of Thorns and Roses
by Sarah J Maas
ARC
Bloomsbury USA Childrens
Released 5/5/2015
Winner - Christina C.
A thrilling, seductive new series from New York Times bestselling author Sarah J. Maas, blending Beauty and the Beast with faerie lore.
When nineteen-year-old huntress Feyre kills a wolf in the woods, a beast-like creature arrives to demand retribution for it. Dragged to a treacherous magical land she only knows about from legends, Feyre discovers that her captor is not an animal, but Tamlin—one of the lethal, immortal faeries who once ruled their world.
As she dwells on his estate, her feelings for Tamlin transform from icy hostility into a fiery passion that burns through every lie and warning she's been told about the beautiful, dangerous world of the Fae. But an ancient, wicked shadow grows over the faerie lands, and Feyre must find a way to stop it . . . or doom Tamlin—and his world—forever.
Perfect for fans of Kristin Cashore and George R. R. Martin, this first book in a sexy and action-packed new series is impossible to put down!
Purchase A Court of Thorns and Roses at Amazon
Purchase A Court of Thorns and Roses at IndieBound
View A Court of Thorns and Roses on Goodreads
MORE YOUNG ADULT FICTION IN STORES NEXT WEEK WITH AUTHOR INTERVIEWS
* * * *
5 to 1
by Holly Bodger
Hardcover
Knopf Books for Young Readers
Released 5/12/2015
In the year 2054, after decades of gender selection, India now has a ratio of five boys for every girl, making women an incredibly valuable commodity. Tired of marrying off their daughters to the highest bidder and determined to finally make marriage fair, the women who form the country of Koyanagar have instituted a series of tests so that every boy has the chance to win a wife.
Sudasa, though, doesn't want to be a wife, and Kiran, a boy forced to compete in the test to become her husband, has other plans as well. As the tests advance, Sudasa and Kiran thwart each other at every turn until they slowly realize that they just might want the same thing.
This beautiful, unique novel is told from alternating points of view-Sudasa's in verse and Kiran's in prose-allowing readers to experience both characters' pain and their brave struggle for hope.
Author Question: What is your favorite thing about 5 to 1?
My favorite thing about 5 TO 1 is definitely the setting. While I've always been fascinated by India, the moment I started my in-depth research, I totally fell in love. To me, India is the land of color. The clothes are often vibrant shades of red and orange and yellow and green. Fabrics are beaded, sequined and embroidered. The landscape of India is also very diverse. From sandy beaches to lush green pastures to snow-tipped mountains, India really has it all. It was definitely a challenge to try to convey the richness of this setting in 5 TO 1, but it was also one of my most enjoyable tasks.
Purchase 5 to 1 at Amazon
Purchase 5 to 1 at IndieBound
View 5 to 1 on Goodreads
* * * *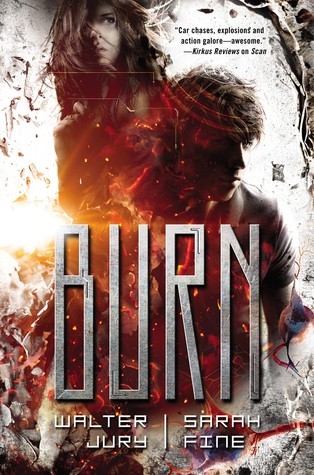 Burn
by Sarah Fine, Walter Jury
Hardcover
G.P. Putnam's Sons Books for Young Readers
Released 5/12/2015
At the cliffhanger ending of Scan, Tate loses the very thing he was fighting to protect, what his father had called the key to human survival. Tate doesn't have much time to worry about it because he needs to get away, to ensure he and Christina are safe. His father left him one last thing that can do just that—a safehouse, which turns out to be a clue to what's really threatening the planet. As Tate follows the clues his father left behind, he starts to uncover the truth, realizing he's up against an enemy he's only beginning to understand.
A riveting, fast-paced "we are not alone" adventure, Burn thrills to the very end.
Author Question: What is your favorite thing about Burn?
Sarah: My favorite thing about BURN is Tate's journey in terms of how he deals with the consequences of his actions in SCAN. In that first book, he's just trying to survive, he's on the run, and he's getting his first taste of this huge, mysterious world his father had kept secret from him. In BURN, Tate's deep into that world and still fighting not only for his life, but the lives of everyone he cares about—but he's also dealing with the idea that maybe everything that's happened is all his fault. It's all the fallout of his first reckless decision in SCAN: to steal the scanner from his father's lab. That's what sets off this firestorm of violence and terror, including the death of his father, and in BURN, we see Tate really grappling with the toll and trying to figure out how to atone, how to deal with his guilt over his father's death, and whether he's strong enough to live up to his father's name. It's the emotional core of the book and was a pleasure to write.
Purchase Burn at Amazon
Purchase Burn at IndieBound
View Burn on Goodreads
* * * *
Making Pretty
by Corey Ann Haydu
Hardcover
Katherine Tegen Books
Released 5/12/2015
Montana and her sister, Arizona, are named after the mountainous states their mother left them for. But Montana is a New York City girl through and through, and as the city heats up, she's stepping into the most intense summer of her life. Her father is distracted by yet another divorce, and she's growing apart from her sister. Then she meets wild, bold Karissa, who encourages Montana to live in technicolor and chase new experiences. But the more of her own secrets Karissa reveals, the more Montana has to wonder if Karissa's someone she can really trust.
In the midst of her uncertainty, Montana finds a beautiful distraction in Bernardo. He's serious and spontaneous, and he looks at Montana in the way she wants to be seen. For the first time, Montana understands how you can become both lost and found in somebody else. But when that love becomes everything, where does it leave the rest of her imperfect life?
Corey Ann Haydu's third novel is a raw, romantic coming-of-age story, perfect for fans of Gayle Forman and Jenny Han.
Author Question: What is your favorite thing about Making Pretty?
My favorite thing about MAKING PRETTY is absolutely that it takes place in New York City! I've been living in New York since August 2001, and it's always felt like where I'm meant to be-- my true home. I haven't written a book set in New York City until this one. I can't say exactly why-- I guess because I grew up in New England, it felt more natural to set my YA novels there. But when I started writing MAKING PRETTY I knew that it was the perfect time to start exploring my favorite setting.

I chose to set the novel around Washington Square Park in the village because that's where I lived when I was eighteen and new to the city. It's the first bit of the city I fell in love with. When I was there the arch in the park was always covered in scaffolding and I only ever rode the A train. I ate a lot of crepes and bought cheap purses at an outdoor market next to a Tower Record that no longer exists. Reconnecting with that time in my life was an absolute joy.

I don't live in the village anymore-- I'm out in Brooklyn these days-- but I get a special thrill whenever I approach Washington Square Park or walk on the MacDougal Street. And I got a special thrill spending time there through the pages of MAKING PRETTY. I hope my readers do too.
Purchase Making Pretty at Amazon
Purchase Making Pretty at IndieBound
View Making Pretty on Goodreads
* * * *
The Wrath and the Dawn
by Renée Ahdieh
Hardcover
G.P. Putnam's Sons Books for Young Readers
Released 5/12/2015
A sumptuous and epically told love story inspired by A Thousand and One Nights
Every dawn brings horror to a different family in a land ruled by a killer. Khalid, the eighteen-year-old Caliph of Khorasan, takes a new bride each night only to have her executed at sunrise. So it is a suspicious surprise when sixteen-year-old Shahrzad volunteers to marry Khalid. But she does so with a clever plan to stay alive and exact revenge on the Caliph for the murder of her best friend and countless other girls. Shazi's wit and will, indeed, get her through to the dawn that no others have seen, but with a catch . . . she's falling in love with the very boy who killed her dearest friend.
She discovers that the murderous boy-king is not all that he seems and neither are the deaths of so many girls. Shazi is determined to uncover the reason for the murders and to break the cycle once and for all.
Author Question: What is your favorite thing about The Wrath and the Dawn?
I'd have to say the many kinds of love represented in the book--the love between a father and his children, the love between sisters, the love between friends, the love between first loves, and the love between great loves. I'm a sucker for a good love story, so it was important to me to write a novel that paid homage to one. But it was also important to show that love is an ever-evolving thing. And with one's choices--both in life and in love--come consequences.

In addition, I loved writing a story inspired by middle eastern lore! It's a region of the world with such rich history, filled with fascinating cultures. I only hope readers enjoy it half as much as I enjoyed writing it.
Purchase The Wrath and the Dawn at Amazon
Purchase The Wrath and the Dawn at IndieBound
View The Wrath and the Dawn on Goodreads
MORE YOUNG ADULT NOVELS NEW IN STORES NEXT WEEK
* * * *
A Tale of Two Besties
by Sophia Rossi
Hardcover
Razorbill
Released 5/12/2015
Best friends. BFFs. Soul twinsies. Whatever you want to call them, Harper and Lily were born to be besties. With high school just around the corner, casual-cool Cali girl Harper and awkward, always-costumed Lily make sure to text each other every day about their bond:
Harper: I love you so much that I am going to sneak out of detention to pay that guy from Craigslist $100 to cut off all your hair for my secret collection.
Lily: I love you so much I'm going destroy everyone in your life that matters and force you to depend and love only me.
Harper: That sounds beautiful. I love you.
Not even the threat of different high schools could throw this BFFship off-course, even if Lily begs her parents not to send her to the "dreaded Pathways," a special school for creative types, while effortlessly-popular Harper attends Beverly High with the rest of their class.
But in a city where fitting in means standing out and there's nothing more uncool than being cool, it's the naturally charismatic Harper--with her blond hair and perfect bone structure--who finds herself fighting the tide of American Apparel'd teens who rule the school. Meanwhile, it's the perpetually "gawkward" Lily--who accessories every ensemble with a pair of tattered fairy wings--who finds herself flying alongside the queen bees of Pathways. Can BFF-ship survive the tidal wave of HS drama, or does growing up mean leaving some friends behind?
Inspired by the HelloGiggles community of likeminded best friends, founded by IRL besties Zooey Deschanel and Sophia Rossi, and set in a hilarious insider's version of Los Angeles, A Tale of Two Besties will make you giggle and cry…and then tell you how cute you look with runny mascara.
Purchase A Tale of Two Besties at Amazon
Purchase A Tale of Two Besties at IndieBound
View A Tale of Two Besties on Goodreads
* * * *
Apple and Rain
by Sarah Crossan
Hardcover
Bloomsbury USA Childrens
Released 5/12/2015
When Apple's mother returns after eleven years of absence, Apple feels almost whole again. In order to heal completely, her mother will have to answer one burning question: Why did she abandon her? But just like the stormy Christmas Eve when she left, her mother's homecoming is bittersweet. It's only when Apple meets her younger sister, Rain-someone more lost than she is- that she begins to see things for how they really are, allowing Apple to discover something that might help her to feel truly whole again.
From the author of the acclaimed The Weight of Water comes a beautifully-crafted, moving novel about family, betrayal, and the ultimate path to healing.
Purchase Apple and Rain at Amazon
Purchase Apple and Rain at IndieBound
View Apple and Rain on Goodreads
* * * *
Fell of Dark
by Patrick Downes
Hardcover
Philomel Books
Released 5/12/2015
A book that challenges the word "powerful" and obliterates it
Written in searing prose, this is the story of two boys: Erik, who performs miracles, and Thorn, who hears voices. The book chronicles their lives as their minds devolve into hallucinations, and shows the way their worlds intersect, culminating in a final stand-off.
This debut novel offer a raw, insightful look at the forces that compel us to act against our will. Even more so, it captivates and dares us to look away, knowing full well we can't.
Purchase Fell of Dark at Amazon
Purchase Fell of Dark at IndieBound
View Fell of Dark on Goodreads
* * * *
Heat of the Moment
by Lauren Barnholdt
Paperback
HarperTeen
Released 5/12/2015
In the first book of Lauren Barnholdt's captivating The Moment of Truth series, Lyla discovers that trusting her head might be easy but trusting her heart is a whole other matter.
Lyla McAfee had all but forgotten the email that she wrote to herself freshman year and scheduled to be delivered right before graduation—the one promising that she'd learn to trust by the end of senior year. But when she receives it the first morning of her senior trip to Florida, her life is sent into a tailspin. Soon she's questioning her seemingly perfect relationship with her boyfriend, Derrick, her attraction to the school player, Beckett, and whether ending her friendship with Aven and Quinn, her former BFFs, was one of the biggest mistakes of her life.
Each book in this trilogy is told from the perspective of a different girl—Lyla, Aven, and Quinn—former best friends who, back in freshman year, wrote emails to their future selves about the one thing they hope to accomplish before they graduate. Over the course of the series, each girl will learn about life, love, and the truth about the fight that ended their perfect friendship.
Purchase Heat of the Moment at Amazon
Purchase Heat of the Moment at IndieBound
View Heat of the Moment on Goodreads
* * * *
Nil Unlocked
by Lynne Matson
Hardcover
Henry Holt and Co.
Released 5/12/2015
On the island of Nil, the rules are set. You have exactly 365 days to escape—or you die. Rives is now the undisputed Leader of Nil City, but keeping the City united is tougher than ever.
Raiders have grown bolder, supplies are dwindling, and non-human inhabitants have taken a turn toward the deadly. New arrivals cause rifts within the City, putting the Search system at risk, and calling everything Rives knows into question. Desperate for answers, he teams up with the only other person searching for them: Skye, a new arrival with a mysterious past of her own. Soon the duo find themselves locked in a desperate race to save all the residents of Nil—and possibly destroy the island forever. But at what cost? And who will pay the price?
Purchase Nil Unlocked at Amazon
Purchase Nil Unlocked at IndieBound
View Nil Unlocked on Goodreads
* * * *
The Hunted
by Matt de la Pena
Hardcover
Delacorte Press
Released 5/12/2015
The sequel to The Living, Matt de la Peña's The Hunted is a high-energy, action-packed survival story.
When the Big One hit, Shy was at sea in style. The Paradise Cruise luxury liner he worked on was a hulking specimen of the best money could buy. And now it's at the bottom of the Pacific Ocean, along with almost all of its passengers.
Shy wasn't the only one to survive, though. Addie, the rich blond daughter of a mysterious businessman, was on the dinghy he pulled himself into. But as soon as they found the rest of the survivors, she disappeared.
The only thing that filled the strange void of losing her was finding Carmen, his hot coworker, and discovering a way to get back home. But Shy's luck hasn't turned. Not yet.
Back on the dinghy, Addie told him a secret. It's a secret that people would kill for-have killed for-and she has the piece that could turn everything on its ear. The problem? Shy has no idea where Addie is. Back home in California seems logical, but there are more ways to die back home then Shy could ever have guessed.
And thanks to what Shy now knows, he's a moving target.
Purchase The Hunted at Amazon
Purchase The Hunted at IndieBound
View The Hunted on Goodreads
* * * *
Vanished
by E. E. Cooper
Hardcover
Katherine Tegen Books
Released 5/12/2015
Gone Girl meets Pretty Little Liars in this fast-paced psychological thriller full of delicious twists and turns.
Friendship. Obsession. Deception. Love.
Kalah knows better than to fall for Beth Taylor . . . but that doesn't stop her from falling hard and falling fast, heart first into a sea of complications.
Then Beth vanishes. She skips town on her eighteenth birthday, leaving behind a flurry of rumors and a string of broken hearts. Not even Beth's best friend, Britney, knows where she went. Beth didn't even tell Kalah good-bye.
One of the rumors links Beth to Britney's boyfriend, and Kalah doesn't want to believe the betrayal. But Brit clearly believes it--and before Kalah can sort out the truth, Britney is dead.
When Beth finally reaches out to Kalah in the wake of Brit's suicide, Kalah wants to trust what Beth tells her. But she's swiftly realizing that nothing here is as it seems. Kalah's caught in the middle of a deadly psychological game, and only she can untangle the deceptions and lies to reveal the unthinkable truth.
Purchase Vanished at Amazon
Purchase Vanished at IndieBound
View Vanished on Goodreads
a Rafflecopter giveaway