Since today is Memorial Day, we want to say how much we appreciate the brave women and men who are past or present members of the armed forces and honor the ones who gave the ultimate sacrifice. Thank you for your service.
We also want to share eighteen new books releasing this week, with eight author interviews, and five giveaways of four of the titles. Let us know in the comments which ones you're itching to read.
Happy reading,
Jocelyn, Martina, Jan, Shelly, Susan, Lisa, and Erin
YA BOOK GIVEAWAYS THIS WEEK
* * * *
Kissing in America
by Margo Rabb
Signed ARC Giveaway (2 Copies)

U.S. Only
HarperCollins
Released 5/26/2015
I loved romances because when you opened the first page, you knew the story would end well. Your heart wouldn't be broken. I loved that security, that guaranteed love.
In real life, you never knew the ending. I hated that.
Sixteen-year-old Eva has never been in love. But when she meets Will, everything changes. With him, her grief over her father's death fades, and she can escape from her difficult relationship with her mother. Then, without any warning, Will picks up and moves to California. So Eva—with the help of her best friend, Annie—concocts a plan to travel across the country to see him again. As they leave New York City for the first time and road-trip across America, they encounter cowboys, kudzu, and tiny towns without stoplights. Along the way, Eva and Annie learn the truth about love and all its complexities.
Author Question: What is your favorite thing about Kissing in America?
I loved writing about Eva as a poet, her connection to writing and her struggle to write again, and including poems in the novel. KISSING IN AMERICA includes many classic and contemporary poems, by W. H. Auden, Emily Dickinson, Adrienne Rich, Nikki Giovanni, Marie Howe, and others, and I loved including those in the book (although getting permission was quite a lot of work!)
Purchase Kissing in America at Amazon
Purchase Kissing in America at IndieBound
View Kissing in America on Goodreads
* * * *
Emancipated
by M. G. Reyes
Hardcover Giveaway

U.S. Only
Katherine Tegen Books
Released 5/26/2015
The good girl, the bad boy, the diva, the hustler, the rock star, and the nerd. Six teens legally liberated from parental control for six different reasons, all with one thing in common: something to hide.
Now they're sharing a house in Venice Beach, acting like a family, and living their lies. No parents. No limits. No alibis. One witnessed a crime, another might be a murderer—and one's been spying on them all.
As they cling to a fantasy of freedom and slowly let down their guards, the past creeps up on them. And when one of them gets arrested, everyone's carefully constructed facade comes crumbling down.
In this steamy, drama-filled series, relationships are tested and secrets revealed as lies threaten to destroy their perfect setup.
Author Question: What is your favorite thing about Emancipated?
My favourite thing is probably the chance to try something really different from my previous books - a contemporary 'realistic' setting for character drama. Before EMANCIPATED I'd mainly written action-adventure for a younger readership - both THE JOSHUA FILES and GEMINI FORCE ONE (written under MG Harris) are for 10-14. The older reading age of EMANCIPATED allows me to explore issues of morality and life choices in a much more realistic backdrop.

OK - the set-up of six rather gorgeous and talented teenagers living independently in a groovy beach shack has elements of fantasy, but there are no secret societies, or futuristic technology, or time-travelling villains to drive the plot. Instead, everything that happens - and as the trilogy progresses these things will be pretty, pretty bad - is the result of choices that the characters make, often under difficult circumstances.

I was a huge fan of Breaking Bad, and EMANCIPATED allows me to play in a similar arena of tricky moral choices, the slippery slope to crimes and misdemeanors. And that was fun for me, very different, a wonderful challenge.
Purchase Emancipated at Amazon
Purchase Emancipated at IndieBound
View Emancipated on Goodreads
* * * *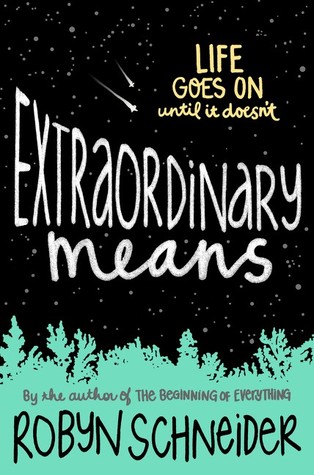 Extraordinary Means
by Robyn Schneider
Hardcover Giveaway

U.S. Only
Katherine Tegen Books
Released 5/26/2015
From the author of The Beginning of Everything: two teens with a deadly disease fall in love on the brink of a cure.
At seventeen, overachieving Lane finds himself at Latham House, a sanatorium for teens suffering from an incurable strain of tuberculosis. Part hospital and part boarding school, Latham is a place of endless rules and confusing rituals, where it's easier to fail breakfast than it is to flunk French.
There, Lane encounters a girl he knew years ago. Instead of the shy loner he remembers, Sadie has transformed. At Latham, she is sarcastic, fearless, and utterly compelling. Her friends, a group of eccentric troublemakers, fascinate Lane, who has never stepped out of bounds his whole life. And as he gradually becomes one of them, Sadie shows him their secrets: how to steal internet, how to sneak into town, and how to disable the med sensors they must wear at all times.
But there are consequences to having secrets, particularly at Latham House. And as Lane and Sadie begin to fall in love and their group begins to fall sicker, their insular world threatens to come crashing down. Told in alternating points of view, Extraordinary Means is a darkly funny story about doomed friendships, first love, and the rare miracle of second chances.
Author Question: What is your favorite thing about Extraordinary Means?
Extraordinary Means is a dual narrative, and my favorite thing about the book is something that readers might not even notice: the two narrators don't tell exactly the same story. Lane tells a coming of age story, which begins the moment he arrives at Latham House and ends when he leaves. His narrative is removed and introspective. And Sadie tells a love story. Her narrative begins the day she first sees Lane, more than a year after she's arrived at Latham House, and it ends after the question of whether or not they want to be together has been answered. So her narrative is more in the moment, and closer to the story. I think writing it that way helped me to understand which parts of the story belonged to which characters.
Purchase Extraordinary Means at Amazon
Purchase Extraordinary Means at IndieBound
View Extraordinary Means on Goodreads
* * * *
The Porcupine of Truth
by Bill Konigsberg
Hardcover Giveaway

U.S. Only
Arthur A. Levine Books
Released 5/26/2015
The author of OPENLY STRAIGHT returns with an epic road trip involving family history, gay history, the girlfriend our hero can't have, the grandfather he never knew, and the Porcupine of Truth.
Carson Smith is resigned to spending his summer in Billings, Montana, helping his mom take care of his father, a dying alcoholic he doesn't really know. Then he meets Aisha Stinson, a beautiful girl who has run away from her difficult family, and Pastor John Logan, who's long held a secret regarding Carson's grandfather, who disappeared without warning or explanation thirty years before. Together, Carson and Aisha embark on an epic road trip to find the answers that might save Carson's dad, restore his fragmented family, and discover the "Porcupine of Truth" in all of their lives.
Author Question: What is your favorite thing about The Porcupine of Truth?
My favorite thing is probably the relationship between Carson and Aisha (Cars-Isha for short). There's a lot of humor, there's some fighting, and in the end there is a tenderness to their friendship that I really love. It's a strong bond they forge, and both characters have had trouble forming close friendships so it's a beautiful thing.
Purchase The Porcupine of Truth at Amazon
Purchase The Porcupine of Truth at IndieBound
View The Porcupine of Truth on Goodreads
YA BOOK GIVEAWAYS LAST WEEK: WINNERS
* * * *
A Sense of the Infinite
by Hilary T. Smith
Hardcover
Katherine Tegen Books
Released 5/19/2015
Winner - Heather C.
By the author of the critically acclaimed Wild Awake, a beautiful coming-of-age story about deep friendship, the weight of secrets, and the healing power of nature.
It's senior year of high school, and Annabeth is ready—ready for everything she and her best friend, Noe, have been planning and dreaming. But there are some things Annabeth isn't prepared for, like the constant presence of Noe's new boyfriend. Like how her relationship with her mom is wearing and fraying. And like the way the secret she's been keeping hidden deep inside her for years has started clawing at her insides, making it hard to eat or even breathe.
But most especially, she isn't prepared to lose Noe.
For years, Noe has anchored Annabeth and set their joint path. Now Noe is drifting in another direction, making new plans and dreams that don't involve Annabeth. Without Noe's constant companionship, Annabeth's world begins to crumble. But as a chain of events pulls Annabeth further and further away from Noe, she finds herself closer and closer to discovering who she's really meant to be—with her best friend or without.
Hilary T. Smith's second novel is a gorgeously written meditation on identity, loss, and the bonds of friendship.
Author Question: What is your favorite thing about A Sense of the Infinite?
If you read the book's plot description, it sounds pretty dark. There's depression, teen pregnancy, friendships dissolving. But it's actually a very bright, funny, and hopeful book. There's a real sense in which Annabeth's life gets better in spite (and possibly because) of the fact that hard things are happening. And I have the feeling that if she looked back on that year in her life as an adult, she would feel a lot of love and pride.

The darkest times in my life have always had the brightest moments nestled within them—those moments of beauty or poetry or humor that are made more radiant in the context of pain. And that's my favorite thing about A SENSE OF THE INFINITE: it could have been a relentlessly grim and depressing book, but it has that brightness instead.
Purchase A Sense of the Infinite at Amazon
Purchase A Sense of the Infinite at IndieBound
View A Sense of the Infinite on Goodreads
* * * *
Chantress Fury
by Amy Butler Greenfield
Hardcover
Margaret K. McElderry Books
Released 5/19/2015
Winner - Kira B.
The sea is coming. We are coming. And we will drown you all.
With a song, Lucy can control the wind and the water; she can bring castles and kingdoms to their feet. Since Lucy mastered her powers, King Henry has kept her close as he's rebuilt England. She's his best ally—and his workhorse. And now he's called her to investigate attempted murder: His men claim they were almost killed on the Thames…by a mermaid. All Lucy can glean from the creature they've captured is a warning: The sea is coming. We are coming. And we will drown you all.
And then the floods begin. Swaths of London are submerged as the people scramble to defend themselves against the water—and the monsters—that are flooding their streets. As mistrust of Lucy's magic grows, the king relies on Nat, Lucy's great love, to guide them through the storm. But Nat is cold and distant to Lucy. He swore his love only a year before, and now he calls her "stranger."
Lucy is determined to defeat this powerful new magic alone if she must. But then she hears an eerie song within the water…can it mean that she's not the last Chantress after all?
Sweepingly romantic and crackling with magic, Chantress Fury triumphantly concludes the powerful Chantress trilogy.
Author Question: What is your favorite thing about Chantress Fury?
After I sold the CHANTRESS trilogy, so many writers warned me about the horrors of drafting Book 3. They were right in some ways: The deadlines for CHANTRESS FURY were tough, and so was the pressure to pull everything together once and for all. Yet I truly loved writing about a Chantress at the height of her powers, facing head-on all the challenges that come with being a powerful woman in her world. It was glorious to let out all the stops on the magic – to write about uncanny floods and devious mermaids and ferocious sea serpents attacking London (and that's just for starters)! It was a wild ride that brings Lucy full circle, giving her a deeper sense of who she is, and where she ultimately belongs.
Purchase Chantress Fury at Amazon
Purchase Chantress Fury at IndieBound
View Chantress Fury on Goodreads
* * * *
Killer Within
by S.E. Green
Hardcover
Simon Pulse
Released 5/19/2015
Winner - Molly M.
In the heart-pounding sequel to the "zippy, gripping psychological drama" (Kirkus Reviews) Killer Instinct, teen vigilante Lane must face the secrets and unexpected consequences that arise in the wake of her first kill.
It's been three months since Lane made her first kill—the sadistic Decapitator—and now she feels both closer and more alienated than ever from her united, grieving family. Haunted by conflicting memories of her mother, Lane resumes her role as the vigilante Masked Savior out of a feeling of obligation—but her heart just isn't in it anymore. Now that Lane has felt the rush of deeper, darker thrills, a growing part of her wants to revisit its seductive power, and she's not sure how long she can resist.
Meanwhile, the Masked Savior has inspired its own fan site, where groupies gather online to praise, document, and debate each delivered act of justice. But one of Lane's secret admirers is becoming a cunning copycat, exacting "justice" on defenseless innocents, increasing the violence with each attack.
Someone is watching Lane, edging closer to making contact. Someone who knows her darkest secrets. Will Lane be able to stop the copycat and keep her identity protected? Or will she give in to the thrills that tempt her?
Author Question: What is your favorite thing about Killer Within?
My favorite thing about KILLER WITHIN is my main character, Lane. She's just so badass!
Purchase Killer Within at Amazon
Purchase Killer Within at IndieBound
View Killer Within on Goodreads
* * * *
Lion Heart
by A.C. Gaughen
Hardcover
Bloomsbury USA Childrens
Released 5/19/2015
Winners - Carissa K. and Allison M.
The eagerly-awaited conclusion to the Scarlet trilogy delivers another action-packed and romance-filled adventure.
Scarlet has captured the hearts of readers as well as the heart of Robin Hood, and after ceaseless obstacles and countless threats, readers will finally find out the fate of the Lady Thief.
Only the greatest loves can survive great danger. . .
Imprisoned by Prince John for months, Scarlet finds herself a long way from Nottinghamshire. After a daring escape, she learns that King Richard's life is in jeopardy, and Eleanor of Aquitaine needs Scarlet's help to free him. For a lifelong thief, this newfound allegiance to the crown-her family-is a strange feeling.
Scarlet knows that helping Eleanor will put her and those she loves back in Prince John's sights. Desperate not to risk anyone's life but her own, Scarlet formulates a plan to help save the king on her own. But fate-and her heart-won't allow her to stay away from Nottinghamshire for long. Even if Scarlet and Rob can together stop Prince John from going through with his dark plans for England, will their love be enough to save them once and for all?
Author Question: What is your favorite thing about Lion Heart?
Well, I think my very favorite thing is *CHOCK FULL O SPOILERS*, but my second favorite thing was developing the relationship between Scarlet and Eleanor of Aquitaine. Eleanor has been one of my favorite characters of all time--she's complicated and strong; she wielded incredible power and yet also had to invest her power in both her sons and her two husbands. She was a woman of powerful paradoxes!

There's this moment in LION HEART when Eleanor is attacked, and Scarlet has to fight like hell to save Eleanor and the ladies in her service. When it's over, the ladies take refuge at an abbey to clean up and regroup. They're all dirty and need to bathe, and Scarlet is bleeding--not drastically, but enough to get the water really gross, and in those days, you shared bathwater. She waits until the others bathe, and when she gets in the bath, Eleanor washes her hair, and the other women help clean her. Scarlet starts crying--this moment of intense vulnerability--and she just lets the other women help her.

This was a huge moment for Scarlet, to let someone else help her, but it was also this really emotional moment for me to write--it felt like me honoring all the women in my life who are there to pick me up when I'm broken, to wash my hair and heal me. Considering this book, this series, this whole dream of being a writer is something I wouldn't have accomplished without a tremendous amount of love in my corner, that tiny little thank you means a lot to me.
Purchase Lion Heart at Amazon
Purchase Lion Heart at IndieBound
View Lion Heart on Goodreads
* * * *
Maximum Ride Forever
by James Patterson
Hardcover
Little, Brown and Company
Released 5/18/2015
Winner - Alicia E.
THE NINTH AND ULTIMATE MAXIMUM RIDE STORY IS HERE! Legions of Max fans won't be disappointed by this encore episode in the beloved series about the incredible adventures of a teenage girl who can fly. As Maximum Ride boldly navigates a post-apocalyptic world, she and her broken flock are roaming the earth, searching for answers to what happened. All will be revealed in this last spectacular "ride"- a brand-new grand finale featuring all of the nonstop action, twists and turns that readers can rely on in a blockbuster Patterson page turner!
Purchase Maximum Ride Forever at Amazon
Purchase Maximum Ride Forever at IndieBound
View Maximum Ride Forever on Goodreads
* * * *
Sparks in Scotland
by A. Destiny and Rhonda Helms
Paperback
Simon Pulse
Released 5/19/2015
Winner - Alisha S.
First crush, first love, first kiss—Ava learns about more than her heritage while vacationing in Scotland in this addition to the sweet and clean Flirt series!
Ava is going on vacation to Scotland, where she's supposed to learn more about her Scottish heritage. She's excited to see the castles, abbeys, and coastal hills—and maybe even catch a glimpse of Nessie herself—but Ava doesn't expect to meet Graham.
He's cute, sweet, and has the perfect Scottish accent…but does he like her as much as she likes him?
And if there is something of a mutual attraction there, Ava wonders, is it worth pursuing a crush when she'll be on the other side of the Atlantic in just two weeks?
Purchase Sparks in Scotland at Amazon
Purchase Sparks in Scotland at IndieBound
View Sparks in Scotland on Goodreads
MORE YOUNG ADULT FICTION IN STORES NEXT WEEK WITH AUTHOR INTERVIEWS
* * * *
Charmed
by Michelle Krys
Hardcover
Delacorte Press
Released 5/26/2015
Indie has spent the last few weeks frantically searching for Paige. She's tried every spell imaginable, but witchcraft has gotten her nowhere, and she's going crazy with guilt. Despite what her warlock boyfriend, Bishop, tells her, Indie knows it's her fault her best friend was kidnapped by the Priory. And with the Priory destroyed, finding Paige feels more hopeless than ever-especially when Indie discovers that Paige isn't even on Earth. She's trapped in Los Demonios, an alternate dimension of Los Angeles filled with evil paranormals. No one who has gone there has ever come out.
Fueled by terror and loyalty, Indie is desperate to find a way into the underworld prison. She'll worry about getting out later. But facing the dark world's most dangerous witches and warlocks on her own means keeping her plan hush-hush-and forging alliances with some sketchy people, including a seriously sexy sorcerer.
Sometimes a witch must keep secrets from the people she cares about most. And sometimes she isn't the only one with secrets…
Author Question: What is your favorite thing about Charmed?
*Hexed Spoilers ahead*

I love so many things about CHARMED—the alternate dimension prison city, the magic, the shocking twists and turns—but what I love most is Indie's character development. In HEXED, Indie discovers she's a witch at the same moment as she's thrust into this centuries-old war between witches and sorcerers, which leaves her a little bit dependent on Bishop, a seasoned warlock, for answers and protection. But in CHARMED, Indie fully embraces her powers and stands on her own as a witch. I love her transformation!
Purchase Charmed at Amazon
Purchase Charmed at IndieBound
View Charmed on Goodreads
* * * *
I Am Princess X
by Cherie Priest
Hardcover
Arthur A. Levine Books
Released 5/26/2015
Best friends, big fans, a mysterious webcomic, and a long-lost girl collide in this riveting novel, perfect for fans of both Cory Doctorow and Sarah Dessen, and illustrated throughout with comics.
Once upon a time, two best friends created a princess together. Libby drew the pictures, May wrote the tales, and their heroine, Princess X, slayed all the dragons and scaled all the mountains their imaginations could conjure.
Once upon a few years later, Libby was in the car with her mom, driving across the Ballard Bridge on a rainy night. When the car went over the side, Libby passed away, and Princess X died with her.
Once upon a now: May is sixteen and lonely, wandering the streets of Seattle, when she sees a sticker slapped in a corner window.
Princess X?
When May looks around, she sees the Princess everywhere: Stickers. Patches. Graffiti. There's an entire underground culture, focused around a webcomic at IAmPrincessX.com. The more May explores the webcomic, the more she sees disturbing similarities between Libby's story and Princess X online. And that means that only one person could have started this phenomenon - her best friend, Libby, who lives.
Author Question: What is your favorite thing about I Am Princess X?
I really love the way the fantasy-themed web comic threads through the contemporary mystery - I think they're a perfect complement to one another, and the artist did an amazing job of capturing the vibe I was hoping for.
Purchase I Am Princess X at Amazon
Purchase I Am Princess X at IndieBound
View I Am Princess X on Goodreads
* * * *
Immaculate
by Katelyn Detweiler
Hardcover
Viking Books for Young Readers
Released 5/26/2015
Mina is seventeen. A virgin. And pregnant.
Mina is top of her class, girlfriend to the most ambitious guy in school, able to reason and study her way through anything. But when she suddenly finds herself pregnant—despite having never had sex—her orderly world collapses. Almost nobody believes Mina's claims of virginity. Her father assumes that her boyfriend is responsible; her boyfriend believes she must have cheated on him. As news of Mina's story spreads, there are those who brand her a liar. There are those who brand her a heretic. And there are those who believe that miracles are possible—and that Mina's unborn child could be the greatest miracle of all.
Author Question: What is your favorite thing about Immaculate?
The strong females. Especially the main character, 17-year-old Mina, as she has to face down this massive transformation of her goals, dreams, values, beliefs in the aftermath of finding out about her totally unexpected pregnancy. The entire map of her future is, virtually overnight, shifting into something completely unrecognizable. And there are the female friendships that define her as well, the powerful bonds that shape her story: her mom, her little sister Gracie, her two closest friends, Hannah and Izzy. Mina has this fierce net of women around her at all times, to catch her when she needs it most, but at the end of the day, she has to be her own strongest supporter.

My dad always raised me with the idea that it's not what happens to us in life that matters, but how we deal with what happens. This book is all about "dealing" with a quite unexpected happening, and how someone—how Mina—becomes better and braver because of that ultimate test of character. And it's also about how the rest of her relationships evolve, too, the struggles that test these bonds to their limits and ultimately make them stronger than they've ever been.
Purchase Immaculate at Amazon
Purchase Immaculate at IndieBound
View Immaculate on Goodreads
* * * *
The Cage
by Megan Shepherd
Hardcover
Balzer + Bray
Released 5/26/2015
The Maze Runner meets Scott Westerfeld in this gripping new series about teens held captive in a human zoo by an otherworldly race. From Megan Shepherd, the acclaimed author of The Madman's Daughter trilogy.
When Cora Mason wakes in a desert, she doesn't know where she is or who put her there. As she explores, she finds an impossible mix of environments—tundra next to desert, farm next to jungle, and a strangely empty town cobbled together from different cultures—all watched over by eerie black windows. And she isn't alone.
Four other teenagers have also been taken: a beautiful model, a tattooed smuggler, a secretive genius, and an army brat who seems to know too much about Cora's past. None of them have a clue as to what happened, and all of them have secrets. As the unlikely group struggles for leadership, they slowly start to trust each other. But when their mysterious jailer—a handsome young guard called Cassian—appears, they realize that their captivity is more terrifying than they could ever imagine: Their captors aren't from Earth. And they have taken the five teenagers for an otherworldly zoo—where the exhibits are humans.
As a forbidden attraction develops between Cora and Cassian, she realizes that her best chance of escape might be in the arms of her own jailer—though that would mean leaving the others behind. Can Cora manage to save herself and her companions? And if so . . . what world lies beyond the walls of their cage?
Author Question: What is your favorite thing about The Cage?
I love how THE CAGE has an unabashedly old-school sci-fi feel. The book is about six teenagers put in a "human zoo" by an all-powerful, psychic race, and though it's often terrifying for them, it's also sort of fun. Their alien captors don't quite understand humanity, so they make quirky little mistakes while trying to recreate our world. Some of the captives also find that they sort of enjoy the easy life and luxury of captivity. It has a TWILIGHT ZONE or PLANET OF THE APES feel, which were some of my favorite types of sci-fi stories growing up.
Purchase The Cage at Amazon
Purchase The Cage at IndieBound
View The Cage on Goodreads
MORE YOUNG ADULT NOVELS NEW IN STORES NEXT WEEK
* * * *
A Conspiracy of Princes
by Justin Somper
Hardcover
Little, Brown Books for Young Readers
Released 5/26/2015
The newly crowned Prince Jared, ruler of All Archenfield, has inherited a kingdom in crisis. The murder of his older brother has revealed a traitorous plot in his court, calling into question who, if anyone, Jared can trust as he ascends the throne. Now the realm is on the brink of invasion from the brutal princes of Paddenburg and Jared must travel to neighboring kingdoms in search of allies to defend his throne. Little does he know that an even more dangerous plot is hatching in the Archenfield court--one that threatens to remove Jared from power. One put in motion by the very people he left in charge.
The second book in Justin Somper's Allies & Assassins series delivers another twisted tale of high-stakes betrayal and political machinations set amid a lush medieval background.
Purchase A Conspiracy of Princes at Amazon
Purchase A Conspiracy of Princes at IndieBound
View A Conspiracy of Princes on Goodreads
* * * *
Daughter of Deep Silence
by Carrie Ryan
Hardcover
Dutton Books for Young Readers
Released 5/26/2015
I'm the daughter of murdered parents.
I'm the friend of a dead girl.
I'm the lover of my enemy.
And I will have my revenge.
In the wake of the devastating destruction of the luxury yacht Persephone, just three souls remain to tell its story—and two of them are lying. Only Frances Mace knows the terrifying truth, and she'll stop at nothing to avenge the murders of everyone she held dear. Even if it means taking down the boy she loves and possibly losing herself in the process.
Sharp and incisive, Daughter of Deep Silence by bestselling author Carrie Ryan is a deliciously smart revenge thriller that examines perceptions of identity, love, and the lengths to which one girl is willing to go when she thinks she has nothing to lose.
Purchase Daughter of Deep Silence at Amazon
Purchase Daughter of Deep Silence at IndieBound
View Daughter of Deep Silence on Goodreads
* * * *
Dime
by E. R. Frank
Hardcover
Atheneum Books for Young Readers
Released 5/26/2015
The realities of teen prostitution are revealed in this eye-opening, heartbreaking story from the author of America, which Booklist called "a piercing, unforgettable novel" and Kirkus Reviews deemed "a work of sublime humanity."
As a teen girl in Newark, New Jersey, lost in the foster care system, Dime just wants someone to care about her, to love her. A family. And that is exactly what she gets-a daddy and two "wifeys." So what if she has to go out and earn some coins to keep her place? It seems a fair enough exchange for love.
Dime never meant to become a prostitute. It happened so gradually, she pretty much didn't realize it was happening until it was too late.
But when a new "wifey" joins the family and Dime finds out that Daddy doesn't love her the way she thought he did, will Dime have the strength to leave? And will Daddy let her?
Purchase Dime at Amazon
Purchase Dime at IndieBound
View Dime on Goodreads
* * * *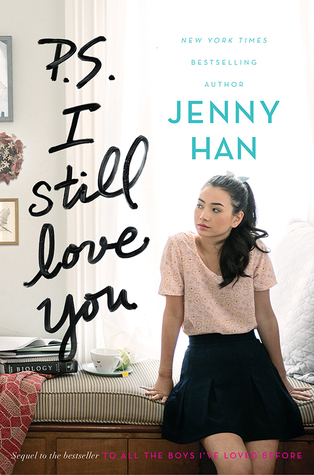 P.S. I Still Love You
by Jenny Han
Hardcover
Simon & Schuster Books for Young Readers
Released 5/26/2015
Lara Jean didn't expect to really fall for Peter.
She and Peter were just pretending. Except suddenly they weren't. Now Lara Jean is more confused than ever.
When another boy from her past returns to her life, Lara Jean's feelings for him return too. Can a girl be in love with two boys at once?
In this charming and heartfelt sequel to the New York Times bestseller To All the Boys I've Loved Before, we see first love through the eyes of the unforgettable Lara Jean. Love is never easy, but maybe that's part of makes it so amazing.
Purchase P.S. I Still Love You at Amazon
Purchase P.S. I Still Love You at IndieBound
View P.S. I Still Love You on Goodreads
* * * *
Shadow of the Wolf
by Tim Hall
Hardcover
David Fickling Books
Released 5/26/2015
A stunning re-imagining of Robin Hood, the first in an exciting new trilogy.
Forget everything you've ever heard about Robin Hood.
Robin Loxley is seven years old when his parents disappear without a trace. Years later the great love of his life, Marian, is also taken from him. Driven by these mysteries, and this anguish, Robin follows a darkening path into the ancient heart of Sherwood Forest. What he encounters there will leave him transformed . . .
The first book of a trilogy, Shadow of the Wolf is a breathtakingly original--and utterly compelling--retelling that will forever alter the legend of Robin Hood.
Purchase Shadow of the Wolf at Amazon
Purchase Shadow of the Wolf at IndieBound
View Shadow of the Wolf on Goodreads
* * * *
The Death Code
by Lindsay Cummings
Hardcover
Greenwillow Books
Released 5/26/2015
Action-packed, blood-soaked, and chilling, this is the dark and compelling sequel to the bestselling The Murder Complex, which Booklist praised as "carefully crafted . . . chilling" and Justine magazine called "a must for fans of action-packed dystopians like The Hunger Games and Divergent."
With short, fast-paced, alternating point-of-view chapters, The Death Code starts several weeks after The Murder Complex ends. Zephyr keeps the secret about Meadow close—that if she dies, The Murder Complex will be destroyed, too. Meadow, desperate to find her brother, father, and little sister, is determined to fight fearlessly to the end, even if it means sacrificing herself and her friends, new and old. The Death Code introduces a memorable cast of secondary characters and delivers a vivid and scary thrill ride read. For fans of La Femme Nikita, Legend, and Hanna.
Purchase The Death Code at Amazon
Purchase The Death Code at IndieBound
View The Death Code on Goodreads
* * * *
The Edge of the Shadows
by Elizabeth George
Hardcover
Viking Books for Young Readers
Released 5/26/2015
The much anticipated third installment of the Whidbey Island saga.
Whidbey Island, a place of secrets and mystery, is home now for Becca King, still in hiding from her criminal stepfather. But Becca and her friends have new worries, as a series of fires are being set, the latest causing a fatality. Is one of the newcomers to blame? Perhaps it's Isis Martin's brother, just back from a school for troubled kids, or Parker, a musician fired by his bandmates. Meanwhile, Becca herself continues to slowly explore her own paranormal abilities under the tutelage of Diana Kinsale.
Elizabeth George, nominated for an Edgar and an Agatha award for The Edge of Nowhere, her first book set on Whidbey Island, proves once again that she is a suspense novelist without peer.
Purchase The Edge of the Shadows at Amazon
Purchase The Edge of the Shadows at IndieBound
View The Edge of the Shadows on Goodreads
* * * *
The Eternal City
by Paula Morris
Hardcover
Point
Released 5/26/2015
From master of suspense Paula Morris comes a tale of gods and goddesses, thrilling romance, and mystery set in present-day Rome.
Laura Martin is visiting Rome on a class trip, and she's entranced by the majestic Colosseum, the Trevi Fountain, the Pantheon. . . . Everything in this city seems magical.
That is, until the magic seems to turn very dark.
Suddenly, statues of Cupid and ancient works of art come to life before her eyes. Earthquakes rumble and a cloud of ash forms in the sky. A dark-eyed boy with wings on his heels appears and gives her a message. Laura soon realizes she is at the center of a brewing battle -- a battle between the gods and goddesses, one that will shake modern-day Rome to its core.
Only she and her group of friends can truly unravel the mystery behind what is happening. As tensions mount and secret identities are revealed, Laura must rely on her own inner strength to face up to what may be a fight for her life.
Acclaimed author Paula Morris brings the ancient world to vivid life in this unstoppable tale of friendship, love, and the power of the past.
Purchase The Eternal City at Amazon
Purchase The Eternal City at IndieBound
View The Eternal City on Goodreads
* * * *
The Tenderness of Thieves
by Donna Freitas
Hardcover
Philomel Books
Released 5/26/2015
A summer romance filled with danger and lies
Jane is ready for a fantastic summer. In fact, she's pretty sure the universe owes her one.
This past winter, Jane was held at knifepoint during an armed robbery and the specter of that night still haunts her. A summer romance with one of the town bad boys -- sexy Handel Davies, who takes her breath away and makes her feel like a bolder version of herself -- seems like the universe's way of paying her back.
But bad boys always have secrets, and Handel's secret just might shatter Jane completely.
This suspense novel marries psychological thriller with summer romance and is perfect for teen fans of Gillian Flynn's Gone Girl.
Purchase The Tenderness of Thieves at Amazon
Purchase The Tenderness of Thieves at IndieBound
View The Tenderness of Thieves on Goodreads
* * * *
Tiny Pretty Things
by Sona Charaipotra and Dhonielle Clayton
Hardcover
HarperTeen
Released 5/26/2015
Black Swan meets Pretty Little Liars in this soapy, drama-packed novel featuring diverse characters who will do anything to be the prima at their elite ballet school.
Gigi, Bette, and June, three top students at an exclusive Manhattan ballet school, have seen their fair share of drama. Free-spirited new girl Gigi just wants to dance—but the very act might kill her. Privileged New Yorker Bette's desire to escape the shadow of her ballet star sister brings out a dangerous edge in her. And perfectionist June needs to land a lead role this year or her controlling mother will put an end to her dancing dreams forever. When every dancer is both friend and foe, the girls will sacrifice, manipulate, and backstab to be the best of the best.
Purchase Tiny Pretty Things at Amazon
Purchase Tiny Pretty Things at IndieBound
View Tiny Pretty Things on Goodreads
a Rafflecopter giveaway