Elaine, tell us about your inspiration for writing MATERIAL GIRLS.
The inspiration came from several places. I kept reading fashion magazines and discovering that a shoe style or color I liked wearing was "out" that season. I also taught at a girls' school and noticed that the gulf between "mom" fashion and "girl" fashion had narrowed. It wasn't clear whether the moms were taking fashion cues from their daughters, or vice versa… so I began thinking about a world where children set trends. I also watched the media devour young celebrities and thought about their experiences. Would you miss your family? What if you had to conceal your sexual orientation? What would it be like to lose your fame? The novel is an exploration of these questions.
What scene was really hard for you to write and why, and is that the one of which you are most proud? Or is there another scene you particularly love?
One favorite chapter is Ivy at the Torro-LeBlanc Runway Show wearing the painful "torture trend" garments. It was a scene I dreamt up early on, and I procrastinated for a while because I was afraid the vision in my head wouldn't match the words on the page. When I finally started to write it—true story—I was pregnant and sitting in a café in extremely tight-fitting pants. My stomach ached, and in the midst of the pain I made myself write the descriptions of Ivy's boned corset and stalagmite shoes, etc. My own discomfort got me started, and the rest of the chapter spilled out!
What do you hope readers will take away from MATERIAL GIRLS?
I want readers to think a little harder about where their clothing comes from and where it's going. I also want them to realize that celebrity is alluring, but it comes at a cost.
How long or hard was your road to publication? How many books did you write before this one, and how many never got published?
I have no patience for anyone who has an easy journey to publication! I earned an M.F.A., wrote a historical mystery that never sold, and then began work on MATERIAL GIRLS. After working on it for two years, I secured an agent fairly quickly, but it took two revisions to sell it. I will say this: I'm glad the bar of traditional publishing remains high. Though the rejections stung, the suggestions editors provided improved the manuscript, and I'm grateful to them.
What book or books would most resonate with readers who love your book--or visa versa?
FEED by M.T. Anderson and BRAVE NEW WORLD by Aldous Huxley. I stole everything from these novels. I also recommend the dystopian film BRAZIL. It piqued my interest in the genre during my adolescence.
What's your writing ritual like? Do you listen to music? Work at home or at a coffee shop or the library, etc?
I used to be unable to start writing until I had my cocoa, the temperature in the café hit 71 degrees, and Jupiter aligned with Mars. Then, life got busier, and I had to train myself to work whenever I had my laptop and a stretch of time. If a story is pulsing in my head, I can write anywhere.
What advice would you most like to pass along to other writers?
Don't get sidetracked designing a website and managing a blog and accumulating Twitter followers. These things are important, but they are all secondary to the writing. Always be striving to improve your craft. The writing is what matters.
ABOUT THE BOOK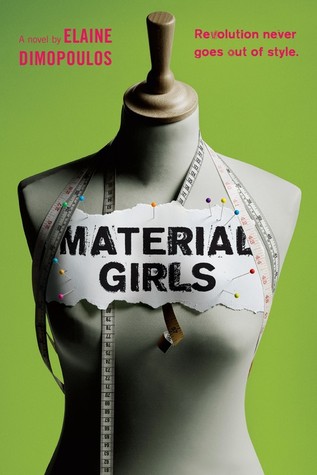 Material Girls
by Elaine Dimopoulos
Hardcover
HMH Books for Young Readers
Released 5/5/2015
In Marla Klein and Ivy Wilde's world, teens are the gatekeepers of culture.
A top fashion label employs sixteen-year-old Marla to dictate hot new clothing trends, while Ivy, a teen pop star, popularizes the garments that Marla approves. Both girls are pawns in a calculated but seductive system of corporate control, and both begin to question their world's aggressive levels of consumption. Will their new "eco-chic" trend subversively resist and overturn the industry that controls every part of their lives?
Smart, provocative, and entertaining, this thrilling page-turner for teens questions the cult like mentality of fame and fashion. Are you in or are you out?
Purchase Material Girls at Amazon
Purchase Material Girls at IndieBound
View Material Girls on Goodreads
ABOUT THE AUTHOR
Elaine studied writing at Simmons College's Center for the Study of Children's Literature. She was admitted to its M.F.A. program on the basis of a single short story. That story would become the first chapter of her novel Material Girls.
Before dedicating herself to writing for young people, Elaine earned a degree in literature from Yale and an M.A. in education leadership from the Klingenstein Center at Columbia. She currently teaches children's literature and writing courses at Boston University and Grub Street. She served as the Associates of the Boston Public Library's Children's Writer-in-Residence while she wrote Material Girls and was also named a St. Botolph Club Emerging Artist. She blogs about children's books for the parenting site Mommybites.com, and her writing has appeared in Of Looms and Lilies, a modern dance composition by choreographer Jody Weber. Elaine lives outside Boston with her family.
What did you think of our interview with Elaine Dimopoulos, author of MATERIAL GIRLS? Let us know in the comments!
Martina, Jocelyn, Shelly, Jan, Lisa, Susan, and Erin