There are so many fantastic books coming out this week in a variety of genres that there should be something for every reading taste. Check out the descriptions to see which will be the latest additions to your 'to be read' pile. Plus make sure to enter to win one of the five great books we're giving away below.
Happy reading,
Jocelyn, Martina, Jan, Shelly, Susan, Lisa, and Erin
YA BOOK GIVEAWAYS THIS WEEK
* * * *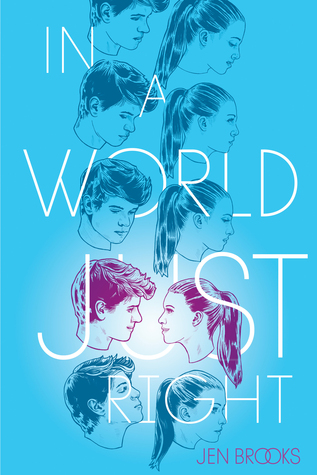 In a World Just Right
by Jen Brooks
Signed Hardcover Giveaway

International
Simon & Schuster Books for Young Readers
Released 4/28/2015
Imagination takes on new meaning for a uniquely talented teen in this debut novel that is a breathtaking blend of contemporary, fantasy, and romance.
Sometimes Jonathan Aubrey wishes he could just disappear. And as luck—or fate—would have it, he can. Ever since coming out of a coma as a kid, he has been able to create alternate worlds. Worlds where he is a superhero, or a ladies' man, or simply a better version of himself. That's the world he's been escaping to most since sophomore year, a world where he has everything he doesn't have in real life: friends, a place of honor on the track team, passing grades, and most importantly, Kylie Simms as his girlfriend.
But when Jonathan confuses his worlds senior year and tries to kiss the real Kylie Simms, everything unravels. The real Kylie actually notices Jonathan…and begins obsessing over him. The fantasy version of Kylie struggles to love Jonathan as she was created to do, and the consequences are disastrous. As his worlds collide, Jonathan must confront the truth of his power and figure out where he actually belongs—before he loses both Kylies forever.
Author Question: What is your favorite thing about In a World Just Right?
My favorite thing about IN A WORLD JUST RIGHT is the ending. It's hard to say more without giving spoilers! I will say that although this is my first published book, it's my third completed manuscript, and I think the way the ending came together was the result of a lot of things learned by writing manuscripts 1 and 2, whose endings didn't have the pay-off I really wanted. But that's how you grow as a writer (and a person!). You work at something until you get better at it. And, boy, as much as I enjoy it, writing is work for me. It's been really rewarding to read reviewer reactions to the events in the final chapters.
Purchase In a World Just Right at Amazon
Purchase In a World Just Right at IndieBound
View In a World Just Right on Goodreads
* * * *
The Secrets We Keep
by Trisha Leaver
Signed Hardcover Giveaway

U.S. Only
Farrar, Straus and Giroux
Released 4/28/2015
A girl takes over her twin sister's identity in this emotionally charged page-turner about the complicated bond between sisters.
Ella and Maddy Lawton are identical twins. Ella has spent her high school years living in popular Maddy's shadows, but she has never been envious of Maddy. In fact, she's chosen the quiet, safe confines of her sketchbook over the constant battle for attention that has defined Maddy's world.
When—after a heated argument—Maddy and Ella get into a tragic accident that leaves her sister dead, Ella wakes up in the hospital surrounded by loved ones who believe she is Maddy. Feeling responsible for Maddy's death and everyone's grief, Ella makes a split-second decision to pretend to be Maddy. Soon, Ella realizes that Maddy's life was full of secrets. Caught in a web of lies, Ella is faced with two options—confess her deception or live her sister's life.
Author Question: What is your favorite thing about The Secrets We Keep?
In one word: Josh! Is it wrong to have a crush on one of your own characters!?! If so, then I am guilty as charged. He is quiet and loyal to a fault. He shares Ella's passion for art, understands her quirks and is the one who eventually makes her see the truth—that she is as loved, as valued as her twin sister. He's the kind of friend I wished I had growing up.
Purchase The Secrets We Keep at Amazon
Purchase The Secrets We Keep at IndieBound
View The Secrets We Keep on Goodreads
* * * *
The Secrets of Attraction
by Robin Constantine
Signed Hardcover Giveaway

U.S. Only
Balzer + Bray
Released 4/28/2015
Set in the same world as
The Promise of Amazing
, this smart, surprising, and (of course) romantic follow-up to Robin Constantine's debut novel follows two New Jersey teens as they become friends and fall in love.
Madison Parker is on fast-forward. Working toward a scholarship for a summer art program, she already has her future figured out. But when a visit from a family friend turns her life upside down, everything she thought she knew becomes blurred. All she wants is to stand still for a moment.
Jesse McMann is stuck on repeat. Reeling from a breakup that shattered his heart and his band, Jesse divides his time between working as a barista and trying to find the inspiration to write music again. All he wants to do is move forward.
The night Maddie strolls into Jesse's coffee shop after yoga class, the last thing on his mind is hooking up, but her smile and witty comebacks are hard to ignore. The spark between them is undeniable, but once-a-week flirting is hardly the stuff of epic romance.
Kismet arrives in the unlikely form of Grayson Barrett. When Jesse discovers that Gray's girlfriend is also Maddie's best friend, he invites Gray to join his band as their new drummer, hoping this connection will give him more time around Maddie. Slowly but surely, Jesse and Maddie forge a friendship, but do they have what it takes to make their relationship truly sync?
Author Question: What is your favorite thing about The Secrets of Attraction?
The Secrets of Attraction
is a companion to my first novel
The Promise of Amazing
, and I loved having characters from the first book play an integral role in this book too. It's Madison and Jesse's story, but Wren, Grayson and Jazz are featured, and I enjoyed revisiting their world of private school and coffee shops and garage bands. I also love the swoony parts! Lots and lots of swoon in this one, which is always fun to write!
Purchase The Secrets of Attraction at Amazon
Purchase The Secrets of Attraction at IndieBound
View The Secrets of Attraction on Goodreads
* * * *
The Boyfriend Project
by Rachel Hawthorne
Signed Paperback Giveaway

U.S. Only
HarperTeen
Released 4/28/2015
Perfect for fans of Stephanie Perkins, Lauren Barnholdt, and Susane Colasanti, The Boyfriend Project is a romantic read about a girl who wishes her sweet boyfriend had a little more edge.
Kendall and her boyfriend, Jeremy, have been together forever, and Kendall is starting to wonder if Jeremy is a little boring. . . . So she embarks on a boyfriend makeover. But as Jeremy learns to strut his stuff, other girls start to notice him and, what's worse, he's noticing them back. Then Jeremy breaks up with Kendall and she realizes her makeover project was the ultimate disaster. Is the sweet boyfriend she loved gone forever?
A companion novel to Rachel Hawthorne's paperback original
Trouble from the Start
, this title is perfect for fans of summer beach reads and sweet treats.
Author Question: What is your favorite thing about The Boyfriend Project?
My favorite thing about THE BOYFRIEND PROJECT is that it explores the old adage that the grass is always greener on the other side. This book is a companion to TROUBLE FROM THE START. Kendall loves Jeremy but he seems a little boring compared with her best friend's new bad-boy-turned-good boyfriend. So she starts suggesting ways that he might change. It was fun writing his metamorphosis and figuring out ways that he might change that didn't really alter the essence of him. I think sometimes we all wonder what if or if we're missing out on something. We search for what we think we will make us happy when it's actually been with us all along.

I'll also admit that I loved all the dogs in the story. Kendall works at a dog shelter. The various dogs featured in the story were part of my life at one time or another, so it was fun to visit with them again.
Purchase The Boyfriend Project at Amazon
Purchase The Boyfriend Project at IndieBound
View The Boyfriend Project on Goodreads
* * * *
Trouble from the Start
by Rachel Hawthorne
Signed Paperback Giveaway

U.S. Only
HarperTeen
Released 4/28/2015
One of two companion novels from beach-read favorite Rachel Hawthorne, this cute, romantic paperback original is about a good girl who falls for a bad guy.
Avery knows better than to fall for Fletcher, the local bad boy who can't seem to outrun his reputation. Fletcher knows he shouldn't bother with college-bound, daughter-of-a-cop Avery. But when their paths cross, neither can deny the spark. Are they willing to go against everything and let their hearts lead the way? Or are they just flirting with disaster?
Trouble from the Start
releases simultaneously with companion novel
The Boyfriend Project
. These heartwarming paperback originals are the perfect summer reads, great for fans of Jennifer Echols, Lauren Barnholdt, and Susane Colasanti.
Author Question: What is your favorite thing about Trouble from the Start?
My favorite thing about TROUBLE FROM THE START is the banter between the heroine Avery and the hero Fletcher. Avery is super-smart so she is really quick with comebacks. Fletcher has a bad-boy reputation and wants to be a loner so he will say things hoping that it'll cause Avery to leave him alone. But she's not having it. Due to mysterious circumstances that are revealed later, Fletcher is staying in the apartment above her family's garage and she's determined he'll be part of the family, whether he wants to be or not.

I also love the attraction these two feel toward each other. They represent the opposites attract rule. Avery loves school; Fletcher just wants it to end. Avery never breaks the rules; Fletcher thinks rules exist to be broken. Avery has plans and dreams. Fletcher just wants to make it through to the next day. Avery wants to fall in love with Mr. Right. Fletcher is definitely Mr. Wrong.
Purchase Trouble from the Start at Amazon
Purchase Trouble from the Start at IndieBound
View Trouble from the Start on Goodreads
YA BOOK GIVEAWAYS LAST WEEK: WINNERS
* * * *
Becoming Jinn
by Lori Goldstein
Signed Hardcover plus Swag
Feiwel & Friends
Released 4/21/2015
Winner - Alicia Ezell
Forget everything you thought you knew about genies!
Azra has just turned sixteen, and overnight her body lengthens, her olive skin deepens, and her eyes glisten gold thanks to the brand-new silver bangle that locks around her wrist. As she always knew it would, her Jinn ancestry brings not just magical powers but the reality of a life of servitude, as her wish granting is controlled by a remote ruling class of Jinn known as the Afrit.
To the humans she lives among, she's just the girl working at the snack bar at the beach, navigating the fryer and her first crush. But behind closed doors, she's learning how to harness her powers and fulfill the obligations of her destiny.
Mentored by her mother and her Zar "sisters," Azra discovers she may not be quite like the rest of her circle of female Jinn . . . and that her powers could endanger them all. As Azra uncovers the darker world of becoming Jinn, she realizes when genies and wishes are involved, there's always a trick.
Author Question: What is your favorite thing about Becoming Jinn?
I love the world that is BECOMING JINN, meaning that it is a contemporary fantasy. Jinn is steeped in and reads very much like a straight contemporary and yet there's magic and granting wishes and teleportation, or apping as the Jinn call it, that make it a fantasy as well. The merging of these elements comes together in a way that I love writing and have always loved reading. It has the ability to bring contemporary fans into the world of fantasy and vice versa in a very accessible way. And it's just fun. I mean, who doesn't want to lounge on a beach in this world we live in but be able to conjure mint chocolate chip ice cream? I certainly do!
Purchase Becoming Jinn at Amazon
Purchase Becoming Jinn at IndieBound
View Becoming Jinn on Goodreads
* * * *
The Remedy
by Suzanne Young
Hardcover
Simon Pulse
Released 4/21/2015
Winner - Tammy VanScoy
Can one girl take on so many identities without losing her own? Find out in this riveting companion to The Program and the New York Times bestselling The Treatment.
In a world before The Program…
Quinlan McKee is a closer. Since the age of seven, Quinn has held the responsibility of providing closure to grieving families with a special skill—she can "become" anyone.
Recommended by grief counselors, Quinn is hired by families to take on the short-term role of a deceased loved one between the ages of fifteen and twenty. She's not an exact copy, of course, but she wears their clothes and changes her hair, studies them through pictures and videos, and soon, Quinn can act like them, smell like them, and be them for all intents and purposes. But to do her job successfully, she can't get attached.
Now seventeen, Quinn is deft at recreating herself, sometimes confusing her own past with those of the people she's portrayed. When she's given her longest assignment, playing the role of Catalina Barnes, Quinn begins to bond with the deceased girl's boyfriend. But that's only the beginning of the complications, especially when Quinn finds out the truth about Catalina's death. And the epidemic it could start.
Purchase The Remedy at Amazon
Purchase The Remedy at IndieBound
View The Remedy on Goodreads
* * * *
The Trials
by Stacey Kade
Signed Full Series
Disney-Hyperion
Released 4/21/2015
Winner - Kat Swank
After being on the run, Ariane Tucker finds herself back where she started—under the cruel control of Dr. Jacobs, head of the research facility that created her. Now she must participate in the upcoming trials; a deadly competition pitting her against other alien hybrids, each representing a rival corporation.
But Ariane is no one's weapon. She is prepared to die if it means taking down those involved in Project Paper Doll. They destroyed all that she holds dear, including Zane Bradshaw, the one person she trusted and cared for the most—the person she was forced to leave behind, bleeding and alone.
As her plan takes shape Ariane will need to depend on, now more than ever, the other side of her heritage—the cold, calculated instincts born from her alien DNA. With Zane gone she has nothing left to lose.
With heart-pounding action, and plenty of surprises, the gripping conclusion to Stacey Kade's Project Paper Doll series delivers a powerful finish that will keep fans hooked to the very end.
Author Question: What is your favorite thing about The Trials?
I think the last book in a series or trilogy is always the most fun because that's when all the changes you've been working toward in the previous books become permanent. Characters succeed or fail, once and for all. And wow, those are some high stakes to play with!

With THE TRIALS, my favorite part was seeing Ariane embrace the different sides of herself, her alien and her human side. She's always felt torn between the two, and in this book, she gets to a point where she is more comfortable with who she is and knowing she'll never be just ONE thing and that's okay. It's actually to her benefit to be both human and alien.

I also really enjoyed writing the chase scene in the mall. I love writing action sequences! And there's a romantic scene in the book that made me blush.
Purchase The Trials at Amazon
Purchase The Trials at IndieBound
View The Trials on Goodreads
* * * *


The Revelation of Louisa May
by Michaela MacColl
ARC
Chronicle Books
Released 4/14/2015
Winner - Kira Budge
Louisa May Alcott can't believe it—her mother is leaving for the summer to earn money for the family and Louisa is to be in charge of the household. How will she find the time to write her stories, much less have any adventures of her own? But before long, Louisa finds herself juggling her temperamental father, a mysterious murder, a fugitive seeking refuge along the Underground Railroad, and blossoming love. Intertwining fact, fiction, and quotes from Little Women, Michaela MacColl has crafted another spunky heroine whose story will keep readers turning pages until the very end.
Author Question: What is your favorite thing about The Revelation of Louisa May
My favorite thing about
The Revelation of Louisa May
(Chronicle 2015) is probably Louisa May Alcott herself. I just liked her so much! When I write these literary mysteries I always start with biography. I learn as much as I can about the writer who will be my main character. I feel a little bit like a sculptor – adding bits and pieces of my understanding of the character until she's fully formed in my head. When I start to write, the voice comes naturally. But Louisa was special – I understood her from the beginning. She was bright and contrary even as a toddler (her wacky parents did all sorts of educational experiments on them and documented the results!). The most practical member of the family, even at 12 her harassed mother (Marmee) confided in her way too much about the disastrous family finances. Louisa's response was to vow to earn enough money to support the family … with her pen. And she did. Little Women was published in 1869 and has never gone out of print. Louisa was a millionaire and yes, she supported the whole family. She had grit and I liked that.
Purchase The Revelation of Louisa May at Amazon
Purchase The Revelation of Louisa May at IndieBound
View The Revelation of Louisa May on Goodreads
MORE YOUNG ADULT FICTION IN STORES NEXT WEEK WITH AUTHOR INTERVIEWS
* * * *
Deception's Pawn
by Esther Friesner
Hardcover
Random House Books for Young Readers
Released 4/28/2015
Fortune favors the bold in this adventurous tale of broken friendships, forbidden love, and a fiery heroine's journey to escape the role into which she was born. Perfect for YA fantasy fans of Shannon Hale, Malinda Lo, and Tamora Pierce.
Maeve, princess of Connacht, seems to have won her freedom. Her father, the High King, is finally allowing her to explore the world beyond his castle. But Maeve soon discovers that being the High King's daughter doesn't protect her from bullying or the attention of unwelcome suitors.
Struggling to navigate a new court, she must discourage the advances of her father's rival, who is vying with her host's son for her hand in marriage. Maeve is a pawn trapped between these two boys. Her bold defiance will bring her to the brink of disaster, but her clever gamble may also lead to her independence. Though she faces danger and intrigue, Maeve will also discover what kind of person-and queen-she's destined to become.
Author Question: What is your favorite thing about Deception's Pawn?
My favorite thing about writing DECEPTION'S PAWN was having the opportunity to address a subject that's been with us since the very ugly day when someone saw the advantage to making others feel worthless. Why strive to build yourself up when it's easier to tear someone else down? If you can't feel superior through real accomplishments, play it so no one else dares to outshine you. Welcome to the wonderful world of bullying.

I know, I know: Bullying is one of those subjects that make some people roll their eyes and groan,"Oh please, THIS again? Can't we move on? Talk about something else?" Sure, why not? It's a free country and a free internet. Close your eyes, turn your back, leave the real/virtual room whenever you like. I'll stay.

In case you're wondering, yes, I've been the victim of all sorts of bullies. I was fat, wore glasses, used big words, liked geeky stuff, was a late bloomer socially, and was an only child. (Translation to Bully-ese: "You're so spoiled, you think you're BETTER than us!") Some bullies I encountered used fists, some used words, some used persuasion or outright coercion to build their own little hunting parties to sic on their prey. Does it help, knowing that some of the chief bully's followers went along with the mob because they were afraid of becoming victims themselves if they refused? Perhaps. It doesn't lessen painful memories, but if insight and understanding help stop or prevent even one incident of bullying, the pain was a price worth paying.

The heroine of DECEPTION'S PAWN isn't fat or geeky or squinting at the world through thick eyeglasses. She's beautiful, accomplished, a king's cherished daughter and heir. She's still a bully's target. I want to remind you that anyone can be picked on and persecuted as long as we allow such things to be comfortably ignored, dismissed as "girls will be girls," "boys will be boys," and "If we don't make a big thing out of it, it'll go away."

It won't. It needs to be recognized, talked about, dealt with, thwarted, and--hopefully some day--ended. Remember: Trolls hate sunlight.
Purchase Deception's Pawn at Amazon
Purchase Deception's Pawn at IndieBound
View Deception's Pawn on Goodreads
* * * *
The Game of Love and Death
by Martha Brockenbrough
Hardcover
Arthur A. Levine Books
Released 4/28/2015
Antony and Cleopatra. Helen of Troy and Paris. Romeo and Juliet. And now . . . Henry and Flora.
For centuries Love and Death have chosen their players. They have set the rules, rolled the dice, and kept close, ready to influence, angling for supremacy. And Death has always won. Always.
Could there ever be one time, one place, one pair whose love would truly tip the balance?
Meet Flora Saudade, an African-American girl who dreams of becoming the next Amelia Earhart by day and sings in the smoky jazz clubs of Seattle by night. Meet Henry Bishop, born a few blocks and a million worlds away, a white boy with his future assured — a wealthy adoptive family in the midst of the Great Depression, a college scholarship, and all the opportunities in the world seemingly available to him.
The players have been chosen. The dice have been rolled. But when human beings make moves of their own, what happens next is anyone's guess.
Achingly romantic and brilliantly imagined, The Game of Love and Death is a love story you will never forget.
Author Question: What is your favorite thing about The Game of Love and Death?
This is a really tough question—I wove a lot of beloved things into this book: some of my favorite songs, art that influenced me when I was a teen, the appeal of swanky jazz clubs… It's also set in my hometown, Seattle, which I adore, and during an era I find compelling—the Depression and run-up to World War II. Maybe an analogy is having an apartment in your favorite city and an unlimited decorating budget … it was all about creating a world I loved inhabiting.

But my favorite part, I'd say, has nothing to do with the decor and everything to do with Death, the villain. I grew to love her. She's complicated and awful and kind of wonderful too.
Purchase The Game of Love and Death at Amazon
Purchase The Game of Love and Death at IndieBound
View The Game of Love and Death on Goodreads
* * * *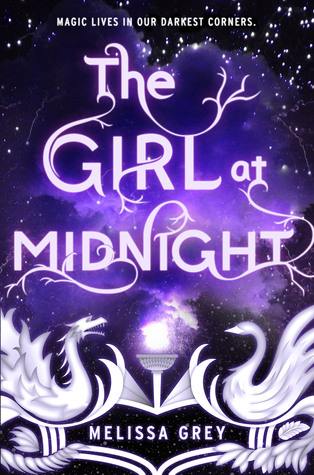 The Girl at Midnight
by Melissa Grey
Hardcover
Delacorte Press
Released 4/28/2015
For readers of Cassandra Clare's City of Bones and Leigh Bardugo's Shadow and Bone, The Girl at Midnight is the story of a modern girl caught in an ancient war.
Beneath the streets of New York City live the Avicen, an ancient race of people with feathers for hair and magic running through their veins. Age-old enchantments keep them hidden from humans. All but one. Echo is a runaway pickpocket who survives by selling stolen treasures on the black market, and the Avicen are the only family she's ever known.
Echo is clever and daring, and at times she can be brash, but above all else she's fiercely loyal. So when a centuries-old war crests on the borders of her home, she decides it's time to act.
Legend has it that there is a way to end the conflict once and for all: find the Firebird, a mythical entity believed to possess power the likes of which the world has never seen. It will be no easy task, but if life as a thief has taught Echo anything, it's how to hunt down what she wants . . . and how to take it.
But some jobs aren't as straightforward as they seem. And this one might just set the world on fire.
Author Question: What is your favorite thing about The Girl at Midnight?
My favorite part of The Girl at Midnight is definitely the cast of characters. The protagonist, Echo, is the beating heart of the story, but she's not alone in narrating it. I realized as I was writing the first draft that in order to best tell the story I envisioned, I had to show it from different angles. The best way to do that was to expand the pool of narrators and really try to get into each character's head to find their unique voice. The process of discovering what made each character tick — be it Echo's desire to find love and acceptance or Jasper's quest for glory or Dorian's unfailing loyalty — was a wild ride.
Purchase The Girl at Midnight at Amazon
Purchase The Girl at Midnight at IndieBound
View The Girl at Midnight on Goodreads
MORE YOUNG ADULT NOVELS NEW IN STORES NEXT WEEK
* * * *
An Ember in the Ashes
by Sabaa Tahir
Hardcover
Razorbill
Released 4/28/2015
I WILL TELL YOU THE SAME THING I TELL EVERY SLAVE.
THE RESISTANCE HAS TRIED TO PENETRATE THIS SCHOOL COUNTLESS TIMES. I HAVE DISCOVERED IT EVERY TIME.
IF YOU ARE WORKING WITH THE RESISTANCE, IF YOU CONTACT THEM, IF YOU THINK OF CONTACTING THEM, I WILL KNOW
AND I WILL DESTROY YOU.
LAIA is a Scholar living under the iron-fisted rule of the Martial Empire. When her brother is arrested for treason, Laia goes undercover as a slave at the empire's greatest military academy in exchange for assistance from rebel Scholars who claim that they will help to save her brother from execution.
ELIAS is the academy's finest soldier— and secretly, its most unwilling. Elias is considering deserting the military, but before he can, he's ordered to participate in a ruthless contest to choose the next Martial emperor.
When Laia and Elias's paths cross at the academy, they find that their destinies are more intertwined than either could have imagined and that their choices will change the future of the empire itself.
Purchase An Ember in the Ashes at Amazon
Purchase An Ember in the Ashes at IndieBound
View An Ember in the Ashes on Goodreads
* * * *
Backlash
by Sarah Darer Littman
Hardcover
Scholastic Press
Released 4/28/2015
He says: You're an awful person.
He says: What makes you think I would ever ask you out?
He says: The world would be a better place without you in it.
Lara just got told off on Facebook.
She thought that Christian liked her, that he was finally going to ask her to his school's homecoming dance. They've been talking online for weeks, so what's with the sudden change? And where does he get off saying horrible things on her wall? Even worse - are they true?
It's been a long time since Lara's felt this bad, this depressed, this ugly. She's worked really hard to become pretty and happy - and make new friends after what happened in middle school.
Bree used to be best friends with overweight, depressed Lara, but constantly listening to Lara's issues got to be too much. Secretly, Bree's glad Christian called Lara out. Lara's not nearly as amazing as people think. But no one realized just how far Christian's harsh comments would push Lara. Not even Bree.
As online life collides with real life, things spiral out of control, and not just for Lara. Because when the truth starts to come together, the backlash is even more devastating than anyone could have ever imagined.
Purchase Backlash at Amazon
Purchase Backlash at IndieBound
View Backlash on Goodreads
* * * *
Be Not Afraid
by Cecilia Galante
Hardcover
Random House Books for Young Readers
Released 4/28/2015
Marin spends a lot of time avoiding things. She avoids thinking about her mother's suicide and what she could have done to prevent it. She avoids looking at people directly-because she can see their pain as bright, colorful shapes. And she avoids Cassie Jackson, who used her in a sinister ritual months ago, although Marin's not exactly sure why.
When Cassie stands up at school, screaming, raking her nails down her cheeks, and pointing a finger at Marin, whispering "YOU," Marin's days of avoidance come to an abrupt end. Cassie's older brother believes that Marin holds the secret to Cassie's illness. So they team up to solve the mystery of what Cassie has unleashed. But as they look deeper into the darkness and things begin to go bump in the night, can Marin trust what she sees?
Cecilia Galante, author of The Patron Saint of Butterflies, presents a chilling story with horror-movie thrills and nail-biting suspense. Perfect for fans of American Horror Story, Paranormal Activity, and The Exorcist, and readers who love to feel goose bumps.
Purchase Be Not Afraid at Amazon
Purchase Be Not Afraid at IndieBound
View Be Not Afraid on Goodreads
* * * *
Encore to an Empty Room
by Kevin Emerson
Hardcover
Katherine Tegen Books
Released 4/28/2015
Summer always wanted Dangerheart—the band of talented exiles she manages—to find success. Now that they've become an overnight sensation, her hard work is really starting to pay off.
So how come her life seems to be snapping like an old guitar string?
Maybe it's because part of her knows that college applications are due soon, but another part of her can't imagine leaving her life behind—especially when the band is on the verge of a record deal and her relationship is becoming something more than she ever dreamed of. And especially when there's a chance of finding another missing song written by the famous dead rocker who is also Caleb's father.
But are Caleb, the band's future, and the lost songs more important than college? Summer will have to decide. It's time to choose who she wants to be, even if that might mean kissing Caleb good-bye.
Filled with infectious music, mystery, and romance, this electrifying sequel to Kevin Emerson's Exile doesn't miss a beat.
Purchase Encore to an Empty Room at Amazon
Purchase Encore to an Empty Room at IndieBound
View Encore to an Empty Room on Goodreads
* * * *
Flirty Dancing
by Jenny McLachlan
Hardcover
Feiwel & Friends
Released 4/28/2015
Full of humor and heart, this story of finding your confidence (and your jive!) is the first in a four-book series, The Ladybirds, by debut author Jenny McLachlan.
Bea Hogg is shy, but she has a fiery core that she doesn't let many see. When the national dance competition Starwars comes to her school looking for talent, she wants to sign up. It's just her luck that her best friend Kat ditches her and agrees to enter with school super-witch Pearl Harris (and Bea's former best friend).
Bea is determined to fight back! But when the school hottie, Ollie Matthews, who also happens to be Pearl's boyfriend, decides to enter the competition with Bea to jive dance, she will have more than a fight on her hands.
Jenny McLachlan weaves a warm and hilarious story of friendship and dance starring the refreshing and plucky Bea Hogg.
Purchase Flirty Dancing at Amazon
Purchase Flirty Dancing at IndieBound
View Flirty Dancing on Goodreads
* * * *
Invincible
by Amy Reed
Hardcover
Katherine Tegen Books
Released 4/28/2015
The Fault in Our Stars meets Go Ask Alice in this dramatic romance about a teenage girl who survives a terminal cancer diagnosis, only to get trapped in the deadly spiral of addiction. Fans of Gayle Forman and Sara Zarr will be swept away by this gritty romance, the first in a duology.
Evie is living on borrowed time. She was diagnosed with terminal cancer several months ago and told that by now she'd be dead. Evie is grateful for every extra day she gets, but she knows that soon this disease will kill her. Until, miraculously, she may have a second chance to live.
All Evie had wanted was her life back, but now that she has it, she feels like there's no place for her in it--at least, not for the girl she is now. Her friends and her parents still see her as Cancer Girl, and her boyfriend's constant, doting attention is suddenly nothing short of suffocating.
Then Evie meets Marcus. She knows that he's trouble, but she can't help falling for him. Being near him makes her feel truly, fully alive. It's better than a drug. His kiss makes her feel invincible--but she may be at the beginning of the biggest free fall of her life.
Purchase Invincible at Amazon
Purchase Invincible at IndieBound
View Invincible on Goodreads
* * * *
Lying Out Loud
by Kody Keplinger
Hardcover
Scholastic Press
Released 4/28/2015
Kody Keplinger returns to the world of The DUFF in this brand-new companion novel!
Sonny Ardmore is an excellent liar. She lies about her dad being in prison. She lies about her mom kicking her out. And she lies about sneaking into her best friend's house every night because she has nowhere else to go.
Amy Rush might be the only person Sonny shares everything with -- secrets, clothes, even a nemesis named Ryder Cross.
Ryder's the new kid at Hamilton High and everything Sonny and Amy can't stand -- a prep-school snob. But Ryder has a weakness: Amy. So when Ryder emails Amy asking her out, the friends see it as a prank opportunity not to be missed.
But without meaning to, Sonny ends up talking to Ryder all night online. And to her horror, she realizes that she might actually like him. Only there's one small catch: he thinks he's been talking to Amy. So Sonny comes up with an elaborate scheme to help Ryder realize that she's the girl he's really wanted all along. Can Sonny lie her way to the truth, or will all her lies end up costing her both Ryder and Amy?
Purchase Lying Out Loud at Amazon
Purchase Lying Out Loud at IndieBound
View Lying Out Loud on Goodreads
* * * *
Magonia
by Maria Dahvana Headley
Hardcover
HarperCollins
Released 4/28/2015
Maria Dahvana Headley's soaring YA debut is a fiercely intelligent, multilayered fantasy where Neil Gaiman's Stardust meets John Green's The Fault in Our Stars in a story about a girl caught between two worlds . . . two races . . . and two destinies.
Aza Ray Boyle is drowning in thin air. Since she was a baby, Aza has suffered from a mysterious lung disease that makes it ever harder for her to breathe, to speak—to live. So when Aza catches a glimpse of a ship in the sky, her family chalks it up to a cruel side effect of her medication. But Aza doesn't think this is a hallucination. She can hear someone on the ship calling her name.
Only her best friend, Jason, listens. Jason, who's always been there. Jason, for whom she might have more-than-friendly feelings. But before Aza can consider that thrilling idea, something goes terribly wrong. Aza is lost to our world—and found, by another. Magonia.
Above the clouds, in a land of trading ships, Aza is not the weak and dying thing she was. In Magonia, she can breathe for the first time. Better, she has immense power—but as she navigates her new life, she discovers that war between Magonia and Earth is coming. In Aza's hands lies the fate of the whole of humanity—including the boy who loves her. Where do her loyalties lie?
Purchase Magonia at Amazon
Purchase Magonia at IndieBound
View Magonia on Goodreads
* * * *
Rook
by Sharon Cameron
Hardcover
Scholastic Press
Released 4/28/2015
A remarkable and utterly inventive novel bursting with intrigue and romance, from Sharon Cameron, acclaimed author of THE DARK UNWINDING, which USA TODAY called "spellbindingly imaginative."
Centuries after a shifting of the Earth's poles, the Sunken City that was once Paris is in the grips of a revolution. All who oppose the new regime are put to the blade, except for those who disappear from their prison cells, a red-tipped rook feather left in their place. Is the mysterious Red Rook a savior of the innocent or a criminal?
Meanwhile, across the sea in the Commonwealth, Sophia Bellamy's arranged marriage to the wealthy René Hasard is the last chance to save her family from ruin. But when the search for the Red Rook comes straight to her doorstep, Sophia discovers that her fiancé is not all he seems. Which is only fair, because neither is she.
As the Red Rook grows bolder and the stakes grow higher, Sophia and René find themselves locked in a tantalizing game of cat and mouse.
Daring intrigue, delicious romance, and spine-tingling suspense fill the pages of this extraordinary tale from award-winning author Sharon Cameron.
Purchase Rook at Amazon
Purchase Rook at IndieBound
View Rook on Goodreads
* * * *
The Eternity Key
by Bree Despain
Hardcover
EgmontUSA
Released 4/28/2015
Fan-favorite author Bree Despain continues her modern-day romance trilogy inspired by the Greek myth of Persephone and Hades with this second book in her Into the Dark series.
Haden Lord, the disgraced Prince of the Underrealm, has chosen love over honor and will do everything in his power to protect Daphne Raines, the human girl he was supposed to bring to the Underrealm. Haden's choice is put to the test as the Skylords and a figure from his past arrive in Olympus Hills with a plan that could destroy all of the realms.
Embracing her destiny as the Cypher, Daphne begins to understand the immense power of her musical ability to control the elements, but she must come to terms with her feelings for Haden and what she must sacrifice in order to protect him and her friends.
Believing the Key of Hades is the only thing that can stop the Underrealm Court from releasing the monstrous Keres on the mortal world, Haden, Daphne, and their friends set out to find the Key before Persephone's Gate opens again on the spring equinox.
Purchase The Eternity Key at Amazon
Purchase The Eternity Key at IndieBound
View The Eternity Key on Goodreads
* * * *
The Replaced
by Kimberly Derting
Hardcover
HarperTeen
Released 4/28/2015
Romantic and action-packed, The Replaced is the gripping second installment in the Taking trilogy.
Kyra hasn't been the same since she returned from her mysterious five-year disappearance. Now, on the run from the NSA, Kyra is forced to hide out with others who, like her, have been Returned. Yet she is determined to find Tyler, the boy she loves who was also abducted—all because of her. When her group intercepts a message that Tyler might still be alive but is in the hands of a shadowy government organization that experiments on the Returned, Kyra knows it's a risk to go after him. What if it's a trap? And worse, what if the returned Tyler isn't the same boy she lost?
Perfect for fans of The Fifth Wave and the Body Finder series, The Replaced is both chilling and explosive, with creepy, otherworldly elements and twisty, psychological thrills that will have you questioning what exactly it means to be human.
Purchase The Replaced at Amazon
Purchase The Replaced at IndieBound
View The Replaced on Goodreads
a Rafflecopter giveaway