We're honored to have Courtney Summers here to tell us more about her powerful new novel ALL THE RAGE.
Courtney, what is your favorite thing about ALL THE RAGE?


I've been working on this book in some form or other since around 2009 or 2010, and after it sold, it took a little over two years and somewhere around six drafts to complete. So just seeing it finished, to know that it's finally ready for readers, is my favorite thing about All the Rage. I'm very proud of it.
What was your inspiration for writing ALL THE RAGE?


All the Rage is a response to rape culture and an examination of its consequences. The way we fail victims and survivors of sexual violence, the constant victim-blaming, is heartbreaking and infuriating. It's important that we talk about these things so that we can do better, and that was something I wanted to explore in my work.
What do you hope readers will take away from ALL THE RAGE?


Once a book is out, it doesn't belong to me anymore—it belongs to the readers. But I do hope that it gets people angry about rape culture. I hope they channel that anger into keeping the conversation about rape culture going.
What's your writing ritual like? Do you listen to music? Work at home or at a coffee shop or the library, etc?


I do all my best writing at night, with music playing in the background. And I always have to have a cup of coffee and a bottle of water nearby!
ABOUT THE BOOK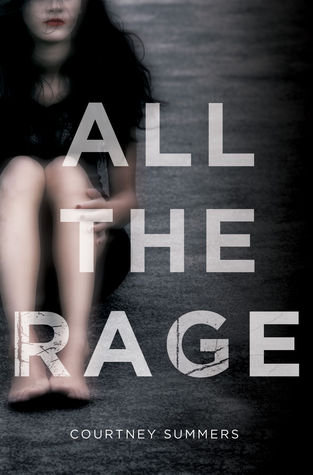 All the Rage
by Courtney Summers
Hardcover
St. Martin's Griffin
Released 4/14/2015
The sheriff's son, Kellan Turner, is not the golden boy everyone thinks he is, and Romy Grey knows that for a fact. Because no one wants to believe a girl from the wrong side of town, the truth about him has cost her everything—friends, family, and her community. Branded a liar and bullied relentlessly by a group of kids she used to hang out with, Romy's only refuge is the diner where she works outside of town. No one knows her name or her past there; she can finally be anonymous. But when a girl with ties to both Romy and Kellan goes missing after a party, and news of him assaulting another girl in a town close by gets out, Romy must decide whether she wants to fight or carry the burden of knowing more girls could get hurt if she doesn't speak up. Nobody believed her the first time—and they certainly won't now — but the cost of her silence might be more than she can bear. 
With a shocking conclusion and writing that will absolutely knock you out, All the Rage examines the shame and silence inflicted upon young women after an act of sexual violence, forcing us to ask ourselves: In a culture that refuses to protect its young girls, how can they survive?
Purchase All the Rage at Amazon
Purchase All the Rage at IndieBound
View All the Rage on Goodreads
ABOUT THE AUTHOR
COURTNEY SUMMERS was born in Belleville, Ontario in 1986 and currently resides in a small town not far from there. At age 14, she dropped out of high school to pursue her education independently and spent those years figuring out what she wanted to do with her life. At 18, she knew she was meant to write.
To date, she has authored five novels. Her first novel, Cracked Up to Be, was published when she was 22 and went on to win the 2009 CYBIL award in YA fiction. Since then, she's published four more books–2011 YALSA Top 10 Quick Pick and White Pine Honour book, Some Girls Are, 2012 YALSA Quick Pick, Fall for Anything, and 2013 YALSA Top 10 Quick Pick and White Pine Honour book This is Not a Test and All the Rage as well as an e-novella, Please Remain Calm (a sequel to This is Not a Test).
When she is not writing, Courtney loves playing video games, watching horror movies and obsessing over the zombie apocalypse. Her favourite colour is green and she's a total feminist.
Note from the formatter: ALL THE RAGE is seriously one of my favourite books of 2015. It's an important and powerful book, please make sure to check it out!
-Shelly
What did you think of our interview with Courtney Summers, author of ALL THE RAGE? Let us know in the comments!
Martina, Jocelyn, Shelly, Jan, Lisa, Susan, and Erin