This week we're giving away WHAT WAITS IN THE WOODS by Kieran Scott. And there are so many other great books releasing this week. Which ones are destined for the top of your 'to be read' pile? Let us know in the comments!
Happy reading,
Jocelyn, Martina, Jan, Shelly, Susan, Lisa, and Erin
YA BOOK GIVEAWAY THIS WEEK
* * * *
What Waits in the Woods
by Kieran Scott
Signed Hardcover Giveaway

U.S. Only
Point
Released 3/31/2015
Seeing things. You were just seeing things.
For city girl Callie Velasquez, nothing sounds more terrifying than a night out in the wilderness. But, wanting to bond with her popular new friends, Lissa and Penelope, she agrees to join them on a camping trip. At least Callie's sweet new boyfriend, Jeremy, will be coming too.
But nothing goes as planned. The group loses half their food supply. Then they lose their way. And with strange sounds all around her--the snap of a twig, a sinister laugh--Callie wonders if she's losing her mind.
Tensions swirl among the group, with dark secrets suddenly revealed. And then, things take a fatal turn: Callie stumbles upon a cold dead body in the woods.
Is the murderer close by, watching them? Callie has to figure out where she can turn and who she can trust, before her own life is at stake.
Kieran Scott weaves a thrilling mystery that explores love, loyalty--and the dangerous decisions we make in order to survive.
Author Question: What is your favorite thing about What Waits in the Woods?
I'd have to say the cliffhangers. WHAT WAITS IN THE WOODS is a thriller/mystery, which means there are plenty of opportunities to totally freak out readers. It's always more satisfying to drop a bomb at the end of a chapter that makes people keep reading! There's nothing I love more than a good cliffhanger at the end of a book or a TV show, so to be able to write one for almost every chapter was so much fun. I hope the readers enjoy it!
Purchase What Waits in the Woods at Amazon
Purchase What Waits in the Woods at IndieBound
View What Waits in the Woods on Goodreads
YA BOOK GIVEAWAYS LAST WEEK: WINNERS
* * * *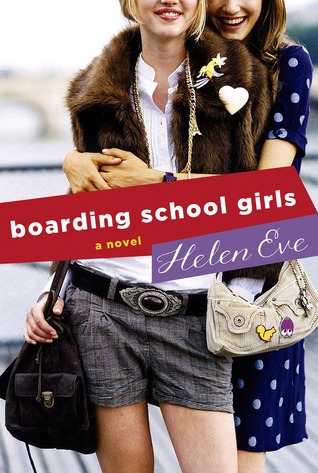 Boarding School Girls
by Helen Eve
Hardcover
St. Martin's Griffin
Released 3/24/2015
Winner - Susan Terendy
Siena, older sister to Stella, battles to fulfill her mother's vicarious ambitions and to retain her place at Temperley High's social epicentre.
Worshipped, envied, desired, and feared by all, Siena Hamilton reigns over Temperley High, the embodiment of the Hamilton legacy. She and the Starlets may still be healing from the unfortunate and horrible events of that night, at the end of last year, but nothing can shake her place as the head of Temperley's elite any longer. The Starlets are nothing if not adept at dealing with traitors, and Siena is her mother's daughter: she knows how to be perfect, and she will not disappoint. There is only one person who could possibly get in her way…
Romy, former Starlet, is back—back from a mutually-agreed-upon term away, in France—and no one is happy about it, least of all herself. She's changed now, though. She's trying harder to be normal, to dress appropriately, to blend in, to keep her head down and keep the secret of what really happened that night safe and hidden. But when your former best friends are untouchable, and you've betrayed them, you don't just get to come back—even if you're beginning to think they might not have been your friends in the first place.
In this prequel to Helen Eve's first novel Stella, revenge runs deep, old wounds break open, and the past can never, never be outrun.
Purchase Boarding School Girls at Amazon
Purchase Boarding School Girls at IndieBound
View Boarding School Girls on Goodreads
* * * *
Guardians
by Susan Kim and Laurence Klavan
Hardcover
HarperTeen
Released 3/24/2015
Winner - Carl Scott
This heart-pounding final book in the Wasteland trilogy is filled with dramatic twists and turns!
No one dares leave the District—the towering structure of glass and steel that is their protection against the unruly bands of Outsiders that roam Mundreel and the deadly rain that carries the disease that kills all over the age of nineteen.
This skyscraper stands amid the urban devastation, the city rumored to have once been called "Montreal." Esther and her allies have created a haven on the rooftop, a garden that flourishes, and a home for her new baby, hidden from all but the very few who know her secret.
But as Gideon's power grows and factions form, an unlikely leader learns to control every action of the District's people. As the ultimate darkness is born from greed, Esther must find a way to save the citizens from themselves.
Author Question: What is your favorite thing about Guardians?
Susan: I have to say, while we've had a bunch of pretty nasty villains in the first two books, I really love the bad guys in GUARDIANS. Gideon and Saith are different from each other in many ways: he's a cool and logical teenaged boy and she's an emotionally manipulative little girl. In fact, he doesn't even take her seriously at first. But both of them are ruthless and actually pretty brilliant, despite their differences; and even though they don't really like each other, they recognize that together, they can be an unstoppable team, exploiting the fears and weaknesses of others. They're even capable of sizing up Esther and nearly bringing her to her knees… but not quite!

Laurence: Of course, I agree about the villains, because their parts are juicy and entertaining. At the same time, I like that we were able to show Esther "doing good" while still keeping her a flawed and recognizable human being, as she has been all along. To show someone trying to help others and not be an ideal or a cliché is a challenge. I'm glad that we gave equal weight to the light and dark parts of the story, and that we kept the light parts from getting too sappy and the dark from getting too ugly. It's a balance, as it is in life.
Purchase Guardians at Amazon
Purchase Guardians at IndieBound
View Guardians on Goodreads
* * * *
Me Being Me Is Exactly as Insane as You Being You
by Todd Hasak-Lowy
Hardcover
Simon Pulse
Released 3/24/2015
Winner - Rosi Hollinbeck
A heartfelt, humorous story of a teen boy's impulsive road trip after the shock of his lifetime—told entirely in lists!
Darren hasn't had an easy year.
There was his parents' divorce, which just so happened to come at the same time his older brother Nate left for college and his longtime best friend moved away. And of course there's the whole not having a girlfriend thing.
Then one Thursday morning Darren's dad shows up at his house at 6 a.m. with a glazed chocolate doughnut and a revelation that turns Darren's world inside out. In full freakout mode, Darren, in a totally un-Darren move, ditches school to go visit Nate. Barely twenty-four hours at Nate's school makes everything much better or much worse—Darren has no idea. It might somehow be both. All he knows for sure is that in addition to trying to figure out why none of his family members are who they used to be, he's now obsessed with a strangely amazing girl who showed up out of nowhere but then totally disappeared.
Told entirely in lists, Todd Hasak-Lowy's debut YA novel perfectly captures why having anything to do with anyone, including yourself, is:
1. painful
2. unavoidable
3. ridiculously complicated
4. possibly, hopefully the right thing after all.
Author Question: What is your favorite thing about Me Being Me Is Exactly as Insane as You Being You?
So this is an unusual book, in that the entire thing is written in lists. Which is how I wrote it from the beginning. And that was a lot of fun for me, especially early on. In many ways it was my main focus during the first draft (Okay that list is done, what list should be next?). I wanted to know--after stumbling upon the technique: Is it possible to write an entire novel in lists?

Well, the answered turned out to be "yes." What was less obvious was the answer to a more crucial question: Is it possible to write a good novel in lists? Or to be more specific: Is it possible to write this kind of unconventional novel and still tell an engaging story populated by characters that feel real? It took a while (about seven substantive drafts) until I got to the point where I could answer that second question in the affirmative. And so that's my favorite thing about this book, it tells a story in a highly unusual way, but not at the expense of the story itself. Just the opposite, in fact, as I like to think many readers will find that the reading experience changes their ideas about the possibilities of otherwise "realistic" YA fiction.
Purchase Me Being Me Is Exactly as Insane as You Being You at Amazon
Purchase Me Being Me Is Exactly as Insane as You Being You at IndieBound
View Me Being Me Is Exactly as Insane as You Being You on Goodreads
* * * *
The Tightrope Walkers
by David Almond
Hardcover
Candlewick
Released 3/24/2015
Winner - Gloria Chao
International award winner David Almond draws on memories of his early years in Tyneside, England, for a moving coming-of-age novel, masterfully told.
A gentle visionary coming of age in the shadow of the shipyards of northern England, Dominic Hall is torn between extremes. On the one hand, he craves the freedom he feels when he steals away with the eccentric girl artist next door, Holly Stroud—his first and abiding love—to balance above the earth on a makeshift tightrope. With Holly, Dom dreams of a life different in every way from his shipbuilder dad's, a life fashioned of words and images and story. On the other hand, he finds himself irresistibly drawn to the brutal charms of Vincent McAlinden, a complex bully who awakens something wild and reckless and killing in Dom. In a raw and beautifully crafted bildungsroman, David Almond reveals the rich inner world of a boy teetering on the edge of manhood, a boy so curious and open to impulse that we fear for him and question his balance—and ultimately exult in his triumphs.
Purchase The Tightrope Walkers at Amazon
Purchase The Tightrope Walkers at IndieBound
View The Tightrope Walkers on Goodreads
* * * *
Things I'll Never Say: Stories About Our Secret Selves
by Ann Angel
Hardcover
Candlewick
Released 3/24/2015
Winner - Kristen Noel
Fifteen top young-adult authors let us in on provocative secrets in a fascinating collection that will have readers talking.
A baby no one knows about. A dangerous hidden identity. Off-limits hookups. A parent whose problems your friends won't understand. Everyone keeps secrets—from themselves, from their families, from their friends—and secrets have a habit of shaping the lives around them. Acclaimed author Ann Angel brings together some of today's most gifted YA authors to explore, in a variety of genres, the nature of secrets: Do they make you stronger or weaker? Do they alter your world when revealed? Do they divide your life into what you'll tell and what you won't? The one thing these diverse stories share is a glimpse into the secret self we all keep hidden.
With stories by:
Ann Angel
Kerry Cohen
Louise Hawes
Varian Johnson
Erica L. Kaufman
Ron Koertge
E. M. Kokie
Chris Lynch
Kekla Magoon
Zoë Marriott
Katy Moran
J. L. Powers
Mary Ann Rodman
Cynthia Leitich Smith
Ellen Wittlinger
Author Question: What is your favorite thing about Things I'll Never Say: Stories About Our Secret Selves?
My favorite thing about the book is the diversity of the stories and the way they demonstrate that some secrets define a character, and some determine who the characters believes they are or who they will become. But I also am so totally in love with the art on this book's cover that the first time I saw it, my reaction was to get totally teary.
Purchase Things I'll Never Say: Stories About Our Secret Selves at Amazon
Purchase Things I'll Never Say: Stories About Our Secret Selves at IndieBound
View Things I'll Never Say: Stories About Our Secret Selves on Goodreads
MORE YOUNG ADULT FICTION IN STORES NEXT WEEK WITH AUTHOR INTERVIEWS
* * * *
Solitaire
by Alice Oseman
Hardcover
HarperTeen
Released 3/31/2015
In Solitaire, Alice Oseman has brought to life a vivid, clever, and heartfelt portrayal of what it's like to be a teenager today. This stunning debut novel—which the Times (London) called "The Catcher in the Rye for the digital age"—is perfect for fans of Melina Marchetta, Stephen Chbosky, and Rainbow Rowell.
My name is Tori Spring. I like to sleep and I like to blog. Last year—before all that stuff with Charlie and before I had to face the harsh realities of exams and university applications and the fact that one day I really will have to start talking to people—I had friends. Things were very different, I guess, but that's all over now.
Now there's Solitaire. And Michael Holden. I don't know what Solitaire is trying to do, and I don't care about Michael Holden. I really don't.
Author Question: What is your favorite thing about Solitaire?
My favourite thing about Solitaire is the characters! I love them all. They're all my children. Is that weird? I don't care.
Purchase Solitaire at Amazon
Purchase Solitaire at IndieBound
View Solitaire on Goodreads
MORE YOUNG ADULT NOVELS NEW IN STORES NEXT WEEK
* * * *
Black Dove, White Raven
by Elizabeth Wein
Hardcover
Disney-Hyperion
Released 3/31/2015
A new historical thriller masterpiece from New York Times bestselling and award-winning author Elizabeth Wein
Emilia and Teo's lives changed in a fiery, terrifying instant when a bird strike brought down the plane their stunt pilot mothers were flying. Teo's mother died immediately, but Em's survived, determined to raise Teo according to his late mother's wishes-in a place where he won't be discriminated against because of the color of his skin. But in 1930s America, a white woman raising a black adoptive son alongside a white daughter is too often seen as a threat.
Seeking a home where her children won't be held back by ethnicity or gender, Rhoda brings Em and Teo to Ethiopia, and all three fall in love with the beautiful, peaceful country. But that peace is shattered by the threat of war with Italy, and teenage Em and Teo are drawn into the conflict. Will their devotion to their country, its culture and people, and each other be their downfall or their salvation?
In the tradition of her award-winning and bestselling Code Name Verity, Elizabeth Wein brings us another thrilling and deeply affecting novel that explores the bonds of friendship, the resilience of young pilots, and the strength of the human spirit.
Purchase Black Dove, White Raven at Amazon
Purchase Black Dove, White Raven at IndieBound
View Black Dove, White Raven on Goodreads
* * * *
Etherworld
by Claudia Gabel, Cheryl Klam
Hardcover
Katherine Tegen Books
Released 3/31/2015
In this sequel to Elusion, three teens fight a virtual reality program that threatens to destroy their minds. Dangerous secrets and lies add up to a thrilling futuristic fantasy with an Inception-inspired twist.
Elusion was hailed as an exciting leap in technology—until users began to disappear amid rumors of addiction. Regan's search for the truth led her and her new love interest, Josh, to Etherworld. Etherworld is a dimension hidden deep beyond Elusion's firewall, where players can hide, and ultimately fight back. Regan's father and others are here working to destroy Etherworld, but the longer they stay the less likely they'll be able to return to the real world alive.
Escape means attacking Elusion from within the program. It's dangerous and it's a puzzle. And even if they manage it, how will they be able to stop Orexis from distributing Elusion to the masses when the people who run it are corrupt?
Purchase Etherworld at Amazon
Purchase Etherworld at IndieBound
View Etherworld on Goodreads
* * * *
Instinct
by Sherrilyn Kenyon
Hardcover
St. Martin's Griffin
Released 3/31/2015
Zombies, demons, vampires, shapeshifters--another day in the life of Nick Gautier--and those are just his friends. But now that he's accepted the demon that lives inside him, he must learn to control it and temper the very emotions that threaten the lives of everyone he cares for. Something that's hard to do while trying to stay off the menus of those who want his head on a platter. And no one wants him more than the dark gods who created his race. Now that they know where he is, they will stop at nothing to reclaim him. And without knowing it, Nick has just embraced the one person he should never have trusted. The one person who will hand him over to his enemies to get back the life they lost.
Nick has finally accepted his fate, now he must learn to defy his destiny, and the dark, deadly forces that will stop at nothing to destroy everyone he loves so that they can again return to the world of man and own it, in the next Chronicles of Nick novel, Instinct, from #1 New York Times bestselling author Sherrilyn Kenyon.
Purchase Instinct at Amazon
Purchase Instinct at IndieBound
View Instinct on Goodreads
* * * *
King
by Ellen Oh
Hardcover
HarperTeen
Released 3/31/2015
Girl warrior, demon slayer, Tiger spirit of the Yellow Eyes—Kira is ready for her final quest. In this thrilling finale to the Prophecy trilogy, fans will get even more of the fierce Kira and her quest to save her kingdom!
All eyes are on her. Kira, once an outcast in her home village of Hansong, is now the only one with the power to save her kingdom. She must save her cousin, the boy fated to be the future king, uncover the third lost treasure, and face innumerable enemies in order to fulfill the famed prophecy.
Kira braves a sea of tigers and battles armies of demons as she musters her inner strength and learns to trust herself, the romantic feelings for Jaewon that are growing within her, and the destiny that must be hers.
Purchase King at Amazon
Purchase King at IndieBound
View King on Goodreads
* * * *
Playing a Part
by Daria Wilke
Hardcover
Arthur A. Levine Books; Tra edition
Released 3/31/2015
In June 2013, the Russian government passed laws prohibiting "gay propaganda," threatening jail time and fines to offenders. That same month, in spite of these harsh laws, a Russian publisher released Playing a Part, a young adult novel with openly gay characters. It was a brave, bold act, and now this groundbreaking story has been translated for American readers.
In Playing a Part, Grisha adores everything about the Moscow puppet theater where his parents work, and spends as much time there as he can. But life outside the theater is not so wonderful. The boys in Grisha's class bully him mercilessly, and his own grandfather says hateful things about how he's not "masculine" enough. Life goes from bad to worse when Grisha learns that Sam, his favorite actor and mentor, is moving: He's leaving the country to escape the extreme homophobia he faces in Russia.
How Grisha overcomes these trials and writes himself a new role in his own story is heartfelt, courageous, and hopeful.
Purchase Playing a Part at Amazon
Purchase Playing a Part at IndieBound
View Playing a Part on Goodreads
* * * *
The Cemetery Boys
by Heather Brewer
Hardcover
HarperTeen
Released 3/31/2015
Part Hitchcock, part Hinton, this first-ever stand-alone novel from Heather Brewer, New York Times bestselling author of the acclaimed Chronicles of Vladimir Tod series, uses classic horror elements to tell a darkly funny coming-of-age story about the dangerous power of belief and the cost of blind loyalty.
When Stephen's dad says they're moving, Stephen knows it's pointless to argue. They're broke from paying Mom's hospital bills, and now the only option left is to live with Stephen's grandmother in Spencer, a backward small town that's like something out of The Twilight Zone. Population: 814.
Stephen's summer starts looking up when he meets punk girl Cara and her charismatic twin brother, Devon. With Cara, he feels safe and understood—and yeah, okay, she's totally hot. In Devon and his group, he sees a chance at making real friends. Only, as the summer presses on, and harmless nights hanging out in the cemetery take a darker turn, Stephen starts to suspect that Devon is less a friend than a leader. And he might be leading them to a very sinister end. . . .
Purchase The Cemetery Boys at Amazon
Purchase The Cemetery Boys at IndieBound
View The Cemetery Boys on Goodreads
* * * *
The Kidney Hypothetical: Or How to Ruin Your Life in Seven Days
by Lisa Yee
Hardcover
Arthur A. Levine Books
Released 3/31/2015
Lisa Yee gives us her most fascinating flawed genius since Millicent Min.
Higgs Boson Bing has seven days left before his perfect high school career is completed. Then it's on to Harvard to fulfill the fantasy portrait of success that he and his parents have cultivated for the past four years. Four years of academic achievement. Four years of debate championships. Two years of dating the most popular girl in school. It was, literally, everything his parents could have wanted. Everything they wanted for Higgs's older brother Jeffrey, in fact.
But something's not right. And when Higgs's girlfriend presents him with a seemingly innocent hypothetical question about whether or not he'd give her a kidney . . . the exposed fault lines reach straight down to the foundations of his life. . . .
Purchase The Kidney Hypothetical: Or How to Ruin Your Life in Seven Days at Amazon
Purchase The Kidney Hypothetical: Or How to Ruin Your Life in Seven Days at IndieBound
View The Kidney Hypothetical: Or How to Ruin Your Life in Seven Days on Goodreads
* * * *
The Start of Me and You
by Emery Lord
Hardcover
Bloomsbury USA Childrens
Released 3/31/2015
Brimming with heartfelt relationships and authentic high-school dynamics The Start of Me and You proves that it's never too late for second chances.
It's been a year since it happened--when Paige Hancock's first boyfriend died in an accident. After shutting out the world for two years, Paige is finally ready for a second chance at high school . . . and she has a plan. First: Get her old crush, Ryan Chase, to date her--the perfect way to convince everyone she's back to normal. Next: Join a club--simple, it's high school after all. But when Ryan's sweet, nerdy cousin, Max, moves to town and recruits Paige for the Quiz Bowl team (of all things!) her perfect plan is thrown for a serious loop. Will Paige be able to face her fears and finally open herself up to the life she was meant to live?
Purchase The Start of Me and You at Amazon
Purchase The Start of Me and You at IndieBound
View The Start of Me and You on Goodreads
* * * *
The Wicked Will Rise
by Danielle Paige
Hardcover
HarperCollins
Released 3/31/2015
In this dark, high-octane sequel to the New York Times bestselling Dorothy Must Die, Amy Gumm must do everything in her power to kill Dorothy and free Oz.
To make Oz a free land again, Amy Gumm was given a mission: remove the Tin Woodman's heart, steal the Scarecrow's brain, take the Lion's courage, and then Dorothy must die....
But Dorothy still lives. Now the Revolutionary Order of the Wicked has vanished, and mysterious Princess Ozma might be Amy's only ally. As Amy learns the truth about her mission, she realizes that she's only just scratched the surface of Oz's past—and that Kansas, the home she couldn't wait to leave behind, may also be in danger. In a place where the line between good and evil shifts with just a strong gust of wind, who can Amy trust—and who is really Wicked?
Purchase The Wicked Will Rise at Amazon
Purchase The Wicked Will Rise at IndieBound
View The Wicked Will Rise on Goodreads
* * * *
The World Within: A Novel of Emily Brontë
by Jane Eagland
Hardcover
Arthur A. Levine Books
Released 3/31/2015
The most mysterious Bronte sister steps into the light in this must-read novel for fans of Wuthering Heights and Jane Eyre.
Emily Bronte loves her sisters, responsible Charlotte and quiet Anne, and her brother, tempestuous Branwell. She loves the moors that stretch all around the little village of Haworth, and wandering over them in the worst of weather. And she loves most of all the writing that brings all these things together, as she and her siblings create vast kingdoms and vivid adventures that take them deep into their imaginations.
But change is coming to Haworth, as their father falls ill and the girls must learn how to support themselves. How can Emily preserve both what she loves, and herself, and find her way into the future?
From the award-winning author of Wildthorn, the story of a young writer finding her voice, and a window into the mind of the beloved but mysterious Emily Bronte.
Purchase The World Within: A Novel of Emily Brontë at Amazon
Purchase The World Within: A Novel of Emily Brontë at IndieBound
View The World Within: A Novel of Emily Brontë on Goodreads
* * * *
Twist
by Karen Akins
Hardcover
St. Martin's Griffin
Released 3/31/2015
The unbelievably thrilling sequel to the time-travel YA novel Loop.
Bree Bennis finally has it all—a non-comatose mother, an uber-hot (albeit anachronistic) boyfriend named Finn, and a newfound mission to protect the timeline from those who would skew it for their own gain. But when she leans over one day to smooch said boyfriend, her lips meet those of her arch-nemesis Wyck instead. The timeline has been altered, and Bree is caught in the crosshairs. But when she goes back to repair the damage, she is stopped by none other than her Future Self, who delivers an urgent message: Someone is kidnapping Shifters from the distant past. It's up to Bree to stop them. But first, she has to figure out who…and why.
To follow the trail of chronocrumbs, Bree reluctantly accepts her new undercover gig as Wyck's girlfriend. Everything goes spiffy until Finn shows up in the 23rd century on the eager arm of a gorgeous fellow Shifter. Blark. Even as Bree struggles with jealousy, she battles the nagging dread that Finn might be better off with someone less chronologically complicated. Her worst fear is confirmed when Finn becomes the kidnapper's next victim. As Bree zeroes in on the culprit, they unravel her life one timeline-change at a time. She realizes that she alone has the power to save herself and everyone she loves. But to do that, she may lose Finn forever.
Purchase Twist at Amazon
Purchase Twist at IndieBound
View Twist on Goodreads
a Rafflecopter giveaway