We're excited to have both Susan Kim and Laurence Klavan join us to share more about writing GUARDIANS, the final novel in their Wasteland trilogy.

Since you wrote this trilogy together, what's your writing ritual like? Do you listen to music? Work at home or at a coffee shop or the library, etc?

Laurence: Because Susan and I wrote this as a team, it's different from when each of us writes something alone. We outline together, then divvy up sections for each to write separately, then switch and re-write each other's stuff. By the end, we go over the whole thing together, word for word. At the start of the series, it was tough, with some screaming and crying (mostly by me), but by the end, we had it down. I think the fact that we're still together as a couple is our greatest achievement. But I digress. We each work at home in different apartments, even though we're married. I find listening to music while doing anything slows me down, even if it's something as boring as cleaning the apartment.

Susan: My writing ritual isn't romantic at all. I mean, like, at all. When I was first starting out, I didn't have a desk and used to balance my keyboard across my underwear drawer. Now that I have a desk, though, I never use it. I usually end up reclining on my bed, surrounded by squalor, laundry, and cats, and occasionally stopping to make myself coffee or oatmeal or to blow cat fur off my keyboard. I'm the same as Laurence with music—I can't listen to anything. Although I spend literally hours at my computer every day, I spend way too much time noodling around Facebook, various websites, and email. When I feel absolutely blocked and cranky and full of self-pity, I go down to the little gym in my building and jump rope. Then it's back to my laptop and cats.

How long or hard was your road to publication? How many books did you write before this one, and how many never got published?

Laurence: Again, the road that Susan and I have taken as a team is different from the ones we've taken as individuals. This series came together fast, since interest in dystopian fiction was high when we sold it. But the graphic novels we published before this—City of Spies and Brain Camp—started out as screenplays and took five years to come out as books. In my own work, I've churned out plays, novels and short stories, and had published or produced about 30% of them. It's an ongoing struggle for survival in the dystopian wasteland of entertainment, too.

What scene was really hard for you to write and why, and is that the one of which you are most proud?

Susan: There's one scene that wasn't so much hard to write as in words-not-coming as it was painful, and that's the scene in which Eli commits a terrible act of violence. Laurence and I always liked Eli: he's not a bad person, but a weak one. He's also one of Esther's oldest friends and of course, has always been in love with her. Despite her fondness for him, however, Esther chooses first Caleb, and then Aras to be her partner… and the repeated rejection turns Eli bitter. He begins to hero-worship the tough and cool Gideon, who sees in him a willing henchman. It becomes easy for Eli to convince himself that all he has to do is do what Gideon wants, and he'll be happy. But the crime he commits is ugly and sordid, not heroic at all; and Eli finds he is psychologically, emotionally, and spiritually damned as a result.

What advice would you most like to pass along to other writers?

Susan: The single most important thing is to read a lot, including genres you wouldn't think you'd like. Browse through books online and in bookstores, read readers' comments, then plunge up and sample as much as you can. Also, get into the habit of writing. Clearing away a single hour first thing every morning or late at night is a huge first step; even if you don't write anything, making yourself sit there with paper and pen or your computer gets you started. Then find sympathetic friends, give each other support, don't be too hard on yourself… and then get back to it every day.

Laurence: I'd never be presumptuous enough to give advice to anyone. But I always tell myself: write something everyday; set reasonable goals, so you feel you've achieved something and you'll be encouraged to continue; and be honest with yourself about what's good/sucks in your work. There's also an old expression: never eat at a place called Mom's, never play cards with a man named Doc, and never go out with someone whose troubles are worse than yours.
ABOUT THE BOOK
Guardians
by Susan Kim and Laurence Klavan
Hardcover
HarperTeen
Released 3/24/2015
This heart-pounding final book in the Wasteland trilogy is filled with dramatic twists and turns!
No one dares leave the District—the towering structure of glass and steel that is their protection against the unruly bands of Outsiders that roam Mundreel and the deadly rain that carries the disease that kills all over the age of nineteen.
This skyscraper stands amid the urban devastation, the city rumored to have once been called "Montreal." Esther and her allies have created a haven on the rooftop, a garden that flourishes, and a home for her new baby, hidden from all but the very few who know her secret.
But as Gideon's power grows and factions form, an unlikely leader learns to control every action of the District's people. As the ultimate darkness is born from greed, Esther must find a way to save the citizens from themselves.
Purchase Guardians at Amazon
Purchase Guardians at IndieBound
View Guardians on Goodreads
ABOUT THE AUTHORS
Susan Kim & Laurence Klavan cowrote the graphic novels City of Spies and Brain Camp.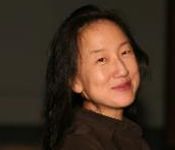 Susan is also a five-time Emmy nominee for her work in children's television and a Writers Guild Award winner for best documentary. She wrote the stage adaptation of Amy Tan's The Joy Luck Club, teaches writing at Goddard College, and is a blogger for the Huffington Post. When she was growing up, her family moved a lot, and the combination of being a) shy, b) the constant new kid, and c) the only Asian meant she was often picked on. In Guardians, she explores her thoughts and feelings about not just bullies but how others deal with them . . . and learn to stand up for themselves.
Laurence has also written the novels The Cutting Room, The Shooting Script, and the Edgar Award-winning Mrs. White and a short-story collection, The Family Unit and Other Fantasies. He received two Drama Desk nominations for the book and lyrics to Bed and Sofa, a musical produced by New York's Vineyard Theatre. Laurence was the baby in his family, the youngest of four brothers; even his twin brother was two minutes older. He learned that having little expected of you can be a source of power. So does Esther in Guardians: she has to finally accept being a leader of people before it's too late. She is sixteen, after all.