My first pass pages (the first read-through of a typeset manuscript) is due today for PERSUASION, so this is going to be very quick and dirty, but that's probably appropriate. The whole point of a discovery draft is to pour the story out.
I'll admit, too, that I used to call the discovery draft an outline. I would start writing it based on the my
Plot Complications Worksheet
, but I only seem to be able to outline action, so wherever I had to reveal information or have an emotional scene between characters, I had to write the dialogue out to see what would happen.
Long story short (or not, as the case may be) my "outlines" ran thirty to forty thousand words! That sounds crazy, but there are a number of benefits.
The draft is still short enough to allow for easier analysis after the words have all spilled out.
I have an opportunity to really discover my characters.
I don't have to censor myself or worry about editing words as I write.
I can get the story out in a matter of days or weeks and know whether it is going to work.
I can easily boil down the discovery draft into a standard synopsis.
The draft is easy to expand into a full manuscript that's far less messy than a standard first or second draft.
For me, the discovery draft is really the best of both the plotting and pantsing worlds.
Now that I have some experience under my belt, I've also found that I can guide myself through the story with ten simple story plot points:
Snapshot of BEFORE -- a scene or two that introduces the main character within her current environment, shows us who she is, what she dreams of, what she is up against, and also suggests what she needs to change.
Jumpstart for Action -- also called the "inciting incident," the jumpstart is the event that will (in the next section) lead to a decision to aim for change. This sets the story goal, and the jumpstart is where you first get to show whether you are going to have a reluctant protagonist or an active one. Is your character the one who discovers that change is necessary and goes after it because she has set a goal for herself? Or is she pushed into change by outside forces or other characters?
New Direction and No Going Back -- this is the first turning point, where the character is now aware that change is necessary because she cannot live in the status quo and she must do whatever is necessary to achieve the goal that was revealed in the jumpstart. This is also where we first see that she understands (or thinks she understands) the stakes and the consequences for failure. In making the decision, she demonstrates that what she has encountered has altered her perception of herself and her world in some way, so that she takes some action that she would not have taken before, and that action is irrevocable.
Testing the Waters -- Having crossed the point of no-return so that she cannot extricate herself without dire consequences, the protagonist has to keep going. Step by step, she works toward the goal, meeting helpers and mentors who will assist her, meeting antagonists and minions who will work against her, and amassing knowledge that will bring her closer to her goal.
The Big Twist -- At the midpoint of the story, what the protagonist thought she knew is suddenly turned on its head. The goal proves to have been only part of what is necessary, or it proves to be a false goal, or the situation is far more dire than the protagonist originally thought. But there's no way that she can get out of it now.
False Hope and Disaster -- Despite the added complications, the protagonist thinks she has a chance to win and wrap things up. Her plan is lining up nicely, she's almost there, but oops. Not so fast. The antagonist or forces working against her prove to be far more powerful and complicated than she expected.
Overcoming Deep Despair -- Having pretty much ruined everything, the protagonist wallows in despair and sees no way out. Before she can find a real solution, she has to get through the emotional black moment that pushes her into the character change she will need in order to finally achieve success. This is the crucible in which her new (winning) character is forged and she finds the strength within herself to keep on fighting.
The Battle Royale -- The final battle between the protagonist and the forces allied against her. She must summon everything she has, every internal strength and external weapon. Will she succeed? Partially succeed? Lose but live on to fight another day?
Cleaning it Up -- What happens after the battle? What are the consequences and the remaining steps to be taken after the big bad has been defeated or your protagonist has failed? Here's where you wrap up all the loose ends and minor plots.
Snapshot of AFTER -- What does the world look like with the Big Bad gone? What is life like for your protagonist in this new world and how is this a change from the snapshot of BEFORE? This is where you get to show your audience what "happily ever after," "more work to do," or "damn, I've really screwed this up" looks like for your protagonist.
So that's it. The no-outline outline that leaves plenty of room for the magic of pantsing. It seems to work for me, and I hope you may find it helpful as another option for your writing toolbox. Ultimately, obviously, there's no right or wrong way to write. We all have to do what feels comfortable for us, and sometimes that can change from book to book.
Are you a plotter or a pantser? How do you leave room for magic?
THIS WEEK'S GIVEAWAY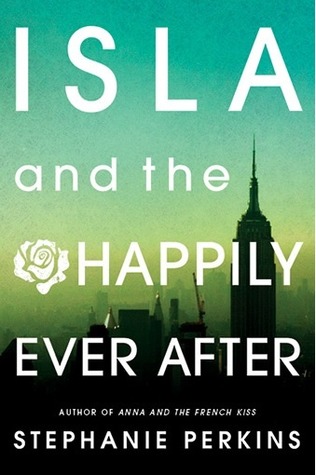 ISLA AND THE HAPPILY EVER AFTER
by Stephanie Perkins
Love ignites in the City That Never Sleeps, but can it last?
Hopeless romantic Isla has had a crush on introspective cartoonist Josh since their first year at the School of America in Paris. And after a chance encounter in Manhattan over the summer, romance might be closer than Isla imagined. But as they begin their senior year back in France, Isla and Josh are forced to confront the challenges every young couple must face, including family drama, uncertainty about their college futures, and the very real possibility of being apart.
Featuring cameos from fan-favorites Anna, Étienne, Lola, and Cricket, this sweet and sexy story of true love—set against the stunning backdrops of New York City, Paris, and Barcelona—is a swoonworthy conclusion to Stephanie Perkins's beloved series.
a Rafflecopter giveaway