Now that Spring is officially here, we hope it's starting to warm up in your area so you can enjoy reading outside. There are a lot of great books releasing this week. Which one would you like to read while soaking up some sun? Leave a comment and let us know!
Happy reading,
Jocelyn, Martina, Jan, Shelly, Susan, Lisa, and Erin
YA BOOK GIVEAWAYS THIS WEEK
* * * *


Guardians
by Susan Kim and Laurence Klavan
Hardcover Giveaway
International
HarperTeen
Released 3/24/2015
This heart-pounding final book in the Wasteland trilogy is filled with dramatic twists and turns!
No one dares leave the District—the towering structure of glass and steel that is their protection against the unruly bands of Outsiders that roam Mundreel and the deadly rain that carries the disease that kills all over the age of nineteen.
This skyscraper stands amid the urban devastation, the city rumored to have once been called "Montreal." Esther and her allies have created a haven on the rooftop, a garden that flourishes, and a home for her new baby, hidden from all but the very few who know her secret.
But as Gideon's power grows and factions form, an unlikely leader learns to control every action of the District's people. As the ultimate darkness is born from greed, Esther must find a way to save the citizens from themselves.
Author Question: What is your favorite thing about Guardians?
Susan: I have to say, while we've had a bunch of pretty nasty villains in the first two books, I really love the bad guys in GUARDIANS. Gideon and Saith are different from each other in many ways: he's a cool and logical teenaged boy and she's an emotionally manipulative little girl. In fact, he doesn't even take her seriously at first. But both of them are ruthless and actually pretty brilliant, despite their differences; and even though they don't really like each other, they recognize that together, they can be an unstoppable team, exploiting the fears and weaknesses of others. They're even capable of sizing up Esther and nearly bringing her to her knees… but not quite!
Laurence: Of course, I agree about the villains, because their parts are juicy and entertaining. At the same time, I like that we were able to show Esther "doing good" while still keeping her a flawed and recognizable human being, as she has been all along. To show someone trying to help others and not be an ideal or a cliché is a challenge. I'm glad that we gave equal weight to the light and dark parts of the story, and that we kept the light parts from getting too sappy and the dark from getting too ugly. It's a balance, as it is in life.
Purchase Guardians at Amazon
Purchase Guardians at IndieBound
View Guardians on Goodreads
* * * *


Me Being Me Is Exactly as Insane as You Being You
by Todd Hasak-Lowy
Hardcover Giveaway
U.S. and Canada
Simon Pulse
Released 3/24/2015
A heartfelt, humorous story of a teen boy's impulsive road trip after the shock of his lifetime—told entirely in lists!
Darren hasn't had an easy year.
There was his parents' divorce, which just so happened to come at the same time his older brother Nate left for college and his longtime best friend moved away. And of course there's the whole not having a girlfriend thing.
Then one Thursday morning Darren's dad shows up at his house at 6 a.m. with a glazed chocolate doughnut and a revelation that turns Darren's world inside out. In full freakout mode, Darren, in a totally un-Darren move, ditches school to go visit Nate. Barely twenty-four hours at Nate's school makes everything much better or much worse—Darren has no idea. It might somehow be both. All he knows for sure is that in addition to trying to figure out why none of his family members are who they used to be, he's now obsessed with a strangely amazing girl who showed up out of nowhere but then totally disappeared.
Told entirely in lists, Todd Hasak-Lowy's debut YA novel perfectly captures why having anything to do with anyone, including yourself, is:
1. painful
2. unavoidable
3. ridiculously complicated
4. possibly, hopefully the right thing after all.
Author Question: What is your favorite thing about Me Being Me Is Exactly as Insane as You Being You?
So this is an unusual book, in that the entire thing is written in lists. Which is how I wrote it from the beginning. And that was a lot of fun for me, especially early on. In many ways it was my main focus during the first draft (Okay that list is done, what list should be next?). I wanted to know--after stumbling upon the technique: Is it possible to write an entire novel in lists?
Well, the answered turned out to be "yes." What was less obvious was the answer to a more crucial question: Is it possible to write a good novel in lists? Or to be more specific: Is it possible to write this kind of unconventional novel and still tell an engaging story populated by characters that feel real? It took a while (about seven substantive drafts) until I got to the point where I could answer that second question in the affirmative. And so that's my favorite thing about this book, it tells a story in a highly unusual way, but not at the expense of the story itself. Just the opposite, in fact, as I like to think many readers will find that the reading experience changes their ideas about the possibilities of otherwise "realistic" YA fiction.
Purchase Me Being Me Is Exactly as Insane as You Being You at Amazon
Purchase Me Being Me Is Exactly as Insane as You Being You at IndieBound
View Me Being Me Is Exactly as Insane as You Being You on Goodreads
* * * *


Things I'll Never Say: Stories About Our Secret Selves
by Ann Angel
Hardcover Giveaway
U.S. Only
Candlewick
Released 3/24/2015
Fifteen top young-adult authors let us in on provocative secrets in a fascinating collection that will have readers talking.
A baby no one knows about. A dangerous hidden identity. Off-limits hookups. A parent whose problems your friends won't understand. Everyone keeps secrets—from themselves, from their families, from their friends—and secrets have a habit of shaping the lives around them. Acclaimed author Ann Angel brings together some of today's most gifted YA authors to explore, in a variety of genres, the nature of secrets: Do they make you stronger or weaker? Do they alter your world when revealed? Do they divide your life into what you'll tell and what you won't? The one thing these diverse stories share is a glimpse into the secret self we all keep hidden.
With stories by:
Ann Angel
Kerry Cohen
Louise Hawes
Varian Johnson
erica l. kaufman
Ron Koertge
E. M. Kokie
Chris Lynch
Kekla Magoon
Zoë Marriott
Katy Moran
J. L. Powers
Mary Ann Rodman
Cynthia Leitich Smith
Ellen Wittlinger
Author Question: What is your favorite thing about Things I'll Never Say: Stories About Our Secret Selves?
My favorite thing about the book is the diversity of the stories and the way they demonstrate that some secrets define a character, and some determine who the characters believes they are or who they will become. But I also am so totally in love with the art on this book's cover that the first time I saw it, my reaction was to get totally teary.
Purchase Things I'll Never Say: Stories About Our Secret Selves at Amazon
Purchase Things I'll Never Say: Stories About Our Secret Selves at IndieBound
View Things I'll Never Say: Stories About Our Secret Selves on Goodreads
* * * *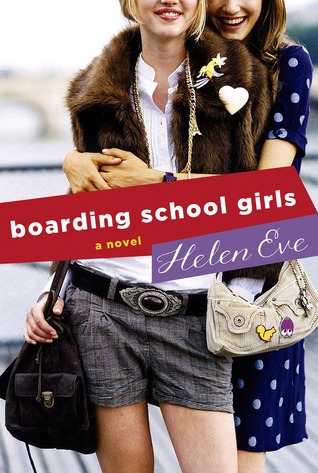 Boarding School Girls
by Helen Eve
Hardcover Giveaway
U.S. and Canada
St. Martin's Griffin
Released 3/24/2015
Siena, older sister to Stella, battles to fulfill her mother's vicarious ambitions and to retain her place at Temperley High's social epicentre.
Worshipped, envied, desired, and feared by all, Siena Hamilton reigns over Temperley High, the embodiment of the Hamilton legacy. She and the Starlets may still be healing from the unfortunate and horrible events of that night, at the end of last year, but nothing can shake her place as the head of Temperley's elite any longer. The Starlets are nothing if not adept at dealing with traitors, and Siena is her mother's daughter: she knows how to be perfect, and she will not disappoint. There is only one person who could possibly get in her way…
Romy, former Starlet, is back—back from a mutually-agreed-upon term away, in France—and no one is happy about it, least of all herself. She's changed now, though. She's trying harder to be normal, to dress appropriately, to blend in, to keep her head down and keep the secret of what really happened that night safe and hidden. But when your former best friends are untouchable, and you've betrayed them, you don't just get to come back—even if you're beginning to think they might not have been your friends in the first place.
In this prequel to Helen Eve's first novel Stella, revenge runs deep, old wounds break open, and the past can never, never be outrun.
Purchase Boarding School Girls at Amazon
Purchase Boarding School Girls at IndieBound
View Boarding School Girls on Goodreads
* * * *


The Tightrope Walkers
by David Almond
Hardcover Giveaway
U.S. Only
Candlewick
Released 3/24/2015
International award winner David Almond draws on memories of his early years in Tyneside, England, for a moving coming-of-age novel, masterfully told.
A gentle visionary coming of age in the shadow of the shipyards of northern England, Dominic Hall is torn between extremes. On the one hand, he craves the freedom he feels when he steals away with the eccentric girl artist next door, Holly Stroud—his first and abiding love—to balance above the earth on a makeshift tightrope. With Holly, Dom dreams of a life different in every way from his shipbuilder dad's, a life fashioned of words and images and story. On the other hand, he finds himself irresistibly drawn to the brutal charms of Vincent McAlinden, a complex bully who awakens something wild and reckless and killing in Dom. In a raw and beautifully crafted bildungsroman, David Almond reveals the rich inner world of a boy teetering on the edge of manhood, a boy so curious and open to impulse that we fear for him and question his balance—and ultimately exult in his triumphs.
Purchase The Tightrope Walkers at Amazon
Purchase The Tightrope Walkers at IndieBound
View The Tightrope Walkers on Goodreads
YA BOOK GIVEAWAYS LAST WEEK: WINNERS
* * * *


Pretty Wanted
by Elisa Ludwig
Hardcover
Katherine Tegen Books
Released 3/17/2015
Winner - Christina Condomaros
Pretty Wanted is Elisa Ludwig's rollicking finale to the Pretty Crooked trilogy, a series filled with moxie, romance, and heart that's perfect for fans of Ally Carter or Sara Shepard.
When Willa skipped probation and hit the California highway to find her mom, she discovered a dark family secret: Joanne Fox is not who she says she is—and neither is Willa. Now Willa and her hot partner in crime, Aidan, must race to St. Louis, Missouri, where they hope to find answers about Willa's past. But uncovering the truth requires solving a decades-old murder case. Unfortunately, the perps are still out there . . . and willing to do whatever it takes to keep the case cold.
Willa's only hope is to find the truth before it finds her first.
Author Question: What is your favorite thing about Pretty Wanted?
My favorite thing about PRETTY WANTED is the way the story widens into a much bigger mystery, and the ways Willa grows as she's challenged to figure out the truth.
Purchase Pretty Wanted at Amazon
Purchase Pretty Wanted at IndieBound
View Pretty Wanted on Goodreads
MORE YOUNG ADULT FICTION IN STORES NEXT WEEK WITH AUTHOR INTERVIEWS
* * * *


Catalyst
by Lydia Kang
Hardcover
Kathy Dawson Books
Released 3/24/2015
For fans of Uglies and The Maze Runner comes a complex, thrill-filled love story that will make you question exactly what it means to be human.
In the past year Zel lost her father, the boy she loves, her safety, and any future she might have imagined for herself. Now she, her sister, and the band of genetic outcasts they've come to call their family are forced on the run when their safe house is attacked by men with neural guns. But on the way to a rumored haven in Chicago, Zel hears something--a whisper from Cy, the boy who traded himself for her sister's safety. And when she veers off plan in order to search for him, what she finds is not what she expected. There's more to their genetic mutations than they ever imagined...aspects that make them wonder if they might be accepted by the outside world after all.
Author Question: What is your favorite thing about Catalyst?
Sometimes I like to hide Easter Eggs inside my books (as I did with CONTROL, which is full of Pride and Prejudice references). In CATALYST, I paid homage to my high school English teachers who had us read lots and lots of plays. Tennessee Williams' The Glass Menagerie is the Easter Egg in CATALYST. You don't have to look hard to see the symbolism and references to the play. :)
Purchase Catalyst at Amazon
Purchase Catalyst at IndieBound
View Catalyst on Goodreads
* * * *


Liars, Inc.
by Paula Stokes
Hardcover
HarperTeen
Released
3/24/2015
For fans of Gone Girl, I Hunt Killers, and TV's How to Get Away with Murder.
Max Cantrell has never been a big fan of the truth, so when the opportunity arises to sell forged permission slips and cover stories to his classmates, it sounds like a good way to make a little money and liven up a boring senior year. With the help of his friends Preston and Parvati, Max starts Liars, Inc. Suddenly everybody needs something and the cash starts pouring in. Who knew lying could be so lucrative?
When Preston wants his own cover story to go visit a girl he met online, Max doesn't think twice about hooking him up. Until Preston never comes home. Then the evidence starts to pile up—terrifying clues that lead the cops to Preston's body. Terrifying clues that point to Max as the murderer.
Can Max find the real killer before he goes to prison for a crime he didn't commit? In a story that Kirkus Reviews called "Captivating to the very end," Paula Stokes starts with one single white lie and weaves a twisted tale that will have readers guessing until the explosive final chapters.
Author Question: What is your favorite thing about Liars, Inc.?
LIARS, INC. is a dark mystery about kids who lie and lies that lead to murder. All of the main characters in this book have secrets. All of them behave deplorably at times. I know in the real world people sometimes do bad things or commit crimes for what feels like random reasons, but that doesn't work for me as a reader. My favorite thing about LIARS, INC. is the motivations that drive each of my main characters, and how at the end of the book when all has been revealed, their actions feel like natural consequences of their personalities, histories, and previous experiences. Nothing in this book is random. Everything is calculated or connected in some way.
Purchase Liars, Inc. at Amazon
Purchase Liars, Inc. at IndieBound
View Liars, Inc. on Goodreads
* * * *


We All Looked Up
by Tommy Wallach
Hardcover
Simon & Schuster Books for Young Readers
Released 3/24/2015
Four high school seniors put their hopes, hearts, and humanity on the line as an asteroid hurtles toward Earth in this contemporary novel.
They always say that high school is the best time of your life.
Peter, the star basketball player at his school, is worried "they" might actually be right. Meanwhile Eliza can't wait to escape Seattle—and her reputation—and perfect-on-paper Anita wonders if admission to Princeton is worth the price of abandoning her real dreams. Andy, for his part, doesn't understand all the fuss about college and career—the future can wait.
Or can it? Because it turns out the future is hurtling through space with the potential to wipe out life on Earth. As these four seniors—along with the rest of the planet—wait to see what damage an asteroid will cause, they must abandon all thoughts of the future and decide how they're going to spend what remains of the present.
Author Question: What is your favorite thing about We All Looked Up?
If you're asking what I'm most proud of in WALU, I think it's the interplay of the various perspectives. When I've gone back and re-read the book for copy edits, I'm a little amazed at how well it all came together. Basically, I didn't want to show the same event from multiple angles (it worked well in Rashomon, but it's a recipe for boredom in most fiction), but I liked the idea that we were still occasionally getting two people's take on the same event. The fragmentation of the narrative pretty much required the structure and order of chapters that I ended up with, so in many ways, it's just dumb luck that I was able to create exactly the thing I wanted from the beginning. I love those little moments where you suddenly realize you're reading a line of dialogue you read in another chapter, and you've just caught up with some earlier scene that now makes a bit more sense.
Purchase We All Looked Up at Amazon
Purchase We All Looked Up at IndieBound
View We All Looked Up on Goodreads
MORE YOUNG ADULT NOVELS NEW IN STORES NEXT WEEK
* * * *


Boys Don't Knit
by T. S. Easton
Hardcover
Feiwel & Friends
Released 3/24/2015
Knitting is a man's game.
After an incident regarding a crossing guard and a bottle of Martini & Rossi (and his bonehead friends), 17-year-old worrier Ben Fletcher must develop his sense of social alignment, take up a hobby, and do some community service to avoid any further probation.
He takes a knitting class (it was that or his father's mechanic class) under the impression that it's taught by the hot teacher all the boys like. Turns out, it's not. Perfect.
Regardless, he sticks with it and comes to find that he's a natural knitter, maybe even great. It even helps ease his anxiety and worrying. The only challenge now is to keep it hidden from his friends, his crush, and his soccer-obsessed father. What a tangled web Ben has weaved . . . or knitted.
Purchase Boys Don't Knit at Amazon
Purchase Boys Don't Knit at IndieBound
View Boys Don't Knit on Goodreads
* * * *


Finding Mr. Brightside
by Jay Clark
Hardcover
Henry Holt and Co.
Released 3/24/2015
Abram and Juliette know each other. They've lived down the street from each other their whole lives. But they don't really know each other—at least, not until Juliette's mom and Abram's dad have a torrid affair that culminates in a deadly car crash. Sharing the same subdivision is uncomfortable, to say the least. They don't speak.
Fast-forward to the neighborhood pharmacy, a few months later. Abram decides to say hello. Then he decides to invite her to Taco Bell.
To her surprise as well as his, she agrees. And the real love story begins.
Purchase Finding Mr. Brightside at Amazon
Purchase Finding Mr. Brightside at IndieBound
View Finding Mr. Brightside on Goodreads
* * * *


Half Wild
by Sally Green
Hardcover
Viking Books for Young Readers
Released 3/24/2015
"You will have a powerful Gift, but it's how you use it that will show you to be good or bad."
In a modern-day England where two warring factions of witches live amongst humans, seventeen-year-old Nathan is an abomination, the illegitimate son of the world's most powerful and violent witch. Nathan is hunted from all sides: nowhere is safe and no one can be trusted. Now, Nathan has come into his own unique magical Gift, and he's on the run--but the Hunters are close behind, and they will stop at nothing until they have captured Nathan and destroyed his father.
The Half Bad trilogy has been translated into 47 languages. TIME Magazine calls it "highly entertaining and dangerously addictive." Kate Atkinson says it's "brilliant and utterly compelling." London's Daily Telegraph has named author Sally Green "the new J.K. Rowling." Discover the story that readers all over the world are raving about.
Purchase Half Wild at Amazon
Purchase Half Wild at IndieBound
View Half Wild on Goodreads
* * * *


In the Time of Dragon Moon
by Janet Lee Carey
Hardcover
Kathy Dawson Books
Released 3/24/2015
An epic fantasy about dragons, dark secrets, Pendragons, and magic.
On the southernmost tip of Wilde Island--far from the Dragonswood sanctuary and the Pendragon Castle--live the native Euit people. Uma, who is half Euit and half English, and not fully accepted by her tribe, wants to become a healer like her Euit father. But the mad English queen in the north, desperate for another child, kidnaps Uma and her father and demands that he cure her barrenness. After her father dies, Uma must ensure that the queen is with child by the time of the Dragon Moon, or be burned at the stake.
Terrified and alone, Uma reaches out to her only possible ally: the king's nephew Jackrun, a fiery dragonrider with dragon, fairy, and human blood. Together, they must navigate through a sea of untold secrets, unveil a dark plot spawned long ago in Dragonswood, and find a way to accept all the elements--Euit, English, dragon, and fairy--that make them who they are.
Purchase In the Time of Dragon Moon at Amazon
Purchase In the Time of Dragon Moon at IndieBound
View In the Time of Dragon Moon on Goodreads
* * * *


The Door in the Moon
by Catherine Fisher
Hardcover
Dial Books
Released 3/24/2015
This New York Times bestselling author once again shows us that she is a master of world-building and surprising plot-twists. The vast, intricate world, fascinating revelations, and unexpected turns in the final book of the Obsidian Mirror trilogy will appeal to readers of Cassandra Claire, and will satisfy existing fans fully.
Purchase The Door in the Moon at Amazon
Purchase The Door in the Moon at IndieBound
View The Door in the Moon on Goodreads
* * * *


The Walls Around Us
by Nova Ren Suma
Hardcover
Algonquin Young Readers
Released 3/24/2015
"Ori's dead because of what happened out behind the theater, in the tunnel made out of trees. She's dead because she got sent to that place upstate, locked up with those monsters. And she got sent there because of me."
On the outside, there's Violet, an eighteen-year-old dancer days away from the life of her dreams when something threatens to expose the shocking truth of her achievement.
On the inside, within the walls of the Aurora Hills juvenile detention center, there's Amber, locked up for so long she can't imagine freedom.
Tying their two worlds together is Orianna, who holds the key to unlocking all the girls' darkest mysteries . . . What really happened on the night Orianna stepped between Violet and her tormentors?
What really happened on two strange nights at Aurora Hills? Will Amber and Violet and Orianna ever get the justice they deserve—in this life or in another one?
In prose that sings from line to line,Nova Ren Suma tells a supernatural tale of guilt and of innocence, and of what happens when one is mistaken for the other.
Purchase The Walls Around Us at Amazon
Purchase The Walls Around Us at IndieBound
View The Walls Around Us on Goodreads
a Rafflecopter giveaway