What was your inspiration for writing MARK OF THE THIEF?
MARK OF THE THIEF started with two facts I stumbled upon. The first was that Emperor Julius Caesar used to claim he was a literal descendent of the Goddess Venus. He did this to make himself seem more powerful and invincible, but I began thinking, What if he was telling the truth? That would have made him a demigod, perhaps with some of their magic. The second fact was that ancient Roman boys used to wear a large golden amulet called a bulla, which was filled with gems in order to provide the boy good luck. So I thought, What if Caesar's bulla was where he kept his magic? And what if that bulla became lost after Caesar's death, only to be found nearly three hundred years later by a slave in the mines?
What do you hope readers will take away from MARK OF THE THIEF?
What an interesting question! I would love for readers to understand that there is a price for freedom. Nic wants that more than anything, but it won't come easily or without a cost. I also think there's a message for readers that every individual matters. Even those who society might determine are the lowest of the low.
What's your writing ritual like? Do you listen to music? Work at home or at a coffee shop or the library, etc?
I do most of my writing at home, but only because I'm lazy about going out! I enjoy editing to music, but the plotting and first draft needs to be in silence. That's the time in which I really need to become absorbed in the story's world.
What advice would you most like to pass along to other writers?
One thing I've learned in publication is to understand who your reader is. Readers who love a story will read themselves into the pages, as if they are going on the adventure in that character's shoes. So once we understand our reader, then we write, not for who they are, but for who they want to be. Let them go on an adventure with a character they want to be more like.
What are you working on now?
My goodness - it's a crazy time! As I type this, I am in the middle of edits for MARK OF THE THIEF 2, outlining the third book in the series, doing proofs for A NIGHT DIVIDED, a Cold War era historical coming this August, and plotting for another standalone book for fall of 2016. Needless to say, I'm not sleeping a lot. But I am having a great time!
ABOUT THE BOOK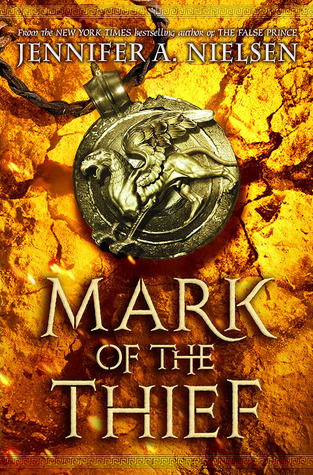 Mark of the Thief
by Jennifer A. Nielsen
Hardcover
Scholastic Press
Released 2/24/2015
Jennifer A. Nielsen, author of the NYT and USA TODAY bestselling Ascendance Trilogy, has woven an electrifying tale of greed and power, magic and destiny, and one boy's courage at the heart of it all.
When Nic, a slave in the mines outside of Rome, is forced to enter a sealed cavern containing the lost treasures of Julius Caesar, he finds much more than gold and gemstones: He discovers an ancient bulla, an amulet that belonged to the great Caesar and is filled with a magic once reserved for the Gods -- magic some Romans would kill for.
Now, with the deadly power of the bulla pulsing through his veins, Nic is determined to become free. But instead, he finds himself at the center of a ruthless conspiracy to overthrow the emperor and spark the Praetor War, a battle to destroy Rome from within. Traitors and spies lurk at every turn, each more desperate than the next to use Nic's newfound powers for their own dark purposes.
In a quest to stop the rebellion, save Rome, and secure his own freedom, Nic must harness the magic within himself and defeat the empire's most powerful and savage leaders.
Purchase Mark of the Thief at Amazon
Purchase Mark of the Thief at IndieBound
View Mark of the Thief on Goodreads
ABOUT THE AUTHOR
New York Times Bestselling author, Jennifer Nielsen, was born and raised in northern Utah, where she still lives today with her husband, three children, and a dog that won't play fetch. She is the author of The Ascendance trilogy, beginning with THE FALSE PRINCE; the MARK OF THE THIEF series, and the forthcoming A NIGHT DIVIDED. She loves chocolate, old books, and lazy days in the mountains.