How Do You Start Your Chapters for the Most Punch? Some Simple--and Surprising--Structure Tips for All Genres
suggested that editors don't read the first five pages a manuscript anymore, they only read the first two. She further suggested that:
"We readers have gotten impatient. Or publishers are gearing toward a new generation of readers, the movie-goers? Our brains have changed, certainly, and we may not be able to hang in there for seven chapters before something happens."
Is that true, do you think? There's certainly some research to back up the idea that we've become so used to skimming information online that it makes it hard to settle down to deeper reading.
There's even been suggestions of starting a SLOW READING movement akin to the SLOW FOOD movement.
But this issue of skimming for key words and concepts has implications beyond just how people read. It might have implications for the success of how books are written, and bought, and sold, and for their success online. Look at the number of blockbuster YA series that are being written by very young writers. Is it because they know who to connect to younger readers? Might--*might*--this explain why some over thirty authors feel like they have a hard time breaking through?
If we innately don't read the same way any more, has the way that YA books are set up changed from ten years ago? From twenty years ago?
According to Mary Carroll Moore, until recently books began with character or setting with a hint of the story question. In contrast, she suggests that 90 percent of modern stories begin with an event. She suggests examining stories to:
"Look for a dramatic event that causes conflict for someone and has the potential to make big changes in the storyline."
COMPULSION is a mix of romance, contemporary story, and fantasy. It's the story of three teens-- lost girl, a girl who has become unpleasant due to circumstances beyond her control, and a boy who's ready to do anything to escape the confining expectations set out for him. Together, these three have to save themselves and their families and resolve a magical situation a thousand years in the making.
This has to be a slower burn than most fantasies because Barrie begins as a lost, grieving, and ordinary girl with just one very small bit of magical ability. In fact, it doesn't begin as fantasy at all. I started COMPULSION as magical realism, kicked it up to paranormal, and then finally drop into full-fledged contemporary fantasy. And at the end of the first book in the series, we've barely scratched the surface.
Even so, when we meet Barrie in the first chapter:
She is abandoned in an airport by herself after being orphaned, because her aunt, who she never knew existed until her mother's will was read, doesn't come to meet her.
She lies to her godfather about the fact that she's been abandoned, thereby giving herself no safety net or way to have him help her.
She goes off in a taxi to figure out what's going on with her aunt without knowing what kind of a reception she will get when she gets to the plantation her family has owned for three-hundred years--a plantation she never knew existed.
She uses her family gift for finding lost things to return the taxi driver's wedding ring.
She discovers that her finding gift connects her to Watson's Landing as if that's where she's supposed to be.
The gate to the plantation may or may not have opened magically to admit her.
She finds the mansion falling apart and her aunt sitting on the front steps crying, having evidently broken down so badly that she lost all sense of time.
Sarah J. Maas' upcoming A COURT OF THORNS AND ROSES opens with a Feyre, a nineteen-year-old huntress who lives in a fantasy world on the edge of a magical land. Feyre has heard rumors of magic and the Fae, even if she hasn't encountered them herself. She's a skilled hunter. She has killed before and has no compunction about killing again to save herself and her family. In the first chapter:
Feyre has ventured further from home than she normally dares in chase of deer, who are being pushed further and further away as the forest dies. She and her family are a week from starvation.
She finds a doe that would feed her family for a week or more, but a wolf is after the same deer.
The wolf kills the deer and she in turn kills the wolf, who makes no effort to avoid being killed by Fayre's special arrow of ash and iron.
It isn't until after the wolf is dead that Feyre is sure the wolf isn't one of the wicked fairies who lay waste to entire towns and who may or may not have been spotted in the area.
She skins the wolf and carrying the pelt and dead doe, she retreats toward home.
The beginning stakes and character arc inception for these books are very different. Barrie could no more kill someone--or something--than she could fly at this point. She could be any girl. She's lost and she has to find her strength and her place. She will, but she hasn't started at that point.
Mary Carroll Moore is right in that both these books start with an inciting event and questions to draw the reader in. But I don't think the takeaway here is that readers are less patient. Young adult readers have more competition for their time now, but chiefly, they have more choices. They gravitate toward particular types of stories, the same way that they gravitate toward their favorite sites on the web and their favorite shows on television. Adults do too.
As writers, we should never dismiss readers or underestimate them. At the same time, we shouldn't give up or assume we can't get away without explosions, enormous body counts, or huge starting stakes. Readers will find and recognize the stories that speak to them.
On the other hand, no matter what you think of attention spans or book "fashions," whatever the pace or starting stakes of your story, you'll end up with more reader engagement if you:
Set out the stakes early. (Barrie has nowhere else to go. Feyre is a week from starvation. )
Start with the story question. (Will Barrie find a home/family? Will Feyre be caught and killed by the fey?)
Keep your main character in the forefront by engaging her/him in activity. (Barrie transports herself to Watson Island. Eyre hunt a deer and kills a wolf.)
Reveal character and special abilities through action as much as possible.
Build the story world as you go, slivering in the details of place as needed.
THIS WEEK'S GIVEAWAY
Want an ARC of A COURT OF THORNS AND ROSES? Fill out the Rafflecopter for a chance to win!
A COURT OF THORNS AND ROSES
by Sarah J. Maas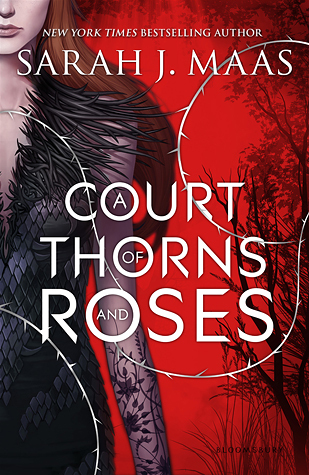 A thrilling, seductive new series from New York Timesbestselling author Sarah J. Maas, blending Beauty and the Beast with faerie lore.
When nineteen-year-old huntress Feyre kills a wolf in the woods, a beast-like creature arrives to demand retribution for it. Dragged to a treacherous magical land she only knows about from legends, Feyre discovers that her captor is not an animal, but Tamlin—one of the lethal, immortal faeries who once ruled their world.
As she dwells on his estate, her feelings for Tamlin transform from icy hostility into a fiery passion that burns through every lie and warning she's been told about the beautiful, dangerous world of the Fae. But an ancient, wicked shadow grows over the faerie lands, and Feyre must find a way to stop it . . . or doom Tamlin—and his world—forever.
Perfect for fans of Kristin Cashore and George R. R. Martin, this first book in a sexy and action-packed new series is impossible to put down!
a Rafflecopter giveaway
WHAT DO YOU THINK?
Have attention spans changed? Do you need action in the first few pages? Stakes? Are fast pace, character, or setting more important to you? Or do you like a blend of all three?