~ The Ladies of AYAP
Martina, Lisa, Susan, Jocelyn, Erin, Shelley, and Jan
YA BOOK GIVEAWAYS THIS WEEK
* * * *
Utopia, Iowa
by Brian Yansky
Hardcover Giveaway

International
Candlewick
Released 2/10/2015
Jack Bell has an unusual gift—or curse, depending on your point of view. And he's not the only one. In Utopia, Iowa, anything can happen.
For the most part, aspiring screenwriter Jack Bell is just your typical Midwestern kid. He's got a crush on his hot best friend, Ash. He's coping with a sudden frostiness between his once crazy-in-love parents. He's debating where to go to college next year—or whether to go at all. But then there's his gift (or curse): Jack can see dead people, just like the kid in The Sixth Sense. Lately, the ghosts are more distracting than usual, demanding that Jack get to the bottom of their mysterious deaths—all while avoiding the straitlaced Detective Bloodsmith, who doesn't believe in gifts or curses and can't help wondering why Jack keeps turning up at crime scenes. Is there a happily-ever-after in Jack's future, or is that only the stuff of movies?
Author Question: What is your favorite thing about Utopia, Iowa?
I'm pretty happy about the mix of genres: urban fantasy (the small-town variety), paranormal, mystery, and even a bit of romance. But my favorite thing is the town itself, the setting of the novel. Utopia, Iowa has a lot of strange people living there (well, some living anyway) and a lot of things that are stranger than people. I like the quirky characters of the town and its secrets and how these two end up being essential to the plot.
Purchase Utopia, Iowa at Amazon
Purchase Utopia, Iowa at IndieBound
View Utopia, Iowa on Goodreads
* * * *
Best Friends through Eternity
by Sylvia McNicoll
Hardcover Giveaway
Tundra Books
Released 2/10/2015
Inspired by the true story of a teen who was killed at a railway crossing, the author weaves the tale of fourteen-year-old Paige, who, taking a shortcut alongside the tracks to avoid the school bullies, is tragically hit by a train and transported to a surreal world where she encounters Kim, who died seven years before. Convinced she is only dreaming, Paige must discover a way to return to her former life. Poignant, gripping, and full of unexpected twists and turns, Best Friends through Eternity will resonate with readers who have struggled with cultural identity, a sense of belonging, and the real meaning of home.
Author Question: What is your favorite thing about Best Friends through Eternity?
One of my favourite aspects of BEST FRIENDS THROUGH ETERNITY is the subplot about secondary character Jasmine which tackles a situation I had growing up as the child of immigrants; that is fitting into a new culture with parents who insist you adhere to their former country's traditions. Jasmine is not allowed dating. Period. At some point, which will be decided by her parents, a suitable man from India will be selected for her and she will be expected to marry him. My European parents did not allow me to date, although arranged marriages were not an issue, and they expected me to help out with cooking and cleaning more than any of my friends had to do in their homes. Jasmine must help in the kitchen and learn how to make various Indian dishes when, really, she wants to become a microbiologist and find cures to diseases. Not marry.
Purchase Best Friends through Eternity at Amazon
Purchase Best Friends through Eternity at IndieBound
View Best Friends through Eternity on Goodreads
* * * *
Inherit Midnight
by Kate Kae Myers
Other Giveaway

U.S. Only
Bloomsbury USA Childrens
Released 2/10/2015
The Competition:
Outlandishly wealthy Grandmother VanDemere has decided to leave her vast fortune to the family member who proves him or herself worthiest-by solving puzzles and riddles on a whirlwind race around the globe, from the mines of Venezuela to the castles of Scotland. There will be eight competitors, three continents . . . and a prize worth millions.
The Players:
Seventeen-year-old Avery is the black sheep of the VanDemere clan, the ostracized illegitimate daughter. Finally, she has a chance to prove herself . . . and to discover the truth about her long-lost mother.
Marshall might be Avery's uncle, but there's no love lost between the two of them. He's her main competition, and he'll do anything to win-including betray his own children.
Riley is the handsome son of Grandmother VanDemere's lawyer. As the game progresses, Avery falls hard for Riley. Suddenly, losing the game might mean losing him, too.
As the competition takes treacherous turns, it becomes clear there can only be one victor. Who can Avery truly trust? And is winning worth her life?
Author Question: What is your favorite thing about Inherit Midnight?
I think one of the things I like best about this story is how Avery, the main character, learns to face her fears. For one thing, she's afraid of heights but makes herself climb down the side of the boarding school where she's been stuck, and later she even rappels into a deep cave. She's also grown up being intimidated by her bullying cousins and other wealthy relatives, but over time she learns to stand up to them. I loved seeing that process develop.
Purchase Inherit Midnight at Amazon
Purchase Inherit Midnight at IndieBound
View Inherit Midnight on Goodreads
* * * *
Promposal
by Rhonda Helms
Hardcover Giveaway
Simon Pulse
Released 2/10/2015
promposal (n.)--an often public proposal, in which one person asks another to the prom, eliciting joy or mortification.
Camilla can't help hoping her secret crush, Benjamin, might randomly surprise her out of the blue with a promposal. However, when she's asked to prom by an irritating casual acquaintance--wearing a fancy tux and standing in front of a news crew--she's forced to say yes. Yet all hope's not lost. A timely school project gives Camilla a chance to get closer to Benjamin...and it seems like the chemistry between them is crackling. But is she reading into something that isn't there?
Joshua, Camilla's bestie, has been secretly in love with his gay best friend, Ethan, since middle school. Just as he decides to bite the bullet and ask Ethan if he'll go to prom with him, even if just as friends, he gets a shocking surprise: Ethan asks Joshua for help crafting the perfect promposal--for another guy. Now Joshua has to suppress his love and try to fake enthusiasm as he watches his dreams fall apart...unless he can make Ethan see that love has been right in front of his eyes the whole time.
The road to the perfect promposal isn't easy to navigate. But one thing's certain--prom season is going to be memorable.
Purchase Promposal at Amazon
Purchase Promposal at IndieBound
View Promposal on Goodreads
YA BOOK GIVEAWAYS LAST WEEK: WINNERS
* * * *
How (Not) to Fall in Love
by Lisa Brown Roberts
Paperback
Entangled: Teen
Released 2/3/2015
Winner - Carl Scott
Seventeen-year-old Darcy Covington never had to worry about money or where her next shopping spree was coming from. Even her dog ate gourmet. Then one day, Darcy's car is repossessed from the parking lot of her elite private school. As her father's business hit the skids, Dad didn't just skip town, he bailed on his family.
Fortunately, Darcy's uncle owns a thrift shop where she can hide out from the world. There's also Lucas, the wickedly hot fix-it guy she can't stop crushing on, even if she's not sure they'll ever get out of the friend zone.
But it's here among the colorful characters of her uncle's world that Darcy begins to see something more in herself...if she has the courage to follow it.
Purchase How (Not) to Fall in Love at Amazon
Purchase How (Not) to Fall in Love at IndieBound
View How (Not) to Fall in Love on Goodreads
* * * *
Scripted
by Maya Rock
Hardcover
Putnam Juvenile
Released 2/5/2015
Winner - Jenny Chou
Reality TV has a dark future in this thought-provoking thriller.
To the people suffering on the war-torn mainland, Bliss Island seems like an idyllic place. And it is: except for the fact that the island is a set, and the islanders' lives are a performance. They're the stars of a hit TV show, Blissful Days—Characters are adored by mainland viewers, yet in constant danger of being cut if their ratings dip too low. And no one really knows what happens to cut Characters.
Nettie Starling knows she's been given the chance of a lifetime when a producer offers suggestions to help her improve her mediocre ratings—especially when those suggestions involve making a move on the boy she's been in love with for years. But she'll soon have to decide how far she's willing to go to keep the cameras fixed on her. . . especially when she learns what could happen to her if she doesn't.
Purchase Scripted at Amazon
Purchase Scripted at IndieBound
View Scripted on Goodreads
* * * *
Soulprint
by Megan Miranda
Hardcover
Bloomsbury USA Childrens
Released 2/3/2015
Winner - Jeanette Green
Seventeen-year-old Alina Chase has spent her entire life imprisoned on a secluded island—not for a crime she committed in this lifetime, but one done by her past self. Her very soul is like a fingerprint, carried from one life to the next—and Alina is sick of being guilty.
Aided by three teens with their own ulterior motives, Alina manages to escape. Although she's not sure she can trust any of them, she soon finds herself drawn to Cameron, the most enigmatic and alluring of the trio. But when she uncovers clues from her past life, secrets begin to unravel and Alina must figure out whether she's more than the soul she inherited, or if she's fated to repeat history.
This stunning "new world" romance from acclaimed author Megan Miranda will leave readers wondering how far they would go to escape the past.
Author Question: What is your favorite thing about Soulprint?
As much as I absolutely loved writing the action and the character relationships in SOULPRINT, my favorite thing about the book is that it grew from an idea I had been thinking about for over a decade. The premise comes from a question I wondered about when I was studying science in school. I'd been learning about the work on the human genome project, and it got me thinking: What if, one day, we could prove the existence of "the soul" in a scientific way? What would it look like? What would it be? And, most importantly, what would that mean?

Fast forward over ten years later, and that question was still bouncing around in my head. It was the question that gave rise to this entire story, as I got to explore all those what ifs—and wonder not only what that knowledge would mean for each of us, but how that knowledge might, in turn, be used against us.
Purchase Soulprint at Amazon
Purchase Soulprint at IndieBound
View Soulprint on Goodreads
* * * *
The Forgetting
by Nicole Maggi
Paperback
Sourcebooks Fire
Released 2/3/2015
Critique Winner - Shannon Mizikoski
Georgie's new heart saved her life...but now she's losing her mind.
Georgie Kendrick wakes up after a heart transplant, but the organ beating in her chest doesn't seem to be in tune with the rest of her body. Why does she have a sudden urge for strawberries when she's been allergic for years? Why can't she remember last Christmas?
Driven to find her donor, Georgie discovers her heart belonged to a girl her own age who fell out of the foster care system and into a rough life on the streets. Everyone thinks she committed suicide, but Georgie is compelled to find the truth - before she loses herself completely.
Author Question: What is your favorite thing about The Forgetting?
This book is so important to me for many reasons, but the main one is that it made me fall back in love with writing. A few months before I started working on it, I'd had my 3-book contract with a major publisher cancelled, and I was heartbroken and devastated. I wasn't sure I would ever write again. But I had this seed of an idea about a girl who has a heart transplant and starts to remember the life of her donor. Even though the story is dark, I wrote this book in a state of complete joy because it made me so happy to just sit and write, no pressure, just for the joy of it. And while I was writing the book we resold my cancelled books (The Twin Willows Trilogy, Medallion Press). I truly believe that it was because I'd poured my energy into something new instead of staying brokenhearted. It's fitting that the book is about a heart transplant, because it healed my own heart.
Purchase The Forgetting at Amazon
Purchase The Forgetting at IndieBound
View The Forgetting on Goodreads
MORE YOUNG ADULT FICTION IN STORES NEXT WEEK WITH AUTHOR INTERVIEWS
* * * *
My Heart and Other Black Holes
by Jasmine Warga
Hardcover
Balzer + Bray
Released 2/10/2015
A stunning novel about the transformative power of love, perfect for fans of Jay Asher and Laurie Halse Anderson.
Sixteen-year-old physics nerd Aysel is obsessed with plotting her own death. With a mother who can barely look at her without wincing, classmates who whisper behind her back, and a father whose violent crime rocked her small town, Aysel is ready to turn her potential energy into nothingness.
There's only one problem: she's not sure she has the courage to do it alone. But once she discovers a website with a section called Suicide Partners, Aysel's convinced she's found her solution--Roman, a teenage boy who's haunted by a family tragedy, is looking for a partner. Even though Aysel and Roman have nothing in common, they slowly start to fill in each other's broken lives. But as their suicide pact becomes more concrete, Aysel begins to question whether she really wants to go through with it. Ultimately, she must choose between wanting to die or trying to convince Roman to live so they can discover the potential of their energy together.
Author Question: What is your favorite thing about My Heart and Other Black Holes?
I love how it has connected me to so many other fabulous book-loving people--readers, bloggers, other authors, my genius editor and amazing agent. I'll always be grateful to my little manuscript for that.
Purchase My Heart and Other Black Holes at Amazon
Purchase My Heart and Other Black Holes at IndieBound
View My Heart and Other Black Holes on Goodreads
* * * *
Red Queen
by Victoria Aveyard
Hardcover
HarperTeen
Released 2/10/2015
Graceling meets The Selection in debut novelist Victoria Aveyard's sweeping tale of seventeen-year-old Mare, a common girl whose once-latent magical power draws her into the dangerous intrigue of the king's palace. Will her power save her or condemn her?
Mare Barrow's world is divided by blood--those with common, Red blood serve the Silver- blooded elite, who are gifted with superhuman abilities. Mare is a Red, scraping by as a thief in a poor, rural village, until a twist of fate throws her in front of the Silver court. Before the king, princes, and all the nobles, she discovers she has an ability of her own.
To cover up this impossibility, the king forces her to play the role of a lost Silver princess and betroths her to one of his own sons. As Mare is drawn further into the Silver world, she risks everything and uses her new position to help the Scarlet Guard--a growing Red rebellion--even as her heart tugs her in an impossible direction. One wrong move can lead to her death, but in the dangerous game she plays, the only certainty is betrayal.
Author Question: What is your favorite thing about Red Queen?
I love so many things about this book - the characters, the world - but I'm really enamored of the pace. That's one of the most important things in writing, making sure the work moves. Not to mean each scene must be quick, dirty, and high-octane, but at the very least, it doesn't drag. Even small, dramatic scenes have an edge to them and an engine driving everything forwards. Of course, I'm biased, so others might not agree regarding RQ, but for me at least, it looks and feels like a quick read. I'm quite a visual and sensory writer, a lot of work is done by feel from character names to plot twists, so in the end, that's the most important thing to me. How does this work feel on the page? And, in my opinion, RQ feels fast. It feels like it pulls you, and I absolutely love it.
Purchase Red Queen at Amazon
Purchase Red Queen at IndieBound
View Red Queen on Goodreads
* * * *
The Glass Arrow
by Kristen Simmons
Hardcover
Tor Teen
Released 2/10/2015
Once there was a time when men and women lived as equals, when girl babies were valued, and women could belong only to themselves. But that was ten generations ago. Now women are property, to be sold and owned and bred, while a strict census keeps their numbers manageable and under control. The best any girl can hope for is to end up as some man's forever wife, but most are simply sold and resold until they're all used up.
Only in the wilderness, away from the city, can true freedom be found. Aya has spent her whole life in the mountains, looking out for her family and hiding from the world, until the day the Trackers finally catch her.
Stolen from her home, and being groomed for auction, Aya is desperate to escape her fate and return to her family, but her only allies are a loyal wolf she's raised from a pup and a strange mute boy who may be her best hope for freedom . . . if she can truly trust him.
Author Question: What is your favorite thing about The Glass Arrow?
I love my main character, Aya. At 15, she's lived through a lot, but instead of making her callous, these experiences have shaped her into a truly determined, proud young woman. She fights hard and never gives up, even when everything falls apart and her worst fear becomes a reality. Her resilience inspired me while I wrote it. I wish I could be so strong!

Early on in THE GLASS ARROW, Aya is captured by the wealthy businessmen from the city she's spent her entire life hiding from. She's sent to a place she's learned to fear from her mother's stories, but though she's afraid, she doesn't give up. Tenacity has always kept her alive in the past, and though this is different than anything she's ever experienced, she keeps fighting - even when that fight means certain sacrifices must be made.
Purchase The Glass Arrow at Amazon
Purchase The Glass Arrow at IndieBound
View The Glass Arrow on Goodreads
* * * *
When Reason Breaks
by Cindy L. Rodriguez
Hardcover
Bloomsbury USA Childrens
Released 2/10/2015
13 Reasons Why meets the poetry of Emily Dickinson in this gripping debut novel perfect for fans of Sara Zarr or Jennifer Brown.
A Goth girl with an attitude problem, Elizabeth Davis must learn to control her anger before it destroys her. Emily Delgado appears to be a smart, sweet girl, with a normal life, but as depression clutches at her, she struggles to feel normal. Both girls are in Ms. Diaz's English class, where they connect to the words of Emily Dickinson. Both are hovering on the edge of an emotional precipice. One of them will attempt suicide. And with Dickinson's poetry as their guide, both girls must conquer their personal demons to ever be happy.
In an emotionally taut novel with a richly diverse cast of characters, readers will relish in the poetry of Emily Dickinson and be completely swept up in the turmoil of two girls grappling with demons beyond their control.
Author Question: What is your favorite thing about When Reason Breaks?
One of my favorite things about WHEN REASON BREAKS is its depiction of teen depression through two very different characters. Depression doesn't discriminate, so Emily and Elizabeth are intentionally unlike each other in terms of ethnicity, family, friends, and personality. They also experience depression in different ways. Emily is quiet and slowly retreats. Her pain is not obvious even to the people closest to her. Meanwhile, Elizabeth is aggressive and impulsive. She seems to be dealing with an anger issue alone, but depression can cause people to be impatient and short-tempered. In many of the YA novels I've read about depression and suicide, a character has already taken his or her life, leaving others to make sense of it. For me, it was important not only to show a possible tragic result of depression--in this case an attempted suicide--but the daily struggles of living with it. Through Emily and Elizabeth, I hope readers are able to better understand what it feels like to live with depression and what it takes to find hope again.
Purchase When Reason Breaks at Amazon
Purchase When Reason Breaks at IndieBound
View When Reason Breaks on Goodreads
MORE YOUNG ADULT NOVELS NEW IN STORES NEXT WEEK
* * * *
I Remember You
by Cathleen Davitt Bell
Hardcover
Knopf Books for Young Readers
Released 2/10/2015
For fans of THE FUTURE OF US comes an engrossing story of two teens, whose love for each other is tested by time and fate.
Lucas and Juliet couldn't be more different from each other. But from the moment Lucas sees Juliet, he swears he remembers their first kiss. Their first dance. Their first fight. He even knows what's going to happen between them—not because he can predict the future, but because he claims to have already lived it.
Juliet doesn't know whether to be afraid for herself or for Lucas. As Lucas's memories occur more frequently, they also grow more ominous. All Juliet wants is to keep Lucas safe with her. But how do you hold on to someone you love in the present when they've begun slipping away from you in the future?
Purchase I Remember You at Amazon
Purchase I Remember You at IndieBound
View I Remember You on Goodreads
* * * *
Seeker
by Arwen Elys Dayton
Hardcover
Delacorte Books for Young Readers
Released 2/10/2015
For readers of A Game of Thrones and The Hunger Games comes an epic new series.
The night Quin Kincaid takes her Oath, she will become what she has trained to be her entire life. She will become a Seeker. This is her legacy, and it is an honor. As a Seeker, Quin will fight beside her two closest companions, Shinobu and John, to protect the weak and the wronged. Together they will stand for light in a shadowy world. And she'll be with the boy she loves--who's also her best friend.
But the night Quin takes her Oath, everything changes. Being a Seeker is not what she thought. Her family is not what she thought. Even the boy she loves is not who she thought.
And now it's too late to walk away.
Purchase Seeker at Amazon
Purchase Seeker at IndieBound
View Seeker on Goodreads
* * * *
Temple Boys
by Jamie Buxton
Hardcover
Roaring Brook Press
Released 2/10/2015
Jerusalem, year zero.
Flea belongs to a gang of teenage vagrants living in the shadow of the Temple, with no family and no home, living on their wits and what they can beg or steal. The city is crowded with visitors for Passover and governed by an uneasy alliance between the Temple priests and the occupying Roman army, bringing talk of miracles and revolution. Flea and his comrades latch onto the newcomer in the hope that he'll offer them a secure home. As events accumulate and powerful forces gather around the Magician, Flea notices rumblings of discontent among his followers, and finds himself torn between one of them—the protective Jude, who employs Flea to run errands—and a brutal Roman spy determined to uncover the Magician's plans.
Is the Magician the savior he claims to be, or a fraud? Does Flea hold the fate of the Magician—and possibly the world—in his hands, as he begins to believe? Temple Boys vividly conjures up ancient Jerusalem and the Biblical era and boldly re-imagines the western world's most famous story from the point of view of a teenage boy.
Purchase Temple Boys at Amazon
Purchase Temple Boys at IndieBound
View Temple Boys on Goodreads
* * * *
The Last Time We Say Goodbye
by Cynthia Hand
Hardcover
HarperTeen
Released 2/10/2015
From New York Times bestselling author Cynthia Hand comes a gorgeous and heart-wrenching story of love, loss, and letting go.
Since her brother, Tyler, committed suicide, Lex has been trying to keep her grief locked away, and to forget about what happened that night. But as she starts putting her life, her family, and her friendships back together, Lex is haunted by a secret she hasn't told anyone—a text Tyler sent, that could have changed everything.
In the tradition of Jay Asher's Thirteen Reasons Why, Gayle Forman's If I Stay, and Lauren Oliver's Before I Fall, The Last Time We Say Goodbye is a thoughtful and deeply affecting novel that will change the way you look at life and death.
Purchase The Last Time We Say Goodbye at Amazon
Purchase The Last Time We Say Goodbye at IndieBound
View The Last Time We Say Goodbye on Goodreads
* * * *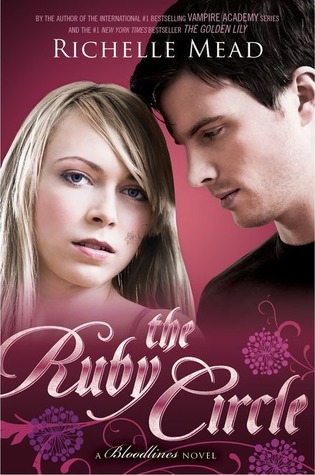 The Ruby Circle
by Richelle Mead
Hardcover
Razorbill
Released 2/10/2015
The epic conclusion to Richelle Mead's New York Times bestselling Bloodlines series is finally here...
Sydney Sage is an Alchemist, one of a group of humans who dabble in magic and serve to bridge the worlds of humans and vampires. They protect vampire secrets—and human lives.
After their secret romance is exposed, Sydney and Adrian find themselves facing the wrath of both the Alchemists and the Moroi in this electrifying conclusion to Richelle Mead's New York Times bestselling Bloodlines series. When the life of someone they both love is put on the line, Sydney risks everything to hunt down a deadly former nemesis. Meanwhile, Adrian becomes enmeshed in a puzzle that could hold the key to a shocking secret about spirit magic, a secret that could shake the entire Moroi world.
Purchase The Ruby Circle at Amazon
Purchase The Ruby Circle at IndieBound
View The Ruby Circle on Goodreads
* * * *
The Shadow Cabinet
by Maureen Johnson
Hardcover
Putnam Juvenile
Released 2/10/2015
The thrilling third installment to the Edgar-nominated, bestselling Shades of London series
Rory and her friends are reeling from a series of sudden and tragic events. While racked with grief, Rory tries to determine if she acted in time to save a member of the squad. If she did, how do you find a ghost? Also, Rory's classmate Charlotte has been kidnapped by Jane and her nefarious organization. Evidence is uncovered of a forty-year-old cult, ten missing teenagers, and a likely mass murder. Everything indicates that Charlotte's in danger, and it seems that something much bigger and much more terrible is coming.
Time is running out as Rory fights to find her friends and the ghost squad struggles to stop Jane from unleashing her spectral nightmare on the entire city. In the process, they'll discover the existence of an organization that underpins London itself—and Rory will learn that someone she trusts has been keeping a tremendous secret.
Purchase The Shadow Cabinet at Amazon
Purchase The Shadow Cabinet at IndieBound
View The Shadow Cabinet on Goodreads
a Rafflecopter giveaway