~The ladies of AYAP
Martina, Alyssa, Lisa, Susan, Shelly, Jocelyn, Becca, and Jan
YA BOOK GIVEAWAYS THIS WEEK
* * * *
Woven
by Michael Jensen and David Powers King
Signed Hardcover Giveaway

U.S. Only
Scholastic Press
Released 1/27/2015
Two unlikely allies must journey across a kingdom in the hopes of thwarting death itself.
All his life, Nels has wanted to be a knight of the kingdom of Avërand. Tall and strong, and with a knack for helping those in need, the people of his sleepy little village have even taken to calling him the Knight of Cobblestown.
But that was before Nels died, murdered outside his home by a mysterious figure.
Now the young hero has awoken as a ghost, invisible to all around him save one person—his only hope for understanding what happened to him—the kingdom's heir, Princess Tyra. At first the spoiled royal wants nothing to do with Nels, but as the mystery of his death unravels, the two find themselves linked by a secret, and an enemy who could be hiding behind any face.
Nels and Tyra have no choice but to abscond from the castle, charting a hidden world of tangled magic and forlorn phantoms. They must seek out an ancient needle with the power to mend what has been torn, and they have to move fast. Because soon Nels will disappear forever.
Author Question: What is your favorite thing about Woven?
WOVEN is a ghost story unlike any other. It has a timeless, symbolic feel to it. There are many great life lessons in WOVEN if you look for them. It's about reality through the eyes of sewing needles and the threads that go through them. Since there are lots of elements to the art of sewing and weaving, we had plenty of material to work with. Every character has a purpose, even the background characters. There's so much to love about WOVEN, it's hard to pin down.
Purchase Woven at Amazon
Purchase Woven at IndieBound
View Woven on Goodreads
* * * *
Cut Me Free
by J.R. Johansson
Hardcover Giveaway
Farrar, Straus and Giroux
Released 1/27/2015
Seventeen-year-old Charlotte barely escaped from her abusive parents. Her little brother, Sam, wasn't as lucky. Now she's trying to begin the new life she always dreamed of for them, but never thought she'd have to experience alone. She's hired a techie-genius with a knack for forgery to remove the last ties to her old life. But while she can erase her former identity, she can't rid herself of the memories. And her troubled history won't let her ignore the little girl she sees one day in the park. The girl with the bruises and burn marks.
That's when Charlotte begins to receive the messages. Threatening notes left in her apartment--without a trace of entry. And they're addressed to Piper, her old name. As the messages grow in frequency, she doesn't just need to uncover who is leaving them; she needs to stop whoever it is before anyone else she loves ends up dead.
Author Question: What is your favorite thing about Cut Me Free?
My favorite thing about CUT ME FREE has to be the heart of this book. It's a thriller, but at it's basis it really is about resiliency of the human spirit and how we are capable of recovering from the most horrifying of circumstances. It's a very character driven book and Piper is my favorite character I've ever written. I'm a fan of strong female characters and she is definitely that.
Purchase Cut Me Free at Amazon
Purchase Cut Me Free at IndieBound
View Cut Me Free on Goodreads
YA BOOK GIVEAWAYS LAST WEEK: WINNERS
* * * *
Polaris
by Mindee Arnett
Hardcover
Balzer + Bray
Released 1/20/2015
Winner - Melinda Pratt
Following the events of Avalon, Jeth Seagrave and his crew are on the run. Jeth is desperate to find the resources and funding he needs to rescue his mother from an ITA's research lab and leave this whole galaxy behind for a new life somewhere else. But the ITA is just as desperate, and soon Jeth finds himself pursued by a mysterious figure hell-bent on capturing Jeth and his crew—dead or alive. In a last-ditch effort to save everyone he holds dear, Jeth enters into a bargain with the last person he ever thought he'd see again: Dax Shepherd, the galaxy's newest and most fearsome crime lord. And he's not the only one: upon arriving back at Peltraz spaceport for the first time since he witnessed the death of his old employer, Jeth discovers Dax has a new partner: Jeth's mother, Marian.
This shocking turn of events is only the first in another breathless, action-packed sci-fi adventure rife with danger, love, and betrayal, as Jeth has to once again ask himself how much he's willing to invest in a morally bankrupt galaxy in the hopes of saving those he cares for.
Author Question: What is your favorite thing about Polaris?
With POLARIS I learned two critical things, both of them more affirmations than revelations. The first is that even when the writing is hard you have to push through it. That might seem self-evident, but it's one of those things where you don't really know what "hard" is until you've run smack into. The affirmation aspect of this is that I learned that I can push through it. I was in a very hard place emotionally when I started work on POLARIS, and it didn't go away throughout the whole process. Some of it was struggles in my personal life and some of it is what I call the post publication blues. All writers get them and they are awful—the mean reds times a thousand. But the great thing is that even when it's hard, the writing is always worth it. I'm proud of POLARIS, despite all the struggle or maybe because of it.

Secondly, I learned that it's okay to channel your own emotions into a story. Like I said, I was in a very dark place when I wrote this book, and a lot of that darkness translates to the page. The main character Jeth struggles a lot in this book. I'm downright awful to him at times. But ultimately, I think that emotional struggle has a big payoff in the end, both for me personally and for the reader, I hope.
Purchase Polaris at Amazon
Purchase Polaris at IndieBound
View Polaris on Goodreads
* * * *
The Five Stages of Andrew Brawley
by Shaun David Hutchinson
Hardcover
Simon Pulse
Released 1/20/2015
Winner - Alicia Guerrero
Andrew Brawley was supposed to die that night. His parents did, and so did his sister, but he survived.
Now he lives in the hospital. He serves food in the cafeteria, he hangs out with the nurses, and he sleeps in a forgotten supply closet. Drew blends in to near invisibility, hiding from his past, his guilt, and those who are trying to find him.
Then one night Rusty is wheeled into the ER, burned on half his body by hateful classmates. His agony calls out to Drew like a beacon, pulling them both together through all their pain and grief. In Rusty, Drew sees hope, happiness, and a future for both of them. A future outside the hospital, and away from their pasts.
But Drew knows that life is never that simple. Death roams the hospital, searching for Drew, and now Rusty. Drew lost his family, but he refuses to lose Rusty, too, so he's determined to make things right. He's determined to bargain, and to settle his debts once and for all.
But Death is not easily placated, and Drew's life will have to get worse before there is any chance for things to get better.
Author Question: What is your favorite thing about The Five Stages of Andrew Brawley?
Growing up as a gay teen, one of the most difficult things to deal with was always hiding who I was. I spent most of my teenage years feeling like no one really saw me, like I was invisible. We read books in order to connect to characters, to feel like someone sees us. But there aren't a lot of YA books that feature LGBTQIA characters whose biggest problem isn't their sexuality. That's one of the reasons I wrote The Fives Stages of Andrew Brawley. I wanted LGBTQIA teens to know that they are more than their sexuality, I wanted them to know that they are not invisible. That's my favorite thing about The Five Stages of Andrew Brawley. Also, there's a freaking graphic novel inside the book!
Purchase The Five Stages of Andrew Brawley at Amazon
Purchase The Five Stages of Andrew Brawley at IndieBound
View The Five Stages of Andrew Brawley on Goodreads
MORE YOUNG ADULT FICTION IN STORES NEXT WEEK WITH AUTHOR INTERVIEWS
* * * *
Tear You Apart
by Sarah Cross
Hardcover
EgmontUSA
Released 1/27/2015
An edgy fairy tale retelling of "Snow White" set in the world of Kill Me Softly for fans of Once Upon a Time and Grimm.
Faced with a possible loophole to her "Snow White" curse, Viv goes underground, literally, to find the prince who's fated to rescue her. But is life safe in the Underworld worth the price of sacrficing the love that might kill her?
Author Question: What is your favorite thing about Tear You Apart?
My favorite thing about TEAR YOU APART . . . is that it exists. A sequel or companion novel (TEAR YOU APART is a companion novel to KILL ME SOFTLY) is never a guaranteed thing. But readers supported KILL ME SOFTLY and that made a second book possible. That's why TEAR YOU APART is dedicated to my readers. Without their enthusiasm and support, this book would be a dream, not a reality.
Purchase Tear You Apart at Amazon
Purchase Tear You Apart at IndieBound
View Tear You Apart on Goodreads
* * * *
We Can Work It Out
by Elizabeth Eulberg
Hardcover
Point
Released 1/27/2015
A return to the world of THE LONELY HEARTS CLUB -- in a novel that gets to the heart of how hard relationships can be . . . and why they are sometimes worth all the drama and comedy they create.
When Penny Lane started The Lonely Hearts Club, the goal was simple: to show that girls didn't need to define themselves by how guys looked at them, and didn't have to value boyfriends over everything else. Penny thought she'd be an outcast for life . . . but then the club became far more popular than she ever imagined it would be.
But what happens when the girl who never thought she'd date a good guy suddenly finds herself dating a great one? She doesn't need a boyfriend . . . but she wants it to work out with this particular boyfriend. And he wants it to work out with her.
Only, things keep getting in the way. Feelings keep getting hurt. Words keep getting misunderstood.
Penny Lane worked hard to declare her independence. Now she needs to figure out what to do with it -- and how to balance what she wants with what everyone else wants.
Author Question: What is your favorite thing about We Can Work It Out?
I absolutely loved getting to return to the world and characters of my first novel, The Lonely Hearts Club. Ever since I finished writing that book five years ago, I'd been itching to see what was next in store for Penny Lane Bloom and her friends. Plus, I got to listen to the Beatles while writing the book, which is always a fun thing!
Purchase We Can Work It Out at Amazon
Purchase We Can Work It Out at IndieBound
View We Can Work It Out on Goodreads
MORE YOUNG ADULT NOVELS NEW IN STORES NEXT WEEK
* * * *
A Cold Legacy
by Megan Shepherd
Hardcover
Balzer + Bray
Released 1/27/2015
After killing the men who tried to steal her father's research, Juliet—along with Montgomery, Lucy, Balthazar, and a deathly ill Edward—has escaped to a remote estate on the Scottish moors. Owned by the enigmatic Elizabeth von Stein, the mansion is full of mysteries and unexplained oddities: dead bodies in the basement, secret passages, and fortune-tellers who seem to know Juliet's secrets. Though it appears to be a safe haven, Juliet fears new dangers may be present within the manor's own walls.
Then Juliet uncovers the truth about the manor's long history of scientific experimentation—and her own intended role in it—forcing her to determine where the line falls between right and wrong, life and death, magic and science, and promises and secrets. And she must decide if she'll follow her father's dark footsteps or her mother's tragic ones, or whether she'll make her own.
With inspiration from Mary Shelley's Frankenstein, this breathless conclusion to the Madman's Daughter trilogy is about the things we'll sacrifice to save those we love—even our own humanity.
Purchase A Cold Legacy at Amazon
Purchase A Cold Legacy at IndieBound
View A Cold Legacy on Goodreads
* * * *
Burning Nation
by Trent Reedy
Hardcover
Arthur A. Levine Books
Released 1/27/2015
In this wrenching sequel to DIVIDED WE FALL, Danny and friends fight to defend Idaho against a Federal takeover and the ravages of a BURNING NATION.
At the end of DIVIDED WE FALL, Danny Wright's beloved Idaho had been invaded by the federal government, their electricity shut off, their rights suspended. Danny goes into hiding with his friends in order to remain free. But after the state declares itself a Republic, Idaho rises to fight in a second American Civil War, and Danny is right in the center of the action, running guerrilla missions with his fellow soldiers to break the Federal occupation. Yet what at first seems like a straightforward battle against governmental repression quickly grows more complicated, as more states secede, more people die, and Danny discovers the true nature of some of his new allies.
Chilling, powerful, and all too plausible,, BURNING NATION confirms Trent Reedy's place as a provocative new voice in YA fiction.
Purchase Burning Nation at Amazon
Purchase Burning Nation at IndieBound
View Burning Nation on Goodreads
* * * *
Fairest
by Marissa Meyer
Hardcover
Feiwel & Friends
Released 1/27/2015
In this stunning bridge book between Cress and Winter in the bestselling Lunar Chronicles, Queen Levana's story is finally told.
Mirror, mirror on the wall,
Who is the fairest of them all?
Fans of the Lunar Chronicles know Queen Levana as a ruler who uses her "glamour" to gain power. But long before she crossed paths with Cinder, Scarlet, and Cress, Levana lived a very different story – a story that has never been told . . . until now.
Marissa Meyer spins yet another unforgettable tale about love and war, deceit and death. This extraordinary book includes full-color art and an excerpt from Winter, the next book in the Lunar Chronicles series.
Purchase Fairest at Amazon
Purchase Fairest at IndieBound
View Fairest on Goodreads
* * * *
I Was Here
by Gayle Forman
Hardcover
Viking Juvenile
Released 1/27/2015
Cody and Meg were inseparable.
Two peas in a pod.
Until . . . they weren't anymore.
When her best friend Meg drinks a bottle of industrial-strength cleaner alone in a motel room, Cody is understandably shocked and devastated. She and Meg shared everything—so how was there no warning? But when Cody travels to Meg's college town to pack up the belongings left behind, she discovers that there's a lot that Meg never told her. About her old roommates, the sort of people Cody never would have met in her dead-end small town in Washington. About Ben McAllister, the boy with a guitar and a sneer, who broke Meg's heart. And about an encrypted computer file that Cody can't open—until she does, and suddenly everything Cody thought she knew about her best friend's death gets thrown into question.
I Was Here is Gayle Forman at her finest, a taut, emotional, and ultimately redemptive story about redefining the meaning of family and finding a way to move forward even in the face of unspeakable loss.
Purchase I Was Here at Amazon
Purchase I Was Here at IndieBound
View I Was Here on Goodreads
* * * *
I'm Glad I Did
by Cynthia Weil
Hardcover
Soho Teen
Released 1/27/2015
Mad Men meets Nashville in this debut mystery set in 1963, written by Grammy winner and Rock and Roll Hall of Famer Cynthia Weil.
It's the summer of 1963 and JJ Green is a born songwriter—which is a major problem, considering that her family thinks the music business is a cesspool of lowlifes and hustlers. Defying them, she takes an internship at the Brill Building, the epicenter of a new sound called rock and roll.
JJ is finally living her dream. She even finds herself a writing partner in Luke Silver, a boy with mesmerizing green eyes who seems to connect instantly with her music. Best of all, they'll be cutting their first demo with legendary singer Dulcie Brown. Though Dulcie is now a custodian in the Brill Building and has fallen on hard times, JJ is convinced that she can shine again.
But Dulcie's past is a tangle of secrets, and when events take a dark turn, JJ must navigate a web of hidden identities and shattered lives—before it snares her, too.
Purchase I'm Glad I Did at Amazon
Purchase I'm Glad I Did at IndieBound
View I'm Glad I Did on Goodreads
* * * *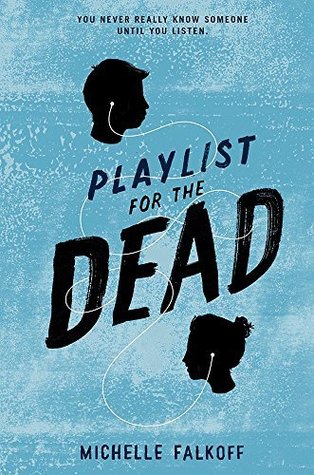 Playlist for the Dead
by Michelle Falkoff
Hardcover
HarperTeen
Released 1/27/2015
A teenage boy tries to understand his best friend's suicide by listening to the playlist of songs he left behind in this smart, voice-driven debut novel.
Here's what Sam knows: There was a party. There was a fight. The next morning, his best friend, Hayden, was dead. And all he left Sam was a playlist of songs, and a suicide note: For Sam—listen and you'll understand.
As he listens to song after song, Sam tries to face up to what happened the night Hayden killed himself. But it's only by taking out his earbuds and opening his eyes to the people around him that he will finally be able to piece together his best friend's story. And maybe have a chance to change his own.
Part mystery, part love story, and part coming-of-age tale in the vein of Stephen Chbosky's The Perks of Being a Wallflower and Tim Tharp's The Spectacular Now, Playlist for the Dead is an honest and gut-wrenching first novel about loss, rage, what it feels like to outgrow a friendship that's always defined you—and the struggle to redefine yourself. But above all, it's about finding hope when hope seems like the hardest thing to find.
Purchase Playlist for the Dead at Amazon
Purchase Playlist for the Dead at IndieBound
View Playlist for the Dead on Goodreads
a Rafflecopter giveaway