days
weeks
months for making so many changes.
But the version I am sending back, even after catching some motivation issues, adding some backstory from COMPULSION for people just coming into the series, and addressing queries from my copyeditor, I still managed to trim almost 4,000 words out.
4,000 words.
Those words came out of the manuscript bloodies and screaming, and damn, they fought not to go. But I won.
Was it worth it? I think so. I hope so.
Tonight, this is what I look like. (Okay, I've kind of looked like this for weeks, but still . . . )
And this is what it feels like to be a writer. Every. Single.
Draft
Manuscript
Book.
Hoping I got to 5 overall, but gotta say there are some brief glimmers of 6. (And I don't often say that about my stuff.)
And then there was this, which is silly but still made me laugh.
Also, psst, if you haven't got COMPULSION yet, my publisher is running a promotion at B&N and Amazon for the e-book. You can get it for $1.99!
This Week's Giveaway
I'LL GIVE YOU THE SUN
by Jandy Nelson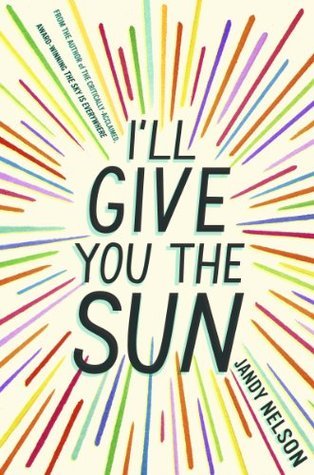 A brilliant, luminous story of first love, family, loss, and betrayal for fans of John Green, David Levithan, and Rainbow Rowell

Jude and her twin brother, Noah, are incredibly close. At thirteen, isolated Noah draws constantly and is falling in love with the charismatic boy next door, while daredevil Jude cliff-dives and wears red-red lipstick and does the talking for both of them. But three years later, Jude and Noah are barely speaking. Something has happened to wreck the twins in different and dramatic ways . . . until Jude meets a cocky, broken, beautiful boy, as well as someone else—an even more unpredictable new force in her life. The early years are Noah's story to tell. The later years are Jude's. What the twins don't realize is that they each have only half the story, and if they could just find their way back to one another, they'd have a chance to remake their world.

This radiant novel from the acclaimed, award-winning author of The Sky Is Everywhere will leave you breathless and teary and laughing—often all at once.
a Rafflecopter giveaway
What About You?
Do you ever get to 6 with anything creative? Or are you like me and your words are never good enough? Leave a comment!