~The ladies of AYAP
Martina, Alyssa, Lisa, Susan, Shelly, Jocelyn, Becca, and Jan
YA BOOK GIVEAWAYS THIS WEEK
* * * *
Infected
by Sophie Littlefield
Hardcover Giveaway (3 Copies)
Delacorte Books for Young Readers
Released 1/6/2015
The race-against-the-clock feel of TV's popular show 24 meets the action-packed romance of the film Run Lola Run. This high-concept teen thriller sends readers on the race of their lives.
Carina's senior year is spiraling downward. Fast. Both her mother and her uncle, the only two family members she's ever known, are dead. Their deaths were accidents, unfortunate results of the highly confidential research they performed for a national security organization. Or so she's been told.
She's not buying it.
After finding a unique code hidden beneath the stone in a ring her mother left to her, Carina goes straight to the only family she has left: her boyfriend, Tanner.
The people Carina loved kept dangerous secrets. Secrets that make her question the life she's been living up to now. Her life is on the line, but more importantly, so is Tanner's. And if she fails? He dies.
Author Question: What is your favorite thing about Infected?
I was tempted to say that my favorite thing is the eye-catching shiny green cover, which is truly one of the best I've ever received, but as far as the story itself goes, I love the capable, brave, kick-ass character of my heroine, Carina. She's both physically strong and mentally tough, but she's also emotionally courageous. In short, she's a person I'd love to know.
Purchase Infected at Amazon
Purchase Infected at IndieBound
View Infected on Goodreads
* * * *
Hellhole
by Gina Damico
Signed Hardcover plus Swag Giveaway

U.S. Only
HMH Books for Young Readers
Released 1/6/2015
A devil is a bad influence . . .
There was a time when geeky, squeaky-clean Max Kilgore would never lie or steal or even
think
about murder. Then he accidentally unearths a devil, and Max's choices are no longer his own. The big red guy has a penchant for couch surfing and junk food—and you should never underestimate evil on a sugar high. With the help of Lore, a former goth girl who knows a thing or two about the dark side, Max is racing against the clock to get rid of the houseguest from hell before time, and all the Flamin' Hot Cheetos this side of the fiery abyss, run out. Gina Damico, author of the Croak series, once again delivers all the horror, hilarity, and high-stakes drama that any kid in high school or hell could ever handle.
Author Question: What is your favorite thing about Hellhole?
I really like the character of Burg, the devil that pops up into Max's life and refuses to go away. He's such a mess - eats a ton of snacks, gets drunk, turns the basement into a pigsty. And he's a jerk, too, as devils are wont to be. The things he does to torture Max are really infuriating and mean...but at the same time, he's kind of lovable. He takes such pleasure in the little things up on the surface of the earth that he doesn't have access to in hell. And you get the sense that deep down, maybe he's not as bad as he seems. Or is he?
Purchase Hellhole at Amazon
Purchase Hellhole at IndieBound
View Hellhole on Goodreads
* * * *
Ignite
by Sara B. Larson
Hardcover Giveaway

U.S. Only
Scholastic Press
Released 1/6/2015
Murder, abductions, and forbidden romance abound in this thrilling sequel to Sara B. Larson's acclaimed YA debut, DEFY.
Alexa remains by the newly crowned King Damian's side as his guard, ever committed to helping him rebuild Antion and reclaim the hope of Antion's people, despite continuing to harbor a secret love for him. However, when another threat to Damian and his kingdom emerges, and blame is cast on their newly forged allies from Blevon, Alexa knows things are not what they seem. With the fate of her nation hanging in the balance once again, will Alexa be able to protect her king and uncover the true enemy -- before it's too late?
Author Question: What is your favorite thing about Ignite?
Ooh, that's tough. I love so many things about IGNITE. But I think my favorite thing about IGNITE is the chance to go back into the world of Antion with Alexa, Damian, Rylan (and everyone else)—to continue their journey, to watch them grow, and hurt, and love, face new challenges and still somehow keep going. My goal with every book I write is to try and make it better than the last, and I hope that you will feel that I have accomplished that with IGNITE!
Purchase Ignite at Amazon
Purchase Ignite at IndieBound
View Ignite on Goodreads
* * * *
Vivian Apple at the End of the World
by Katie Coyle
Hardcover Giveaway
HMH Books for Young Readers
Released 1/6/2015
Seventeen-year-old Vivian Apple never believed in the evangelical Church of America, unlike her recently devout parents. But when Vivian returns home the night after the supposed "Rapture," all that's left of her parents are two holes in the roof. Suddenly, she doesn't know who or what to believe. With her best friend Harp and a mysterious ally, Peter, Vivian embarks on a desperate cross-country roadtrip through a paranoid and panic-stricken America to find answers. Because at the end of the world, Vivan Apple isn't looking for a savior. She's looking for the truth.
Author Question: What is your favorite thing about Vivian Apple at the End of the World?
My favorite thing about Vivian Apple is Vivian Apple herself! When I began to sketch out the story that would become the novel, I had a very specific goal to write a character that felt complicated and real to me. I wanted Vivian to be thoughtful and funny and active in shaping her own destiny, and I wanted her to have all the anxieties, dreams, confusions, and convictions that I remember from my own time as a seventeen-year-old. I'm a lot like Vivian in many ways, but there are other ways in which she completely surprised me. She was a very rewarding character to write about, and I find myself thinking about her sometimes as if she's a real person out in the world, and wondering what she's up to.
Purchase Vivian Apple at the End of the World at Amazon
Purchase Vivian Apple at the End of the World at IndieBound
View Vivian Apple at the End of the World on Goodreads
* * * *
X: A Novel
by Ilyasah Shabazz and Kekla Magoon
Hardcover Giveaway
Candlewick
Released 1/6/2015
Cowritten by Malcolm X's daughter, this riveting and revealing novel follows the formative years of the man whose words and actions shook the world.
I am Malcolm.
I am my father's son. But to be my father's son means that they will always come for me.
They will always come for me, and I will always succumb.
Malcolm Little's parents have always told him that he can achieve anything, but from what he can tell, that's nothing but a pack of lies—after all, his father's been murdered, his mother's been taken away, and his dreams of becoming a lawyer have gotten him laughed out of school. There's no point in trying, he figures, and lured by the nightlife of Boston and New York, he escapes into a world of fancy suits, jazz, girls, and reefer.
But Malcolm's efforts to leave the past behind lead him into increasingly dangerous territory when what starts as some small-time hustling quickly spins out of control. Deep down, he knows that the freedom he's found is only an illusion—and that he can't run forever.
X
follows Malcolm from his childhood to his imprisonment for theft at age twenty, when he found the faith that would lead him to forge a new path and command a voice that still resonates today.<
Author Question: What is your favorite thing about X: A Novel?
Kekla Magoon: Can I start with how excited I was when Ilyasah invited me to write this novel with her? The concept was just so incredibly cool and I immediately knew I wanted to be involved in the project. Malcolm X's life and work and the inspiration of his example to the world has long been important to me, as a writer and as a black woman living my life in this country. It's been so meaningful to get to know Malcolm's life story better, and to play a role in sharing that powerful story in a way that has never been done before. I have heard Ilyasah say many times that she feels it is a honor and a privilege to be charged with carrying her father's legacy forward, and as a collaborating writer on X, I felt that special weight of responsibility as well. We are both really thrilled that a new generation of young readers will be able to discover Malcolm X through our book.
Purchase X: A Novel at Amazon
Purchase X: A Novel at IndieBound
View X: A Novel on Goodreads
MORE YOUNG ADULT FICTION IN STORES NEXT WEEK WITH AUTHOR INTERVIEWS
* * * *
Atlantis Rising
by Gloria Craw
Hardcover
Entangled: Teen
Released 1/6/2015
An engrossing fantasy about the descendants of Atlantis, and the one girl who could save or destroy them all.
Tabitha has perfected the art of invisibility. Nondescript clothes, no friends to speak of, good grades--but not so good that she would stand out. After graduation she is going to pack up her junkyard car, pocket the wad of cash she'd earned over the years, and disappear.
It's not because she isn't happy. Far from it--she loves her family, doesn't mind Las Vegas (despite the inherit issues that come with pale skin and a desert climate), and would actually like to go to college. But it would be too dangerous for her to stay. Because Tabitha isn't normal. She's a Dewing, part of a superhuman species descending from the original inhabitants of Atlantis. The Dewing grow up and attend college, but they don't grow old and they have special abilities that allow them to erase memories, see the future, and more.
Tabitha's senior year quickly becomes a mess of complicated when she literally runs into a new student, Brice. There's something different about him. Special. And it shouldn't be a huge surprise when she discovers that he is a Dewing as well. And that the entire Dewing community is looking for her. They believe that she is the key in a centuries old war between two factions of the Dewing society--a war that forces Tabitha to choose between her human world and the Dewing community.
Author Question: What is your favorite thing about Atlantis Rising?
There are so many, but I think it's probably the connection between Alison, the heroine, and Lillian, the woman she works for after school. Alison is young and a bit of a smarty pants. Lillian is old and has been alone for so long she doesn't remember how normal people react to things. Circumstances force these very different people together, and they find they share some common emotional wounds. They are both very brave in their own way. As the story moves, there are subtle things they do to help each other. Lillian was a favorite of mine from the moment I first envisioned her. On the page, she and Alison had such natural chemistry it was easy to write their dialogue. There's a poignant moment between them that makes me tear up every time I read it.
Purchase Atlantis Rising at Amazon
Purchase Atlantis Rising at IndieBound
View Atlantis Rising on Goodreads
* * * *
City 1
by Gregg Rosenblum
Hardcover
HarperTeen
Released 1/6/2015
In the explosive conclusion to the thrilling Revolution 19 series, the time has come to win the cities back from the bots—or die trying.
After finally reuniting at a rebel camp, siblings Nick, Kevin, and Cass are willing to do anything to stay together—and free their parents from bot rule. But the leader of the rebel camp has her own ideas. Cruel and determined, General Clay won't let anything stand in the way of her plan to destroy the robots and all the brainwashed humans. This means their parents' lives are at stake, but Nick, Kevin, and Cass can't desert the rebels when they're so close to freedom. How far will they go to save the world they believe in?
Author Question: What is your favorite thing about City 1?
I loved having the opportunity to flesh out a few of my favorite side characters, especially Grennel and Erica. I especially enjoyed exploring their "greyness"…they're not truly good or bad; they're complicated people with whom readers can hopefully sympathize while still disliking their actions. I wanted readers to be conflicted, to find themselves liking Grennel and Erica but feeling a bit guilty about it.
Purchase City 1 at Amazon
Purchase City 1 at IndieBound
View City 1 on Goodreads
* * * *
Frostfire
by Amanda Hocking
Hardcover
St. Martin's Griffin; Hardcover Edition edition
Released 1/6/2015
Hidden deep in the heart of a snow-covered wilderness lies the secret kingdom of the Kanin—a magical realm as beautiful as it is treacherous…Bryn Aven has never fit into Kanin society. Her blond hair and blue eyes set her apart as an outsider—a half-blood unable to hold a respectable rank. But she's determined to prove herself as a loyal protector of the kingdom she loves. Her dream is to become a member of the King's elite guard, and she's not going to let anything stand in her way…not even her growing feelings for her boss, Ridley Dresden. A relationship between them is strictly forbidden, but Bryn can't fight her attraction to him. And she's beginning to think he feels it too. Meanwhile, there's an attack on the kingdom—one that will test Bryn's strength like never before. Finally, she has the chance to confront Konstantin Black, the traitor who tried to kill her father years ago. It's up to Bryn to put a stop to him before he strikes again. But is she willing to risk everything to protect a kingdom that doesn't accept her for who she really is? And when her mission brings her closer to Ridley, will she be able to deny her heart?
Author Question: What is your favorite thing about Frostfire?
My favorite thing about FROSTFIRE is exploring the world of the trolls even more. In the Trylle series, I only touched on things, because everything was so new to Wendy. But with Bryn Aven growing up embedded in the world, I was able to show so many new aspects of the society.
Purchase Frostfire at Amazon
Purchase Frostfire at IndieBound
View Frostfire on Goodreads
* * * *
The Boy in the Black Suit
by Jason Reynolds
Hardcover
Atheneum Books for Young Readers
Released 1/6/2015
Just when seventeen-year-old Matt thinks he can't handle one more piece of terrible news, he meets a girl who's dealt with a lot more—and who just might be able to clue him in on how to rise up when life keeps knocking him down—in this wry, gritty novel from the author of When I Was the Greatest.
Matt wears a black suit every day. No, not because his mom died—although she did, and it sucks. But he wears the suit for his gig at the local funeral home, which pays way better than the Cluck Bucket, and he needs the income since his dad can't handle the bills (or anything, really) on his own. So while Dad's snagging bottles of whiskey, Matt's snagging fifteen bucks an hour. Not bad. But everything else? Not good. Then Matt meets Lovey. She's got a crazy name, and she's been through more crazy than he can imagine. Yet Lovey never cries. She's tough. Really tough. Tough in the way Matt wishes he could be. Which is maybe why he's drawn to her, and definitely why he can't seem to shake her. Because there's nothing more hopeful than finding a person who understands your loneliness—and who can maybe even help take it away.
Author Question: What is your favorite thing about The Boy in the Black Suit?
Such a tough question. My knee-jerk response is always that I love characters. I love them. Most of my work is undeniably character-driven because I believe that they are who we bite down on. Who we latch on to. Who we connect with. But in this book, I have to say that my favorite things are the funerals. And perhaps the reason I feel this way is because the funerals are characters in and of themselves. They are alive, and complex, and nuanced, and they dance and move with the human characters of the story in a way that I honestly didn't predict.
Purchase The Boy in the Black Suit at Amazon
Purchase The Boy in the Black Suit at IndieBound
View The Boy in the Black Suit on Goodreads
* * * *
There Will Be Lies
by Nick Lake
Hardcover
Bloomsbury USA Childrens
Released 1/6/2015
In four hours, Shelby Jane Cooper will be struck by a car.
Shortly after, she and her mother will leave the hospital and set out on a winding journey toward the Grand Canyon.
All Shelby knows is that they're running from dangers only her mother understands. And the further they travel, the more Shelby questions everything about her past—and her current reality. Forced to take advantage of the kindness of unsuspecting travelers, Shelby grapples with what's real, what isn't, and who she can trust . . . if anybody.
Award-winning author Nick Lake proves his skills as a master storyteller in this heart-pounding new novel. This emotionally charged thrill ride leads to a shocking ending that will have readers flipping back to the beginning.
Author Question: What is your favorite thing about There Will Be Lies?
I think my favourite thing is that it's the story of one person – Shelby Jane Cooper – and what happens to her. The entire novel, whether Shelby is on the run across Arizona with her mother, or holed up in a motel room with a SWAT team outside, or whether she's in the world of the Dreaming with Coyote guiding her to the castle where the crone lives, follows her journey and her gradual realisation of who and what she is.

I've written a few books now, and I always struggled to construct an arc that stuck firmly with just one character. In Darkness switched back and forth between Shorty and Toussaint l'Ouverture, and even though they were in some sense the same person, there was a duality of narrative there. Hostage Three was interrupted by the folk tales that Farouz tells to Amy. There Will Be Lies was the first time I felt confident enough to stick with the one story throughout, and yeah, I suppose I'm pleased that it has that unity of character at least.

Of course, it still flits between the real world and the Dreaming, so I'm still working on it. The book I'm editing right now, Whisper To Me, which I think is going to be coming out some time in Summer 16, is just one girl and just one world all the way through. So maybe all these books have been a long way of getting to that point.
Purchase There Will Be Lies at Amazon
Purchase There Will Be Lies at IndieBound
View There Will Be Lies on Goodreads
MORE YOUNG ADULT NOVELS NEW IN STORES NEXT WEEK
* * * *
All the Bright Places
by Jennifer Niven
Hardcover
Knopf Books for Young Readers
Released 1/6/2015
The Fault in Our Stars meets Eleanor and Park in this compelling, exhilarating, and beautiful story about a girl who learns to live from a boy who intends to die.
Theodore Finch
is fascinated by death, and he constantly thinks of ways he might kill himself. But each time, something good, no matter how small, stops him.
Violet Markey
lives for the future, counting the days until graduation, when she can escape her Indiana town and her aching grief in the wake of her sister's recent death.
When Finch and Violet meet on the ledge of the bell tower at school, it's unclear who saves whom. And when they pair up on a project to discover the "natural wonders" of their state, both Finch and Violet make more important discoveries: It's only with Violet that Finch can be himself—a weird, funny, live-out-loud guy who's not such a freak after all. And it's only with Finch that Violet can forget to count away the days and start living them. But as Violet's world grows, Finch's begins to shrink.
This is an intense, gripping novel perfect for fans of Jay Asher, Rainbow Rowell, John Green, Gayle Forman, and Jenny Downham from a talented new voice in YA, Jennifer Niven.
Purchase All the Bright Places at Amazon
Purchase All the Bright Places at IndieBound
View All the Bright Places on Goodreads
* * * *
Collide
by Melissa West
Paperback
Entangled: Teen
Released 1/6/2015
Ari Alexander is now back on Earth, and the world she left behind has been turned upside down. A new leader has risen to power, her friends have become her enemies, and Jackson is thought to be trapped on Loge with her archrival, Zeus.
Now Ari must determine who is the true enemy before Zeus attacks and Earth is forced into a battle of the dominant species.
Will Ari and Jackson's love give them the strength to survive the greatest war in human history?
Purchase Collide at Amazon
Purchase Collide at IndieBound
View Collide on Goodreads
* * * *
Dead of Winter
by Kresley Cole
Hardcover
Simon & Schuster Books for Young Readers
Released 1/6/2015
Can Evie convince her rival loves to work together? Their survival depends on it in this third book of #1 New York Times bestselling author Kresley Cole's Arcana Chronicles, a nonstop action tale of rescue, redemption, and a revenge most wicked.
Heartbreaking decisions
Evie was almost seduced by the life of comfort that Death offered her—until Jack was threatened by two of the most horrific Arcana, The Lovers. She will do anything to save him, even escape Death's uncanny prison, full of beautiful objects, material comforts…and stolen glances from a former love.
Uncertain victory
Despite leaving a part of her heart behind with Death, Evie sets out into a frozen and perilous post-apocalyptic wasteland to meet up with her allies and launch an attack on The Lovers and the vast army they command. Such formidable enemies require a battle plan, and the only way to kill them once and for all may mean Evie, Jack, and Death allying. Evie doesn't know what will prove more impossible: surviving slavers, plague, Bagmen and other Arcana—or convincing Jack and Death to work together.
Two heroes returned
There's a thin line between love and hate, and Evie just doesn't know where she stands with either Jack or Death. Will this unlikely trio be able to defeat The Lovers without killing one another first?
Purchase Dead of Winter at Amazon
Purchase Dead of Winter at IndieBound
View Dead of Winter on Goodreads
* * * *
Deep Sea
by Annika Thor
Hardcover
Delacorte Books for Young Readers
Released 1/6/2015
Readers of Anne of Green Gables and Hattie Ever After will love following Stephie's story, which takes place during World War II and began with A Faraway Island and continued with The Lily Pond.
Three years ago, Stephie and her younger sister, Nellie, escaped the Nazis in Vienna and fled to an island in Sweden, where they were taken in by different families. Now sixteen-year-old Stephie is going to school on the mainland. Stephie enjoys her studies, and rooming with her school friend, May. But life is only getting more complicated as she gets older.
Stephie might lose the grant money that is funding her education. Her old friend Verra is growing up too fast. And back on the island, Nellie wants to be adopted by her foster family. Stephie, on the other hand, can't stop thinking about her parents, who are in a Nazi camp in Austria. If only the war would end….
Like the deep sea, Stephie's life is filled with danger and darkness, but also with beauty and hope as she learns to stand up for her beliefs and be true to herself.
Purchase Deep Sea at Amazon
Purchase Deep Sea at IndieBound
View Deep Sea on Goodreads
* * * *
Ensnared
by A. G. Howard
Hardcover
Amulet Books
Released 1/6/2015
After surviving a disastrous battle at prom, Alyssa has embraced her madness and gained perspective. She's determined to rescue her two worlds and the people and netherlings she loves. Even if it means challenging Queen Red to a final battle of wills and wiles . . . and even if the only way to Wonderland, now that the rabbit hole is closed, is through the looking-glass world—a parallel dimension filled with mutated and violent netherling outcasts.
In the final installment of the wildly popular Splintered trilogy, Alyssa and her dad journey into the heart of magic and mayhem in search of her mom and to set right all that's gone wrong. Together with Jeb and Morpheus, they must salvage Wonderland from the decay and destruction that has ensnared it. But if they succeed and come out alive, can everyone truly have their happily ever after?
Purchase Ensnared at Amazon
Purchase Ensnared at IndieBound
View Ensnared on Goodreads
* * * *
Firefight
by Brandon Sanderson
Hardcover
Delacorte Press
Released 1/6/2015
From the #1 "New York Times" bestselling author of Words of Radiance coauthor of Robert Jordan's Wheel of Time series, and creator of the internationally bestselling Mistborn Trilogy, Brandon Sanderson presents the second book in the Reckoners series: Firefight, the sequel to the #1 bestseller Steelheart.
They told David it was impossible--that even the Reckoners had never killed a High Epic. Yet, Steelheart--invincible, immortal, unconquerable--is dead. And he died by David's hand.
Eliminating Steelheart was supposed to make life more simple. Instead, it only made David realize he has questions. Big ones. And there's no one in Newcago who can give him the answers he needs.
Babylon Restored, the old borough of Manhattan, has possibilities, though. Ruled by the mysterious High Epic, Regalia, David is sure Babylon Restored will lead him to what he needs to find. And while entering another city oppressed by a High Epic despot is a gamble, David's willing to risk it. Because killing Steelheart left a hole in David's heart. A hole where his thirst for vengeance once lived. Somehow, he filled that hole with another Epic--Firefight. And he's willing to go on a quest darker, and more dangerous even, than the fight against Steelheart to find her, and to get his answers.
Purchase Firefight at Amazon
Purchase Firefight at IndieBound
View Firefight on Goodreads
* * * *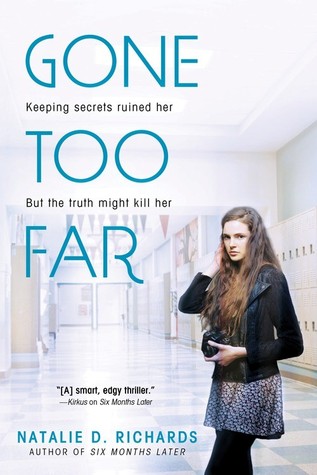 Gone Too Far
by Natalie Richards
Paperback
Sourcebooks Fire
Released 1/6/2015
Keeping secrets ruined her life. But the truth might just kill her.
Piper Woods can't wait for the purgatory of senior year to end. She skirts the fringes of high school like a pro until the morning she finds a notebook with mutilated photographs and a list of student sins. She's sure the book is too gruesome to be true, until pretty, popular Stella dies after a sex-tape goes viral. Everyone's sure it's suicide, but Piper remembers Stella's name from the book and begins to suspect something much worse.
Drowning in secrets she doesn't want to keep, Piper's fears are confirmed when she receives an anonymous text message daring her to make things right. All she needs to do is choose a name, the name of someone who deserves to be punished...
Purchase Gone Too Far at Amazon
Purchase Gone Too Far at IndieBound
View Gone Too Far on Goodreads
* * * *
Hold Tight, Don't Let Go
by Laura Rose Wagner
Hardcover
Amulet Books
Released 1/6/2015
Hold Tight, Don't Let Go follows the vivid story of two teenage cousins, raised as sisters, who survive the devastating 2010 earthquake in Haiti. After losing the woman who raised them in the tragedy, Magdalie and Nadine must fend for themselves in the aftermath of the quake. The girls are inseparable, making the best of their new circumstances in a refugee camp with an affectionate, lively camaraderie, until Nadine, whose father lives in Miami, sends for her but not Magdalie. As she leaves, Nadine makes a promise she cannot keep: to bring Magdalie to Miami, too. Resourceful Magdalie focuses her efforts on a reunion with Nadine until she realizes her life is in Haiti, and that she must embrace its possibilities for love, friendship, and a future.
Purchase Hold Tight, Don't Let Go at Amazon
Purchase Hold Tight, Don't Let Go at IndieBound
View Hold Tight, Don't Let Go on Goodreads
* * * *
Monkey Wars
by Richard Kurti
Hardcover
Delacorte Books for Young Readers
Released 1/6/2015
A dark fable in the vein of
Animal Farm, Watership Down,
and
The Wave,
this action-packed page-turner is told entirely from warring monkeys' points of view and shines a light on the politics of power, the rise of tyrants, and the personal dilemmas that must be faced when your life is on the line.
When rhesus monkeys are brutally massacred on the dusty streets of Kolkata by a troop of power-hungry langur monkeys, Mico, a privileged langur, becomes entangled in the secrets that lie at the heart of his troop's leadership and is shocked at what he discovers. He feels compelled to help the few surviving rhesus, especially Papina, a young female he befriends, even though doing so goes against everything he's been taught. As more blood is spilled, Mico realizes that choosing between right and wrong won't be easy.
* Includes a Note from the Author as well as information about specific monkey species.
Purchase Monkey Wars at Amazon
Purchase Monkey Wars at IndieBound
View Monkey Wars on Goodreads
* * * *
Reborn
by Jennifer Rush
Hardcover
Little, Brown Books for Young Readers
Released 1/6/2015
The Branch is in shambles, but Anna, Sam, Cas, and Nick can't rest easy. Remnants of the organization lurk unseen and the flashbacks to their old lives are only getting stronger--especially Nick's.
Following scattered memories and clues from his Branch file, Nick sets off alone in search of answers and in search of the girl who haunts his dreams. But the sleepy town where she lives in full of secrets and Nick soon learns that uncovering their shared past may have deadly consequences.
Purchase Reborn at Amazon
Purchase Reborn at IndieBound
View Reborn on Goodreads
* * * *
The Ghosts of Heaven
by Marcus Sedgwick
Hardcover
Roaring Brook Press
Released 1/6/2015
Timeless, beautiful, and haunting, spirals connect the four episodes of The Ghosts of Heaven, the mesmerizing new novel from Printz Award winner Marcus Sedgwick. They are there in prehistory, when a girl picks up a charred stick and makes the first written signs; there tens of centuries later, hiding in the treacherous waters of Golden Beck that take Anna, who people call a witch; there in the halls of a Long Island hospital at the beginning of the 20th century, where a mad poet watches the oceans and knows the horrors it hides; and there in the far future, as an astronaut faces his destiny on the first spaceship sent from earth to colonize another world. Each of the characters in these mysterious linked stories embarks on a journey of discovery and survival; carried forward through the spiral of time, none will return to the same place.
Purchase The Ghosts of Heaven at Amazon
Purchase The Ghosts of Heaven at IndieBound
View The Ghosts of Heaven on Goodreads
* * * *
The Law of Loving Others
by Kate Axelrod
Hardcover
Razorbill
Released 1/8/2015
Terrified by the realization that she could lose her mother to schizophrenia, Emma spirals out of control over the course of one winter break.
The car glows with that careless feeling before the freedom of winter break as Emma drives home from boarding school with her boyfriend, Daniel. But when Emma calls to tell her mom she'll be home before dinner, something is wrong. Just hours after Emma returns home, she realizes that her mom is suffering from a schizophrenic break. Emma's entire childhood and identity is called into question. How could the woman who sent huge care packages of candy to sleep away camp be the same woman duct taping their windows to keep out the voices in her head? In her search for answers, Emma lands on a terrible possibility: schizophrenia is genetic. Emma could have only a few more years of sanity. Emma could end up just like her mom.
In the span of just one winter break, Emma's life falls apart. Her relationships alter forever and she is forced to see the hard reality in a line from Anna Karenina: "The law of loving others could not be discovered by reason, because it is unreasonable."
Purchase The Law of Loving Others at Amazon
Purchase The Law of Loving Others at IndieBound
View The Law of Loving Others on Goodreads
* * * *
Tracers
by J.J. Howard
Hardcover
Putnam Juvenile
Released 1/8/2015
An action-packed romance—now a major motion picture starring Taylor Lautner.
Cam is a New York City bike messenger with no family and some dangerous debts. While on his route one day, he runs into a beautiful stranger named Nikki—but she quickly disappears. When he sees her again around town, he realizes that she lives within the intense world of parkour: an underground group of teens who have turned New York City into their own personal playground—running, jumping, seemingly flying through the city like an urban obstacle course.
Cam becomes fascinated with Nikki and falls in with the group, who offer him the chance to make some extra money. But Nikki is dating their brazen leader, and when the stakes become life-or-death, Cam is torn between following his heart and sacrificing everything to pay off his debts.
In the vein of great box-office blockbusters, the high-stakes romance here sizzles within this page-turning thriller that will leave readers feeling like they are flying through the streets of New York.
Purchase Tracers at Amazon
Purchase Tracers at IndieBound
View Tracers on Goodreads
* * * *
Willowgrove
by Kathleen Peacock
Hardcover
Katherine Tegen Books
Released 1/6/2015
Willowgrove
is Kathleen Peacock's riveting conclusion to the Hemlock trilogy, a dark, romantic, paranormal suspense series that pits friendship against survival, and trust against love.
Ever since Mac's best friend, Amy, was murdered, Hemlock has been a dangerous place. But now that Mac, her boyfriend, Kyle, and Amy's ex, Jason, have investigated a mass breakout from Thornhill, a werewolf "rehabilitation" camp, the danger has only grown. Fear of the infection spreading is now at an all-time high, and anyone with a scar is suspected of being a wolf.
What makes Mac even more afraid, though, are the dark experiments that the warden of Thornhill was performing on wolves in a secret asylum called Willowgrove. Uncovering the truth about what happened may be the only way for Mac to save everyone she loves and end her nightmares for good.
Purchase Willowgrove at Amazon
Purchase Willowgrove at IndieBound
View Willowgrove on Goodreads
a Rafflecopter giveaway