What scene was really hard for you to write and why, and is that the one of which you are most proud? Or is there another scene you particularly love?


The scene very early on in the book when Avery's adventure begins was really hard for me—I must have rewritten it a thousand times. It has so many big questions: What would make a girl leave her home like Avery does? How does she decide something like that? What does family really mean, and how do you know who to trust?


And as for scenes I love, there are two, and I can only hint at them, because spoilers! First is an action scene that is completely over-the-top and terrifying and so much fun (the scene at Prada, if you've read the book), and when I wrote that was the first time I really felt like I had a handle on the feel of the book. The second is a kissing scene (that actually doesn't have any kissing…you'll have to read to see what I mean) ;) that came together fully-formed in my head and has hardly changed since, through the million revisions. I just knew it was something I hadn't seen done in YA before, and it fit the characters so well and is both sweet and sexy and I love it.


What book or books would most resonate with readers who love your book--or visa versa?

I've heard CONSPIRACY called a YA DaVinci Code, and if you like that book and like YA, I think CONSPIRACY could definitely be your thing. I also think fans of the Mortal Instruments series will find in my book a similar mix of fast-paced action and romance and interpersonal drama woven into the world's lore.

How long or hard was your road to publication? How many books did you write before this one, and how many never got published?

I like to say this is my first book and also my second and third and tenth. It is my first book—the first I wrote and queried—but I've rewritten it so many times on my own and with my agent and editor that it feels like I've written tons of books to get here. So from the outside, it might look like my journey to publication was really easy (and in a way it was—I know I'm lucky to have been published on my first try), it wasn't like I sat down and wrote a perfect book the second I put my fingers to a keyboard. It took a lot of learning along the way, and it just so happened that I learned on the same book that's going to be my debut novel.


Was there an AHA! moment along your road to publication where something suddenly sank in and you felt you had the key to writing a novel? What was it?

I think I'm still waiting for that AHA! moment…

Seriously, though, I think the most important thing I've discovered about writing is that I will never quite have the key. It's different from day to day or book to book and person to person. That was a freeing realization: Just because something worked for somebody else doesn't mean it'll work for me. Just because something worked for me yesterday doesn't mean it'll work today. And that's okay. I have to leave myself open to doing whatever's necessary at the moment to get the story on the page as best I can.


What's your writing ritual like? Do you listen to music? Work at home or at a coffee shop or the library, etc?

I have a coat closet at home that I've converted to a teeny-tiny office. We're talking small—I can't lean back more than a couple inches in my chair, and I can't raise even my elbows out to the sides! But I love feeling cozy and isolated—it's like my literal writing cave. <

I also like going to coffee shops, though. There's something about writing around other people that's inspiring sometimes. And I always listen to really loud music while I'm writing, and no music while I'm editing.

What advice would you most like to pass along to other writers?

Don't worry if you don't get published immediately! I know my publishing story contradicts this, but especially if you're new to writing, it's really normal to write a few manuscripts before hitting on the one that's going to get you an agent. I think it's actually a good thing—sometimes I've wished I had more experience before I was published!


What are you working on now?

Book 2!


ABOUT THE BOOK
The Conspiracy of Us
by Maggie Hall
Hardcover
Putnam Juvenile
Released 1/13/2015
To fight her destiny as the missing heir to a powerful and dangerous secret society, sixteen-year-old Avery West must solve an ancient puzzle in a deadly race across Europe. Forbidden love and code-breaking, masked balls and explosions, destiny and dark secrets collide in this romantic thriller, in the vein of a YA DaVinci Code.
Avery West's newfound family can shut down Prada at the Champs-Elysees when they want to shop in peace, and can just as easily order a bombing when they want to start a war.
They are part of a powerful and dangerous secret society called the Circle of Twelve, and Avery is their missing heir. If they discover who she is, some of them will want to use her as a pawn. Some will want her dead.
To thwart their plans, Avery must follow a trail of clues from the landmarks of Paris to the back alleys of Istanbul and through a web of ancient legends and lies. And unless she can stay one step ahead of beautiful, volatile Stellan, who knows she's more than she seems, and can decide whether to trust mysterious, magnetic Jack, she may be doomed after all.
Purchase The Conspiracy of Us at Amazon
Purchase The Conspiracy of Us at IndieBound
View The Conspiracy of Us on Goodreads
ABOUT THE AUTHOR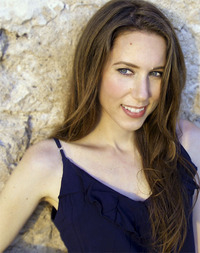 Maggie Hall indulges her obsession with distant lands and far-flung adventures as often as she can. She has played with baby tigers in Thailand, learned to make homemade pasta in Italy, and taken thousands of miles of trains through the vibrant countryside of India. In her past life, she was a bookstore events coordinator and marketing manager, and when she's not on the other side of the world, she lives with her husband and their cats in Albuquerque, New Mexico, where she watches USC football, dabbles in graphic design, and blogs about young adult literature for YA Misfits.