What scene was really hard for you to write and why, and is that the one of which you are most proud? Or is there another scene you particularly love?
The scene after one of the character's curses takes effect was difficult to write. I try to put myself in my characters' heads and hearts as much as possible so when they are suffering and sad, I am too. I am proud of that scene, but I also love the chase scene at the end of the book. I love a big, romantic ending.
What did this book teach you about writing or about yourself?
This was my first time writing high fantasy and I loved it. I became so attached to the characters and this world and would love to write more books set in this universe. 

What's your writing ritual like? Do you listen to music? Work at home or at a coffee shop or the library, etc?
Since moving to Hawaii last year I work in my office in the garage. The former owner used the space as a gun storage facility and also made his own bullets. So there are bars on the windows and the doors to protect the weapons that used to be stored inside. I call it writer jail. I have a desk in there as well as a treadmill desk. I'm writing mostly romance for adults right now, so I don't listen to music. I only listen to music when I'm writing fantasy or paranormal stories and trying to tap in to that more "mystical" dreamy area in my brain meats.


What advice would you most like to pass along to other writers?
Don't give up and don't give in. Keep writing and loving your work and giving it everything you've got. I've been four different pen names in this business and now I'm on to another one after Stacey Jay. As long as you're willing to evolve and grow and work hard, you'll have a good shot at making it as a professional writer.


ABOUT THE BOOK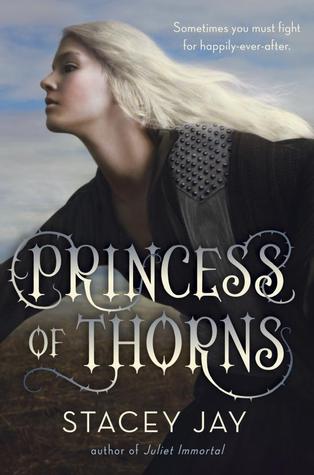 Princess of Thorns
by Stacey Jay
Hardcover
Delacorte Press
Released 12/9/2014
Game of Thrones meets the Grimm's fairy tales
in this twisted, fast-paced romantic fantasy-adventure about Sleeping Beauty's daughter, a warrior princess who must fight to reclaim her throne. Though she looks like a mere mortal, Princess Aurora is a fairy blessed with enhanced strength, bravery, and mercy yet cursed to destroy the free will of any male who kisses her. Disguised as a boy, she enlists the help of the handsome but also cursed Prince Niklaas to fight legions of evil and free her brother from the ogre queen who stole Aurora's throne ten years ago. Will Aurora triumph over evil and reach her brother before it's too late? Can Aurora and Niklaas break the curses that will otherwise forever keep them from finding their one true love?
Purchase Princess of Thorns at Amazon
Purchase Princess of Thorns at IndieBound
View Princess of Thorns on Goodreads
ABOUT THE BOOK
Stacey Jay is a recovering workaholic (or at least working hard at recovering) with three pen names, two small children, and a passion for playing pretend for a living. She's been a full time mom-writer since 2005 and can't think of anything she'd rather be doing. Her former careers include theatre performer, professional dancer, poorly paid C-movie actress, bartender, waiter, math tutor (for real) and yoga instructor.