~The ladies of AYAP
Martina, Alyssa, Lisa, Susan, Shelly, Jocelyn, Becca, and Jan
YOUNG ADULT NOVELS NEW IN STORES NEXT WEEK
* * * *
The Lost
by James Patterson and Maxine Paetro
Hardcover
Little, Brown and Company
Released 12/16/2014
It's Witch versus Wizard this time, in the fifth and final installment of James Patterson's bestselling magical series!
Whit and Wisty Allgood have fought and defeated their world's most pernicious threats: the evil dictator, The One Who Is The One, as well as his wicked father and son. But just as the heroic witch and wizard start to settle into their new roles in governance, a deadly crime wave grips their city, with all signs pointing to a magical mastermind every bit as powerful and heartless as The One. Now the siblings find themselves persecuted as the city turns against all magic users, and questioning everything, including each other--and, for the first time, their abilities. Can they confront the citizens' growing hostility and their own doubts in time to face the new enemy barreling toward their gates?
James Patterson brings the Witch & Wizard saga to a head by exposing the nature of power-and what it means for the heroes that have it.
Purchase The Lost at Amazon
Purchase The Lost at IndieBound
View The Lost on Goodreads
YA BOOK GIVEAWAYS LAST WEEK: WINNERS
* * * *
Little White Lies
by Katie Dale
Hardcover
Delacorte Press
Released 12/9/2014
Winner - Kira Budge
Fans of
Pretty Little Liars
will be ensnared in this tale of deceit. Christian is hiding terrible secrets from his girlfriend, Lou. But Lou has told lies as well. What if their accidental meeting wasn't an accident?
The first time Lou meets mysterious Christian, she knows he is The One. But Christian is hiding a terrible secret. Why does he clam up every time Lou asks about his past? Why doesn't he have any family photos, and why does he dye his blond hair black? When Christian's house goes up in flames, his tires are slashed, and he flees for his life, Lou insists on going with him. But as Christian's secret is unveiled in front of the whole world, it seems everything he's ever told Lou is a lie. Can what the media are saying about him really be true? Should Lou trust him? Or is she in grave danger?
But Christian isn't the only one keeping secrets. For what if their accidental meeting was no accident at all?
Purchase Little White Lies at Amazon
Purchase Little White Lies at IndieBound
View Little White Lies on Goodreads
* * * *
Now That You're Here
by Amy K. Nichols
Hardcover
Knopf Books for Young Readers
Released 12/9/2014
Winner - Ashley Colby
NOW THAT YOU'RE HERE is a he-said/she-said sci-fi thriller told in the alternating voices of Danny, a street-smart graffiti artist who is jolted into a parallel world, and Eevee, the quietly alluring science geek he kissed once in his world, and finds himself falling for in this one. Together, they must figure out what caused Danny's jump, before another jolt in the space-time continuum separates them forever.
Purchase Now That You're Here at Amazon
Purchase Now That You're Here at IndieBound
View Now That You're Here on Goodreads






* * * *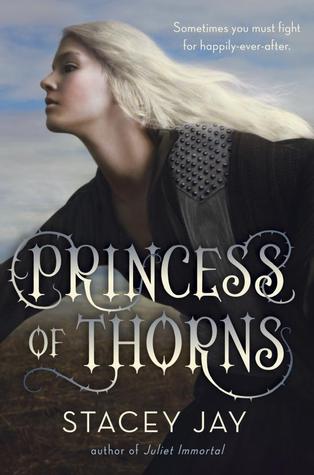 Princess of Thorns
by Stacey Jay
Hardcover
Delacorte Press
Released 12/9/2014
Winner - Danielle Bateman
Game of Thrones meets the Grimm's fairy tales in this twisted, fast-paced romantic fantasy-adventure about Sleeping Beauty's daughter, a warrior princess who must fight to reclaim her throne.
Though she looks like a mere mortal, Princess Aurora is a fairy blessed with enhanced strength, bravery, and mercy yet cursed to destroy the free will of any male who kisses her. Disguised as a boy, she enlists the help of the handsome but also cursed Prince Niklaas to fight legions of evil and free her brother from the ogre queen who stole Aurora's throne ten years ago.
Will Aurora triumph over evil and reach her brother before it's too late? Can Aurora and Niklaas break the curses that will otherwise forever keep them from finding their one true love?
Author Question: What is your favorite thing about Princess of Thorns?
I'm a sucker for the "girl disguised as a boy" trope in fantasy. I've been wanting to write that into one of my novels for a long time, but PRINCESS OF THORNS was the first time it fit organically into the story. Having Aurora disguised for half the novel ended up being a wonderful challenge and also added a layer of sweetness to the love story. Having Aurora and Niklaas come to love each other as friends first made me root so much harder for them in the end. I just love both of these characters—feisty Aurora and heroic, handsome, funny Niklaas—and I hope my readers love them too.

Purchase Princess of Thorns at Amazon
Purchase Princess of Thorns at IndieBound
View Princess of Thorns on Goodreads
* * * *
Suspicion
by Alexandra Monir
Hardcover
Delacorte Press
Released 12/9/2014
Winner - Adelynne Chang
"There's something hidden in the Maze." Seventeen-year-old Imogen has never forgotten the last words her father said to her seven years ago, before the blazing fire that consumed him, her mother, and the gardens of her family's English country manor.
Haunted by her parents' deaths, Imogen moves to New York City with her new guardians. But when a letter arrives with the news of her cousin's untimely death, revealing that Imogen is now the only heir left to run the estate, she returns to England and warily accepts her role as duchess.
All is not as it seems at Rockford, and Imogen quickly learns that dark secrets lurk behind the mansion's aristocratic exterior, hinting that the spate of deaths in her family were no accident. And at the center of the mystery is Imogen herself--and Sebastian, the childhood friend she has secretly loved for years. Just what has Imogen walked into?
Combining a fresh twist on the classic REBECCA with a spine-tingling mystery and powerful romance, SUSPICION is an action-packed thrill ride.
Purchase Suspicion at Amazon
Purchase Suspicion at IndieBound
View Suspicion on Goodreads