What was your inspiration for writing this book?
Back in my early writing days, I wrote a novel about a girl and her relationship with her sister. It wasn't very good. In fact, it was terrible, as many early novels are. But there were a couple of characters in the story that I really liked: the girl, who was then named Janie, and her best friend, Warren. I decided to spend more time with them, so I began writing what I thought would be a short story. In it, Janie was sitting in her English class when the boy next to her startled awake and didn't know where he was. I kept following the story, trying to figure out who this boy was and where he'd come from. Before long I'd written another novel. Janie became Eevee, and it turned out the boy, Danny, had jumped to her world from a parallel universe. Warren, Eevee's best friend, survived the transition from terrible first novel to short story to published novel as well, and is one of my favorite characters in
Now That You're Here
.
How long did you work on the book?
I began writing
Now That You're Here
sometime around 2009. It sold in the fall of 2012. In all, I spent about two or three years writing and revising before sending out query letters.
How long or hard was your road to publication? How many books did you write before this one, and how many never got published?
A friend once told me it usually takes about ten years from the time you start writing to the time your first book gets published. Oddly enough, that was true for me. I started writing seriously in 2004. Here it is 2014 and my first novel will be released in December. The most difficult part of the journey was getting out of my own way. I set a lot of land mines to trip myself up and keep me from writing. I'd over-schedule myself, taking on responsibilities and activities that kept me too busy to write. I'd set aside time to write but catch up on a TV show or go to coffee with friends instead. Anything to keep myself from actually doing the work. Fear and resistance were my constant companions. Over time, I learned how to write in spite of them.
In the fall of 2011, a writer-friend and I decided it was time to get off the revision hamster wheel and we set a spring 2012 deadline for querying agents. Having that deadline kept me motivated and accountable. In April of 2012, I began sending out query letters, and in August, I signed with Adams Literary. My agent called me over Thanksgiving weekend to tell me we had sold
Now That You're Here
to Knopf. So, depending on how define "road to publication" my journey both difficult and easy. I'd put in years of hard work on my own; but the query process didn't take very long, and once I signed with Adams, everything happened very quickly.
I drafted two other complete manuscripts before starting
Now That You're Here
, and I've started at least ten others since. I'm hoping some of the others will be published, but I know most of the earlier ideas and partial drafts will never make that journey. They're not a complete loss, though. Each one has taught me something about writing.
What's your writing ritual like? Do you listen to music? Work at home or at a coffee shop or the library, etc?
I'm the mother of two school-aged children, so sometimes having a regular routine or even writing location can be difficult (though usually I work at my kitchen table). I do try to write every day, and when I'm on deadline my family is very considerate about giving me space to work. If I have a ritual, I would say it's music. I always listen to music when I write. Most of the time, I choose a song that fits the mood of the chapter I'm working on, then listen to it on repeat throughout that chapter. It probably sounds like a crazy idea, listening to the same song over and over, but I've found that as I work, the music sinks into the background and begins to function on a subconscious level. The mood of the song help me maintain the tone of the chapter. The quirky side effect of this, though, is that if I hear one of my writing songs when I'm out and about, in line at Starbucks, for example, or at the grocery store, my brain will automatically jump to the corresponding scene in the book I'm writing. If you see me scrambling in my purse for pen and paper, it's likely a song came on over the store speakers and triggered my writing brain into action
What advice would you most like to pass along to other writers?
I have two pieces of advice. The first is to give yourself a deadline and stick to it. We writers are very good at making excuses, procrastinating, daydreaming instead of actually putting in the work. I fully believe giving myself a deadline was key in getting published. The second piece of advice is to give yourself some grace. It takes time to learn how to write, let alone finish, a novel. You're going to make mistakes. You're going to face rejection. You may find yourself discouraged or disappointed. Give yourself room to learn, to fail, and to grow. Try to find the balance between being hard enough on yourself that you get things done and being gentle enough with yourself that you keep going.
What are you working on now?
Right now I'm on deadline with copy edits for my second novel,
While You Were Gone
, the follow-up to
Now That You're Here
, which will be published in August 2015. As soon as I turn the edits in, I'm jumping into a rewrite of a manuscript I wrote a couple of years ago and have been anxious to get spiffied up to send to my agent. Can't wait to dig into a new project.
ABOUT THE BOOK
Now That You're Here
by Amy K. Nichols
Hardcover
Knopf Books for Young Readers
Released 12/9/2014
NOW THAT YOU'RE HERE is a he-said/she-said sci-fi thriller told in the alternating voices of Danny, a street-smart graffiti artist who is jolted into a parallel world, and Eevee, the quietly alluring science geek he kissed once in his world, and finds himself falling for in this one. Together, they must figure out what caused Danny's jump, before another jolt in the space-time continuum separates them forever.
Purchase Now That You're Here at Amazon
Purchase Now That You're Here at IndieBound
View Now That You're Here on Goodreads


ABOUT THE AUTHOR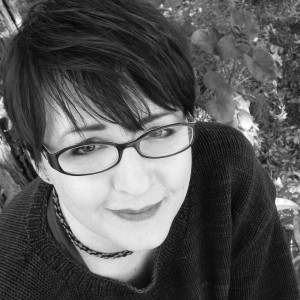 Amy K. Nichols has been crafting stories for as long as she can remember. She is the author of YA science fiction novel Now That You're Here, to be published by Knopf December 9, 2014. The follow-up, While You Were Gone, will be published in 2015. She is mentored by award-winning crime novelist James Sallis and lives on the edge of the Sonoran desert with her husband and children. Amy is a member of SCBWI and SFWA, as well as the Class of 2K14 debut authors. Visit her online at
http://www.amyknichols.com
.