YA BOOK GIVEAWAYS THIS WEEK
* * * *
Revolution
by Jenna Black
Signed Paperback Giveaway
Tor Teen
Released 11/11/2014
Nadia Lake and Nate Hayes find themselves at the center of a horrifying conspiracy in this action-packed finale of Jenna Black's SF romance series that began with Replica.
From the author of the Faeriewalker series comes the stunning conclusion to the young adult science fiction thriller series that began with Replica and continued in Resistance.
At the conclusion of Resistance, Nadia Lake and the Replica of her best friend, Nate Hayes, found themselves at the center of a horrifying conspiracy. Framed for murder and wanted by the government, they have no choice but to go underground and seek refuge in the dangerous, gang-ridden slums of the Basement.
Jenna Black brings readers an action-packed final installment that will have them racing to the finish.
Author Question: What is your favorite thing about Revolution?
My favorite thing about REVOLUTION (at least that I can talk about without giving away horrible spoilers) is how side character Agnes grew and changed throughout the story. When I first introduced her in RESISTANCE, I was expecting her to last only for one book, but then she ended up taking flight with Nate and Nadia. When I was starting REVOLUTION, I was almost looking for a way to get rid of her, because I felt she was something of a distraction. But the more I wrote about her, the more I started to like her and started to see ways that she could take an active role rather than being someone who has to be protected. I loved taking a shy, meek, rule-following girl and making her into a hero.
Purchase Revolution at Amazon
Purchase Revolution at IndieBound
View Revolution on Goodreads
* * * *
The Halcyon Bird
by Kat Beyer
Hardcover Giveaway
EgmontUSA
Released 11/11/2014
For fans of Lauren Kate and Cassandra Clare, a romance with a paranormal streak.
Mia has settled into her life with the Della Torres -- Milan's premier demon-catching family, accompanying them to exorcisms and even learning some way to be useful in the family trade. Then Bernardo comes into her life, handsome, well-mannered, someone who makes her forget her impossible crush on Emilio, her cousin. But always lurking in the background is the demon who possessed Mia once before, and who has not given up on possessing her again--this time for good.
*"Mia has a strong gift for the family trade, which, like the novel's other elements...are portrayed in exquisite, affectionate detail. This one goes to the head of the class." - Kirkus, starred review
"Sets the stage for a thrilling sequel. By the book's close, Mia is armed and ready--she whispers to the demon lurking beyond, 'You'll have to wait. But I'm coming. Believe me, I'm coming.' Readers will be ready, too." - Booklist
"A supernatural novel with a fresh promise, worthy of note." - School Library Journal
Purchase The Halcyon Bird at Amazon
Purchase The Halcyon Bird at IndieBound
View The Halcyon Bird on Goodreads
* * * *
The Name of the Blade
by Zoe Marriott
Hardcover Giveaway
Candlewick
Released 11/11/2014
Ancient Japanese gods and monsters are unleashed on modern-day London in this first book of an epic trilogy from acclaimed fantasy writer Zoë Marriott.
When Mio sneaks the family's katana -- a priceless ancestral sword -- from her parents' attic, she just wants to spice up a costume. But the katana is much more than a dusty antique. Awakening the power within the sword unleashes a terrible, ancient evil onto the streets of unsuspecting London. But it also releases Shinobu, a fearless warrior boy, from the depths of time. He helps to protect Mio -- and steals her heart. With creatures straight out of Japanese myths stalking her and her friends, Mio realizes that if she cannot keep the sword safe and learn to control its legendary powers, she will lose not only her own life . . . but the love of a lifetime.
Author Question: What is your favorite thing about The Name of the Blade?
It's a toss up, really. I adore the Kitsune - those are shapeshifting foxes from Japanese myth who can live for thousands of years and also shoot lightning out of their tails. They're reluctant allies of my protagonist, Mio, and I loved writing about them, their strange fascination with humans, their knotty, snarky politics, and their amazing underground kingdom in the spirit realm. However, there's also a moment in the book which I had to fight quite hard with my editors to keep, in which the heroine grows four inches in about thirty seconds and her pants split, revealing her Hello Kitty underwear. I wanted to show that you can like cute pink underwear and also be incredibly kick-ass. And I did eventually win, and the Hello Kitty underwear stayed. So I'm really fond of that, too.

Purchase The Name of the Blade at Amazon
Purchase The Name of the Blade at IndieBound
View The Name of the Blade on Goodreads
* * * *
Autumn Falls
by Bella Thorne
Hardcover Giveaway
Delacorte Press
Released 11/11/2014
With her fiery red hair, new-girl outsider status, and tendency to be a total klutz, Autumn Falls definitely isn't flying below the radar at Aventura High. Luckily, she makes some genuine friends who take her under their wing. But she also manages to get on the wrong side of the school's queen bee, and then finds out the guy she's started to like, funny and sweet Sean, hangs with the mean crowd. Now her rep
and
her potential love life are at stake.
When Autumn vents her feelings in a journal that belonged to her late father, suddenly her wildest wishes start coming true. Is it coincidence? Or can writing in the journal solve all her problems? And if the journal doesn't work that way, is there a bigger purpose for it—and for her?
Purchase Autumn Falls at Amazon
Purchase Autumn Falls at IndieBound
View Autumn Falls on Goodreads
* * * *
Stone Cove Island
by Suzanne Meyers
Advance Review Copy Giveaway
Soho Teen
Released 11/11/2014
The Stepford Wives meets Stephen King in this debut mystery: a sleepy New England beach town is wrecked by a hurricane that reveals an unthinkable 30-year-old secret.
When a catastrophic hurricane devastates Stone Cove Island, a serene New England resort community, everyone pulls together to rebuild. Seventeen-year-old Eliza Elliot volunteers to clean out the island's iconic lighthouse and stumbles upon a secret in the wreckage: a handwritten, anonymous confession to a thirty-year-old crime.
Bess Linsky's unsolved murder has long haunted the island, and the letter turns the town inside out. Everyone who knew Bess is suddenly a suspect. Soon Eliza finds herself in the throes of an investigation she never wanted or asked for. As Stone Cove Island fights to recover from disaster, Eliza plunges the locals back into a nightmare they believed was long buried.
Purchase Stone Cove Island at Amazon
Purchase Stone Cove Island at IndieBound
View Stone Cove Island on Goodreads
* * * *
Stranger
by Sherwood Smith and Rachel Manija Brown
eBook Giveaway
Viking Juvenile
Released 11/13/2014
Many generations ago, a mysterious cataclysm struck the world. Governments collapsed and people scattered, to rebuild where they could. A mutation, "the Change," arose, granting some people unique powers. Though the area once called Los Angeles retains its cultural diversity, its technological marvels have faded into legend. "Las Anclas" now resembles a Wild West frontier town… where the Sheriff possesses superhuman strength, the doctor can warp time to heal his patients, and the distant ruins of an ancient city bristle with deadly crystalline trees that take their jewel-like colors from the clothes of the people they killed.
Teenage prospector Ross Juarez's best find ever – an ancient book he doesn't know how to read – nearly costs him his life when a bounty hunter is set on him to kill him and steal the book. Ross barely makes it to Las Anclas, bringing with him a precious artifact, a power no one has ever had before, and a whole lot of trouble.
Author Question: What is your favorite thing about Stranger?
Rachel: My favorite thing about Stranger is that, as its review in Kirkus said, it's a "utopian dystopia" - a post-apocalyptic world that you might actually want to live in. Sure, it has little technology, scarce water, giant tarantulas, nosy neighbors, encroaching empires, and killer trees. But it also has telekinetic squirrels, flying cats, illusion-casting rabbits, live music, lavish parties, and really great food. And while some people will be prejudiced against you if you're poor or have mutant powers, there is absolutely no prejudice on the basis of race, gender, religion, or sexual orientation. I'm not sure I'd want to live there, but I'd definitely like to visit.
Purchase Stranger at Amazon
Purchase Stranger at IndieBound
View Stranger on Goodreads
YA BOOK GIVEAWAYS LAST WEEK: WINNERS
* * * *
Forbidden
by Kimberly Griffiths Little
Signed Hardcover Giveaway plus Middle Eastern earrings and a jeweled bookmark
HarperCollins
Released 11/4/2014
Winner - Heather Carpenter
In the unforgiving Mesopotamian desert where Jayden's tribe lives, betrothal celebrations abound, and tonight it is Jayden's turn to be honored. But while this union with Horeb, the son of her tribe's leader, will bring a life of riches and restore her family's position within the tribe, it will come at the price of Jayden's heart.
Then a shadowy boy from the Southern Lands appears. Handsome and mysterious, Kadesh fills Jayden's heart with a passion she never knew possible. But with Horeb's increasingly violent threats haunting Jayden's every move, she knows she must find a way to escape—or die trying.
With a forbidden romance blossoming in her heart and her family's survival on the line, Jayden must embark on a deadly journey to save the ones she loves—and find a true love for herself.
Set against the brilliant backdrop of the sprawling desert, the story of Jayden and Kadesh will leave readers absolutely breathless as they defy the odds and risk it all to be together.
Author Question: What is your favorite thing about Forbidden?
I love the nontraditional family structure and of course I love my characters, but the thing I love most about HOW WE FALL is the conflict. Jackie and Marcus can't change the fact that they're cousins. It tests who they are in ways I loved exploring, and it makes them dig into what they want much deeper than if they were normal friends. It ended up making the story a bit darker than I expected it would be, and it made me dig into how hard it is for teens, or anyone, to struggle with something like that when they can't talk to anyone about it.
Purchase Forbidden at Amazon
Purchase Forbidden at IndieBound
View Forbidden on Goodreads
* * * *
Crashland
by Sean Williams
Paperback Giveaway (3 Copies)
Balzer + Bray
Released 11/4/2014

Winners - Ashley White, Heather Raglin, Molly Mortensen
The Matrix meets the Uglies series in this science fiction thriller, the second in the Twinmaker trilogy by Sean Williams.

Where is Q?

Clair and Jesse have barely been reunited when the world is plunged into its biggest crisis since the Water Wars. The d-mat network is broken. The world has ground to a halt. People are trapped, injured, dying. It's the end of the world as Clair knows it—and it's partly her fault.

"The girl who killed d-mat" is enlisted to track down her missing friend Q—the rogue AI who repeatedly saved Clair's life. Q is the key to fixing the system, but she isn't responding to calls for help, and even if she did...can she be trusted?

Targeted by dupes, abandoned by her friends, caught in a web of lies that strike at the very essence of who she is, Clair finds powerful allies in RADICAL, secretive activists who are the polar opposite of anti-d-mat terrorist group WHOLE. However, if she helps them find Q, will she be inadvertently trapping her friend in a life of servitude—or worse, sending her to an early death by erasure?

Caught between pro- and anti-d-mat philosophies, in a world on the brink of all-out war, Clair must decide where she stands—and who she stands with, at the end.
Author Question: What is your favorite thing about Crashland?
My favorite thing is that it's got a bit of everything. I hope that's not a stupid answer. As I wrote CRASHLAND there were moments that I feared might be too schmalzy, or too horrible, or too lighthearted, or too cerebral, or a whole bunch of other things. Reading back over I could see that none of it was "too" anything. This book enabled me to crack Clair's life open and see what lay inside. What I found was romance, adventure, a bit of humor, and unfortunately for her some things that still make me shudder now. I hope it's a book that readers will think about for a long time after they finish it.
* * * *
The Last Changeling
by Chelsea Pitcher
Signed Hardcover Giveaway
Flux
Released 11/4/2014

Winner - Anna Weimer
A Kingdom at War . . .
Elora, the young princess of the Dark Faeries, plans to overthrow her tyrannical mother, the Dark Queen, and bring equality to faeriekind. All she has to do is convince her mother's loathed enemy, the Bright Queen, to join her cause. But the Bright Queen demands an offering first: a human boy who is a "young leader of men."
A Dark Princess In Disguise . . .
To steal a mortal, Elora must become a mortal—at least, by all appearances. And infiltrating a high school is surprisingly easy. When Elora meets Taylor, the seventeen-year-old who's plotting to overthrow a ruthless bully, she thinks she's found her offering . . . until she starts to fall in love.
Author Question: What is your favorite thing about The Last Changeling?
My favorite thing about THE LAST CHANGELING was getting to explore the different ways people can stand up to injustice, whether they're planning an elaborate battle in Faerie, or dealing with bullies in the halls of high school. Growing up, a lot of us fantasized about what we would do if faced with a power-hungry monarch, a fire-breathing dragon, or a demon from below. But when it comes to real-world bullies, oppressive systems, and neglectful adults, it can be so much harder to figure out what to do. So while Elora, the faerie daughter of the Unseelie Queen, is struggling to take down her mother's corrupt court, seventeen-year-old Taylor is dealing with a fragmented family and bullies at school. Apart, both Elora and Taylor have difficulty solving their problems, but together, they might just be able to take down the tyrants in both their worlds.
* * * *
Empire of Shadows
by Miriam Forster
Hardcover Giveaway
HarperTeen
Released 11/4/2014
Winner - Kayla Strickland
Cast out of her family three years ago, Mara turned to the only place that would take her—a school where students train to protect others. But Mara is stunned when guarding a noble girl in the Empire's capital turns out to be more dangerous than she could've imagined. More shocking still, she finds the boy she thought she had lost forever outside the gates of her new home.
Mara knew her life in the dizzying Imperial city would hold dangers. How could she have known that her heart, as well as her life, would be at stake?
Empire of Shadows will take readers on a spellbinding journey into the world Miriam Forster first introduced in City of a Thousand Dolls—a world with a divided society, deadly courtiers, heroic traitors, and deeply laid conspiracies.
Author Question: What is your favorite thing about Empire of Shadows?
I think my favorite thing about this book is the friendship between Revathi and Mara. I was about two-thirds of the way through the book when I realized that their relationship was the core of Mara's story. There's a cute boy (with his own issues of course) and some romance, but I really wanted the girl's friendship to be a major focus. Revathi and Mara are from really different areas of society, and they are strong in very different ways. Mara is a classic tormented warrior type, and Revathi is a noble girl whose power lies in her intelligence and her ability to play politics. They are both intensely lonely people, with secrets they don't feel like they can share with anyone. I loved watching them find connection and healing in their friendship and how it changed both of them.

Friendship, especially girl friendship is often skipped over in media, but there is something so powerful and even world-changing in women who stand together and help each other. I really wanted to show that kind of relationship in my book. And I just wanted to write women wielding power in a lot of different ways, women who cover a host of traits: compassionate, practical, loyal, honorable, clever, devious, angry, fragile, kickass, sacrificial and stubborn. There are so many ways to be strong, and I wanted to show that. I also loved writing Revathi's grandmother. Super dangerous elderly women are never not awesome.
Purchase Empire of Shadows at Amazon
Purchase Empire of Shadows at IndieBound
View Empire of Shadows on Goodreads
* * * *
How We Fall
by Kate Brauning
Hardcover Giveaway
Merit Press
Released 11/3/2014
Winner - Shyanne Torres
Ever since Jackie moved to her uncle's sleepy farming town, she's been flirting way too much--and with her own cousin, Marcus.
Her friendship with him has turned into something she can't control, and he's the reason Jackie lost track of her best friend, Ellie, who left for...no one knows where. Now Ellie has been missing for months, and the police, fearing the worst, are searching for her body. Swamped with guilt and the knowledge that acting on her love for Marcus would tear their families apart, Jackie pushes her cousin away. The plan is to fall out of love, and, just as she hoped he would, Marcus falls for the new girl in town. But something isn't right about this stranger, and Jackie's suspicions about the new girl's secrets only drive the wedge deeper between Jackie and Marcus--and deepens Jackie's despair.
Then Marcus is forced to pay the price for someone else's lies as the mystery around Ellie's disappearance starts to become horribly clear. Jackie has to face terrible choices. Can she leave her first love behind, and can she go on living with the fact that she failed her best friend?
Author Question: What is your favorite thing about How We Fall?
I love the nontraditional family structure and of course I love my characters, but the thing I love most about HOW WE FALL is the conflict. Jackie and Marcus can't change the fact that they're cousins. It tests who they are in ways I loved exploring, and it makes them dig into what they want much deeper than if they were normal friends. It ended up making the story a bit darker than I expected it would be, and it made me dig into how hard it is for teens, or anyone, to struggle with something like that when they can't talk to anyone about it.
Purchase How We Fall at Amazon
Purchase How We Fall at IndieBound
View How We Fall on Goodreads
* * * *
Creed
by Lindsay Currie and Trisha Leaver
Signed Hardcover Giveaway
Flux
Released 11/4/2014
Winner - Keeley Frank
Three went in. Three came out. None even a shadow of who they once were.
When their car breaks down, Dee, her boyfriend Luke, and his brother Mike walk through a winter storm to take refuge in a nearby town called Purity Springs. When they arrive, the emergency sirens are blaring and the small farming town seems abandoned. With no other shelter, they spend the night in an empty house.
But they soon discover that not everything in Purity Springs is as it seems. When the town's inhabitants suddenly appear the next morning, Dee, Luke, and Mike find themselves at the mercy of the charismatic leader, Elijah Hawkins, who plans to make Dee his new wife. Elijah's son, Joseph, offers to help them escape . . . but the price of his help may be more than Dee and her friends can bear.
Purchase Creed at Amazon
Purchase Creed at IndieBound
View Creed on Goodreads
* * * *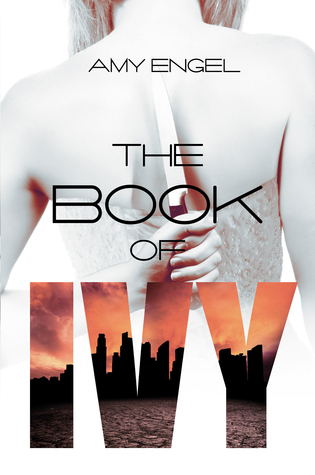 The Book of Ivy
by Amy Engel
Jeweled Bookmark Giveaway
Entangled: Teen
Released 11/11/2014
Winner - Erin Koch
After a brutal nuclear war, the United States was left decimated. A small group of survivors eventually banded together, but only after more conflict over which family would govern the new nation. The Westfalls lost. Fifty years later, peace and control are maintained by marrying the daughters of the losing side to the sons of the winning group in a yearly ritual.
This year, it is my turn.
My name is Ivy Westfall, and my mission is simple: to kill the president's son—my soon-to-be husband—and restore the Westfall family to power.
But Bishop Lattimer is either a very skilled actor or he's not the cruel, heartless boy my family warned me to expect. He might even be the one person in this world who truly understands me. But there is no escape from my fate. I am the only one who can restore the Westfall legacy.
Because Bishop must die. And I must be the one to kill him…
Purchase The Book of Ivy at Amazon
Purchase The Book of Ivy at IndieBound
View The Book of Ivy on Goodreads
MORE YOUNG ADULT NOVELS NEW IN STORES NEXT WEEK
* * * *
Like Water on Stone
by Dana Walrath
Hardcover
Delacorte Press
Released 11/11/2014
It is 1914, and the Ottoman Empire is crumbling into violence.
Beyond Anatolia, in the Armenian Highlands, Shahen Donabedian dreams of going to New York. Sosi, his twin sister, never wants to leave her home, especially now that she is in love. At first, only Papa, who counts Turks and Kurds among his closest friends, stands in Shahen's way. But when the Ottoman pashas set their plans to eliminate all Armenians in motion, neither twin has a choice.
After a horrifying attack leaves them orphaned, Shahen and Sosi flee into the mountains, carrying their little sister, Mariam. Shahen keeps their parents' fate a secret from his sisters. But the children are not alone. An eagle named Ardziv watches over them as they run at night and hide each day, making their way across mountain ridges and rivers red with blood.
Purchase Like Water on Stone at Amazon
Purchase Like Water on Stone at IndieBound
View Like Water on Stone on Goodreads
* * * *
Renegade
by Antony John
Hardcover
Dial
Released 11/13/2014
Thom and his fellow colonists are in danger of paying the ultimate price to secure their homeland in this last book of the Elemental trilogy. After the shocking discovery that his mother is still alive and on Roanoke, Thom is determined to return to that island. However, the island is still under pirate control, and a mysterious boy in possession of a dangerous element appears. With the help of an unlikely ally and the newly discovered ability to combine elements, Thom must summon the full extent of his power to end this battle for their home once and for all.
Packed with adventure, mystery, and romance, the gripping conclusion to the series that began with Elemental and Firenbrand is perfect for fans of Ship Breaker and Divergent.
Purchase Renegade at Amazon
Purchase Renegade at IndieBound
View Renegade on Goodreads
* * * *
The Bane Chronicles
by Cassandra Clare
Hardcover
Margaret K. McElderry Books
Released 11/11/2014
Fans of The Mortal Instruments and The Infernal Devices can get to know warlock Magnus Bane like never before in this collection of New York Times bestselling tales, in print for the first time with an exclusive new story and illustrated material.
This collection of eleven short stories illuminates the life of the enigmatic Magnus Bane, whose alluring personality, flamboyant style, and sharp wit populate the pages of the #1 New York Times bestselling series, The Mortal Instruments and The Infernal Devices.
Originally released one-by-one as e-only short stories by Cassandra Clare, Maureen Johnson, and Sarah Rees Brennan, this compilation presents all ten together in print for the first time and includes a never-before-seen eleventh tale, as well as new illustrated material.
Purchase The Bane Chronicles at Amazon
Purchase The Bane Chronicles at IndieBound
View The Bane Chronicles on Goodreads
* * * *
a Rafflecopter giveaway