What is your favorite thing about ETERNAL?
My favorite thing about Eternal are the secrets that Della is unearthing and exposing. I think that every family usually has a secret they attempt to keep hidden. And Della's family secret is a doozy. It has the potential to break her heart. Especially when she discovers that by uncovering the family secrets she could destroy someone she loves.
How long did you work on the book?
Eternal took me about four months to write. That's a little longer than usual, but I think it was because it has so many twists and turns. There are so many different little subplots in this book: the romance, Della's family issues, Della's relationship with Kylie, Miranda and the other Shadow Falls campers, and the ghost who is making her life hell.
What's your writing ritual like? Do you listen to music? Work at home or at a coffee shop or the library, etc?
By rituals, do you mean like baseball players wearing the same dirty socks . . . thinking it will help their game? Well, for sure, I change my socks. I'd never get any foot massages if I didn't. No big writing rituals here; most days it's climb out of bed, grab coffee, lots of coffee, answer emails while I wake up (which explains some of my emails) and write. I work too many hours, about eight to twelve a day, but I love my job, so I seldom complain.
Music? I can't listen to music with lyrics because I stop and think about those words and not the words I'm imagining in my head.
As for the place where I write . . . I'm one of those writers who can't seem to produce much away from my office. I have writing friends who meet at Starbucks to write. If I'm at Starbucks, I'm too busy people-watching and eavesdropping on other patron's conversations. Where else am I going to get my dialogue?
What advice would you most like to pass along to other writers?
I have two pieces of advice for new writers. First, remain positive and focused on your goal. What works for me is to do something each and every day to achieve that goal. It can be a little thing, such as researching something you need to know before you write a scene, or it can be something bigger, such as writing X number of pages. One thing I really believe in, is that keeping a positive outlook is vital to building a career as a writer. Surround yourself with people who share your positive outlook, and try to limit your contact with those who spread negativity.
My second piece of advice goes along with my first, and that is to work hard to become a better writer every day. Take a writing class or workshop or read a how-to book. Expand your horizons and read widely. Become a sponge and soak up as much about the writing craft as you can.
What are you working on now?
Right now, I'm plotting a new novella. Guess who? Not Kylie or Della, but Miranda. I think Miranda has been jealous because I've written two novellas for Della, and even one for Chase, but she's finally getting her moment in the limelight. And let's just say, it's going to be exciting. She's gonna discover some family secrets and Perry, her shapeshifter boyfriend, is going to get some stiff competition.
ABOUT THE BOOK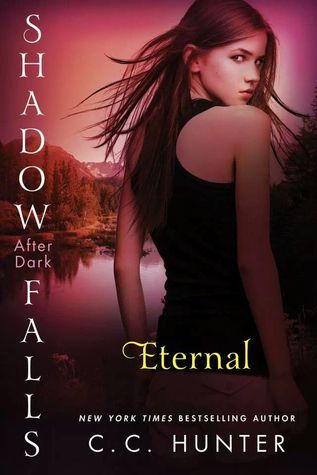 Eternal
by C.C. Hunter
Hardcover
St. Martin's Griffin; Library Unabridged, Hardcover Edition edition
Released 10/28/2014
All her life, Della's secret powers have made her feel separated from her human family. Now, she's where she belongs, at Shadow Falls. With the help of her best friends Kylie and Miranda, she'll try to prove herself in the paranormal world as an investigator—all the while trying to figure out her own heart. Should she chose Chase, a powerful vampire with whom she shares a special bond? Or Steve, the hot shapeshifter whose kisses make her weak in the knees? When a person with dark connection to her past shows up, it'll help her decide which guy to choose–and make her question everything she knows about herself.
From bestselling author C.C. Hunter comes
Eternal
—a must-read for fans of the Shadow Falls series—and the sequel to
Reborn.
Purchase Eternal at Amazon
Purchase Eternal at IndieBound
View Eternal on Goodreads
ABOUT THE AUTHOR
C.C. Hunter grew up in Alabama, where she caught lightning bugs, ran barefoot, and regularly rescued potential princes, in the form of Alabama bullfrogs, from her brothers. Today, she's still fascinated with lightning bugs, mostly wears shoes, but has turned her focus to rescuing mammals. She now lives in Texas with her four rescued cats, one dog, and a prince of a husband, who for the record, is so not a frog. When she's not writing, she's reading, spending time with her family, or is shooting things-with a camera, not a gun.
C.C. Hunter is a pseudonym. Her real name is Christie Craig and she also writes humorous romantic suspense romance novels for Grand Central.
www.christie-craig.com
C.C. would love to hear from you. Because of deadlines, it may take her a day or so to get back with you, but she will reply. cc@cchunterbooks.com