It's a very special week for us here at Adventures in YA Publishing.
We have been along for the ride on Martina's journey to publication, and COMPULSION is finally coming out! We are so thrilled for her that we can hardly stand it. We love you, Martina! Congratulations on your dream coming true!
YA BOOK GIVEAWAYS THIS WEEK
* * * *
Compulsion
by Martina Boone
Personalized Hardcover Giveaway

U.S. and Canada
Simon Pulse
Released 10/28/2014
Beautiful Creatures
meets
The Body Finder
in this spellbinding new trilogy.
Three plantations. Two wishes. One ancient curse.
All her life, Barrie Watson had been a virtual prisoner in the house where she lived with her shut-in mother. When her mother dies, Barrie promises to put some mileage on her stiletto heels. But she finds a new kind of prison at her aunt's South Carolina plantation instead--a prison guarded by an ancient spirit who long ago cursed one of the three founding families of Watson Island and gave the others magical gifts that became compulsions.
Stuck with the ghosts of a generations-old feud and hunted by forces she cannot see, Barrie must find a way to break free of the family legacy. With the help of sun-kissed Eight Beaufort, who knows what Barrie wants before she knows herself, the last Watson heir starts to unravel her family's twisted secrets. What she finds is dangerous: a love she never expected, a river that turns to fire at midnight, a gorgeous cousin who isn't what she seems, and very real enemies who want both Eight and Barrie dead.
Author Question: What is your favorite thing about Compulsion?
It was so much fun to get to do a Gothic novel! I've loved seeing Between the Devil and the Deep Blue Sea and The Lynburn Legacy bringing Gothics to a whole new batch of readers in a fresh way. Adding the Gothic elements to a Southern setting similar to Beautiful Creatures gave me such rich material to work with in Compulsion. I've always adored books with exotically dangerous mansions, eccentric characters, and elements of magic, mystery, and suspense. The world of Watson Island with its equally charming and ugly history, beautiful scenery, and unique mythology is a storytellers dream. It has all the elements I love—a haunted past, regret, anger, continuing conflict, and questions of morality galore.

My favorite thing about Compulsion, hands down, is the setting and how it shaped (and twisted) the characters and families who live there. The island, and especially the Watson's Landing plantation, became an integral character in the book.

Purchase Compulsion at Amazon
Purchase Compulsion at IndieBound
View Compulsion on Goodreads
* * * *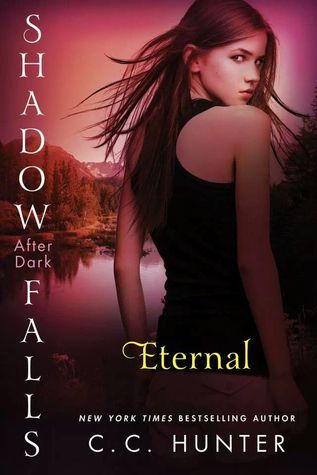 Eternal
by C.C. Hunter
ARC and Shadow Falls: After Dark t-shirt Giveaway
St. Martin's Griffin; Library Unabridged, Hardcover Edition edition
Released 10/28/2014
All her life, Della's secret powers have made her feel separated from her human family. Now, she's where she belongs, at Shadow Falls. With the help of her best friends Kylie and Miranda, she'll try to prove herself in the paranormal world as an investigator—all the while trying to figure out her own heart. Should she chose Chase, a powerful vampire with whom she shares a special bond? Or Steve, the hot shapeshifter whose kisses make her weak in the knees? When a person with dark connection to her past shows up, it'll help her decide which guy to choose–and make her question everything she knows about herself.
From bestselling author C.C. Hunter comes
Eternal
—a must-read for fans of the Shadow Falls series—and the sequel to
Reborn.
Author Question: What is your favorite thing about Eternal?
My favorite thing about Eternal are the secrets that Della is unearthing and exposing. I think that every family usually has a secret they attempt to keep hidden. And Della's family secret is a doozy. It has the potential to break her heart. Especially when she discovers that by uncovering the family secrets she could destroy someone she loves.

Purchase Eternal at Amazon
Purchase Eternal at IndieBound
View Eternal on Goodreads
* * * *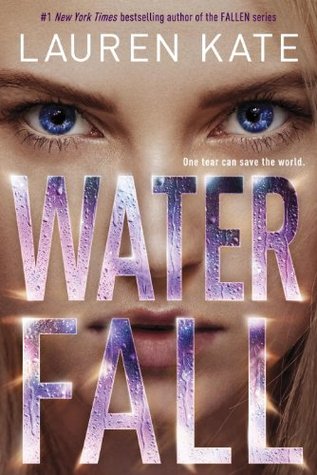 Waterfall
by Lauren Kate
1 copy Waterfall 1 copy Teardrop Giveaway
Delacorte Press
Released 10/28/2014
From the #1 New York Times bestselling author of the Fallen books comes WATERFALL, a novel about love, betrayal, and epic consequences—a world-altering tale told by a girl whose tears have the power to raise the lost continent of Atlantis. This second novel in the Teardrop series is intensely romantic, with strong, hot main characters caught up in a thrilling fantastical love triangle. For readers who love Lauren Kate and the worlds of Alyson Noël, P. C. Cast, Maggie Stiefvater, and Veronica Rossi.
Eureka's tears have flooded the earth, and now Atlantis is rising, bringing with it its evil king, Atlas. Eureka is the only one who can stop him, but first she must learn how to fight. She travels across the ocean with Cat, her family, and Ander, the gorgeous and mysterious Seedbearer who promises to help her find Solon, an enigmatic lost Seedbearer who knows how to defeat Atlas.
Once on land, Eureka is taunted by gossipwitches, a group of displaced Atlantean sorceresses, and ambushed by locals struggling to survive amid the destruction her tears have wrought. And she feels no closer to facing Atlas or saving the world when Solon lets slip that love is Ander's weakness, and that any affection he feels toward her makes him age faster.
Trying to make sense of the dark world her sorrow has created, Eureka receives startling insight from an enchanted pond. Her bewildering reflection reveals a soul-crushing secret: if she's strong enough, Eureka can draw on this knowledge to defeat Atlas—unless her broken heart is just what he needs to fuel his rising kingdom...
In Waterfall, Eureka has the chance to save the world. But she'll have to give up everything—even love.
Author Question: What is your favorite thing about Waterfall?
Waterfall is the most outrageous world-building I've ever done. I couldn't simply dip my toe into any of its scenes. It was an immersive endeavor, a place that needed to be deeply inhabited. I love the richness of its setting, the strangeness of its characters, and the shock of discovering that my heroine was actually the villain.

I'm always drawn in by love stories. With Waterfall, I found myself writing the love story of a girl who has done something so devastating, she feels herself incapable and unworthy of love. The world I had to build in Waterfall is a direct result of Eureka's mistake, so everything had to be heightened. In the end I was intrigued by how universal Eureka's experience was: No matter who we are or what we've done, letting ourselves be loved is hard. This is a book about love and redemption and sacrifice, set in an extreme world.

Purchase Waterfall at Amazon
Purchase Waterfall at IndieBound
View Waterfall on Goodreads
YA BOOK GIVEAWAYS LAST WEEK: WINNERS
* * * *
Loop
by Karen Akins
Hardcover
St. Martin's Griffin
Released 10/21/2014
Winner - Carl Scott
At a school where Quantum Paradox 101 is a required course and history field trips are literal, sixteen year-old time traveler Bree Bennis excels…at screwing up.
After Bree botches a solo midterm to the 21st century by accidentally taking a boy hostage (a teensy snafu), she stands to lose her scholarship. But when Bree sneaks back to talk the kid into keeping his yap shut, she doesn't go back far enough. The boy, Finn, now three years older and hot as a solar flare, is convinced he's in love with Bree, or rather, a future version of her that doesn't think he's a complete pain in the arse. To make matters worse, she inadvertently transports him back to the 23rd century with her.
Once home, Bree discovers that a recent rash of accidents at her school are anything but accidental. Someone is attacking time travelers. As Bree and her temporal tagalong uncover seemingly unconnected clues—a broken bracelet, a missing data file, the art heist of the millennium—that lead to the person responsible, she alone has the knowledge to piece the puzzle together. Knowledge only one other person has. Her future self.
But when those closest to her become the next victims, Bree realizes the attacker is willing to do anything to stop her. In the past, present, or future.
Author Question: What is your favorite thing about Loop?
LOOP is about a twenty-third century time traveler named Bree who meets a boy from the past who is already in love with her future self and is keeping his own set of secrets. One of the things I love most about the story is that Finn (the boy) refuses to give up on Bree even when she's almost at the point of giving up on herself. He loves her even when she's unloveable, and that makes it a very hopeful story.
Purchase Loop at Amazon
Purchase Loop at IndieBound
View Loop on Goodreads
* * * *
The Sorcerer Heir
by Cinda Williams Chima
Hardcover Giveaway plus
The Enchanter Heir and swag
Disney-Hyperion
Released 10/21/2014
Winner - Lupe Beas
The delicate peace between Wizards and the underguilds (Warriors, Seers, Enchanters, and Sorcerers) still holds by the thinnest of threads, but powerful forces inside and outside the guilds threaten to sever it completely.
Emma and Jonah are at the center of it all. Brought together by their shared history, mutual attraction, and a belief in the magic of music, they now stand to be torn apart by new wounds and old betrayals. As they struggle to rebuild their trust in each other, Emma and Jonah must also find a way to clear their names as the prime suspects in a series of vicious murders. It seems more and more likely that the answers they need lie buried in the tragedies of the past. The question is whether they can survive long enough to unearth them.
Old friends and foes return as new threats arise in this stunning and revelatory conclusion to the beloved and bestselling Heir Chronicles series.
Author Question: What is your favorite thing about The Sorcerer Heir?
The Sorcerer Heir is the final novel in a series of five contemporary fantasies revolving around five magical guilds: Warriors, Wizards, Seers, Enchanters, and Sorcerers. In this novel I was able to clear up the trouble I made for my characters in The Sorcerer Heir as well as giving two deserving minor characters some major stage time. I also got to change up the magical system a little. An appropriate tagline for these last two installments would be: This is what happens when magic goes mutant.
Purchase The Sorcerer Heir at Amazon
Purchase The Sorcerer Heir at IndieBound
View The Sorcerer Heir on Goodreads
MORE YOUNG ADULT FICTION IN STORES NEXT WEEK WITH AUTHOR INTERVIEWS
* * * *
Get Happy
by Mary Amato
Hardcover
EgmontUSA
Released 10/28/2014
In this poignant, realistic, contemporary YA by a state master list star, perfect for fans of Sarah Dessen and Gayle Forman, a young songwriter builds a substitute family with her friends in place of the broken family she grew up with.
A hip high school girl who loves music, writes songs, and is desperate for a ukelele, learns to her shock that her father did not abandon her years ago and has been trying to keep in touch. She begins to investigate him, only to discover that he has a new life with a new family, including the perfect stepdaughter, a girl who Minerva despises.
Author Question: What is your favorite thing about Get Happy?
love the friendship that Minerva has with Fin. Even though she makes the mistake of letting her own problems distract her from being the best friend she could be, their history and their love is an absolute rock. Everybody should have at least one friend to count on.
As I was writing, every time Fin appeared in a scene, the room seemed to brighten. I hope that readers feel that as they're reading. The process of creating characters and living with them for as long as it takes to write a book is an interesting one. I get attached to my favorite characters; and when the novel is done, I miss them.
Many writers will say that their characters feel "real" to them. I have that experience. I know that a character is imagined, but it also seems as if the character lives outside of my imagination.
Purchase Get Happy at Amazon
Purchase Get Happy at IndieBound
View Get Happy on Goodreads
MORE YOUNG ADULT NOVELS NEW IN STORES NEXT WEEK
* * * *
Atlantia
by Ally Condie
Hardcover
Dutton Juvenile
Released 10/28/2014
Can you hear Atlantia breathing?
For as long as she can remember, Rio has dreamt of the sand and sky Above—of life beyond her underwater city of Atlantia. But in a single moment, all her plans for the future are thwarted when her twin sister, Bay, makes an unexpected decision, stranding Rio Below. Alone, ripped away from the last person who knew Rio's true self—and the powerful siren voice she has long hidden—she has nothing left to lose.
Guided by a dangerous and unlikely mentor, Rio formulates a plan that leads to increasingly treacherous questions about her mother's death, her own destiny, and the complex system constructed to govern the divide between land and sea. Her life and her city depend on Rio to listen to the voices of the past and to speak long-hidden truths.
Purchase Atlantia at Amazon
Purchase Atlantia at IndieBound
View Atlantia on Goodreads
* * * *
Blue Lily, Lily Blue
by Maggie Stiefvater
Hardcover
Scholastic Press
Released 10/28/2014
The third installment in the mesmerizing series from the irrepressible, #1 NEW YORK TIMES bestselling author Maggie Stiefvater.
There is danger in dreaming. But there is even more danger in waking up.
Blue Sargent has found things. For the first time in her life, she has friends she can trust, a group to which she can belong. The Raven Boys have taken her in as one of their own. Their problems have become hers, and her problems have become theirs.
The trick with found things though, is how easily they can be lost.
Friends can betray.
Mothers can disappear.
Visions can mislead.
Certainties can unravel.
Purchase Blue Lily, Lily Blue at Amazon
Purchase Blue Lily, Lily Blue at IndieBound
View Blue Lily, Lily Blue on Goodreads
* * * *
Catalyst
by S.J. Kincaid
Hardcover
Katherine Tegen Books
Released 10/28/2014
The explosive conclusion to the series reviewers have likened to Ender's Game and "Hogwarts-in-Space"
This exhilarating, explosive, and heartrending conclusion to the Insignia trilogy brings Tom and his intelligent, passionate, and brave young friends stunning tests and dangerous confrontations and through to an impossible future they could never have predicted.
Tom Raines and his friends are eager to return to the Pentagonal Spire to continue training for the elite Intrasolar Forces, but they soon discover troubling changes: strict new regulations and the revelation that the Spire is under new military control. What begins as an irritating adjustment soon reveals a dangerous shift in reality. Those now in control are aligned with corporate sponsors and their ruthless agendas. And when the military academy begins welcoming new cadets with suspicious neural processors, the first step in a plan with horrifying worldwide ramifications, Tom is desperate to stop it, even if that means keeping secrets from his closest allies.
Then a mysterious figure, the other ghost in the machine, begins fighting against the corporations, but with methods even Tom finds shocking. And when the enemy comes for Tom, how much can Tom endure in the battle to save himself? He must decide if he can still fight when the odds of success seem to be sliding from his grip.
Purchase Catalyst at Amazon
Purchase Catalyst at IndieBound
View Catalyst on Goodreads
* * * *
Diamonds in the Rough
by Michelle Madow
Paperback
Harlequin Teen
Released 10/28/2014
All-access doesn't mean no problems.
The three Diamond sisters survived the summer in style after coming to live with their long-lost billionaire father. But making a place for themselves at their exclusive new Las Vegas private school is throwing them any number of gold-plated curves. Savannah's YouTube stardom turns into a Sweet Sixteen reality show extravaganza—with complimentary enemies on the side. Dangerous flirtations don't keep Peyton from a gamble that will risk far more than she planned to bet. And when Courtney and the sisters' archenemy, Madison, uncover two explosive secrets, it will rock even this town of glittering illusion—and turn their lives upside down all over again.
Sisterhood, first crushes, and scandalous secrets explode in book two of Michelle Madow's riveting series, The Secret Diamond Sisters.
Purchase Diamonds in the Rough at Amazon
Purchase Diamonds in the Rough at IndieBound
View Diamonds in the Rough on Goodreads
* * * *
In the Afterlight
by Alexandra Bracken
Hardcover
Disney-Hyperion
Released 10/28/2014
Ruby can't look back. Fractured by an unbearable loss, she and the kids who survived the government's attack on Los Angeles travel north to regroup. With them is a prisoner: Clancy Gray, son of the president, and one of the few people Ruby has encountered with abilities like hers. Only Ruby has any power over him, and just one slip could lead to Clancy wreaking havoc on their minds.
They are armed only with a volatile secret: proof of a government conspiracy to cover up the real cause of IANN, the disease that has killed most of America's children and left Ruby and others like her with powers the government will kill to keep contained. But internal strife may destroy their only chance to free the "rehabilitation camps" housing thousands of other Psi kids.
Meanwhile, reunited with Liam, the boy she would-and did-sacrifice everything for to keep alive, Ruby must face the painful repercussions of having tampered with his memories of her. She turns to Cole, his older brother, to provide the intense training she knows she will need to take down Gray and the government. But Cole has demons of his own, and one fatal mistake may be the spark that sets the world on fire.
Purchase In the Afterlight at Amazon
Purchase In the Afterlight at IndieBound
View In the Afterlight on Goodreads
* * * *
Resisting Ruby Rose
by Jessie Humphries
Paperback
Skyscape
Released 10/28/2014
Still reeling from the heartbreaking events that unfolded on Grissom Island, Ruby Rose is trying to come to terms with the fact that she's gone from a vigilante in killer shoes to a stone-cold killer. Everyone from her therapist to her smoking-hot boyfriend keeps trying to convince her that she hasn't crossed over to the dark side, but Ruby isn't so sure. It doesn't help that her nemesis, Detective "Mastermind" Martinez, is still out there, waiting for another chance to take her down.
When an alleged CIA agent named Skryker shows up and asks for a meeting, Ruby figures it just means more questions about her case. But he has information of an entirely different nature and a job offer: join an elite force of young assassins, including Skryker's right-hand guy, Quinn Donovan. Quinn is distractingly charming, handsome—and deadly. Ruby resists becoming a killer again, but as she becomes more ensnared in a web of deceit, no one around her is safe.
Purchase Resisting Ruby Rose at Amazon
Purchase Resisting Ruby Rose at IndieBound
View Resisting Ruby Rose on Goodreads
* * * *
Talon
by Julie Kagawa
Hardcover
Harlequin Teen
Released 10/28/2014
Long ago, dragons were hunted to near extinction by the Order of St. George, a legendary society of dragon slayers. Hiding in human form and growing their numbers in secret, the dragons of Talon have become strong and cunning, and they're positioned to take over the world with humans none the wiser.
Ember and Dante Hill are the only sister and brother known to dragonkind. Trained to infiltrate society, Ember wants to live the teen experience and enjoy a summer of freedom before taking her destined place in Talon. But destiny is a matter of perspective, and a rogue dragon will soon challenge everything Ember has been taught. As Ember struggles to accept her future, she and her brother are hunted by the Order of St. George.
Soldier Garret Xavier Sebastian has a mission to seek and destroy all dragons, and Talon's newest recruits in particular. But he cannot kill unless he is certain he has found his prey: and nothing is certain about Ember Hill. Faced with Ember's bravery, confidence and all-too-human desires, Garret begins to question everything that the Order has ingrained in him: and what he might be willing to give up to find the truth about dragons.
Purchase Talon at Amazon
Purchase Talon at IndieBound
View Talon on Goodreads
a Rafflecopter giveaway