Thanks so much for having me on for an interview! I'm so excited to be here (and by here, I mean a beach house on a Canadian lake somewhere in Manitoba!)
Adventures in YA Publishing:
There's a lot in your book about conflicts between men and women (or boys and girls, as it may be), but girl-girl competition is also pretty vicious. Does your book get into some of those dynamics, or some more positive relationships among women?
Joy Hensley:
There are only a few females who decide to brave the males at the DMA. Being female in a military society is tough, even today. For these girls, they're trying to be the first females through a traditionally male school. But that's not the only challenge. They've each definitely got their own problems to face, too. That makes what they're trying to accomplish even harder, and when they're pitted against each other in every aspect, it's hard to be friendly. They've each got their own way of surviving and sometimes they don't work together nearly as well as they could. Sounds like real life, huh?
You know, sometimes girls get along, sometimes we don't. A best friend throughout middle school might be your enemy in high school. It's one of the mysteries of being female. As I was growing up, the girls I was most similar to were the ones I couldn't stand being around, where ones who were opposite were easier to deal with. Sam finds this too, throughout her first year at the DMA, but she's also got to find a way to work with the other female as well.
I think that's something we all need to do. As females we should be sticking up for each other, helping each other thrive as much as we can. I can't say too much more without getting into spoiler territory, but I think female friendships are definitely a rockier road to travel and I tried to explore this within the confines of the DMA.
AYAP:
Are there any characters in RITES OF PASSAGE that deviated especially wildly from your initial plan for them?
JH:
Hahahahaahahahahaha! What a funny question! If you could see the changes that happened between first draft and final, printed copy you'd be laughing along with me. I think the biggest change was one of the secondary characters, Jax. In my first draft, Jax was a boy, the son of the commandant of the DMA. He had a dying sister and a huge chip on his shoulder where the DMA was concerned. I had RITES planned as a trilogy, so I had this huge love arc that was going to go over the three books between (male) Jax and Sam.
Now? Jax is a badass goth-hacker chick and I love every page she's on! ☺
AYAP:
Do you have a favorite quote or scene from the book?
JH:
I have two favorite scenes. My favorite scene of Mac with her company is one that takes place in complete darkness with a song playing in the background. The song is Goodnight, Saigon by Billy Joel. Go ahead, listen to that song in the dark without getting goose bumps. I DARE YOU.
My favorite romantic scene in the book is the Sweatpants Scene (it's known as that now. I still get e-mails from my agent and editor about the Sweatpants Scene. I'm thinking about trademarking that!) that takes place at Christmas.
My favorite line in the book is the last line, but I can't tell you that because, well, SPOILER. ☺
AYAP:
Who are some of your favorite female book protagonists- in YA or any other genre?
JH:
1. Katniss Everdeen and Tris Prior—A lot of kick-ass females right now tend to be in the dystopian setting. It's perfect for females who show strength and individuality while also realizing there's more to life than the perfect hair or perfect boyfriend. I love these females so much, and even though the endings don't work out quite like I'd hoped (I'm Team Gale all the way), I pride them (and their authors) for making endings that are true to the characters, not necessarily what the readers want.
2. Claire Beauchamp—Outlander by Diana Gabaldon. Claire is such an amazing female protagonist. She's got strength, knowledge, and definitely does everything she can to better her situation. Me? If I were whisked back to 17th century Scotland, I'd just be saying "Oh, men in kilts!" and would be otherwise useless! (Useless Joy trivia—I read this book once a year, in the winter months, curled up by the fire. I've read it 19 times so far and I love it each and every time. It's also the reason I wanted to marry a redheaded kilt-wearing Scottish man. My man is bald and Australian, but he does wear a kilt!)
3. Talia—Arrows of the Queen by Mercedes Lackey. Talia is young, thrown into a situation completely out of her element, but she uses her skills and knowledge to not only survive, but thrive in a brand new world. (Useless Joy trivia—I used to wish I lived in Valdemar. I had a horse growing up and I definitely tried to mind-talk to it. It never talked back. I'm still scarred.)
AYAP:
What was the hardest part- emotionally, creatively, professionally, interpret as you like- about writing RITES OF PASSAGE?
JH:
Wow…Writing RITES was really easy, honestly. I feel kind of like a fraud saying that, since the second book I'm working on for Harper Teen might be killing me. But RITES just kind of fell from the sky. It was no sparkly vampire, don't get me wrong, but I knew the story and I knew what needed to happen. Professionally, I guess just letting it go (so so so sorry for getting that song stuck in your head!). I'm a tinkerer when it comes to the editing stage and I can just nit-pick for hours if I want to. Letting it go was my biggest trial (looking back—who knows what I thought while I was in the midst of it!).
AYAP:
Do you have any rules or rituals that help you to write, such as a particular environment, time frame, or snack you like to have around?
JH:
I wish I did. Maybe that would help me out! I do have a specific laptop I love to write on. I love to wear headphones (even if there's no music playing—some scenes require silence). When I'm writing a first draft, I listen to anything that will motivate me in the scene or keep me going. When I'm editing, classical music helps me focus on the words but still gives me the background noise I need. As far as eating, I absolutely require double-stuf Oreos when in revision mode. It's not even an option.
AYAP:
Your first book just released yesterday (and first of all, congratulations!). Is there one piece of wisdom, advice, or encouragement you'd like to give to everyone who is currently facing that process?
JH:
My biggest piece of advice (and one that I need to take frequently) is to take a deep breath and let the process happen at its own speed. It's so easy to get caught up in finishing! Waiting! Signing! Waiting! Selling! Waiting! Instead of staring at e-mail and refreshing, refreshing, refreshing, why not start something new? Write a blog post? Drink some coffee? Sleep? I know you're excited—I am, too! But take a deep breath and chill out. Everything will happen when it's supposed to. For me, it was four years after my self-imposed deadline of publishing by 30.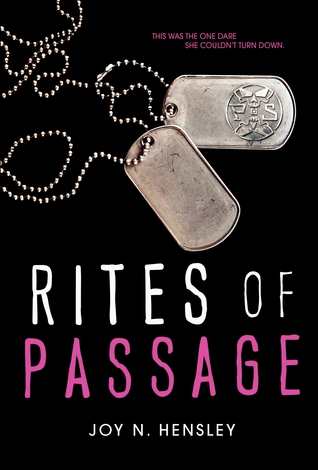 About the Book
Sam McKenna's never turned down a dare. And she's not going to start with the last one her brother gave her before he died.
So Sam joins the first-ever class of girls at the prestigious Denmark Military Academy. She's expecting push-ups and long runs, rope climbing and mud-crawling. As a military brat, she can handle an obstacle course just as well as the boys. She's even expecting the hostility she gets from some of the cadets who don't think girls belong there. What she's not expecting is her fiery attraction to her drill sergeant. But dating is strictly forbidden and Sam won't risk her future, or the dare, on something so petty...no matter how much she wants him.
As Sam struggles to prove herself, she discovers that some of the boys don't just want her gone—they will stop at nothing to drive her out. When their petty threats turn to brutal hazing, bleeding into every corner of her life, she realizes they are not acting alone. A decades-old secret society is alive and active… and determined to force her out.
At any cost.
Now time's running short. Sam must decide who she can trust...and choosing the wrong person could have deadly consequences.
Amazon
|
Indiebound
|
Goodreads
About the Author
Born and raised in Virginia, Joy spent time wandering up and down the East Coast before settling back down. From being a barista to editing, writing commercials for television to being a middle school/high school English teacher, there's nothing she's not willing to try. That includes going to military school (on a dare), hiking 600 miles of the Appalachian Trail, and playing in the muddy Chesapeake Bay with her students!
A 2003 graduate of Greensboro College, she received the Excellence in English award for her fiction and poetry. In 2007 she graduated from Long Ridge Writers Group's Breaking Into Print class, and in 2009 she finished their Shape, Write, and Sell Your Novel classes.
Now, between reading, watching the CW and putting Veronica Mars, The OC, and Buffy the Vampire Slayer on repeat, hiking, kayaking, walking, doing obstacle course races and having fun with my husband and two sons, she continues to write. She is represented by Mandy Hubbard at D4EO Literary Agency.
Website
|
Twitter
|
Facebook