July OneFour KidLit Giveaways
Between
by Megan Whitmer
Signed ARC Giveaway
Spencer Hill Press
Released 7/29/2014
When a supernatural freak of nature forces her family to separate, seventeen-year-old Charlie Page must turn to her frustrating (yet gorgeous) neighbor, Seth, to help reunite them. Seth whisks Charlie to Ellauria—a magical world filled with the creatures of myths and legends—and tells her of the Fellowship, the group charged with protecting mystical beings from human discovery. (All except Bigfoot: that attention whore is a total lost cause.) But when Charlie learns that she's under the Fellowship's protection herself, well, "stressed" is an understatement.
Ellauria should be the safest place for Charlie while the Fellowship works to find her family, but things in the mystical realm aren't what they seem.
Magic is failing, creatures are dying, and the Fellowship insists Charlie holds the key to saving everyone. With her family still missing and the danger in Ellauria growing, Charlie doesn't know who she can trust. She's dealing with a power she never asked for, falling for a guy she can't have, and being forced to choose between her destiny and her heart. And if she chooses wrong, she could destroy magic forever.
Charlie may be in over her head.
Author Question: What is your favorite thing about Between?
I've always had a fascination with things I know I'll never know (like big conspiracy theories—what's in Area 51? Who shot JFK? Did aliens really land in Roswell in 1947?) and when it comes to mythical creatures, I've always loved reading about the various mythical creatures that exist throughout different cultures around the world. I love how similar creatures pop up repeatedly over time, and it's incredibly interesting to me that even now, in this day and age where we use science and technology to disprove everything, the rumors of the existence of some creatures, such as Bigfoot, the Loch Ness Monster, and fairies, still persist. That's what initially sparked the idea of this book—that there's a group responsible for hiding these creatures from us (think Men In Black, but for mythical creatures). For that reason, I researched hundreds of creatures from all over the world to select the ones that are mentioned in Between. I wanted to use actual creatures found in folklore throughout history. I loved finding ways to use these creatures in the storyline. I like the idea that someone might read my book and wonder if a group like the Fellowship could actually exist.
Purchase Between at Amazon
Purchase Between at IndieBound
View Between on Goodreads
* * * *
Dream Boy
by Mary Crockett and Madelyn Rosenberg
Paperback Giveaway
Sourcebooks Fire
Released 7/1/2014
Annabelle Manning feels like she's doing time at her high school in Chilton, Virginia. She has her friends at her lunchtime table of nobodies. What she doesn't have are possibilities. Or a date for Homecoming. Things get more interesting at night, when she spends time with the boy of her dreams. But the blue-eyed boy with the fairytale smile is just that—a dream. Until the Friday afternoon he walks into her chemistry class.
One of friends suspects he's an alien. Another is pretty sure it's all one big case of deja vu. While Annabelle doesn't know what to think, she's willing to believe that the charming Martin Zirkle may just be her dream come true. But as Annabelle discovers the truth behind dreams—where they come from and what they mean—she is forced to face a dark reality she had not expected. More than just Martin has arrived in Chilton. As Annabelle learns, if dreams can come true, so can nightmares.
Author Question: What is your favorite thing about Dream Boy?
I love the characters most. Annabelle, Will, Martin, Talon, Serena. They've become real people to me--people I'd love to know in real life.

I also love that I got to write this book with my friend Madelyn--and to become even better friends through the process! A lot of people have asked us what it was like to write a book together, so Madelyn put together this video explaining some of the process: https://www.youtube.com/watch?v=SR6Hfy7Kfk4

Purchase Dream Boy at Amazon
Purchase Dream Boy at IndieBound
View Dream Boy on Goodreads
Last Month's Giveaway Winners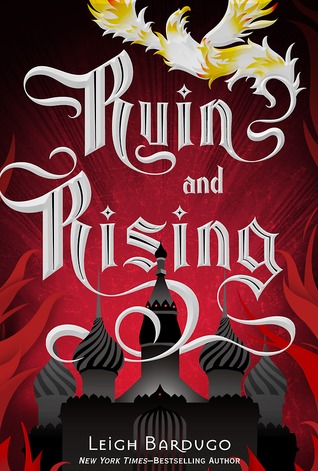 Ruin & Rising
by Leigh Bardugo
Henry Holt & Co.
Released June 17, 2014
Winner - Breana M.
The capital has fallen. The Darkling rules Ravka from his shadow throne.
Now the nation's fate rests with a broken Sun Summoner, a disgraced tracker, and the shattered remnants of a once-great magical army.
Deep in an ancient network of tunnels and caverns, a weakened Alina must submit to the dubious protection of the Apparat and the zealots who worship her as a Saint. Yet her plans lie elsewhere, with the hunt for the elusive firebird and the hope that an outlaw prince still survives.
Alina will have to forge new alliances and put aside old rivalries as she and Mal race to find the last of Morozova's amplifiers. But as she begins to unravel the Darkling's secrets, she reveals a past that will forever alter her understanding of the bond they share and the power she wields. The firebird is the one thing that stands between Ravka and destruction—and claiming it could cost Alina the very future she's fighting for.
* * * *
Behind The Scenes
by Dahlia Adler
Personalized Paperback Giveaway
Spencer Hill Contemporary
Released 6/24/2014
Winner - Linnea Pietsch
High school senior Ally Duncan's best friend may be the Vanessa Park - star of TV's hottest new teen drama - but Ally's not interested in following in her BFF's Hollywood footsteps. In fact, the only thing Ally's ever really wanted is to go to Columbia and study abroad in Paris. But when her father's mounting medical bills threaten to stop her dream in its tracks, Ally nabs a position as Van's on-set assistant to get the cash she needs.
Spending the extra time with Van turns out to be fun, and getting to know her sexy co-star Liam is an added bonus. But when the actors' publicist arranges for Van and Liam to "date" for the tabloids just after he and Ally share their first kiss, Ally will have to decide exactly what role she's capable of playing in their world of make believe. If she can't play by Hollywood's rules, she may lose her best friend, her dream future, and her first shot at love.
Purchase Behind The Scenes at Amazon
Purchase Behind The Scenes at IndieBound
View Behind The Scenes on Goodreads
Essence
by Lisa Ann O'Kane
Spencer Hill Press
Signed Paperback Giveaway and Two Essence Pins
Winner - Makaela
Neutrality is the key to longevity. This motto has governed 16 year-old Autumn's life in the mid-21st century Centrist cult, which believes that expressing emotions leads to Essence drain and premature death.
But Autumn's younger brother's death casts her faith into question. While sprinting through a park in violation of Centrist teachings, she encounters Ryder Stone, an Outsider who claims Essence drain is nothing more than a Centrist scare tactic. She agrees to join his Community, a utopia of adrenaline junkies living in the abandoned remains of Yosemite National Park.
Autumn learns about sex, drugs, and living life to the fullest. But as she discovers dark secrets beneath the Community's perfect exterior, she realises that this illusion of paradise could be shattered…
What is your favorite thing about Essence?
Essence
is set in Yosemite National Park, and it was partially inspired by the summer I spent living in a tent and working for the park's concessionaire. Simply put, Yosemite is the most breathtaking place I have ever lived, and I often think of
Essence
as a love letter to my time there. The setting is (hopefully) so vibrant it has almost become a character itself.
Purchase Essence at Amazon
Purchase Essence at IndieBound
View Essence on Goodreads
17 First Kisses
by Rachael Allen
Signed Paperback Giveaway
HarperTeen
Released 6/17/2014
Winner - Cassie Gutman
No matter how many boys Claire kisses, she can't seem to find a decent boyfriend. Someone who wouldn't rather date her gorgeous best friend, Megan. Someone who won't freak out when he learns about the tragedy her family still hasn't recovered from. Someone whose kisses can carry her away from her backwoods town for one fleeting moment.
Until Claire meets Luke.
But Megan is falling for Luke, too, and if there's one thing Claire knows for sure, it's that Megan's pretty much irresistible.
With true love and best friendship on the line, Claire suddenly has everything to lose. And what she learns—about her crush, her friends, and most of all herself—makes the choices even harder.
In her moving debut, Rachael Allen brilliantly captures the complexities of friendship, the struggles of self-discovery, and the difficulties of trying to find love in high school. Fans of Sarah Ockler, Susane Colasanti, and Stephanie Perkins will fall head over heels for this addictive, heartfelt, and often hilarious modern love story.
Author Question: What is your favorite thing about 17 First Kisses?
The female friendships. I love reading contemporary books with an emphasis on female relationships, whether it's mother-daughter, sisters, or BFFs. My MC, Claire, and her best friend, Megan, are fiercely supportive and protective of each other even though there's a competitiveness between them, particularly with guys. These girls are flawed characters, and neither of them is a model friend, but I love that about them.

Girls need to know that if a friendship has a strong core, you can get in a fight or make a mistake, and it doesn't mean the friendship is over. You can change and grow together instead of apart. Claire and Megan have the kind of friendship that's worth figuring things out about themselves and each other. Instead of hating each other, they work to fix things. And if part of that reconciliation takes the form of stealing your ex-boyfriend's clothes while he's skinny dipping, well, so be it :)
Purchase 17 First Kisses at Amazon
Purchase 17 First Kisses at IndieBound
View 17 First Kisses on Goodreads
* * * *
My Faire Lady
by Laura Wettersten
1 Hardcover, 2 Arcs, signed and personalized Giveaway (3 Copies)
Simon & Schuster Books for Young Readers
Released 6/3/2014
Winners - Delia Chavez, Zandalee Marie, Debra Powell
Rowena Duncan is a thoroughly modern girl with big plans for her summer—until she catches her boyfriend making out with another girl. Heartbroken, she applies to an out-of-town job posting and finds herself somewhere she never expected: the Renaissance Faire.
As a face-painter doubling as a serving wench, Ro is thrown headfirst into a vibrant community of artists and performers. She feels like a fish out of water until Will, a quick-witted whip cracker, takes her under his wing. Then there's Christian, a blue-eyed stunt jouster who makes Ro weak in the knees. Soon, it's not just her gown that's tripping her up.
Trading in the internet and electricity for stars and campfires was supposed to make life simpler, but Ro is finding that love is the ultimate complication. Can she let the past make way for her future?
Author Question: What is your favorite thing about My Faire Lady?
The characters. The setting. The camp fires. The knights. It's romantic, hilarious at times, and just plain fun.
Purchase My Faire Lady at Amazon
Purchase My Faire Lady at IndieBound
View My Faire Lady on Goodreads
* * * *
The Girl Who Never Was
by Skylar Dorset
Signed Trade Paperback Giveaway
Sourcebooks Fire
Released 6/1/2014
Winner - Vivien Probst
THE GIRL WHO NEVER WAS is the story of Selkie Stewart, who thinks she's a totally normal teenager growing up in Boston. Sure, her father is in an insane asylum, her mother left her on his doorstep—literally—when she was a baby, and she's being raised by two ancient aunts who spend their time hunting gnomes in their Beacon Hill townhouse. But other than that her life is totally normal! She's got an adventurous best friend who's always got her back and an unrequited crush on an older boy named Ben. Just like any other teenager, right?
When Selkie goes in search of the mother she's never known, she gets more than she bargained for. It turns out that her mother is faerie royalty, which would make Selkie a faerie princess—except for the part where her father is an ogre, which makes her only half of anything. Even more confusing, there's a prophecy that Selkie is going to destroy the tyrannical Seelie Court, which is why her mother actually wants to kill her. Selkie has been kept hidden all her life by her adoring aunts, with the help of a Salem wizard named Will. And Ben. Because the boy she thinks she's in love with turns out to be a faerie whose enchantment has kept her alive, but also kept her in the dark about her own life.
Now, with enchantments dissolved and prophecies swinging into action, Selkie finds herself on a series of mad quests to save the people she's always loved and a life she's learning to love. But in a supernatural world of increasingly complex alliances and distressingly complicated deceptions, it's so hard to know who to trust. Does her mother really wish to kill her? Would Will sacrifice her for the sake of the prophecy? And does Ben really love her or is it all an elaborate ruse? In order to survive, Selkie realizes that the key is learning—and accepting—who she really is.
Author Question: What is your favorite thing about The Girl Who Never Was?
I think what I love most about my book is how the main character finds out that she's faerie royalty and prophesied to lead a revolution and that her mother wants her dead and yet none of that changes who she *is,* and I love her stubbornness in the face of all the craziness of the Otherworld she finds herself in.
Purchase The Girl Who Never Was at Amazon
Purchase The Girl Who Never Was at IndieBound
View The Girl Who Never Was on Goodreads
* * * *
The Truth About Alice
by Jennifer Mathieu
Personalized Hardcover Giveaway
Roaring Brook Press
Released 6/3/2014
Winner - Vivianna von Borg
Everyone knows Alice slept with two guys at one party. When Healy High star quarterback, Brandon Fitzsimmons, dies in a car crash, it was because he was sexting with Alice. Ask
anybody
. Rumor has it Alice Franklin is a slut. It's written all over the "slut stall" in the girls' bathroom: "Alice had sex in exchange for math test answers" and "Alice got an abortion last semester." After Brandon dies, the rumors start to spiral out of control. In this remarkable debut novel, four Healy High students tell all they "know" about Alice--and in doing so reveal their own secrets and motivations, painting a raw look at the realities of teen life. But in this novel from Jennifer Mathieu, exactly what is the truth about Alice? In the end there's only one person to ask: Alice herself.
Author Question: What is your favorite thing about The Truth About Alice?
It's impossible to choose, but one thing I love is that in the end, the reader is the only person who knows the entire truth about Alice. I hope that is a powerful experience for the reader!
Purchase The Truth About Alice at Amazon
Purchase The Truth About Alice at IndieBound
View The Truth About Alice on Goodreads
* * * *
My Last Kiss
by Bethany Neal
Other Giveaway
Farrar, Straus and Giroux
Released 6/10/2014
Winner - Noa Bash
What if your last kiss was with the wrong boy?
Cassidy Haines remembers her first kiss vividly. It was on the old covered bridge the summer before her freshman year with her boyfriend of three years, Ethan Keys. But her last kiss—the one she shared with someone at her seventeenth birthday party the night she died—is a blur. Cassidy is trapped in the living world, not only mourning the loss of her human body, but left with the grim suspicion that her untimely death wasn't a suicide as everyone assumes. She can't remember anything from the weeks leading up to her birthday and she's worried that she may have betrayed her boyfriend.
If Cassidy is to uncover the truth about that fateful night and make amends with the only boy she'll ever love, she must face her past and all the decisions she made—good and bad—that led to her last kiss.
Bethany Neal's suspenseful debut novel is about the power of first love and the haunting lies that threaten to tear it apart.
Author Question: What is your favorite thing about My Last Kiss?
I love how MY LAST KISS doesn't fit into just one genre. It could be categorized as a contemporary romance, a mystery/thriller, or even a paranormal romance given that the main character is a ghost...ish. Even though she's not technically human, at the heart of the story is a teenage girl trying to figure out who she is--or wants to be remembered as--and I think a lot of readers will be able to relate to that.
Purchase My Last Kiss at Amazon
Purchase My Last Kiss at IndieBound
View My Last Kiss on Goodreads
More July OneFour KidLit Releases
Extraction
by Stephanie Diaz
Hardcover
St. Martin's Griffin
Released 7/22/2014
"Welcome to Extraction testing."
Clementine has spent her whole life preparing for her sixteenth birthday, when she'll be tested for Extraction in the hopes of being sent from the planet Kiel's toxic Surface to the much safer Core, where people live without fear or starvation. When she proves promising enough to be "Extracted," she must leave without Logan, the boy she loves. Torn apart from her only sense of family, Clem promises to come back and save him from brutal Surface life.
What she finds initially in the Core is a utopia compared to the Surface—it's free of hard labor, gun-wielding officials, and the moon's lethal acid. But life is anything but safe, and Clementine learns that the planet's leaders are planning to exterminate Surface dwellers—and that means Logan, too.
Trapped by the steel walls of the underground and the lies that keep her safe, Clementine must find a way to escape and rescue Logan and the rest of the planet. But the planet leaders don't want her running—they want her subdued.
With intense action scenes and a cast of unforgettable characters,
Extraction
is a page-turning, gripping read, sure to entertain lovers of
Hunger Games
and
Ender's Game
and leave them breathless for more.
Author Question: What is your favorite thing about Extraction?
My favorite thing about Extraction is the sci-fi elements, especially the big reveal related to why the moon is poisonous. And the fact I managed to include references (some subtle, some not so subtle) to my favorite sci-fi shows like Doctor Who, Firefly, and Battlestar Galactica.

Purchase Extraction at Amazon
Purchase Extraction at IndieBound
View Extraction on Goodreads
* * * *
Midnight Thief
by Livia Blackburne
Hardcover
Disney-Hyperion
Released 7/8/2014
Growing up on Forge's streets has taught Kyra how to stretch a coin. And when that's not enough, her uncanny ability to scale walls and bypass guards helps her take what she needs.
But when the leader of the Assassins Guild offers Kyra a lucrative job, she hesitates. She knows how to get by on her own, and she's not sure she wants to play by his rules. But he's persistent—and darkly attractive—and Kyra can't quite resist his pull.
Tristam of Brancel is a young Palace knight on a mission. After his best friend is brutally murdered by Demon Riders, a clan of vicious warriors who ride bloodthirsty wildcats, Tristam vows to take them down. But as his investigation deepens, he finds his efforts thwarted by a talented thief, one who sneaks past Palace defenses with uncanny ease.
When a fateful raid throws Kyra and Tristam together, the two enemies realize that their best chance at survival—and vengeance—might be to join forces. And as their loyalties are tested to the breaking point, they learn a startling secret about Kyra's past that threatens to reshape both their lives.
Author Question: What is your favorite thing about Midnight Thief?
My favorite thing about Midnight Thief is the development of Kyra's relationships with the three male leads. There's Flick, her adopted older brother and long term partner in crime, James, the mysterious and darkly attractive assassin who wants to use her skills, and Tristam, the young knight determined to catch her.

Purchase Midnight Thief at Amazon
Purchase Midnight Thief at IndieBound
View Midnight Thief on Goodreads
* * * *
Illusive
by Emily Lloyd-Jones
Hardcover
Little, Brown Books for Young Readers
Released 7/15/2014
The X-Men meets Ocean's Eleven in this edge-of-your-seat sci-fi adventure about a band of "super" criminals.
When the MK virus swept across the planet, a vaccine was created to stop the epidemic, but it came with some unexpected side effects. A small percentage of the population developed superhero-like powers. Seventeen-year-old Ciere Giba has the handy ability to change her appearance at will. She's what's known as an illusionist...She's also a thief.
After a robbery goes awry, Ciere must team up with a group of fellow super-powered criminals on another job that most would consider too reckless. The formula for the vaccine that gave them their abilities was supposedly destroyed years ago. But what if it wasn't?
The lines between good and bad, us and them, and freedom and entrapment are blurred as Ciere and the rest of her crew become embroiled in a deadly race against the government that could cost them their lives.
Purchase Illusive at Amazon
Purchase Illusive at IndieBound
View Illusive on Goodreads
* * * *
The Fire Wish
by Amber Lough
Hardcover
Random House Books for Young Readers
Released 7/22/2014
A jinni. A princess. And the wish that changes everything. . . .
Najwa is a jinni, training to be a spy in the war against the humans. Zayele is a human on her way to marry a prince of Baghdad—which she'll do anything to avoid. So she captures Najwa and makes a wish. With a rush of smoke and fire, they fall apart and re-form—as each other. A jinni and a human, trading lives. Both girls must play their parts among enemies who would kill them if the deception were ever discovered—enemies including the young men Najwa and Zayele are just discovering they might love.
Purchase The Fire Wish at Amazon
Purchase The Fire Wish at IndieBound
View The Fire Wish on Goodreads
a Rafflecopter giveaway