Once again, the entries were absolutely amazing, and the judges had their work cut out for them.
The entries of the 10 finalists

will be posted on the blog on Monday

are posted below. Congrats to all of you!

A Song in Winter - Kate Michael

Becoming Jinn - Lori A. Goldstein

Blackrock - Kendal Muse

Gripped - Laurie Litwin

Harold - The Kid Who Ruined My Life and Saved the Day - Dana Edwards

Liar's Chair - Matthew Stern

Meditation - Larissa Hardesty

Starwisp - Rebecca Harwell

The Only One - Keely Dunn

The Snake and the Darkness - Mari Clark

A million thanks to all of our fabulous judges!!
Round 2 Judges - Authors
Angela Ackerman
- Angela Ackerman lives in Calgary, Alberta, just a short drive from the Canadian Rockies. A writer of Chapter Books, Middle Grade and Young Adult, her work has appeared in Spider Magazine, Wee Ones Magazine and several local city newsletters. When she isn't plotting about pirates, zombies or monsters made of cereal, she enjoys photography and taking in the natural beauty of Alberta with her family. She belongs to several writing groups, moderates for The Critique Circle, an online critique community and co-owns a popular writer's blog,
The Bookshelf Muse
. She is the co-author of THE EMOTION THESAURUS.
Angela's website
Angela's Twitter
Jodi Meadows
- Jodi Meadows lives and writes in the Shenandoah Valley, Virginia, with her husband, a cat, and an alarming number of ferrets. She is a confessed book addict and has wanted to be a writer ever since she decided against becoming an astronaut. She is the author of INCARNATE and ASUNDER.
Jodi's website
Jodi's Twitter
Mindy McGinnis
- Mindy McGinnis is a YA writer repped by Adriann Ranta of Wolf Literary. NOT A DROP TO DRINK is a post-apocalyptic survival tale set in a world where freshwater is almost nonexistent. Coming Fall, 2013 Katherine Tegen / Harper Collins.
Mindy's website
Mindy's Twitter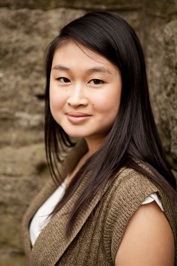 Kat Zhang
- Kat Zhang is an avid traveler, and after a childhood spent living in one book after another, she now builds stories for other people to visit. An English major at Vanderbilt University, she spends her free time performing spoken-word poetry, raiding local bookstores, and plotting where to travel next. WHAT'S LEFT OF ME is her first novel.
Kat's website
Kat's Twitter
Elana Johnson
- Elana Johnson wishes she could experience her first kiss again, tell the mean girl where to go, and have cool superpowers. To fulfill her desires, she writes young adult science fiction and fantasy. She lives in central Utah where she spends her time with many students, one husband, and two kids. She is the author of POSSESSION and SURRENDER.