THIS WEEK'S SPECIAL FEATURE AND GIVEAWAY
What's Left of Me (Hybrid Chronicles)
by Kat Zhang
Eva and Addie started out the same way as everyone else--two souls woven together in one body, taking turns controlling their movements as they learned how to walk, how to sing, how to dance. But as they grew, so did the worried whispers. Why aren't they settling? Why isn't one of them fading? The doctors ran tests, the neighbors shied away, and their parents begged for more time. Finally Addie was pronounced healthy and Eva was declared gone. Except, she wasn't...
For the past three years, Eva has clung to the remnants of her life. Only Addie knows she's still there, trapped inside their body. Then one day, they discover there may be a way for Eva to move again. The risks are unimaginable-hybrids are considered a threat to society, so if they are caught, Addie and Eva will be locked away with the others. And yet...for a chance to smile, to twirl, to speak, Eva will do anything.
View on Goodreads
INTERVIEW WITH KAT ZHANG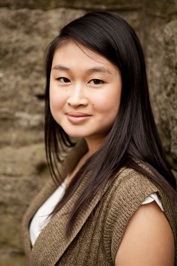 Q. What sparked the idea of twin souls, and how did you go about turning that into a full-scale novel premise?
I don't really have a super interesting story to tell about how I came up with the idea for WHAT'S LEFT OF ME :) I wish I did! Really, though, I just started wondering one day--everyone has a bit of an internal monologue going at times; what if that little voice in the back of your head was a real person? What would it be like to live trapped in your own body? That was how the idea for Eva began, and the rest of the story grew around her.
Q. How did you go about the process of building a world around the idea, or how did the world within which What's Left of Me takes place evolve?
The world of WHAT'S LEFT OF ME grew slowly through the first few drafts. Then I sat down and wrote a sort of "World Bible" for the series, really pinning down the background information and such. I always wanted the WLoM world to be very similar to our own, though, on the basic level--a sort of alternate version of the 21st century. Of course there are some huge differences! ;)
Q. What three things do you consider to be the most critical aspects of world-building?
Hmm...I think this depends on the kind of story. Some stories demand very intricate, rigorous world-building (think classical dystopia like 1984). Others operate under the broad strokes of a world (GREEN ANGEL, if you've ever read that, only vaguely refers to a "tragedy" that befalls the characters).
That being said, a certain degree of internal logic is always good. If you have any big changes (magic! people can read minds!), I like books that really reflect on how these changes might change the very underpinnings of society.
Q. Did the consequences of your main character's failure to lose the non-dominant soul come as part of the world-building or as part of the plot, and how did that play into your character development?
That was always part of the story, as there needed to be some element of danger and forboding! :) In the beginning of the very first draft of WHAT'S LEFT OF ME, Eva and Addie's personalities were quite different, and I do think that contemplating what kind of people they would be as shaped by their experiences and circumstances helped them to become the characters they are now :)
Q. How did you define the concept of souls in your mind as you were building your society and political system?
In my mind, the "souls" of WLoM are distinct consciousnesses. The characters themselves, however, have differing ideas of what a "soul" is, and what they themselves are.
Q. What steps would you recommend to someone who is setting out to create an alternate, dystopian, or fantasy world?
Start with the Big Change or the Big Difference (meteors have decimated most of the Earth? Dinosaurs never died out? Everyone can fly?) and then develop your world from there. I.e. Okay, so everyone can fly...how would that change architecture? Modes of transportation? How would the cityscape be different?
Also think about things like time period and level of technology.
Finally, don't forget the importance of culture, myth, prejudice, stereotype, superstition...all these human qualities that really make up each society, and thus any kind of world :)
Want more info on Kat and WHAT'S LEFT OF ME? Here are the links for her blog tour!
The Book Smugglers
— Interview
Cuddlebuggery
— Interview
Reading Teen
— Character Interview, Addie
Xpresso Reads
— Interview
The Mod Podge Bookshelf
— Character Interview, Addie
Bloggers Heart Books
— interview
Sash & Em: A Tale of Two Bookies
— Interview
Me, My Shelf, and I
— This or That
* * *
ADDITIONAL GREAT GIVEAWAYS THIS WEEK FROM FLUX BOOKS
* * * *
Henry Franks: A Novel by Peter Adam Salomon
A dark, psychological thriller about a boy's search for himself.
Four thousand, three hundred and seventeen stitches, his father had told him once. All the King's horses and all the King's men had put Henry Franks back together again.
One year ago, a terrible accident robbed Henry Franks of his mother and his memories. The past sixteen years have vanished. All Henry has now are scars and a distant father--the only one who can tell Henry who he is.
If only he could trust his father.
Do his nightmares--a sweet little girl calling him Daddy, murderous urges, dead bodies--hold clues?
While a serial killer stalks their small Georgia town, Henry unearths the bitter truth behind his mother's death--and the terrifying secrets of his own dark past.
Sometimes, the only thing worse than forgetting is remembering.
Order Henry Franks: A Novel
View on Goodreads
* * * *
The City's Son (The Skyscraper Throne) by Tom Pollock
"Gritty, dynamic, and beautiful.
I can't wait for more."

—

TESSA GRATTON
author of
Blood Magic
Running from her traitorous best friend and her estranged father, graffiti artist Beth Bradley is looking for sanctuary. What she finds is Filius, the ragged and cocky crown prince of London's mystical underworld. Filius opens Beth's eyes to the city she's never truly seen—where vast spiders crawl telephone wires seeking voices to steal, railwraiths escape their tethers, and statues conceal an ancient priesthood robed in bronze.
But it all teeters on the brink of destruction. Amid rumors that Filius's goddess mother will soon return from her 15-year exile, Reach, a malign god of urban decay, wants the young prince dead. Helping Filius raise an alleyway army to reclaim his skyscraper throne, Beth soon forgets her old life. But when her best friend is captured, Beth must choose between this wondrous existence and the life she left behind.
Order The City's Son (The Skyscraper Throne)
View on Goodreads
LAST WEEK'S WINNERS
Every Day by David Levithan
Here are the ten winners:

Stina Lindenblatt
Chihuahua Zero
Stephanie De Bear
Renee Hall
Stephanie Ziegler
Mia Holmgren
Hannah Roberts
Deb Day
Jess Keating
Jolene Allcock
Have you seen the trailer for this? It's AMAZING. Twenty-three YA authors collaborated on it.
Watch the EVERY DAY book trailer.
Thanks so much to Random House for the fantastic giveaway!
Every day a different body. Every day a different life. Every day in love with the same girl.
Every morning, A wakes in a different person's body, a different person's life. There's never any warning about where it will be or who it will be. A has made peace with that, even established guidelines by which to live: Never get too attached. Avoid being noticed. Do not interfere.
It's all fine until the morning that A wakes up in the body of Justin and meets Justin's girlfriend, Rhiannon. From that moment, the rules by which A has been living no longer apply. Because finally A has found someone he wants to be with—day in, day out, day after day.
With his new novel, David Levithan has pushed himself to new creative heights. He has written a captivating story that will fascinate readers as they begin to comprehend the complexities of life and love in A's world, as A and Rhiannon seek to discover if you can truly love someone who is destined to change every day.
Order Every Day
|
View on Goodreads
* * * *
The Sharp Time by Mary O'Connell

WINNER: Danielle Garrett
Sandinista Jones is a high school senior with a punk rock name and a broken heart. The death of her single mother has left Sandinista alone in the world, subject to the random vulnerability of everyday life. When the school system lets her down, her grief and instability intensify, and she ponders a violent act of revenge.

Still, in the midst of her crisis, she gets a job at The Pale Circus, a funky vintage clothing shop, and finds friendship and camaraderie with her coworker, a boy struggling with his own secrets.

Even as Sandinista sees the failures of those with power and authority, she's offered the chance to survive through the redemptive power of friendship. Now she must choose between faith and forgiveness or violence and vengeance.
Order The Sharp Time
|
View on Goodreads
* * * *
Don't Expect Magic by Kathy McCullough
WINNER: Jessica Brooks
Delaney Collins doesn't believe in fairy tales. And why should she? Her mom is dead, her best friend is across the country, and she's stuck in California with "Dr. Hank," her famous life-coach father—a man she barely knows. Happily ever after? Yeah, right.

Then Dr. Hank tells her an outrageous secret: he's a fairy godmother—an f.g.—and he can prove it. And by the way? The f.g. gene is hereditary. Meaning there's a good chance that New Jersey tough girl Delaney is someone's fairy godmother.
But what happens when a fairy godmother needs a wish of her own?
Order Don't Expect Magic
|
View on Goodreads
Gil Marsh by A.C.E. Bauer
WINNER: Kristine Hall
Good looking, athletic, and smart, Gill Marsh is the most popular kid at Uruk High School, even though he is only a junior. When Enko, a new kid from Montreal, shows up, Gil is wary. Yet Enko is easy going and matches Gil's athletic prowess without being a threat. Soon, the two become inseparable friends, practicing, studying, and double-dating.

Then suddenly, to everyone's shock, Enko succombs to an aggressive cancer.

When Enko's parents take his body and return to Canada, Gil is unable to even say good bye. He is inconsolable. Determined to find Enko's grave, Gil sneaks away and heads north.

Closely based on the ancient story of Gilgamesh, the Sumerian King from 3000 BC, A. C. E. Bauer has carefully woven the classic elements of myth to follow Gil's quest and explore the grief and growth of a young man.
Order Gil Marsh
|
View on Goodreads
52 Reasons to Hate My Father
WINNER: Bethany Morrow
by Jessica Brody
Being America's favorite heiress is a dirty job, but someone's gotta do it.
Lexington Larrabee has never to work a day in her life. After all, she's the heiress to the multi-billion-dollar Larrabee Media empire. And heiresses are not supposed to work. But then again, they're not supposed to crash brand new Mercedes convertibles into convenience stores on Sunset Blvd either.
Which is why, on Lexi's eighteenth birthday, her ever-absent, tycoon father decides to take a more proactive approach to her wayward life. Every week for the next year, she will have to take on a different low-wage job if she ever wants to receive her beloved trust fund. But if there's anything worse than working as a maid, a dishwasher, and a fast-food restaurant employee, it's dealing with Luke, the arrogant, albeit moderately attractive, college intern her father has assigned to keep tabs on her.
In a hilarious "comedy of heiress" about family, forgiveness, good intentions, and best of all, second chances, Lexi learns that love can be unconditional, money can be immaterial, and, regardless of age, everyone needs a little saving. And although she might have 52 reasons to hate her father, she only needs one reason to love him.
NEW YOUNG ADULT RELEASES
Seconds Away: A Mickey Bolitar Novel
by Harlan Coben
When tragedy strikes close to home, Mickey Bolitar and his loyal new friends—sharp-witted Ema and the adorkably charming Spoon—find themselves at the center of a terrifying mystery involving the shooting of their friend Rachel. Now, not only does Mickey have to continue his quest to uncover the truth about the Abeona Shelter, the Butcher of Lodz and the mysterious death of his father, he needs to figure out who shot Rachel—no matter what it takes.
Order Seconds Away: A Mickey Bolitar Novel
View on Goodreads
* * * *
Safekeeping by Karen Hesse
Radley's parents had warned her that all hell would break loose if the American People's Party took power. And now, with the president assassinated and the government cracking down on citizens, the news is filled with images of vigilante groups, frenzied looting, and police raids. It seems as if all hell
has
broken loose.
Coming back from volunteering abroad, Radley just wants to get home to Vermont, and the comfort and safety of her parents. Travel restrictions and delays are worse than ever, and by the time Radley's plane lands in New Hampshire, she's been traveling for over twenty-four hours. Exhausted, she heads outside to find her parents—who always come, day or night, no matter when or where she lands—aren't there.
Her cell phone is dead, her credit cards are worthless, and she doesn't have the proper travel papers to cross state lines. Out of money and options, Radley starts walking. . . .
Illustrated with 50 of her own haunting and beautiful photographs, this is a vision of a future America that only Karen Hesse could write: real, gripping, and deeply personal.
Order Safekeeping
View on Goodreads
* * * *
Burn for Burn by Jenny Han and Siobhan Vivian
Payback is paradise in this start to a trilogy from New York Times bestselling author Jenny Han and Siobhan Vivian.
Postcard-perfect Jar Island is home to charming tourist shops, pristine beaches, amazing oceanfront homes—and three girls secretly plotting revenge. KAT is sick and tired of being bullied by her former best friend. LILLIA has always looked out for her little sister, so when she discovers that one of her guy friends has been secretly hooking up with her, she's going to put a stop to it. MARY is perpetually haunted by a traumatic event from years past, and the boy who's responsible has yet to get what's coming to him. None of the girls can act on their revenge fantasies alone without being suspected. But together…anything is possible. With an unlikely alliance in place, there will be no more "I wish I'd said…" or "If I could go back and do things differently..." These girls will show Jar Island that revenge is a dish best enjoyed together.
Order Burn for Burn
View on Goodreads
* * * *
Because It Is My Blood (Birthright) by Gabrielle Zevin
"Every time I think I'm out, they pull me back in."- Michael Corleone,
The Godfather
Since her release from Liberty Children's Facility, Anya Balanchine is determined to follow the straight and narrow. Unfortunately, her criminal record is making it hard for her to do that. No high school wants her with a gun possession charge on her rap sheet. Plus, all the people in her life have moved on: Natty has skipped two grades at Holy Trinity, Scarlet and Gable seem closer than ever, and even Win is in a new relationship.But when old friends return demanding that certain debts be paid, Anya is thrown right back into the criminal world that she had been determined to escape. It's a journey that will take her across the ocean and straight into the heart of the birthplace of chocolate where her resolve--and her heart--will be tested as never before.
Order Because It Is My Blood (Birthright)
View on Goodreads
* * * *
Adaptation by Malinda Lo
Reese can't remember anything from the time between the accident and the day she woke up almost a month later. She only knows one thing: She's different now.
Across North America, flocks of birds hurl themselves into airplanes, causing at least a dozen to crash. Thousands of people die. Fearing terrorism, the United States government grounds all flights, and millions of travelers are stranded.
Reese and her debate team partner and longtime crush David are in Arizona when it happens. Everyone knows the world will never be the same. On their drive home to San Francisco, along a stretch of empty highway at night in the middle of Nevada, a bird flies into their headlights. The car flips over. When they wake up in a military hospital, the doctor won't tell them what happened, where they are--or how they've been miraculously healed.
Things become even stranger when Reese returns home. San Francisco feels like a different place with police enforcing curfew, hazmat teams collecting dead birds, and a strange presence that seems to be following her. When Reese unexpectedly collides with the beautiful Amber Gray, her search for the truth is forced in an entirely new direction--and threatens to expose a vast global conspiracy that the government has worked for decades to keep secret.
Adaptation
is a bold contemporary science-fiction thriller from the acclaimed author of
Ash
.
Order Adaptation
View on Goodreads
* * * *
The Diviners by Libba Bray
Evie O'Neill has been exiled from her boring old hometown and shipped off to the bustling streets of New York City--and she is pos-i-toot-ly thrilled. New York is the city of speakeasies, shopping, and movie palaces! Soon enough, Evie is running with glamorous Ziegfield girls and rakish pickpockets. The only catch is Evie has to live with her Uncle Will, curator of The Museum of American Folklore, Superstition, and the Occult--also known as "The Museum of the Creepy Crawlies."
Order The Diviners
View on Goodreads
* * * *
Butter by Erin Jade Lange
A lonely obese boy everyone calls "Butter" is about to make history. He is going to eat himself to death-live on the Internet-and everyone is invited to watch. When he first makes the announcement online to his classmates, Butter expects pity, insults, and possibly sheer indifference. What he gets are morbid cheerleaders rallying around his deadly plan. Yet as their dark encouragement grows, it begins to feel a lot like popularity. And that feels good. But what happens when Butter reaches his suicide deadline? Can he live with the fallout if he doesn't go through with his plans?
With a deft hand, E.J. Lange allows readers to identify with both the bullies and the bullied in this all-consuming look at one teen's battle with himself.
Order Butter
View on Goodreads
* * * *
The Dead Girls Detective Agency by Suzy Cox
Pop quiz: What would you do if you had to solve your own murder to get anywhere in death?
Maybe if I hadn't slept through my alarm, slammed into Kristin—my high school's reigning mean girl —or stepped in a puddle, destroying my mom's new suede DVF boots (which I borrowed without asking), I wouldn't have been in the wrong place at the wrong time, and I wouldn't have been pushed in front of that arriving train. But I did, and I was.
When I came to, I was informed by a group of girls that I'm dead. And that because I died under mysterious circumstances, I can't pass straight over to the Other Side. But at least I'm not alone. Meet the Dead Girls Detective Agency: Nancy, Lorna, and Tess—not to mention Edison, the really cute if slightly hostile dead boy. Apparently, the only way out of this limbo is to figure out who killed me, or I'll have to spend eternity playing Nancy Drew. Considering I was fairly invisible in life, who could hate me enough to want me dead? And what if my murderer is someone I never would have suspected?
Order The Dead Girls Detective Agency
View on Goodreads
Ten by Gretchen McNeil
Shhhh!
Don't spread the word! Three-day weekend. House party.
White Rock House on Henry Island.
You do not want to miss it.
It was supposed to be the weekend of their lives—three days on Henry Island at an exclusive house party. Best friends Meg and Minnie each have their own reasons for wanting to be there, which involve their school's most eligible bachelor, T. J. Fletcher, and look forward to three glorious days of boys, bonding, and fun-filled luxury.
But what they expect is definitely not what they get, and what starts out as fun turns dark and twisted after the discovery of a DVD with a sinister message:
Vengeance is mine.
Suddenly, people are dying, and with a storm raging outside, the teens are cut off from the rest of the world. No electricity, no phones, no internet, and a ferry that isn't scheduled to return for three days. As the deaths become more violent and the teens turn on each other, can Meg find the killer before more people die? Or is the killer closer to her than she could ever imagine?
Order Ten
View on Goodreads
* * * *
The Raven Boys by Maggie Stiefvater
"There are only two reasons a non-seer would see a spirit on St. Mark's Eve," Neeve said. "Either you're his true love . . . or you killed him."

It is freezing in the churchyard, even before the dead arrive.

Every year, Blue Sargent stands next to her clairvoyant mother as the soon-to-be dead walk past. Blue herself never sees them—not until this year, when a boy emerges from the dark and speaks directly to her.

His name is Gansey, and Blue soon discovers that he is a rich student at Aglionby, the local private school. Blue has a policy of staying away from Aglionby boys. Known as Raven Boys, they can only mean trouble.

But Blue is drawn to Gansey, in a way she can't entirely explain. He has it all—family money, good looks, devoted friends—but he's looking for much more than that. He is on a quest that has encompassed three other Raven Boys: Adam, the scholarship student who resents all the privilege around him; Ronan, the fierce soul who ranges from anger to despair; and Noah, the taciturn watcher of the four, who notices many things but says very little.

For as long as she can remember, Blue has been warned that she will cause her true love to die. She never thought this would be a problem. But now, as her life becomes caught up in the strange and sinister world of the Raven Boys, she's not so sure anymore.

From Maggie Stiefvater, the bestselling and acclaimed author of the Shiver trilogy and The Scorpio Races, comes a spellbinding new series where the inevitability of death and the nature of love lead us to a place we've never been before.
Order The Raven Boys
View on Goodreads
* * * *
Glass Heart by Amy Garvey
Wren can do things that other people can only dream of. Make it snow on a clear, crisp day. Fly through an abandoned tunnel. Bring a paper bird to life.
Wren knows her abilities are tinged with danger—knows how easy it is to lose control—but she can't resist the intoxicating rush. And now that she has Gabriel by her side, someone who knows what she can do—what she
has
done—she finally feels free to be herself.
But as Wren explores the possibilities of her simmering powers, Gabriel starts pushing her away. Telling her to be careful. Telling her to
stop
. The more he cautions her, the more determined Wren becomes to prove that she can handle things on her own. And by the time she realizes that Gabriel may be right, it could be too late to bring him back to her side.
Order Glass Heart
View on Goodreads
* * * *
The Crown of Embers (Girl of Fire and Thorns) by Rae Carson
She does not know what awaits her at the enemy's gate.
Elisa is a hero. She led her people to victory over a terrifying, sorcerous army. Her place as the country's ruler should be secure. But it isn't.
Her enemies come at her like ghosts in a dream, from both foreign realms and within her own court. And her destiny as the chosen one has not yet been fulfilled.
To conquer the power she bears once and for all, Elisa must follow the trail of long-forgotten--and forbidden--clues from the deep, undiscovered catacombs of her own city to the treacherous seas. With her goes a one-eyed spy, a traitor, and the man who--despite everything--she is falling in love with.
If she's lucky, she will return from this journey. But there will be a cost.
Order The Crown of Embers (Girl of Fire and Thorns)
View on Goodreads