We're thrilled to have Meagan Spooner do a guest post for us today. Meagan Spooner won our very first contest here on the blog. Her wonderful book, SKYLARK, is coming out August 1 from Carolrhoda Lab/Lerner Books. She is also the co-author of THESE BROKEN STARS, forthcoming from Disney-Hyperion in Fall 2013.
Meagan currently lives and writes in Northern Virginia, and in her spare time, she plays the guitar, plays video games, plays with her cat, and reads. You can find her on
her Website
or
her Facebook
. You can also follow her
on Goodreads
or
on Twitter
.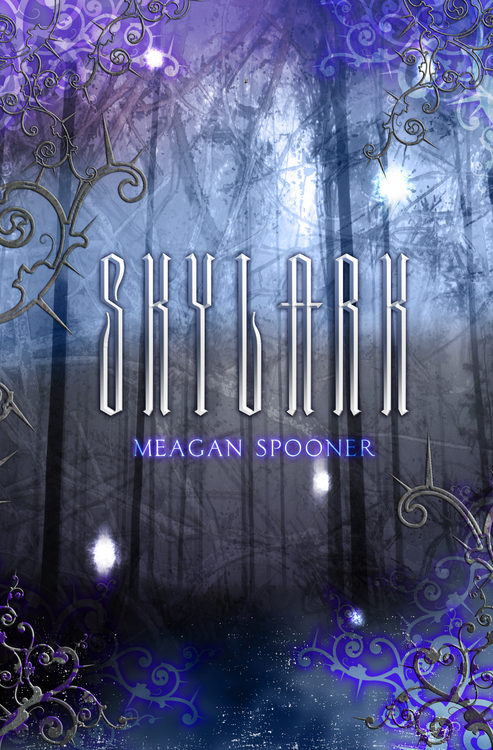 I've never been a particularly organized person. I never made lists, I didn't keep a calendar, and I never made concrete goals. Now I do all those things—not necessarily by choice, mind you. I think given half a chance I'd run off into the wilderness throwing my pages of to-do lists into the air, cackling madly. But in this business—because writing, if you want to be published, is a business—you've got to treat it like one.
A big part of that is the way you set goals. Ask an aspiring writer what their ultimate goal is and 9 times out of 10 it'll be something like "Get published" or "Make the NYT Bestseller List" or "Castle it up like JKR." But really, those are dreams, not goals. Dreams are good—they motivate us, keep was wanting things. But they're not concrete, achievable goals. They tell you where you want to be—not where you need to go next.
And, if you'll permit me to mix all kinds of metaphors in the same post, writing is kind of like walking through an unfamiliar wilderness. You may know where you want to go—civilization—but if you don't have a map or directions or a compass, you ain't gonna get very far.
So here are a few tips on how to set goals in a way that'll actually get you moving, rather than daydreaming on rainy days about what you'd be doing right now if you were where you wanted to be.
Be in control of your goals.
You should only set goals for yourself that YOU can control. Ultimately, you don't decide whether you get (traditionally) published, a publishing house does. You can do everything right, and still never get there. (I think it's pretty unlikely, if you stick to it long enough, but that's another blog post.) One of the most frustrating things about this industry is that there is so little that you, the author, can control. Like whether an agent will like your book, or whether the acquisitions team at Publishing House Alpha thinks you're a good investment. It can be scary to contemplate, but instead of letting that stop you, give yourself manageable, controllable goals within a specific time frame.
Example time! Don't say, "I am going to sell a book." Instead, say, "I am going to finish my novel and query thirty agents by the end of the year." See the difference? You can't control whether someone buys your book, but you can control the amount of work you put into it. And make sure you set a (realistic) deadline for yourself.
Keep it bite-sized so you don't choke!
Big tasks scare me. When I have something huge I have to get done I procrastinate like it's my job, because just starting is overwhelming. And when it comes to big, overwhelming tasks, I can't think of many that are bigger and more complicated than "get published." But ignoring it the way I ignore my dirty dishes isn't going to get you there. (It doesn't make my dishes clean themselves, either.) So what I've learned to do is break big tasks into smaller pieces.
Example time! Using the example from the first tip, let's make it even easier to swallow. Instead of saying "I am going to finish my novel and query thirty agents by the end of the year," let's look at some of the steps to achieving that goal. Make a list of smaller pieces, and give yourself deadlines for those, like so: "Write every day." "Share with critique partners by the end of the month." "Research a dozen agents this summer." "Write first query letter draft next weekend." It's better to err on the side of smaller, obtainable goals, rather than more ambitious ones that risk overwhelming you. If all you can do right now is brainstorm for twenty minutes a day, then do that until you can build to achieving the next step on your list.
Be specific.
I don't know if you're anything like me, but I'm really, really good at lying to myself. If I give myself any wiggle room, my subconscious runs away with it. If you tell yourself you're going to work on your book every day, what does that mean? Does that mean writing? Does that mean researching? Does that mean looking up inspiration pictures on Pinterest? Technically all those things could be "working" on your book. But when you lift your head three hours later and realize you've been staring at pictures of brownies on Pinterest for the past half hour, you're going to feel a bit defeated. And probably hungry, to boot.
So get specific. Narrow your goals, tell yourself exactly what you're going to do and when. If working on the book, for you, means all of those things, make those separate goals. Don't put actual writing with concept art research, because they're not the same.
Example time! Taking our previous examples, we're going to narrow them down further and make them even more helpful. Instead of saying "Write every day," say, "Write at least 250 words of my current WIP every day until it's finished." Instead of saying "Research a dozen agents this summer," say "Each week, make a list of the following info about at least one new agent: response time, genre specialty, other clients…"
Most importantly, make sure you really want to move forward. I've had writers come to me asking for advice on how to get moving, only to realize as we start making plans that they're not ready, that they actually want to be where they are—that they have dreams, but not goals yet. And that's fine. That's good. It means you're self-aware, it means you know you're not at the right point in your life. But if you are, when you are, setting goals like this will help you get there. Even if you're not Type A (which holy goodness, I am NOT) trust me, it works. Even if you're like me, and the very thought of making lists makes your skin crawl.
Finally, I'll leave you with one last tidbit of advice. Find someone you trust to hold you accountable, when you set these goals. Eventually they'll become habit, but until then, it's okay to need some help. Willpower and determination doesn't just grow on trees. And if you slip up and miss a day or a deadline? Don't drown yourself with guilt. Tomorrow, if you'll forgive the cliché, is a brand new day.
Meagan has graciously offered a signed copy of SKYLARK to one lucky winner. Just comment on this post to enter. Sorry, folks, this is only open to U.S. entries.
Meagan is also having a BIG giveaway on her blog, and that's open internationally and everyone who enters will win something. Here's
the link: